First it was cupcakes; next it was kale; then the cronut saw its six minutes of fame; and now, we have toast. The delicate combination of slightly crunchy edges, spongy interiors, and perfectly balanced toppings tantalize the taste buds, resulting in the perfect bite every time. As if this exquisite composition wasn't enough, the great versatility that toast provides has confirmed the dish's staying power in the Golden State; mix in the freshest California-grown ingredients, and you are looking at what could be considered a religious food experience. So, forget the glass. I'll toast to California's latest food obsession with some decadent avocado toast.
As they often do with trendy foods, critics are coming out of the woodwork to tear down the toast trend. There are those who scoff at the idea of paying for toast when it is easy to make your own at home, those who mistake the simplicity for laziness, and those who believe the fad has come and gone. But at some point, we must all accept toast for the magnificence that it is and acknowledge that it is here to stay. Yes, my friends, toast has made its comeback—and it is not your average breakfast side dish, but rather a full-fledged meal in its own right.
There are endless possibilities for toast toppings, from ricotta, figs, and balsamic; to cream cheese, dates, and honey; to avocado, lemon juice, and chile flakes. The concept is anything but new—ancient civilizations spread mashed avocado on toasted bread or tortillas thousands of years ago, and various cultures around the world use bread that would otherwise go stale to make various forms of toast—but California chefs continue to build upon the legacy by combining organic, seasonal ingredients to create innovative culinary masterpieces.
While it is hard to make bad toast when so much thought and intention go into it, there are a few standout eateries in California that truly understand what it takes to blend quality ingredients in the right portions and craft the perfect piece of toast. Here are the top spots to visit when you need to satisfy your craving.
Best Toast in San Diego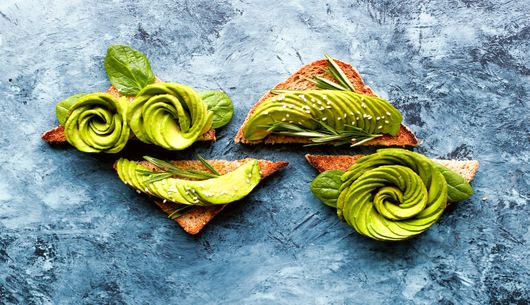 Communal Coffee
Upon arriving at this San Diego coffeehouse, you will be greeted by a mural depicting the words "Coffee + Flowers" and by the scent of freshly pulled Sightglass Coffee espresso wafting through the air. You will also find thick slices of toast topped with every guilty pleasure imaginable and served on gorgeous, dark wood boards. Choose the toast of sweet jam atop creamy goat cheese; French bread adorned with lavender, honey, and goat cheese; savory ricotta mingled with strawberries, basil, and honey; or sumptuous rosemary-sage bread topped with delightful avocados and sea salt—a classic combo played up the spicy cracked black pepper and smoked chile flakes.
Best Toast in Los Angeles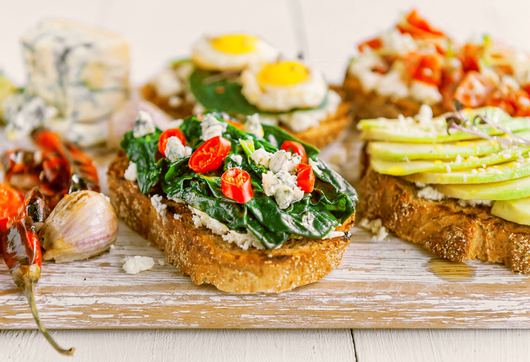 Best Girl
Tucked inside the Ace Hotel in Downtown Los Angeles, Best Girl just might make the best toast in the city. Head here for brunch to try the Alligator Pear toast, a glorious dish featuring seeded country bread layered with avocado, olive oil, and aleppo pepper. Do yourself a favor and get poached eggs on top, or go crazy by adding the black cod. Order some fresh greens or mixed fruit on the side for a great start to a California day.
Sqirl
Sqirl capitalizes on California's bounty by using local fruits to craft house-made jams—the restaurant's claim to fame. Go for the popular ricotta toast (toasted brioche slathered with ricotta and seasonal jam) or the French toast (brioche stuffed with seasonal jam and topped with crème fraîche). Sqirl can even cure your avocado-toast hankering—but this version has a special twist: garlic crème fraîche, house za'atar, and hot pickled carrots are piled on top, resulting in a whole new flavor profile.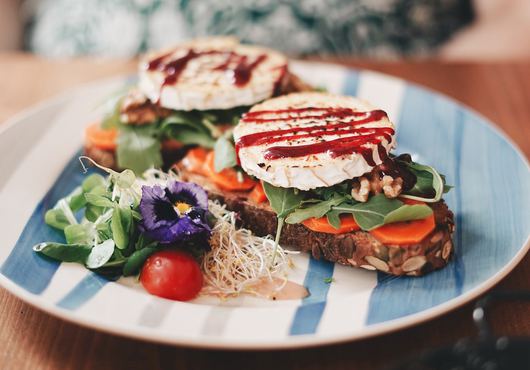 Go Get Em Tiger
Nestled in the ultra-cool L.A. Arts District, Go Get Em Tiger offers its enticing menu from 7 a.m. to 4 p.m. Choose between the classic California option—avocado toast, made interesting by distinct toppings such as pickled kohlrabi, chile sauce, and micro herbs—and the more modern salmon tartine featuring rustic sourdough, cured salmon, seeded granola, pickled mustard seed, fried capers, and chimichurri. (If you simply can't decide, get them both!)
Superba Food & Bread
Stop by this Venice eatery at any time of day to sample a wide variety of toasts. Visit before 11 a.m. to try the unique kale toast—featuring sunny side-up eggs, avocado, braised kale, and chile oil—or the prosciutto toast accented by French butter, arugula, and olive oil. Come back later in the day to savor even more delicious creations, such as the mushroom toast: crusty bread topped with cremini and brown beech mushrooms and smothered in raclette fondue.
Best Toast in Palm Springs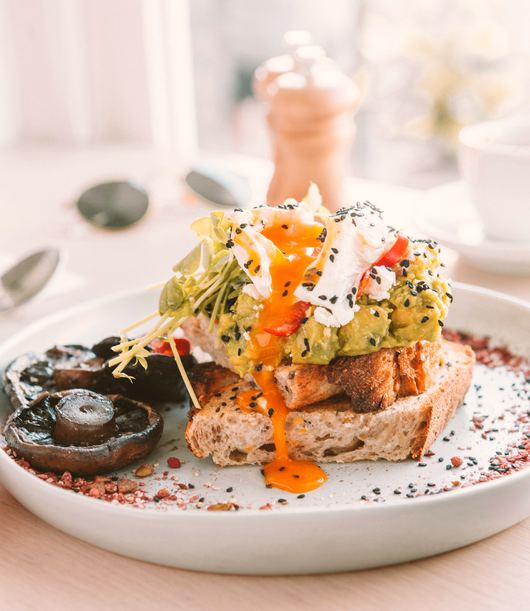 King's Highway
Conveniently located inside the Ace Hotel & Swim Club, King's Highway serves food all day long—but make sure to head in before 3 p.m. to get your toast fix. Choose between the savory seeded bread, confit tomato, onion sprouts, and crispy shallots of the avocado toast (adding on a soft-boiled egg, if you know what's good for you); the drool-worthy shitake mushrooms, pepper jack cheese, barbecue sauce, crispy onions, and potato bread of the BBQ mushroom toast; and the sweet-milk jam and coffee butter of the French toast.
El Jefe
Stay at the iconic color-blocked Saguaro Palm Springs hotel (or just stop in for breakfast) to try the interesting culinary pairings at this rustic-chic eatery. Order the avocado toast to bite into a refreshing, Mexican-inspired delight topped with radishes, olive oil, and cilantro. Or, opt for the steelhead-trout toast for a flavorful adventure; citrus-cured fish and marinated cucumbers are placed atop house-made requeson and sprinkled with toasted sesame seeds and scallions.
Best Toast in the San Francisco Bay Area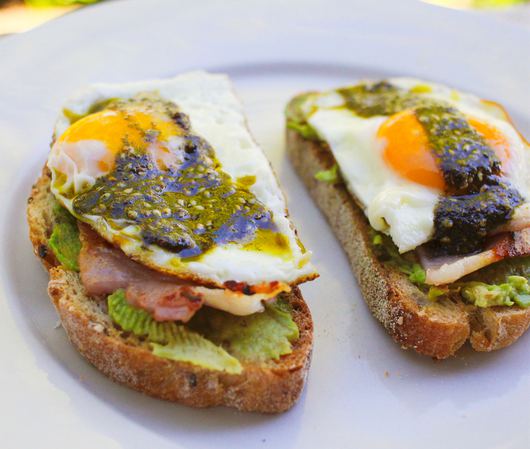 Cafe St. Jorge
When in San Francisco's Bernal Heights neighborhood, Cafe St. Jorge is a must. Every piece of toast (aside from the cinnamon-sugar toast) starts with a large slice of wheat bread that's been toasted to perfection. Choose the famous avocado chile toast to experience the balanced combination of fresh lemon juice, chile flakes, sea salt, olive oil, and avocados. Avocados not your thing? Top your toast with organic almond butter, banana, and California honey or organic cream cheese, arugula, pepper, and tomato for similarly impressive combos.
Mazarine Coffee
Settled in the Financial District of San Francisco, Mazarine Coffee offers an impressive assortment of savory and sweet toasts. Using organic, seasonal, house-made ingredients whenever possible, the eatery knows how to take toast to a whole new level. For your main, grab the whole-wheat toast decorated with pickled beet hummus, avocado, ricotta salata, and black sesame seeds. For dessert, get the toasted pain de mie decked out with strawberry marmalade, ricotta, honey, lemon zest, sea salt, and cracked black pepper. The avocado toast followed by the fig jam and ricotta pain de mie is also a solid choice (though if we're being honest, there are no bad selections).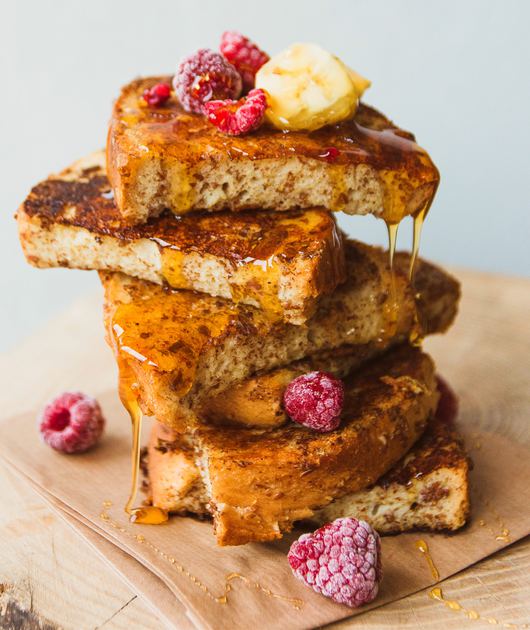 The Mill
The Mill is credited with having some of the best toast in San Francisco, and with six varieties of toast and even more customizable additions available, it is easy to see why. Start with the molasses brown bread topped with butter, sea salt, and seasonal jam; or, go for the dark mountain rye piled with cream cheese, pesto, pine nuts, black pepper, and sea salt. Regardless of what you order, finish off the meal with a slice of chocolate hazelnut country toast and a cappuccino before calling it a day.
Jane
Located on Fillmore Street in San Francisco, Jane serves up both new and old favorites alike at shockingly good prices. Pick up a thick slice of artisanal sourdough or multigrain bread with butter and house-made jam for merely $3. Or, for only $2 more, you can tap into your wild side by ordering walnut and fig bread adorned with fresh Jersey ricotta, honey, and hazelnuts. Of course, the classic avocado mash is available, too—but this version is topped with a poached egg, cracked black pepper, pickled shallots, and jalapeños for a creative touch.
Farm & Flour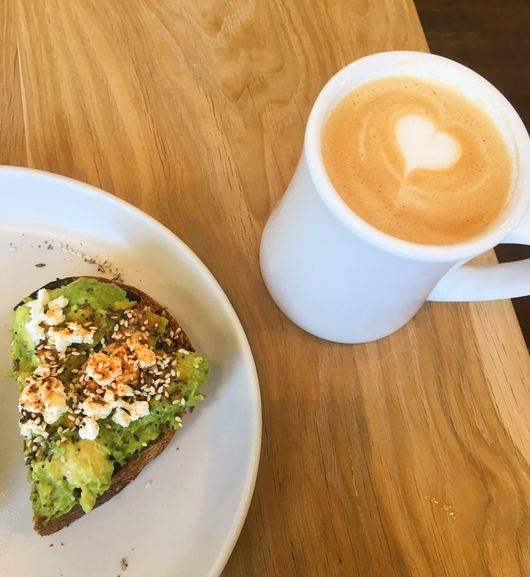 Nestled in the quaint, suburban town of Benicia, Farm & Flour is a true Bay Area gem. Not only does this eatery bake fresh bread for its incredible selection of toasts, but it also sells whole loaves for those who want to try recreating the recipes at home. The barn-style establishment is so cute and inviting that no one would dare cut it out of their weekly routine. Order the chicken pesto toast comprised of country bread topped with walnut-and-cashew pesto, chicken, arugula, and pickled red onion; or, get the avocado toast adorned with feta cheese, mint, house-made "everything" seasoning, and lemon zest to experience an explosion of flavor. The Brie toast—featuring country bread covered in fig jam, arugula, and walnuts and drizzled with apple vinaigrette—is also incredibly popular and prone to sell out, so it's absolutely worth having when it's available. Pair your selections with the oat-milk honey latte (the beans for which are roasted at States Coffee in Martinez, the next town over) for the ultimate comfort meal you can feel good about.
Toasty
As San Francisco's first avocado bar, you no longer have to settle for just any avocado toast. Opt for the Naked Toasty to get a taste of all the classic ingredients you crave—including microgreens, olive oil, salt, pepper, and of course, avocado. Add some pizazz with the Bruschetta Toasty, which boasts mozzarella, cherry tomatoes, basil, and balsamic glaze piled atop smashed avocado. (Add some more savory protein with the poached eggs or prosciutto.) Before you go, grab the Cookie Dough toast—topped with edible cookie dough, chocolate sauce, coconut flakes, and strawberries—to take home.
Looking for some gluten-free options? Check out our list of top California gluten-free bakeries.