By

California.com
September 16, 2020
Condiments can jazz up any meal and make every bite burst with flavor. But if you're struggling to find an ideal balance between delicious and healthy, we've got you covered with the best California-made condiments. From high-quality olive oil, savory and organic pasta sauces, and artisanal cheeses, the state's products make it easy to get inspired and continue experimenting in the kitchen.
The secret is to shop local and buy California produce whenever possible. Luckily, the Golden State boasts a plethora of healthy, high-quality food products that can nourish your body and satisfy your palate. With just one taste of these California condiments, your life will never be the same.
Molonay Tubilderborst Ketchup

Price: $11
Spice things up with the Los Angeles ketchup manufacturer Molonay Tubilderborst. This California ketchup company was founded when Los Angeles chef Nick Coe revived an authentic, 150-year old family recipe. The savory ketchup is laced with exotic spices, giving it a savory and complex flavor; unlike the sweeter ketchup of today's world, this old-fashioned recipe complements a wide range of meat, fish, and poultry (and of course, hamburgers and fries). The addictive flavor and rich aroma will leave your dinner guests impressed and craving more.
If you're trying to make your cooking healthier and lighter, try Molonay Tubilderborst's sugar-free ketchup. Sweetened with pure monkfruit extract—which contains zero calories—this version tastes virtually identical to the company's classic flavor, so you won't be able to tell the difference.
Wilder Mustard

Price: $7
Wilder Condiments started out as a backyard project by chef and founder, Isabel Freed, and flourished from a humble farmers market stand to a booming, bonafide business. Drawing on California's bounty, the Santa Cruz company crafts three different mustards: classic, sweet and hot, and jalapeño.
The classic Wilder mustard combines white wine, distilled white vinegar, and various spices to create a small jar of happiness. But no matter which flavor you get, you can rest assured that your mustard is all-natural, vegan, low calorie, high nutrient, gluten-free, and anti-inflammatory, making for a flavorful addition for any dish.
Kikkoman Soy Sauce

Price: From $5
Perfect for a range of dishes, Kikkoman's soy sauce is well-known for a reason. Founded in 1917, the Japanese company quickly saw success and moved its Kikkoman International branch to San Francisco in 1957. The local bottling of soy sauce led Kikkoman to become one of the most popular California condiment producers.
Kikkoman offers a GMO-free, certified-Kosher, preservative-free, and MSG-free soy sauce—plus an organic soy sauce, low-sodium soy sauce, and gluten-free soy sauce. Use it in your marinades, stir-fry, or Asian-inspired noodles. In addition to soy sauces, Kikkoman produces teriyaki sauces, teriyaki Takumi sauces, ponzu sauces, rice vinegar, and curry sauces.
Huy Fong Foods Hot Sauce

Price: From $3
Take things up a notch with the beloved Sriracha sauce by Huy Fong Foods. Invented in Vietnam by David Tram, this hot sauce quickly gained popularity in the U.S. as well. In 1980, Tram began his stateside legacy in a 5,000-square-foot building near Chinatown in Los Angeles. Aside from the world-renowned Sriracha created from California sun-ripened chilies, Tram's company also offers a chili garlic sauce and sambal oelek. From eggs and chicken to burgers and noodle dishes, you can put these spicy sauces on nearly everything.
Hidden Valley Ranch Dressing

Price: From $3
Hidden Valley Ranch is now a household name and arguably the most popular ranch dressing in the nation, but it all started back in 1954. Steve and Gayle Henson purchased 120 acres of sprawling lands nestled in the mountains of Santa Barbara County and began a dude ranch. Over the years, Steve perfected his salad dressing recipe, mixing up a blend of buttermilk, herbs, and spices. The first bottle of his ranch dressing was introduced to the world in the 80s, and the rest, as they say, is history. Today, this iconic condiment is regularly seen complementing salads, pizzas, chicken wings, and everything in between.
In addition to the famed Original Ranch dressing, Hidden Valley also produces ready-to-eat dips (such as Fiesta Ranch and garlic Parmesan) and Secret Sauces (including the Smokehouse, Spicy, and Original Ranch). For a healthier option, pick up a bottle of the light, organic, and fat-free Original, Buttermilk, or Cucumber Ranch. You can even opt to go Greek and bring home a bottle of dressing made from Greek yogurt.
Garlic Festival Foods Garli Glaze

Price: $75.60 (for 12, 10.5-ounce jars)
In 1986, Garlic Festival Foods was invented in Gilroy—the "Garlic Capital of the World." What began as the Garlic Garni "secret seasoning" turned into a line of garlic-inspired seasonings, condiments, mustards, BBQ rubs, olive oils, vinegar, salsas, hot sauces, and beef brisket jerky. Turn every meal into a superb dish with the extraordinary Spicy Apple Garli Glaze, which pairs particularly well with pork, lamb, or poultry. Or, spoon it over cream cheese and serve with crackers for a delectable appetizer.
Cabo Fresh Guacamole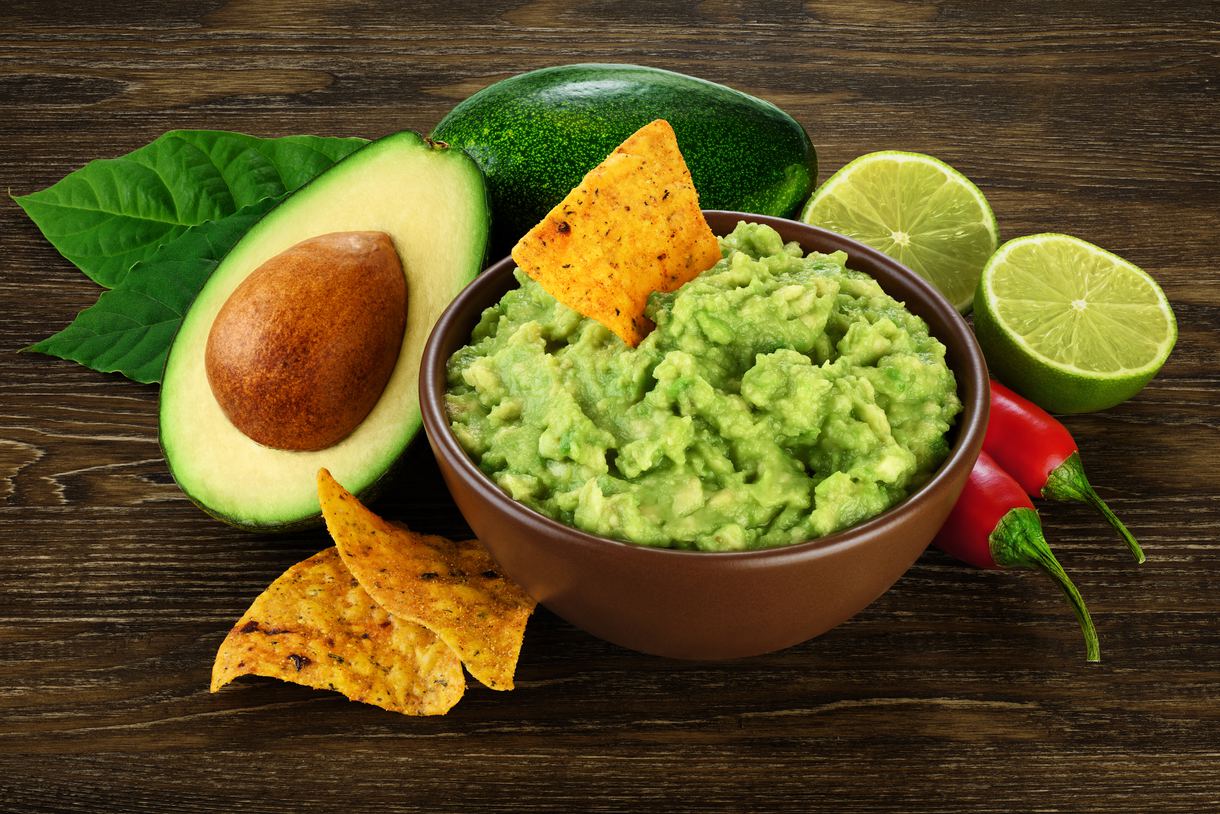 Price: From $4
No California kitchen is complete without Cabo Fresh's creamy guacamole. From introducing the first-ever organic guacamole in the U.S. to pioneering new pressing techniques that maximize food safety and flavor, Cabo Fresh sets the standard for top-notch guacamole. For over 25 years, the Santa Maria-based company's been producing guacamole made from hand-picked, ethically sourced Hass avocados—and you can taste the difference.
With options ranging from the authentic and classic-mild guacamole for the purists to the lime-jalapeño and Tex-Mex versions for the adventuresome, you're bound to find guacamole you love from Cabo Fresh. You can even pick up your favorite flavor in squeeze bottles, single packs, or guac-on-the-go (complete with masa corn chips).