By

Mackenzie Hutson
January 11, 2020
A new year means new home trends, but a new decade begs for a style overhaul, so it's time to transform outdated spaces into the California-chic design destinations of your dreams. While the earth-tone stoneware, mid-century modern touches, and natural accents that make up the state's aesthetic are sticking around, many of 2019's decorating trends are getting thrown out with the bath water. Flawless, Insta-perfect interiors are being replaced with a sense of freedom and individualism that has been lacking for the past several years. Here are a dozen of 2020's biggest home trends (and a few dated trends to avoid).

Interior Design Trends 2020
2020 brings a style revolution that values personalization, individual expression, and bold designs. Get inspired by 2020's home decor trends, and let us know which ones you're implementing in the comments below.
Out-of-the Box Designs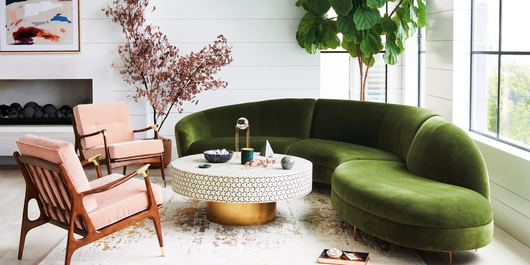 The 2020 home decor trends are all about self-expression, so it comes as no surprise that last year's rectangular subway tiles and oval-shaped everything are no longer in fashion.
This year's designs are much more freeform, focusing on curved edges that don't create standard shapes. Sofas, in particular, are leading the living room trends with innovative structures that feed off of last year's rounded aesthetics.
Bolder Bedding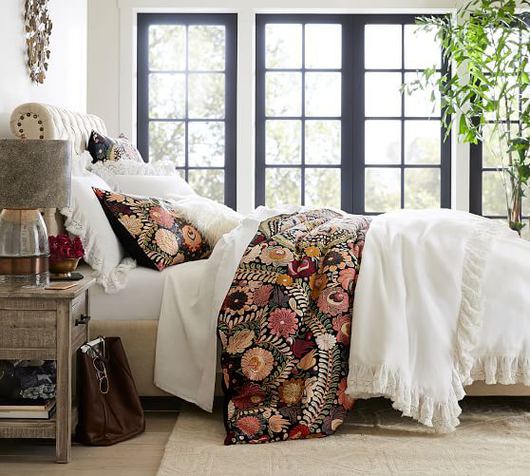 For years, the focus has been on crisp, clean bedding—but not anymore. This year's interior trends favor brighter colors and bolder prints, so throw on a floral duvet cover, add patterned pillows, and liven up the sheets with interesting designs.
Tiles On Tiles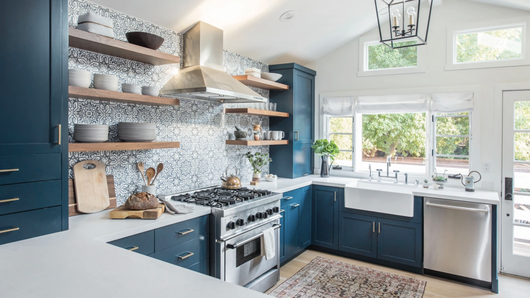 From backsplashes, to bathroom tiles, to fireplaces, mosaic tiles are having a major moment. Inspired by traditional Morroccan designs, mosaics are appearing all over the home and are bolder, brighter, and more fun than in previous years. Plain tiles are being replaced by tiles with interesting patterns, different shapes and sizes, and more pronounced color palettes. Opt for a floor-to-ceiling accent piece to take advantage of the trend and add a wow-worthy element to any space.
A Sprinkle of Spice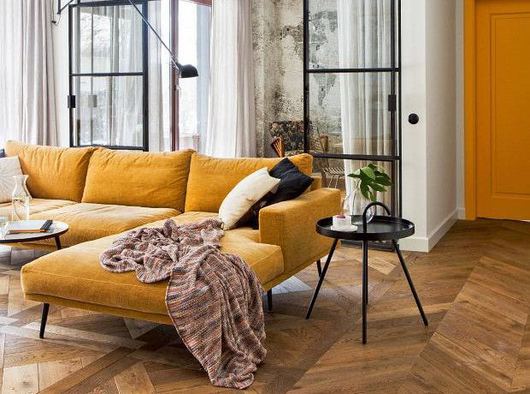 Saffron, turmeric, and mustard aren't only useful for cooking. In 2020, they're providing all kinds of color inspo by brightening up dark corners, drab kitchens, and everything in between.
These shades are surprisingly easy to work with, pairing well with each other along with teal and navy blues, dusty greens, rust-orange, robin egg blue, and a host of other hues. Add subtle touches, or go all out with a paint job.
Bits of Bronze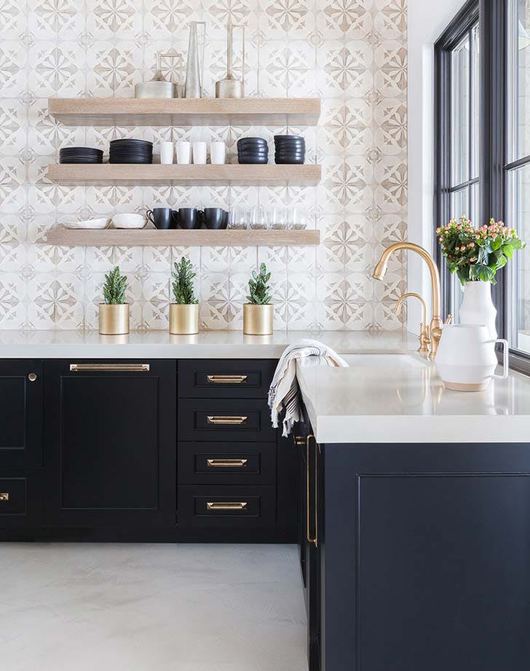 While California's interior design trends historically mixed silver and gold tones, this year is all about the bronze, copper, and brass accents. These warmer hues harness the Golden State's sunshine, offering a touch of warmth to interiors. Install a copper tub for a true sense of elegance, switch out dated drawer pulls, and upgrade silver trays with bronze bowls for a renewed space.
Sensory Swatches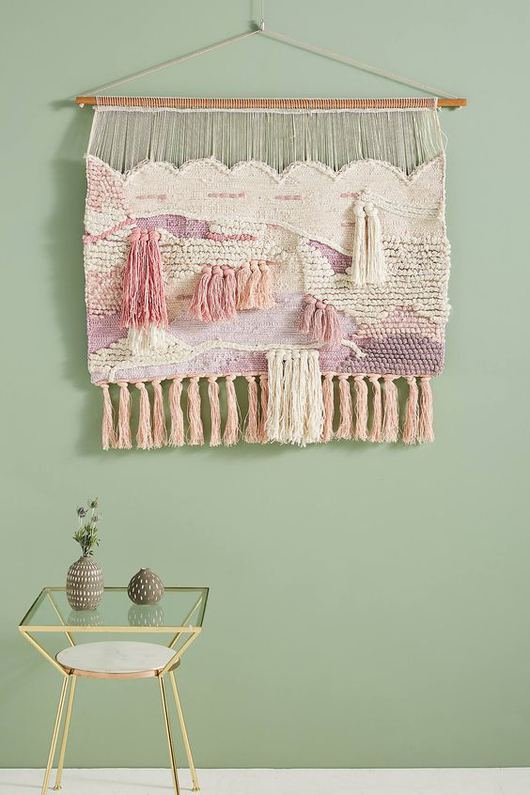 California's classic boho interior design is at the heart of all the decorating trends for 2020, but textured art is taking over as a natural evolution of our beloved macramé accents. Art is no longer flat or meant to only be looked at; woven tapestries, knotted creations, woven wall hangings, and naturally textured wooden pieces now exist to be touched as well as admired.
Colorful Kitchens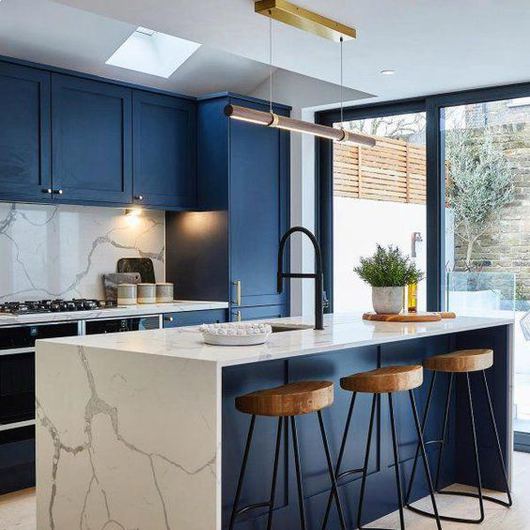 The past decade has featured bland kitchens with white or dark brown cabinets, white walls, white backsplashes, and very little personality. But it's finally time to liven it up (and create a space you actually want to be in). From opting for bold cabinets, to installing bronze door handles, to hanging artwork on the walls, you can make the kitchen a vibrant part of the house.
Extending an Olive Branch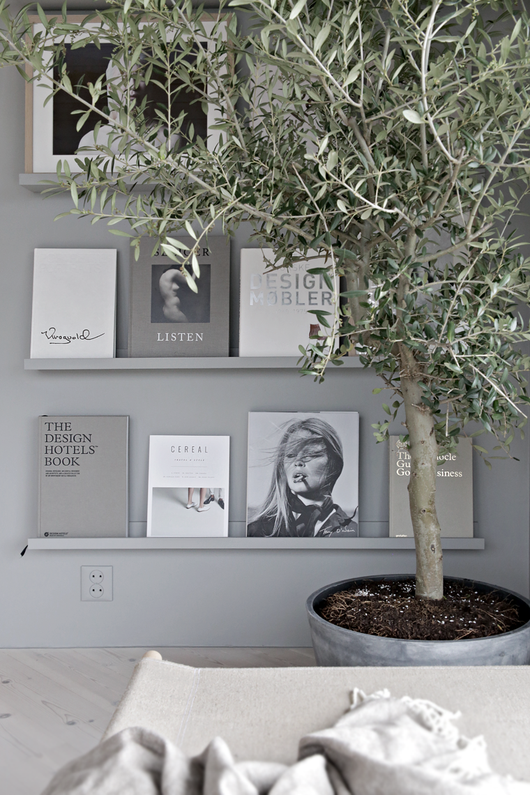 Olive trees are the new fiddle leaf figs. While it seemed like a trend that would never end, the reign of the fiddle leaf may have finally reached an end with the introduction of the more delicate olive tree. These trees are also beautiful to look at, but unlike their predecessor, they can produce the deliciously salty fruits you know and love.
Soaking It All In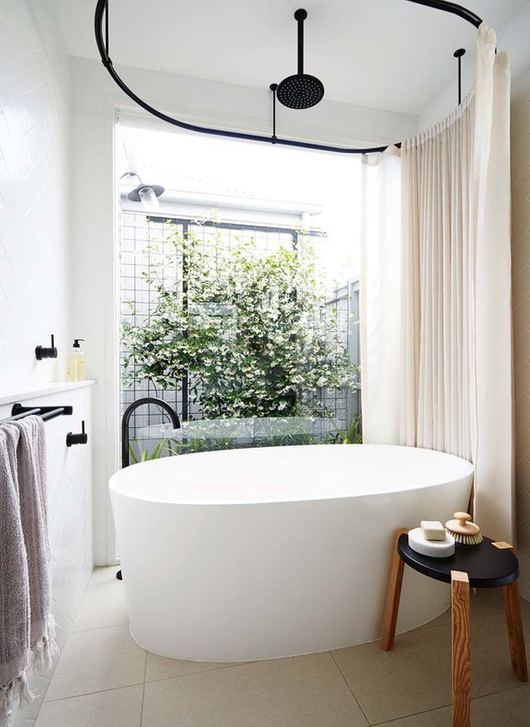 That's right: Soaking tubs are back—big time. While they've been appearing in high-end resorts over the past several years, free-standing tubs are becoming common household features, and we're stoked about it.
A soothing soak is a solid choice for self-care Sunday, and these large tubs are making it that much more enticing. Choose a hammered-copper soaking tub for even more luxury, and you'll never go back.
Not Your Parents' Wood Paneling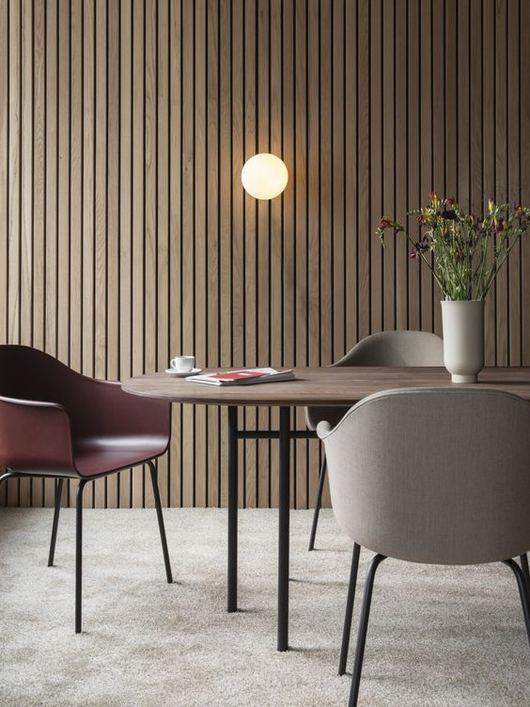 Yes, the unimaginable has become a reality: Wood paneling is cool again. But not the kind you're probably imagining. Modern wood paneling evokes cabin-like vibes (bringing back memories of the cute cabin you rented for Thanksgiving) and shouldn't remind you of the '70s. Thinner planks, angular patterns, and lighter tones have turned an old-school look into one of the most surprising new decorating trends.
It's a Jungle in Here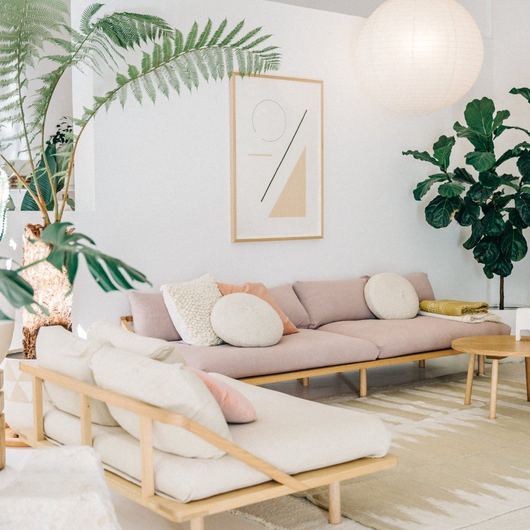 Bringing tons of plants indoors has been hip for a while, but a jungle theme is now weaving its way into the current interior design trends. From woven cane webbing on dresser drawers to wicker furniture in living rooms, a lush island vibe is becoming a California home decor staple. Brighten up a dark corner with potted foliage, add air plants to the bathroom for refreshing pops of color, and incorporate a chill aesthetic into every room with rattan furniture.
Familiar Fabrics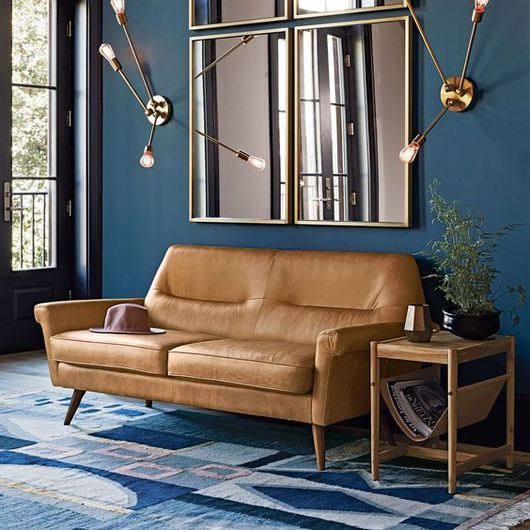 While luxe velvet has been a mainstay in recent years, more familiar and comfortable fabrics are making a comeback. Since 2020's design aesthetic is all about personality and practicality, it makes sense that we're ditching the just-for-looks elements in favor of lived-in cozy comforts (think worn leather, organic cotton, and soft linens).
Decorating Trends to Avoid
Last decade saw dozens of widespread trends that included everything from fiddle leaf figs to all-white everything—all of which aimed to streamline interior design to create the illusion of perfection. But this year is all about individualism, so if you're trying to sell a home or make some upgrades, you might want to think twice before doing any of the following.
Going All Out
California designs typically avoid maximalist decor, and 2020 is the year to let go of baggage, clean up our acts, and organize our closets. So, there's no need to go over the top when it comes to interior design.
Remaining Neutral
The days of white walls, cabinets, and floors are over (at least for now), so avoid going too minimalistic unless you want a dated look. Similarly, greige, beige, and fully neutral spaces can come off as boring rather than put-together. Of course, neutrals are great accent colors to incorporate into your space, but try to throw in some creative aspects as well. This will allow you to add more of your personal style into the mix and curate a more visually interesting environment for your guests and potential homebuyers.
Keeping It Separated
People are busy and often use the same space for multiple functions, so there's no need for single-use spaces any more. There's no shame in using a room for both entertaining and exercising or in working at the dining-room table when it's not being used. Especially when you're trying to save money in California's most expensive cities, it's not practical to have a different room for each activity, so make the space you do have functional and more efficient.
Staying Single
When it comes to design schemes, your aesthetic can change throughout the house, so don't try to stick to a single theme. Remaining true to just one design scheme can make a home look too perfect and not lived-in. Instead, inject some personality into the space and make each area your own.