Ever since the six-time NBA champions Golden State Warriors announced they were leaving their longtime home of Oracle Arena in Oakland for a brand-new stadium in San Francisco, the Chase Center opening has been a highly anticipated—and hotly debated—event.
The $1.6-billion, privately funded stadium not only drew the ire of longtime Warriors fans (including myself), but also the scrutiny of San Francisco businesses and residents who were concerned about an increase in traffic congestion in the already-busy Mission Bay neighborhood, prompting numerous lawsuits. But after several settlements and 30-plus months of construction, Chase Center was ultimately ready to open for business on September 6, 2019, with a performance headlined by legendary metal band Metallica and the San Francisco Symphony. (The Warriors played their first preseason game about a month later, on October 5.)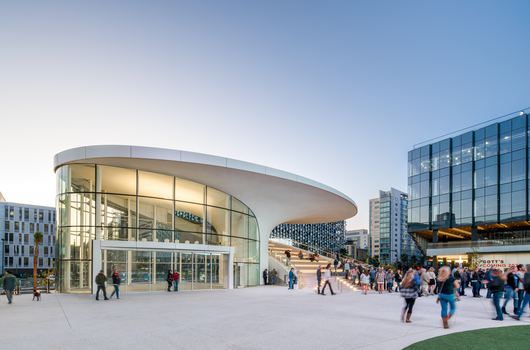 But before Chase Center even debuted, the stadium managed to generate $2 billion in revenue thanks, in part, to the various concerts and shows being held there when the Warriors aren't on the court. And when I heard The Black Keys were going to stop there on their "Let's Rock" tour, I couldn't resist buying tickets to see one of my favorite bands—even though I was still salty over the Warriors move and slightly resentful of Chase Center for taking away my beloved basketball team. I've wanted to see the indie-rock band ever since my Santa Barbara college days (and I still regret not getting tickets to see them at the Santa Barbara Bowl), and my husband is a huge fan, too, so I knew we couldn't pass up the opportunity to watch The Black Keys perform in San Francisco.
Once we bought the (fairly pricey) tickets, I started doing some research into Chase Center, and it actually sounded pretty cool; it's not your typical sports stadium. Aside from boasting 18,064 seats and the largest scoreboard in the NBA, Chase Center also features an 11-acre complex called Thrive City. This public plaza offers more than 20 restaurants and shops—including a food hall by award-winning chef Michael Mina and standout eateries like Dumpling Time and Gott's Roadside—along with urban parklets and a community-gathering space, which aims to promote health and wellness by hosting special events such as farmers markets and yoga classes. Thrive City also features The Gatehouse, a 5,000-square-foot structure with several storefronts, a glassed-in studio, and a curving staircase where up to 250 visitors can sit and watch ice skating (during the holidays) or movie nights inside the plaza.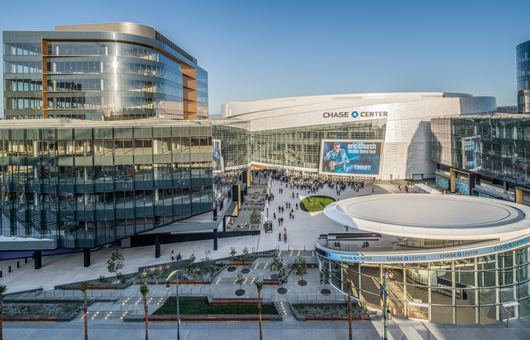 The food inside Chase Center sounded intriguing, too. Spearheaded by culinary director Mark Jeffers, the "Only in the Bay Area" food program keeps the focus on local prominent eateries, such as Bakesale Betty in Oakland, Tacolicious in San Francisco, and Sam's Chowder House in Half Moon Bay. Other Bay Area spots with Chase Center setups include La Cocina, Big Nate's BBQ, Yvonne's Southern Sweets, and Hot Dog Bills.
Given all the cool offerings at Chase Center and the publicity surrounding the opening, I started getting excited about going to the concert and checking out the stadium, though I couldn't help but wonder, Does it live up to the hype?
Here's what I learned during my first Chase Center experience.
Getting to Chase Center
Chase Center encourages visitors to take public transit, and based on my experience, it's likely the easiest way to get there, especially if you live outside of the city. Coming from the East Bay, we decided to take BART to San Francisco's Embarcadero station and then jump on the Muni T-line to get to Chase Center. (While we had to pay for our BART ticket, our concert ticket was also our Muni ticket; we simply had to show it at the Muni turnstiles, and we got on for free.) The whole trip took about an hour, from the time we left our home in Walnut Creek to the time we stepped off the Muni train in front of the stadium.
But the stadium is easily walkable from public transit stops at Third and King Streets (where the Muni T-line stops in South Beach) or just outside of the center itself at South and Third Streets. SFMTA also runs dedicated bus shuttles to and from the 16th Street BART Station and along the Van Ness corridor during game days and events. There's a bike valet with 300 permanent spaces, too, for those who want to arrive on two wheels.
And—if you must drive—you can park in one of the 950 spots in the lot underneath the arena, but given the amount of traffic in Mission Bay in the late afternoon and early evening, you should do this as a last resort, especially when there are other events going on in the city (as was the case when we went). Uber and Lyft are additional options, but depending on the traffic, it may take a while to get to the stadium.
First Impressions of Chase Center
As the Muni train crawled toward Chase Center, I realized the stadium was pretty far out. I had never been to the Mission Bay neighborhood before—it used to consist of only rail yards and industrial sheds, after all—but given the number of construction projects that popped up once we passed Oracle Park and crossed the Mission Creek Channel, it was immediately clear it was now an up-and-coming area. Mission Bay's wide boulevards and extravagant spaces are steadily filling in with luxury apartment complexes, stocky office buildings, and unique eateries. Chase Center is the newest kid on the block—and is expected to become a popular one, too, that will help revive the area and transform it into a vibrant community.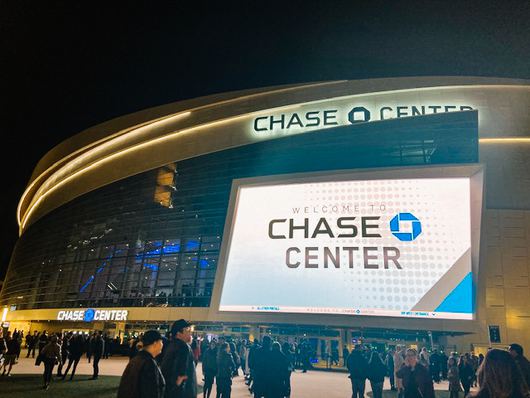 And when you first see Chase Center, it certainly reflects the wealth-fueled ambitions that have reshaped San Francisco and the Bay Area as a whole. When I arrived and took it all in, the first word that came to mind was, Woah. The sleek and shiny stadium looked almost futuristic, with its bright-white, spaceship-like orb soaring above the plaza below. A massive video screen dominated the exterior, displaying advertisements interspersed with rotating clips of the Warriors shooting hoops, musicians rockin' out on stage, and crowds going wild. It certainly looked cool, but any notable views were blocked by the two surrounding office structures clad in thick, dark glass. At 6:30 p.m., all of the Thrive City shops and restaurants were closed (or not even technically open yet), and since there wasn't much else to explore, we decided to head inside.
Chase Center Layout
Getting through security was quick and easy, and the people manning the doors were very nice, making for a pleasant check-in experience—but then we stepped inside. While the futuristic aesthetic of the exterior carried over, it still looked like a typical sporting venue, with gleaming, universally pleasing interiors that were devoid of any character.
But unlike most other stadiums I've been to, Chase Center does not make it easy for visitors to navigate their way through its multiple concourses and corridors. It's like the designers were focusing on trying to impress people rather than actually guide them to their seats. We looked around us in an attempt to figure out where to go, but there were no maps or signs anywhere indicating where the different seating sections were located. Finally, we asked a Chase Center staff member for help, and he pointed us in the right direction.
We head over to the escalators, which ascend three levels from the terrazzo floor to the upper concourse. Hanging above them is the 27-foot-wide Alexander Calder mobile on loan from the San Francisco Museum of Modern Art. As we go up, we also start to see the various layers—and levels—of Chase Center, but they don't have the natural flow or rhythmic satisfaction that's often found at other Bay Area sports venues such as Oracle Arena and Levi's Stadium. It's also apparent that not all patrons are created equal; you must flash a premium ticket to access the floors that aren't served by the two main concourses, and only VIPs can take advantage of the on-site concierge services.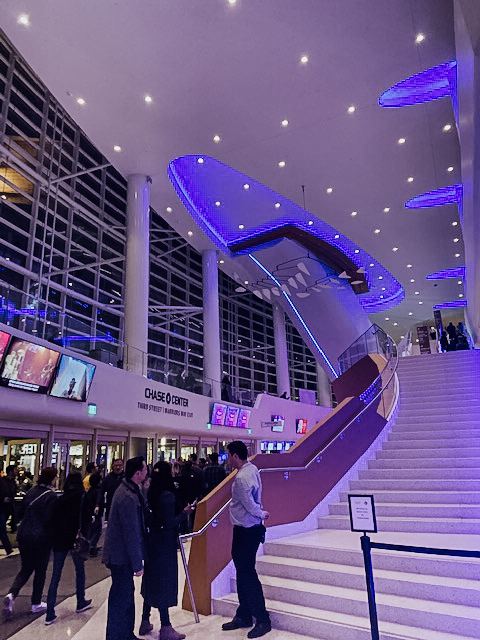 There wasn't much waiting for us when we finally got to the main concourse, either. There was a merchandise store where the line snaked far down the neighboring corridor, so we continued walking by to check out the food and beverage options, most of which were at this level and the one above us. I was actually really looking forward to perusing the various vendors, especially given the "Only in the Bay Area" theme. But I was sorely disappointed with what I found.
Chase Center Food
I had visions of grabbing a famous fried-chicken sandwich from Bakesale Betty, a pork bao from Paper Lantern, and maybe even a cup of creamy clam chowder from Sam's Chowder House (because I'm a fatty like that). But alas, none of them were even open. The only option we saw was City Bistro, and I was in no mood for a hot dog, chicken tenders, nachos, or popcorn. We walked all over the main concourse in search of anything other than generic stadium food, and when we came up empty-handed, we decided to try our luck in the upper concourse, which was where our seats were anyway.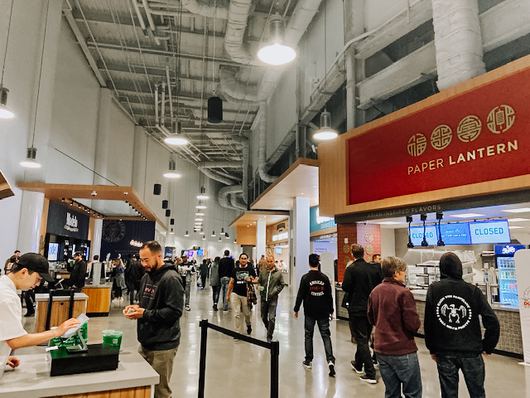 Armed with hope and grumbling bellies, we stormed up the escalators again but were soon met with further disappointment: It was a food ghost town. Though there were additional Bakesale Betty, Sam's Chowder House, Hot Dog Bills, and Tacolicious locales on this level, they were closed, too. The shadowy corridors were barren save the ample beverage stands and the line of people at City Bistro (ew).
We walked to both ends of the upper concourse, but our hearts sank with every step. Everything of note was shut down, and the only option other than City Bistro was Tony G's, which dishes up stellar pizza, but we can get the exact same creations at Slice House in Walnut Creek—and for half the price. I'll always choose pizza over hot dogs, though, so I opted for a slice of the peppadew pie, dotted with salami, pepperoni, peppadew peppers, and herbs. It was delicious, but the bitter taste of not having what I actually wanted lingered in my mouth. I was also miffed because if I'd known our only dining options would literally be pizza, hot dogs, nachos, and popcorn, I would've definitely eaten somewhere else in the city before the concert. But at least I know for the future: Unless you're coming to Chase Center on game day, you're outta luck.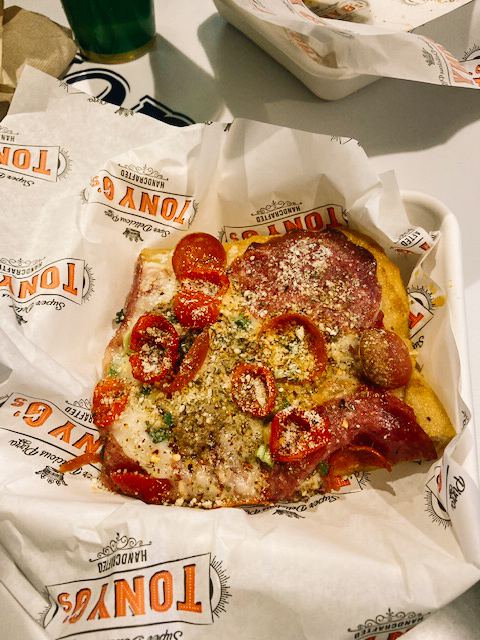 Chase Center Concert Experience
Luckily, things improved once we reached our seats, which were actually pretty comfortable despite the narrow aisles. And though we were up high, we had a great view of the entire stage, and my annoyance faded away as soon as the lights dimmed, indicating The Black Keys were about to take the stage. The audience roared in response, and soon the sounds of guitar riffs and drum beats filled the venue. While there was a slight echo at first, the acoustics improved after a few songs, and the energy in the stadium was palpable throughout the show. We spent the rest of the night feeling nothing but utter bliss; we rocked out, sang along, and swayed to the rhythm with our fellow concertgoers.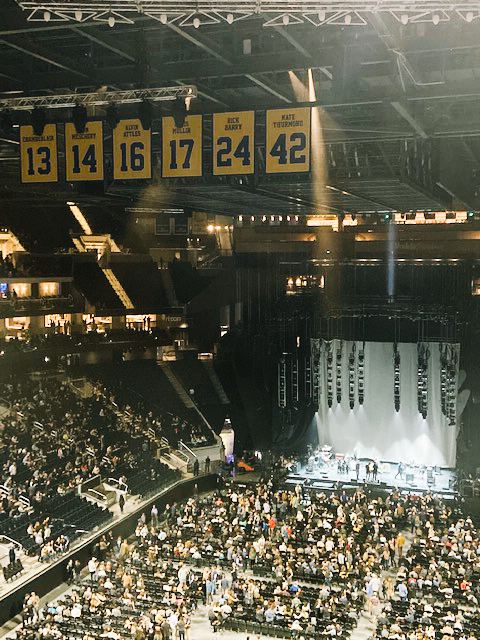 In this sense, Chase Center achieves its true purpose: It provides full immersion in the moment, allowing fans to come together in a raucous enclosed oval to cheer for their favorite band, singer, or sports team in a convivial atmosphere. The venue is both lively and comfortable enough to atone for its lack of unique food options (at least for concerts) and confusing jumble of concourses and passageways. And when it came time to leave the stadium, I was sad. The concert was over was too quickly; The Black Keys put on a spectacular performance, and I could have easily listened to them for at least another couple of hours.
So, while I was ecstatic that I was finally able to see my favorite band perform live, my feelings about Chase Center are still lukewarm. The stadium appears to be all about the glitz and glam, attempting to impress and attract people with its showy exterior when, in fact, it's quite shallow and devoid of any personality on the inside. But if you haven't been to the new home of the Warriors, you should still check it out. (And now that you know what to expect, you might have a better experience than I did.) No matter what the rest of the NBA season brings—and let's be honest, it isn't looking very promising for the Warriors—Chase Center is worth a visit (just make sure to eat dinner beforehand if you don't go on game day).