By

California.com
December 09, 2020
The uglier, the better—this isn't said nor practiced often unless we're talkin' about creative ugly sweaters. The holiday season is the perfect time to wear the most hideous, ridiculous, and dramatic sweater possible. What's better than creating the masterpiece yourself?
It's time to break out your DIY skills for the ultimate ugly Christmas sweater. A wonderful at-home date idea and a fun family activity, making DIY Christmas sweaters is a must when it comes to celebrating the December holiday season. From ugly Christmas sweater competitions to virtual parties solely devoted to those works of art, the movement of unsightly sweaters has taken this country by storm.
So, whether you're determined to win the ugly Christmas sweater contest or you're just looking to spice things up with your partner, get in touch with your Christmas spirit and bring out the glue and the glitter—it's time for your creative ugly sweater ideas to come to life. After all, nothing screams "festive" louder than crazy patterns, twinkling lights, Christmas puns, and tinsel galore.
Easy Ugly Christmas Sweater Ideas


Ornaments Ordeal
Is there an unused box of Christmas bells and ornaments stored away? Wipe off the dust, because it's time to make the most of the Christmas extras. Regardless of the type of ornament—small jingle bells, glitter ornaments, or glass balls—all types are welcomed (encouraged, actually). Just hot glue your ornament onto your sweater for a touch of the special and ugly. If the ornament has a string on it, you can always make a hole in your sweater and loop the ornament through the sweater so that it's dangling off of you (in a stylish manner, of course).
The Wrap-Up
Pick out any basic shirt or sweater, and go crazy with your glitter tape. Don't have tape? Just use leftover ribbons. Start simple; perhaps two intersecting lines down the middle. Or, go crazy with ribbons fervently wrapped around the sweater. Incorporate different colors for an extravagant effect and a surefire ugly sweater.

Cover It With Crochet
Are you good with crochet hooks? Then don't shy away. Instead, put those skills to good use. Grab any plain white sweater that you have no use for anymore. Then, go to town with tiny crocheted decorations. From Christmas trees and festive gingerbread houses to reindeer and Santa on his sleigh, the choices are endless.
Buttons Galore
There are always spare buttons lying about in different shapes, sizes, and colors. Now's the time to utilize the extras. Select a basic red sweater, and get lost in the decorating. Santa Claus, Christmas trees, reindeers, holiday-themed messages...it's all up to you on how you want to create your masterpiece. Feelin' the garland? Draw a thread through the middle of the sweater and adorn it with buttons to create makeshift garlands.
DIY Christmas Sweaters For Couples

Santa And Rudolph
It's always fun to match your creativity with someone else's, and DIY Christmas sweaters for couples are the right way to do so. Make ugly sweaters that match and complement one another—you'll be sure to win the ugly sweater competition this year. Get creative by painting on (or felting) a searching Santa Claus on one sweater and his main pal, Rudolph, on the other.
Split The Words
Two halves of a phrase make for the perfect easy ugly Christmas sweater idea. You won't need much to complete this project. A bottle of glue and a bag of glitter will help you get the message across. Pick out two basic sweaters—preferably in festive colors—and glue on the phrase "Merry Christmas" or "Happy Holidays" separately. (On one sweater, write "Merry" or "Happy" and "Christmas" or "Holidays" on the other. Once you've glued your heart out, sprinkle multi-colored glitter on top and watch as these cheery words come to life.
Two Halves of a Snowman
Snowmen are the easiest DIY projects—all you need are two round white felt cut-outs and buttons for the eyes. So, bring out the Christmas treats by California bakers, joyous music, and crafts table to make an evening out of it with your S.O. Decorate one sweater with the snowman's upper half and the other sweater with the snowman's lower half. The two of you will perfectly complete one another.
Mr. and Mrs. Claus, Anyone?
During this time of year, the bearer of gifts and his wife are everyone's favorite couple. Pick out a basic sweater and prepare the Santa and Mrs. Claus essentials—the white beard and glasses for him, and the grey hair and red lipstick for her—then decorate to your heart's content. Go the extra mile and add funny phrases on the side for the ultimate creative ugly sweater idea.
Santa And His Bag Of Gifts
'Tis the season of gift-giving, so dress up with your S.O. as the gift-giving king and his presents. Turn your partner's sweater into a 3D installation of the bag of gifts; cut out felt in the shape of half boxes wrapped as gifts, and stick them onto one of the sweaters. On the other sweater, draw or paint a confused Santa on the lookout for his bag of presents.

DIY Kids Ugly Sweater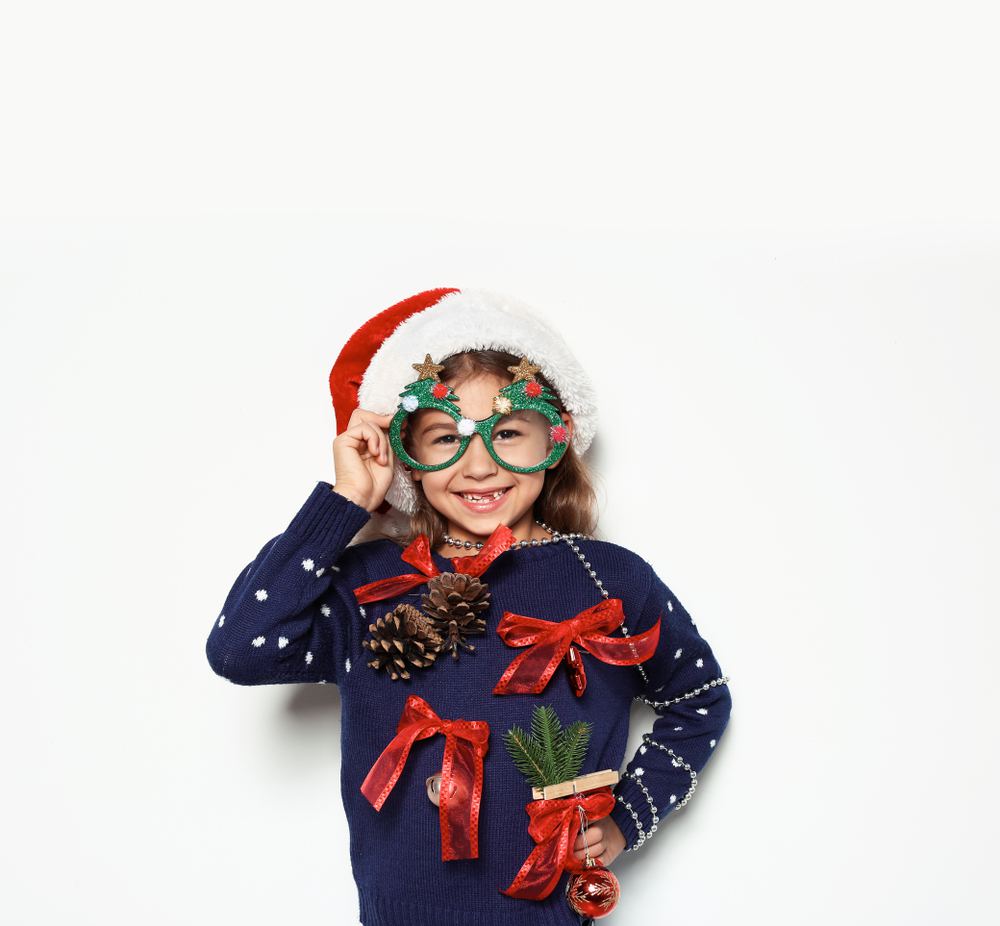 Family Christmas Tree
DIY Christmas sweaters are a fun and interactive way to get the whole family involved during the December holidays, so carve out time for the family to get creative together. For this particular project, you'll need two adult-size sweaters and one child-size crewneck. On the large sweaters, draw two halves of a Christmas tree in any direction you want and decorate them with lights and ornaments. For the child-size shirt, grab your paintbrush and stroke precise lines to make a star shape. Then, paint or color the star bright yellow. Assemble the final product—two adults are the Christmas tree and the child is the bright, shining star atop the Christmas tree.
Fun-Loving Felt
This one is for the kids. Put the whole family to work decorating sweaters, and snap the pictures so you can remember for experience for years to come. Start by customizing your basic crewnecks with the felt, making cutouts in Christmas-themed shapes such as trees, lights, and stars. Let your kids unleash their creativity and then proudly rock their creation.