As California mitigates health risks during the COVID-19 pandemic, some travel restrictions may remain in certain communities. Call the local and regional tourism offices to learn more about the restrictions in your intended destination. Thank you for reading, and stay safe.
Feasting, friends, and a day spent praising the joys of life. Oh, the simple beauty of Friendsgiving—fill up your plate with oven-roasted turkey, tangy cranberry sauce, sweet potato casserole, and stuffing before sitting around the table with your closest friends. This less-formal tradition of commemorating Thanksgiving is all the rage with millennials and is hands-down the best holiday, but it may look a bit different this year due to the pandemic, with many of us celebrating virtually or only with a couple of close friends instead of with the whole crew. Whether you throw a virtual party or rent a cabin for an intimate meal with just your besties for the holiday, celebrating Friendsgiving is a wonderful way to bond with loved ones.
What To Know About
Friendsgiving

Do you find yourself wondering, What is Friendsgiving, actually? According to Merriam-Webster (yes, it's even in the dictionary), Friendsgiving is a blend of friend and Thanksgiving, and it refers to a large meal eaten with friends either on or near Thanksgiving.
But Friendsgiving is far more than the mere act of connecting, feasting, and indulging in everything pumpkin. There's quite a great deal of planning and preparation to take into consideration, too. You can either keep Friendsgiving casual and do a small potluck-style meal or go all out for an elegant, intimate dinner. The host usually handles the main dishes while the guests bring the sides and delectable desserts (hello, pumpkin pie). Ultimately, it's all up to the host, though. Would you like to get creative and expand from the traditional Thanksgiving menu? Go for it. This year, it's your time to shine and show off your culinary skills.
Whether you're the Friendsgiving host or an attendee, you should abide by these essential etiquette rules before celebrating with your besties.
Essential Rules For The Host
The host shouldn't make all the meals alone.

Be sure to plan everything ahead of time.

Have a variety of dishes on the menu.

Include attending members in the meal planning.

Incorporate a couple of easy, pre-made dishes to the menu to make things easier.

Don't forget about decorations. While the food will grab the most attention, nothing sets the mood better than several pumpkins, cornucopias, and orange candles.

Guest Etiquette
Be sure to check with your host about what to bring, before showing up with a dish of your choice.

Mention your dietary restrictions in advance to avoid any mishaps.

Bring your own container for leftovers.

Help with the cleanup.
Friendsgiving Meals
And Snacks
Nothing exudes cozy autumn vibes like a table full of mouthwatering appetizers to munch on before the main meal. Whether you're looking to include last-minute add-ons to the menu or incorporate extraordinary snacks to wow your guests, these are the Thanksgiving dishes you need to add to your list of snacks and apps.

Morrocan-Spiced Roasted Carrot Hummus
Is there any snack better than hummus? Perhaps the addicting brightness of orange-colored hummus can get you in the celebratory mood. This Morrocan-Spiced Roasted Carrot Hummus by The Kitchn will take you to seventh heaven.
Ingredients
1 pound carrots, chopped into 1-inch chunks
3 whole cloves of garlic, peels left on
4 tablespoons extra virgin olive oil, divided
1 ½ cups cooked chickpeas, rinsed and drained if from a can
¼ cup tahini
2 tablespoons fresh lemon juice
¼ cup water, add more if necessary
½ teaspoon ground cumin
½ teaspoon ground ginger
½ teaspoon salt
¼ teaspoon ground black pepper
¼ teaspoon ground cinnamon
¼ teaspoon ground coriander
¼ teaspoon ground cayenne
¼ teaspoon ground allspice
⅛ teaspoon ground cloves
Fresh cilantro, minced (for serving)

Directions

1. Preheat the oven to 425 degrees. On a baking sheet, toss the chopped carrots and whole garlic cloves with 2 tablespoons of olive oil.
2. Roast in the oven until carrots are tender and lightly browned, about 18 to 20 minutes. Halfway through cooking, stir the carrots.
3. Once cool enough to touch, squeeze the garlic cloves out of their peels.
4. Combine roasted carrots, roasted garlic, chickpeas, tahini, lemon juice, water, and spices in a food processer. Whirl away until smooth. Taste and season with additional spices if desired.
5. If the hummus is too thick, add more water or oil and blend until your desired consistency is achieved.
6. Add the minced cilantro on top and serve with veggies, pita bread, or crackers.

Hasselback Potatoes with Creamy Kale Pesto
You've whipped up a delectable Morrocan-spiced roasted carrot hummus, so now what? For another unique and exceptional appetizer to serve at your Friendsgiving, look no further than the Hasselback Potatoes with Creamy Kale Pesto from Food Between Friends. You can always serve the creamy kale pesto on the side if that's how you want to roll, and you can even dip the potatoes in your hummus, too.

Creamy Kale Pesto
Ingredients

1 bunch Tuscan kale (lacinato kale), stems removed
2 garlic cloves, smashed
1 cup parsley leaves
¼ cup Parmesan
½ cup walnuts, toasted
2 teaspoons finely grated lemon zest
1 tablespoon fresh lemon juice
¼ teaspoon fine sea salt
Freshly ground pepper
¼ cup plain yogurt
½ cup olive oil

Directions
1. Boil water in a pot.
2. Put kale leaves in the boiling water. Cook until bright green, about 1 minute.
3. Drain and rinse with cold water to stop the cooking process, then place the kale on a kitchen towel to dry.
4. Combine garlic, parsley, Parmesan, toasted walnuts, lemon zest, lemon juice, salt, and pepper in a food processor. Pulse until coarsely chopped. Add in the yogurt and cooked kale. Pulse several more times.
5. With the motor running, steadily add in the oil. Pulse to a coarse purée. Taste and adjust seasoning if desired.

Potatoes
Ingredients
4 large Russet potatoes
4 tablespoons olive oil
½ teaspoon fine sea salt
Freshly grounded pepper

Directions
1. Preheat the oven to 425 degrees. Wash potatoes and dry.
2. Starting at one end of the potato, make vertical slices down the potato, stopping just before you cut all the way through it. The slices should stay connected at the bottom of the potato. Slices should be ⅛- to ¼-inch apart.
3. Place the potatoes in a baking dish or on a sheet tray. Brush olive oil all over (including bottoms).
4. Sprinkle the potatoes with salt and pepper.
5. Bake the potatoes for 60 to 70 minutes, or until the potatoes are crispy on the edges and easily pierced in the middles with a paring knife.
6. Drizzle the creamy kale pesto on each potato. Place back in the oven for about five minutes. Serve hot.

Friendsgiving Dinner Menu Ideas
Come for the turkey and gravy; stay for the side dishes. Although the star of the show is the turkey, its side pieces are just as divine.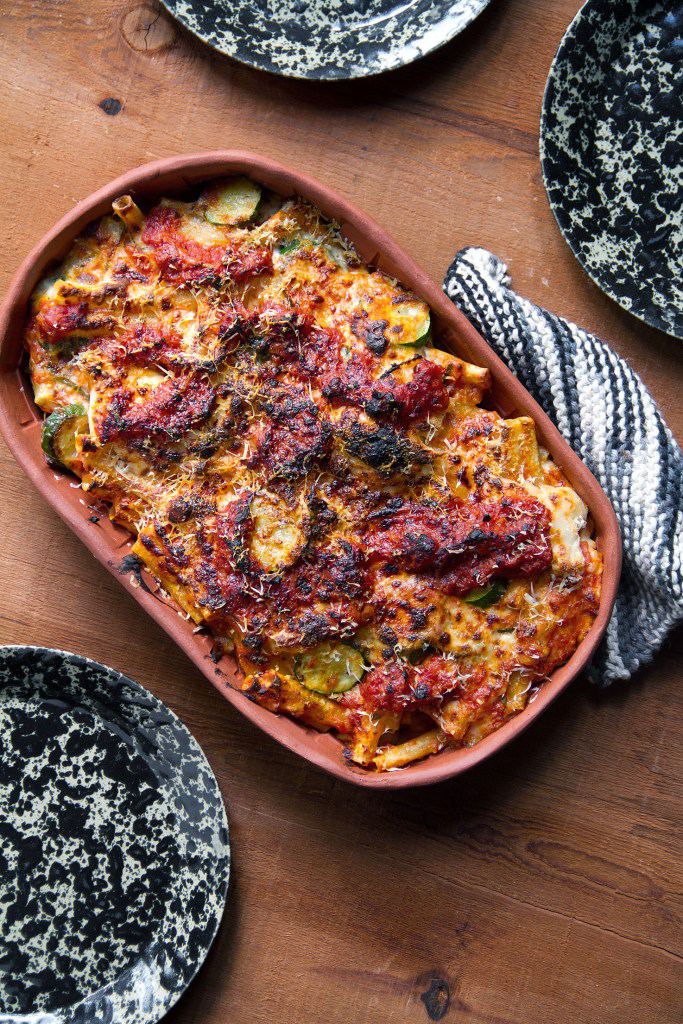 Baked Ziti with Zucchini, Pancetta, and Bechamel
After whipping out fantastic appetizers, the time has come for the main course. Sippity Sup's Baked Ziti with Zucchini, Pancetta, and Béchamel will leave your guests lovestruck. This crispy, crunchy Italian baked dish—all about the layers of noodles, cheese, and herbs—will take your friends to seventh heaven. The best part? The dish is pretty simple to make and is quite delish.
Ingredients
3 tablespoons unsalted butter
¼ cup all-purpose flour
2 cups whole milk, slightly warmed
2 ½ cups grated Parmesan, divided
½ cup olive oil, divided
3 ounces pancetta, thinly sliced (optional)
1 large onion, peeled and grated
4 cloves garlic, peeled and minced
½ teaspoon crushed red pepper flakes
Kosher salt
Freshly ground pepper
2 tablespoons tomato paste
1 (28-ounce) can crushed tomatoes
½ cup fresh basil, thinly sliced
2–3 small to medium zucchini, about 1 pound
1 tablespoon dried herbs de Provence
Dried ziti pasta (or similar type of pasta)
1 pound mozzarella, chilled and roughly grated

Directions
1. In a saucepan, heat butter over medium heat. Sprinkle flour over and cook, whisking constantly, for about one minute.
2. Gradually whisk in warm milk.
3. Bring the mixture to a boil. Then, reduce heat and simmer. Whisk often, until béchamel is thickened, about six to eight minutes.
4. Remove from heat. Add in Parmesan and stir until the cheese is melted and the sauce is smooth. Set the sauce aside in a warm place.
5. In a large saucepan over medium-high heat, heat ¼ cup of oil.
6. Add pancetta and stir often, until golden brown and beginning to crisp, about four minutes.
7. Add grated onion, minced garlic, and red pepper flakes. Season with salt and pepper. Cook for about six to eight minutes, stirring occasionally.
8. Add tomato paste and stir for about two minutes.
9. Add crushed tomatoes to the saucepan. Bring sauce to a simmer and cook, stirring often, for about 20 to 25 minutes. Throw in basil and additional salt or pepper, if desired.
10. Meanwhile, preheat the oven to 450 degrees.
11. Toss zucchini with remaining olive oil, salt, pepper, and dried herbs de Provence. Spread the mixture onto a baking sheet. Roast until tender, about 15 minutes.
12. Over high heat, bring a large pot of salted water to a boil, then add pasta. Cook for about six minutes. Drain pasta and set aside.
13. Lower the oven temperature to 350 degrees after removing the zucchini from the oven.
14. Lightly reheat the béchamel. Add a little bit of milk if necessary.
15. Transfer béchamel to a bowl; add the partially cooked pasta, roasted zucchini, and grated mozzarella. Toss to combine. Add all but 1 cup of the tomato sauce to the mixture.
16. Transfer pasta to a shallow baking dish. Top pasta with remaining tomato sauce. Scatter remaining Parmesan over pasta.
17. Bake until the mozzarella is melted, about 15 to 20 minutes. The sauce should be bubbling around the edges.
18. Heat broiler. Broil until pasta and cheese are dark brown and slightly crunchy in spots, about four minutes.
19. Let pasta sit five minutes before serving.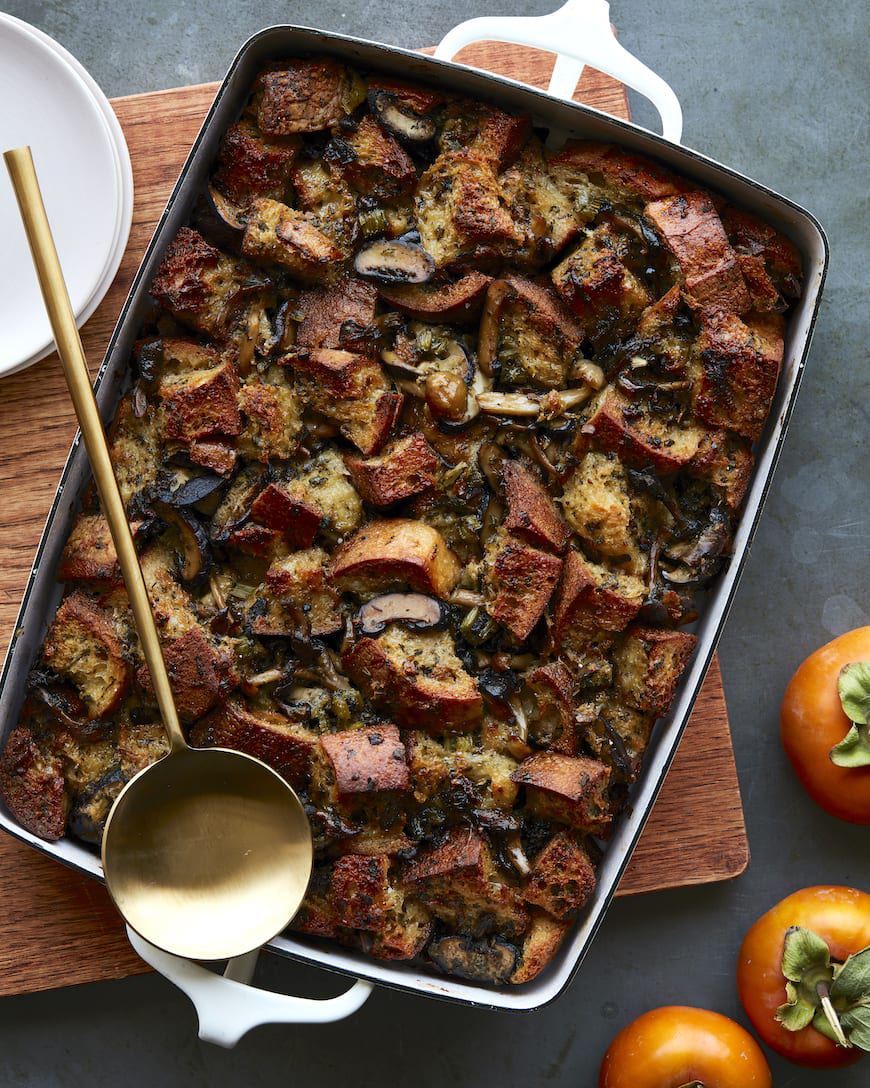 Wild Mushroom Stuffing
Mushrooms, thyme, sage, oh my! Get in the California spirit and use traditional sourdough bread to make this excellent, beautifully flavored Wild Mushroom Stuffing from What's Gaby Cooking. This recipe is absolutely to die for.
Ingredients
1 sourdough loaf, cubed
10 tablespoons butter
1 pound wild mushrooms
2 shallots, finely sliced
2 stalks celery, thinly sliced
2 bunches green onions, thinly sliced
¾ cup fresh Italian parsley, chopped
2 tablespoons fresh oregano, chopped
2 tablespoons fresh sage, chopped
2 tablespoons fresh thyme, chopped
3 large garlic cloves, minced
2 teaspoons coarse kosher salt
1 teaspoon freshly ground black pepper
3 large eggs
2 cups chicken broth or vegetable stock
4 ounces freshly grated Parmesan

Directions
1. Preheat the oven to 375 degrees. On a large baking sheet, spread the cubed bread. Bake until bread is dry, about 15 minutes. Remove from the oven and let cool.
2. Melt the butter in a large, heavy skillet over medium heat. Add mushrooms and shallots; sauté until golden, about seven minutes.
3. Add celery, green onions, herbs, garlic, salt, and pepper. Sauté for three to four minutes more.
4. Generously grease a large baking dish.
5. Place the bread cubes in a large bowl. Add the warm vegetable mixture; toss to combine.
6. Whisk the eggs and ¾ cup broth together in a medium bowl. Add mixture to stuffing and toss to coat. Stir in Parmesan.
7. Add more broth if the stuffing still looks and feels dry.
8. Transfer to baking dish. Cover with buttered foil.
9. Bake for 30 minutes. Remove foil; bake until golden, about another 30 minutes.