Congratulations! You're engaged! You've likely already shared the exciting news with your loved ones (and made the obligatory announcement on social media), and now you're starting to think about the wedding-planning process—or at least trying to wrap your head around it. I know how overwhelming it can be, trust me. As a newlywed, I was recently deep in the trenches of wedding planning, and I'm going to be completely honest: It was pretty stressful at times.
At first, it was all fun and games. After I got the gorgeous ring and popped some bottles, I received countless congratulatory phone calls and text messages from friends and family members, and some even sent my fiancé and I cards and presents. And of course, I was over the moon. One of the moments I'd been dreaming about my entire life had finally happened, and getting engaged to the love of your life gives you a high that's indescribable. So, I (naively) thought, I'm going to love planning my wedding so much!
I quickly discovered how wrong I was.
While planning a wedding is certainly one of the most exciting and monumental periods in your life, it can also become one of the most stressful. You've got to pick the photographer, the venue, the DJ, the linens, the flowers, and the right font for your invitations, among many other things—all while trying to figure out how you're going to deal with your embarrassing uncle Larry or how you're going to make sure that friend doesn't turn into a hot mess with the open bar. And we haven't even started talking about how you're going to pay for it all. It sounds like a lot … because it is. It's honestly enough to make even the most composed bride or groom go mad and break out in hives!
Indeed, the wedding-planning process is racked with major decisions, honest budget talks, and uncomfortable family dynamics, so it can quickly become extremely overwhelming. There are too many things going on at once for any couple to properly process and handle everything, and the stress can place some serious strain on your relationship if you don't work together to make sure the experience stays fun for both of you.
So yes, it can be a pain in the butt to plan a wedding—but it doesn't have to be. While I was definitely stressed at times, especially in the two weeks leading up to the wedding, I feel like I actually enjoyed the process overall. But I was able to maintain my sanity because I made a few smart choices along the way. So, here are my tips and tricks to help ensure both you and your fiancé stay organized, happy, and as stress-free as possible while planning your wedding.
Wedding-Planning Tip #1: Hire a Wedding Planner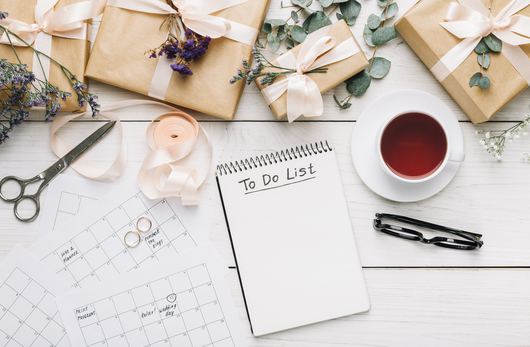 Hands down, this was the best choice I made—and the best money I spent—and I strongly encourage you to hire a planner, regardless of how simple or elaborate you want your wedding to be. I'm a very organized, easy-going person, but if it weren't for my wedding planners, I would have definitely lost my sanity and had a nervous breakdown. Finding the vendors and planning the logistics of the biggest event in your life takes so much time and effort, and if you work full-time and also have a social life like I do, then it's going to be a shitshow. As it was, working on my wedding took up most of my evenings and weekends, even with a planner.
Planners keep you on track, help you stick to your budget—which is easier said than done—ensure you have everything you need for the big day, make your vision come to life, and provide advice when you're feeling insecure or unsure about something. (I can't tell you how many times I called mine.) They're also a huge help when it comes to finding wedding vendors; ain't nobody got time to sift through hundreds of Yelp and Google reviews. Best of all, they take care of everything on your wedding day so you don't have to lift a finger.
On my big day, I literally didn't have to worry about anything except showing up. My planners not only handled logistics and coordinated with the vendors, but also set up the lawn games and signage, decorated the cake with flowers and set up the dessert table, put out the guest book and organized the gift table, took care of gathering up all the personal items we brought at the end of the night, and even did a liquor run when we ran out of tequila. The entire day went perfectly, and everything exceeded my expectations, but it would have been a lot different if I didn't have planners. I would have had to deal with everything by myself, or I would have had to divvy up the tasks amongst my family and friends, which was something I was strongly against doing because I wanted the wedding to be a positive experience for everyone involved.
And planning your wedding should (and can be) such a fun process if you go about it properly with a professional, so do yourself a favor and hire one. You'll save yourself a lot of unnecessary stress. Particularly in the month leading up to the wedding, the shit can really start to hit the fan, but you should only be focusing on your friends and family and pampering yourself—not worrying about the weather, finalizing the timeline, and coordinating vendor arrival times.
So, trust me when I say you should hire a wedding planner—or at the very least, a day-of coordinator—as soon as you set your date. You want to start your search early, especially if you're getting married in a popular California wedding destination; you don't want to find the perfect wedding planner, only to hear that he or she is already booked for your date. This person will be planning the most important day of your life, after all, so it's critical to find someone you can connect with and be honest with. It's also beneficial to choose a planner who's done a wedding at your venue before. They'll know the lay of the land, so to speak, and have a strong understanding of what needs to get done so the day goes smoothly.
Wedding-Planning Tip #2: Make the Big Decisions Together—Alone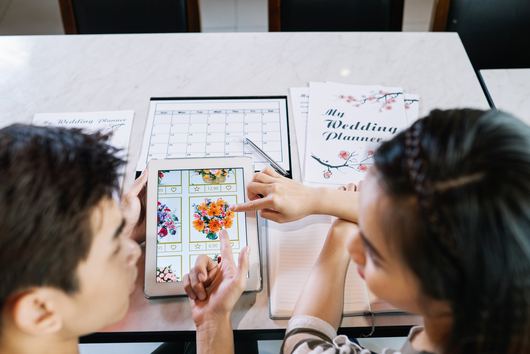 Decide where you want to get married, when you want to get married, and who you are going to invite before you start sharing this information with others. Weddings can bring out the crazy in people, including those closest to you, and everybody will share their opinions—whether you ask them to or not. But always remember that this is your day. Nobody else's. Of course, you may willingly seek advice from a select few people, but tread lightly. Only you and your fiancé should be making the final decisions.
To help ensure your desires don't get overshadowed, it's best to tell everybody the wedding details at the same time (as much as possible), and if your families are all onboard with the game plan, that's great. But still, handle your business quickly and succinctly from the beginning to set expectations. And keep any meddling mothers, siblings, and friends in check: If you two aren't asking for (and don't want) input from the peanut gallery, you don't have to take it. You can listen to it and ignore it—or don't listen at all.
You might find it difficult to dismiss the opinions of your parents or your fiancé's parents if they're helping you pay for the wedding, but again: Set boundaries from the beginning, and if things really start to get out of control, then it might be worth having an open conversation with them and reminding them that it's your wedding, not theirs. I know from experience that this is easier said than done, but don't buckle under anyone else's pressure, and don't let anyone (or anyone's opinion) drive a wedge between you and your fiancé.
Wedding-Planning Tip #3: Ask for Help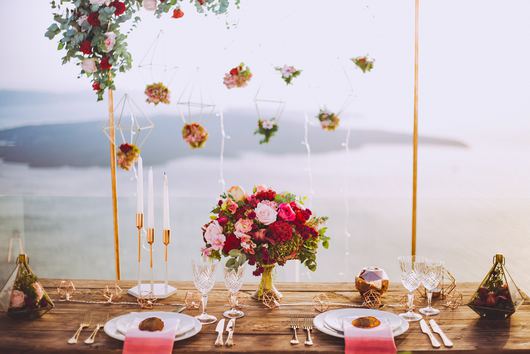 I also know first-hand how difficult it can be to delegate tasks, but when it comes to planning a wedding, you should not be doing everything yourself, so don't hesitate to ask your wedding party for help. And trust me: Your bridesmaids will want to help (if they don't, then they probably shouldn't be in your wedding in the first place) because they will want to make your wedding fun, memorable, and as stress-free as possible—just as you would for them. Family members will likely want to pitch in, too, so try to assign every key person a task.
At first, I didn't want to burden my bridesmaids, but I soon found that it was almost worse not to assign them a task. Every single one of them was expecting to have a task, and a couple even got a little feisty with me at one point and insisted they have an assignment. I also realized that even if you hire a planner, there are certain things he or she won't be able to help with—such as stuffing envelopes, choosing bridesmaid dresses, finding wedding favors, and setting up beauty appointments—so use the support system you'll have for life. There's nothing wrong with relying on friends and family for this momentous occasion.
Remember that these people love you and genuinely want to help, so you should never feel bad asking for it—as long as you're being reasonable and doing it nicely.
Wedding-Planning Tip #4: Let It Go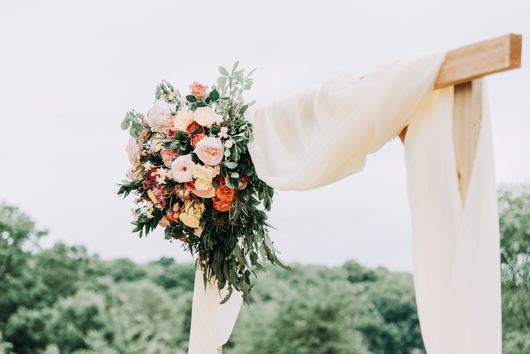 To piggyback on the tip above (and to borrow the lyrics of the popular Frozen song), you have to let it go, so to speak, and get comfortable with releasing a little bit of control when planning your wedding. I hate to break it to you, but shit's going to happen—you're going to have to redo the seating chart multiple times, repeat information over and over again to guests even though it's all on your wedding website, compromise on certain things to stay within your budget—so let go of the idea that everything is going to go perfectly. No matter how well organized you are, make peace with that fact that you will not be able to control every aspect of the big day.
I cannot stress the importance of flexibility enough. I know many brides and grooms who've had precise visions of what they want their wedding to be like, and while it's good to have some idea of what you desire, remaining flexible is key to reducing stress and finding enjoyment in the planning. And you should never lose sight of what's most important. To avoid getting bogged down by the daily demands of wedding planning, it helps to write down three things you value most in your life and to keep them front and center. Focusing on what really matters makes sure you and your fiancé won't get into a screaming match over the seating chart or over which linens to choose.
And for all that is holy, please resist the temptation to catastrophize—if your dream of having a beach wedding is compromised by a looming thunderstorm, your wedding is not ruined, even though it may appear to be so in the moment. At the end of the day, all that matters is that you marry your best friend; that's what this whole she-bang is all about, right? Plus, nobody likes a bridezilla, so please don't be that bride throwing a temper tantrum in the parking lot (which my wedding planner has witnessed first-hand). You can avoid this by always having a plan B and being willing to roll with the punches.
Wedding-Planning Tip #5: Take Breaks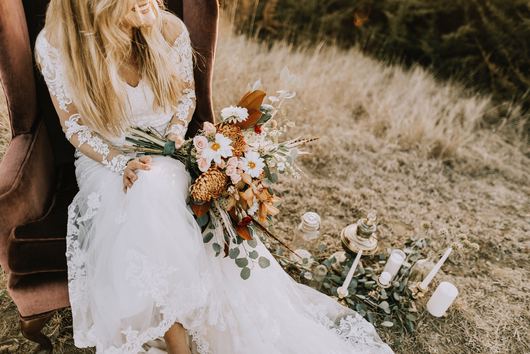 Planning a wedding can easily become all-consuming, so it's important to establish wedding-free days and zones. You shouldn't let the details of wedding planning hijack every moment's thought and every conversation. Stay curious about what's going on in your friends' and family members' lives, and spend time with the person you're marrying without bringing up the wedding. Focusing on things other than your big day will help keep things in perspective and, believe it or not, lessen your stress. The same way we sometimes need breaks from watching the news or talking about work, we have to take breaks from the continuous cacophony of wedding planning. Your mental health and your fiancé (and everyone else around you) will thank you for it.
Wedding-Planning Tip #6: Enjoy the Journey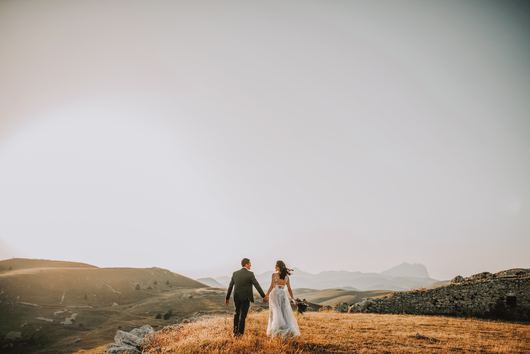 There will be hundreds of decisions to make and endless details to plan before your wedding day. It's crucial to remember that the journey is as important and meaningful as the final product itself. Whether you're creating the playlist, writing your vows, determining the menu items, or selecting the flowers, the process should be exciting, fun, and memorable.
Believe it or not, this is possible, especially if you start planning early. You're not only more likely to secure the vendors you want, but also more likely to feel prepared in the days leading up to the wedding. One of the best pieces of advice I got was to act like my wedding was actually happening a month earlier. This enabled me to stay on top of everything and prevented me from being a nervous, anxious wreck the week of my wedding—and trust me, things will happen right before your wedding that will make you punch someone in the throat if you're not mentally and emotionally stable.
To help manage any stress when you're in the midst of chaos, make sure you get enough sleep, maintain an exercise regimen, start a meditation practice, eat a healthy diet, and confide in your closest friends and family members. You want to make sure you fortify yourself and stay strong before the big day.
And of course, rely on your fiancé, who is now your forever partner. Ask him for ideas and input, even if he's reluctant to offer any. My now-husband would always say, "I don't care; you decide", whenever I asked for his opinion. But I knew deep down he had some sort of preference, and the more I pushed, the more he started to open up. Sure, he didn't always care, but when he did, he appreciated that I asked him. I also found that the more decisions we made together, the closer we became—and the more personal our wedding was for the both of us. Wedding planning was a great experience for us, and we were able to make every decision together without ever getting into a fight.
Always remember: It takes two to get married, so there are two people who have to be considered in the planning stages. This is where flexibility comes in again; you're both important that day, and planning your wedding sets the tone and a precedent for the many other things you'll need to plan in the coming years. The two of you are also likely spending quite a bit of money on your big day, so it's important to make sure the both of you are happy, which may require a few compromises. But I can honestly say that because my fiancé and I made all the decisions together and had open conversations with each other, we don't regret a single penny we spent, and it was the wedding of both of our dreams. I still get choked up thinking and talking about it, because it truly was the best, most magical day of our lives. I'm sure you'll have the same experience, too.