By

Mackenzie Hutson
August 06, 2019
In the early 1900s, a magical event occurred that would change the sandwich landscape forever: The French dip sandwich was created. Savory roast beef lies between the fluffy insides of jus-soaked slices of French bread, while the crunchy exteriors add texture and allow the sandwich to maintain its integrity.
Since its inception in La La Land, the French dip has evoked a sense of wonder for every individual who has had the pleasure of eating one. But there's still a lively debate regarding its true origin: Though it's clear the sandwich was developed at a restaurant in Los Angeles, it's not entirely clear whether it was Philippe's or Cole's that actually started this sandwich movement.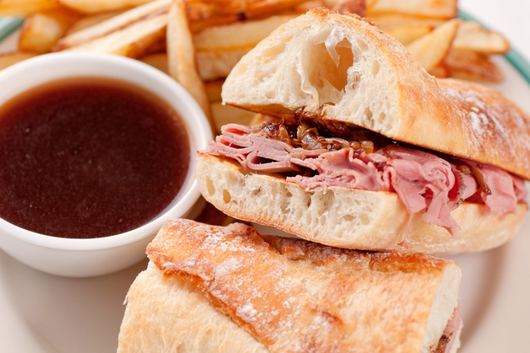 Philippe's
As the story goes, owner Philippe Mathieu accidentally dropped a French roll into a juice-coated roast beef pan while preparing a sandwich for a local worker in 1918. The diner ate the dipped sandwich anyway, sparking interest from other customers to order the new creation. It's said the invention was originally named the French Dipped sandwich as an ode to Philippe's French heritage, before it was shortened to French dip.
Cole's
The less common version of the French dip's history goes like this: In 1908, head chef Jack Garlinghouse encountered a hungry Cole's customer who had sore gums but wanted a roast beef sandwich. In order to soften the bread and make it easier for the customer to eat, Garlinghouse placed the French bread in the roast beef jus and served the sandwich for the first time.
While it's hard to say who invented the French dip recipe for sure, the sandwich is definitively the brainchild of a Los Angeles establishment—and is beloved across the country to this day.