By

California.com
October 25, 2020
As California mitigates health risks during the COVID-19 pandemic, some travel restrictions may remain in certain communities. Call the local and regional tourism offices to learn more about the restrictions in your intended destination. Thank you for reading, and stay safe.
The Golden State is a golden haven during the fall. The smooth, white sandy beaches; looming redwoods; and lush, rugged mountainous terrain beckon, anticipating your visit on your next fall family vacation or romantic getaway. Embarking on California road trips this season is even more enticing thanks to the state's stunning fall foliage, but you may not know where to go first. Luckily, your zodiac sign can help provide some guidance, whether you're looking for a California beach vacay or a national park getaway. So, let the cosmos take the lead and see the places to go this fall based on your zodiac sign.
The Best Places to Travel in the Fall

Aries – San Francisco
Aries dates: March 21–April 19
For Aries, excitement and relaxation are key for a vacay—what better place than San Francisco to satisfy both desires? The perfect fall retreat will have you letting loose as you ride trolleys, drink copious amounts of coffee, indulge at the Bay Area's Michelin-Starred restaurants (hello, Quince Restaurant), and chillax bayside. Cross the Golden Gate Bridge, spend time at Union Square, head to Golden Gate Park, and plan your escape (okay, maybe not escape, but get an insider's look) to Alcatraz Island. With so many things to do, San Francisco is truly one of the best places to visit in the fall.
Continue exploring: Getaway Guide: San Francisco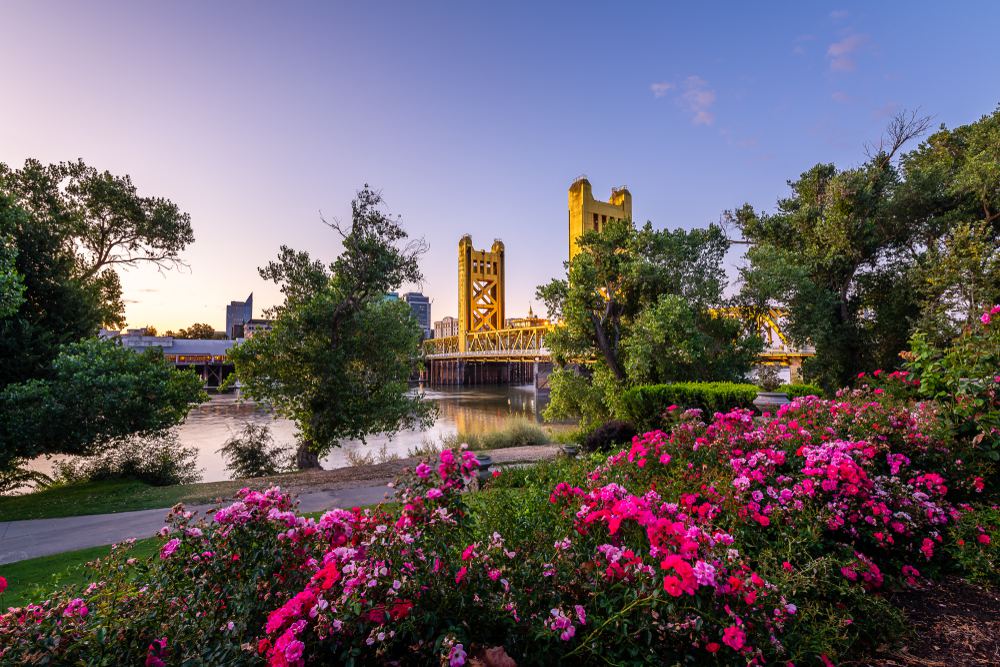 Gemini – Sacramento
Gemini dates: May 21–June 20
Geminis—also known as "The Twins"—will feel the duality of energy in the Golden State's capital. Known as the City of Trees, thanks to the shaded downtown and midtown areas, Sacramento is stunning in the fall and is bound to satisfy your curiosity and need for adventure. When in town, visit Old Sacramento State Historic Park, say hello to the animals at the Sacramento Zoo, and enjoy a night out at the historic Crest Theatre. If you get tired of the city vibes, go on a brief escape and go apple picking in Apple Hill.
Continue exploring: Getaway Guide: Sacramento

Cancer – Oakland
Cancer dates: June 21–July 22
Cancers have the constant need to find a deeper meaning in life, especially with the change in season. For an opportunity to connect with the past, head to Oakland this fall. Tour the USS Potomac that served as President Franklin D. Roosevelt's yacht, admire the view by climbing the stairs of Oakland City Hall, and visit the Dunsmuir House and Gardens. Spend your afternoon meandering through downtown Oakland, exploring the different neighborhoods, and indulging in the best avocado toast in the East Bay and some Blue Bottle Coffee.
Continue exploring: The 5 Hidden Gems of Oakland You Need to See to Believe


Virgo – San Jose
Virgo dates: August 23–September 22
San Jose offers plenty of things to do for Virgos, who are known for being master planners and checklist lovers. With over 200 parks in San Jose, you can surround yourself with nature at every turn in this South Bay city, making it one of the best places to travel in the fall. Beautiful outdoor destinations are easily accessible from San Jose. Alum Rock Park, Hellyer County Park, and Kelley Park are a few places worth visiting. Hike the Los Gatos Creek Trail, visit the San Jose Municipal Rose Garden, and meander through downtown San Jose for all things culture and entertainment.
Continue exploring: The Best Things to do in the South Bay
Libra – Keep It Close By
Libra dates: September 23–October 22
Libra's love for travel revolves around keeping the destination close to home. The best way to take in the fall colors yet stay nearby is to take a quick road trip based on your Enneagram type and location. Hit the road with family, and keep the fun local. There's no need to over-plan because California's fall foliage, pumpkin spice everything, and autumn vibes are more than enough.

Scorpio – Santa Cruz
Scorpio dates: October 23–November 21
Not only is Santa Cruz a top coastal destination known for its surf culture and laid-back vibes, but also a hub of the weird and supernatural—the ultimate spot for curious Scorpios to visit this fall. So, pick up your bestie and hit the Santa Cruz scene for a mystical adventure. From the Bigfoot Discovery Museum and Brookdale Lodge to The Mystery Spot and other mysterious attractions, Santa Cruz is a definite must-see for anyone who appreciates a bit of obscurity and enigma. You can also head up Highway 1 for your pick of pumpkin patches.
Continue exploring: Beach Day Itinerary: Santa Cruz

Sagittarius – Anaheim
Sagittarius dates: November 22 – December 21
For a free spirit and world traveler like Sagittarius, no place can compete with the "Happiest Place on Earth," so Anaheim's Disneyland Park, California Adventure Park, and other attractions are the best places to go in the fall. Turn your Anaheim day trip into a weekend-long excursion and stay at a nearby hotel or top RV camping spot.
Continue exploring: Anaheim Adventures: 7 Destinations to Visit After Disneyland


Aquarius – Santa Monica
Aquarius dates: January 20 – February 18
The most desirable place for an independent, creative Aquarius this fall is an idyllic SoCal beach town: Santa Monica. Plan a trip for you and your S.O., and escape the crowds by heading to the Santa Monica Mountains National Recreation Area. Have a kickback at Santa Monica State Beach, stroll along the Santa Monica Pier, and shop 'til you drop on Third Street Promenade after you've had your fair share of art exposure at Bergamot Station Arts Center.
Continue exploring: Getaway Guide: Santa Monica

Pisces – Malibu
Pisces dates: February 19–March 20
It's all about the water for you, Pisces—after all, your symbol is a fish—so the beach is an important aspect of your travel plans; the best place to have fun and let off some steam is Malibu. There's no shortage of stunning oceanfront locations in this swoon-worthy beach town. Between El Matador State Beach, Malibu Lagoon State Beach, and Westward Beach (just to name a few), you can easily fill your days by surfing, swimming, kayaking, and sunbathing. You can also hike the Grotto Trail and go horseback riding with Malibu Riders.
Continue exploring: Getaway Guide: Malibu