Mamma mia, here it comes again! The Gelato Festival returns to California for the third straight year, bringing top gelato chefs and a tantalizing assortment of artisanal frozen treats to West Hollywood's hip Design District.
From September 28 to 29, the epicurean extravaganza descends on the iconic Pacific Design Center, where you can enjoy all-you-can-eat gelato—made fresh on-site in the world's largest mobile frozen dessert laboratory—and cast your vote for your favorite scoop. A professional tasting panel will also sample the creations of the numerous gelato artisans, crowning one winner to continue the journey and compete in the prestigious Gelato Festival World Masters 2021 in Italy.
Since 2010, Italy's Gelato Festival has hosted over 100 events around the world, bringing together more than 3,000 accomplished gelato chefs who compete with their original flavors. The West Hollywood event will be the final American round of culinary competitions in 2019. The Gelato Festival spent the year traveling across the globe—making stops in Miami, Milan, Berlin, Boston, London, and Chicago, to name a few—in search of the world's best gelato artisans, who will go head to head in the 2021 competition.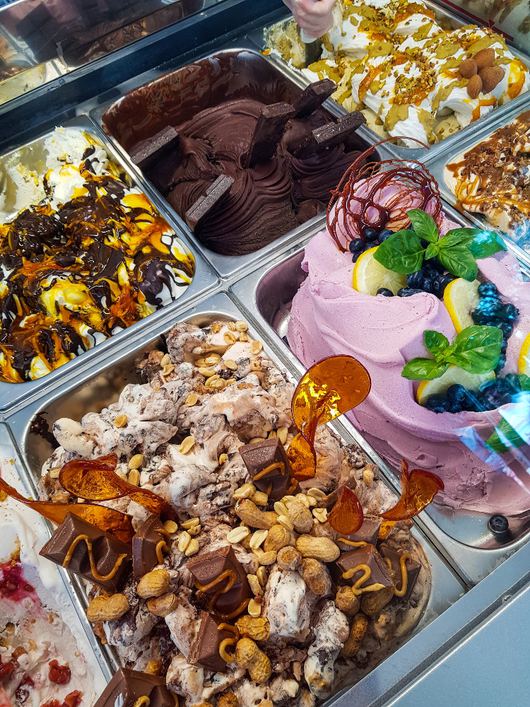 To join the foodie fun, check out the Gelato Festival West Hollywood on Saturday or Sunday from 11 a.m. to 7 p.m. You will not only be able to savor as many competing gelato flavors as your sweet tooth desires—such as strawberry dotted with California-grown berries, Mexican chocolate crafted with sweet mole and cacahuate, and herbal tea sorbetto infused with lemongrass and seaweed—but also special frozen concoctions created by some of Los Angeles' finest restaurants. (Think: everything from brownie brittle and cookie butter to pistachio and salted butter caramel.)
Once you've had your fill of gelato and voted for your favorite expression of Italy's most famous frozen dessert, take a break by perusing the local art on display, listening to the live music, playing a game of gelato trivia, or watching the Speed Cup Race. You can even see and learn how artisanal gelato is made by attending Carpigiani Gelato University.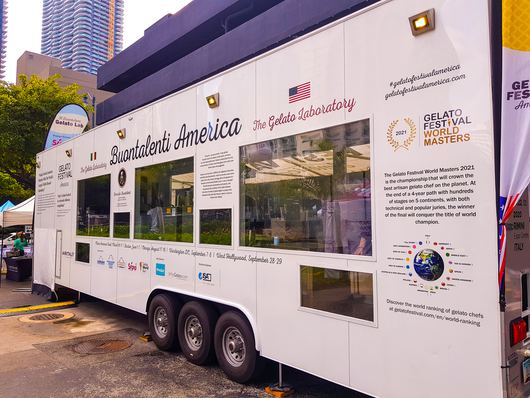 Is your interest piqued? Grab your tickets before they sell out, and feel good about the fact that a portion of the proceeds will benefit Charity Partner Project Angel Food, a Los Angeles–based nonprofit that cooks and delivers over 600,000 nutritious meals each year—free of charge—to the homes of men, women, and children affected by life-threatening illnesses.
If you can't make it to the world's most authoritative event dedicated to gelato, don't despair: The Gelato Festival recently opened its first permanent store on West Hollywood's famous Melrose Avenue. Offering experiences that range from the delectably indulgent to the inspiringly creative, the whimsical wonderland transports customers to a world of pure, unadulterated joy—the kind that can only be inspired by delicious desserts—as soon as they walk through the doors.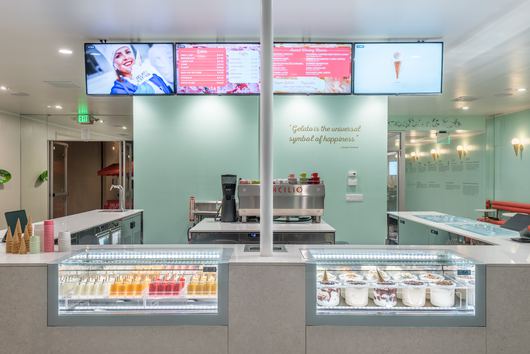 Wholly unlike any other gelato store in the country, this hybrid concept features a rotating menu of award-winning gelato flavors and confections created by master gelato chefs from around the world; an open-concept laboratory equipped with state-of-the-art machinery, so customers can watch the mesmerizing process of gelato being made fresh daily; a classroom for interactive, gelato-centric courses; a museum chronicling gelato's historical roots; and even Instagram-worthy contemporary art installations. The cheerful space will also serve as a hub for innovation, hosting special events and bringing in renowned gelato chefs on a regular basis to experiment with new, boundary-pushing flavors made from local ingredients.
There's nothing quite like the giddy feeling of licking a delicious scoop of rich, creamy gelato, so come get a taste of some of the world's best at the Gelato Festival and check out its smile-inducing concept store.