After taking some time to enjoy your engagement, the first thing you and your fiancé should do is decide on the location for your big day. And if you're envisioning a California Dreamin' wedding, the diverse geography and vibrant cities of the Golden State offer innumerable locations for any type of style. Whether you image exchanging vows on a mountainside, next to the ocean, in the middle of the desert, or inside a posh city hotel, California has the perfect locale for you. Here are some of the best wedding destinations in the state.
Lake Tahoe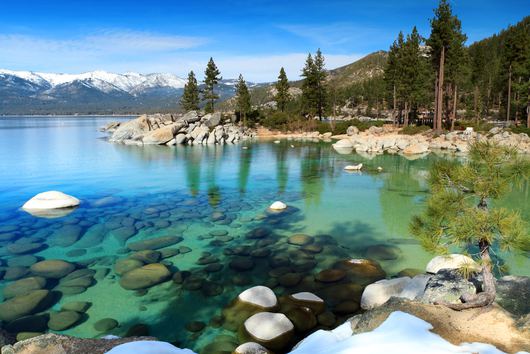 Brides and grooms from across the country flock to this utopia to say "I do", and it's easy to see why. Situated along the California–Nevada border, Lake Tahoe—the largest alpine lake in North America and the second deepest in America—is a gorgeous getaway nestled in the mountains. The lake is famous for its cobalt-blue water and surrounding snowcapped peaks, providing a scenic and romantic setting for weddings, no matter the season. Exchange vows next to the water at Lakeside Beach, on top of the famed Emerald Bay bluff, beneath towering pine trees at the base of a mountain in Truckee, or inside a cozy Squaw Valley château with views of the Sierra Nevada. Given its spectacular scenery year-round, Lake Tahoe is a premier spot to tie the knot, and with the variety of venues available, you can make your wedding as elaborate or casual as you'd like. And between the plethora of outdoor activities, gourmet dining destinations, glittering casinos, and high-end spas, guests will find plenty to keep them entertained before and after the wedding festivities.
Napa and Sonoma Valleys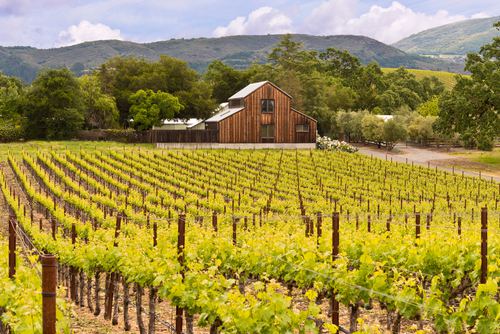 Home to acres of vineyards, rolling green hills, and charming towns—not to mention lauded wineries—these sophisticated Northern California wine regions are ideal locations for couples who want a refined yet inviting ambience on their special day. Napa and Sonoma Valley weddings can be held at any time of year, with each season bringing unique environs as spring flowers bloom, foliage changes, and the grape harvest commences. Aside from boasting temperate weather and beautiful scenery year-round, the valleys also offer an impressive assortment of venues, including five-star resorts, historic estates, elegant eateries, and picturesque golf courses. Wine aficionados often want to have their wedding at a winery, and the Sonoma Valley features everything from intimate, Tuscan-inspired hillside properties to noble, expansive estates offering sweeping vineyard vistas.
In the Napa Valley, however, couples are harder pressed to find winery venues, as there's a law preventing most wineries from hosting weddings on their grounds. Established in the late '80s to protect Napa's agricultural land, the Winery Definition Ordinance limits the types of activities that wineries can hold on their property, and unfortunately, weddings are not one of them. But don't despair: Five places were grandfathered in before the law was put in place, so you can still have a winery wedding at Charles Krug Winery (St. Helena), V. Sattui Winery (St. Helena), Beringer Vineyards (St. Helena), Merryvale Vineyards (St. Helena), and Hans Fahden Vineyards (Calistoga). Regardless of where you decide to host your nuptials, the world-renowned Napa and Sonoma Valleys are among the most alluring places in California, and you really can't go wrong with either.
San Francisco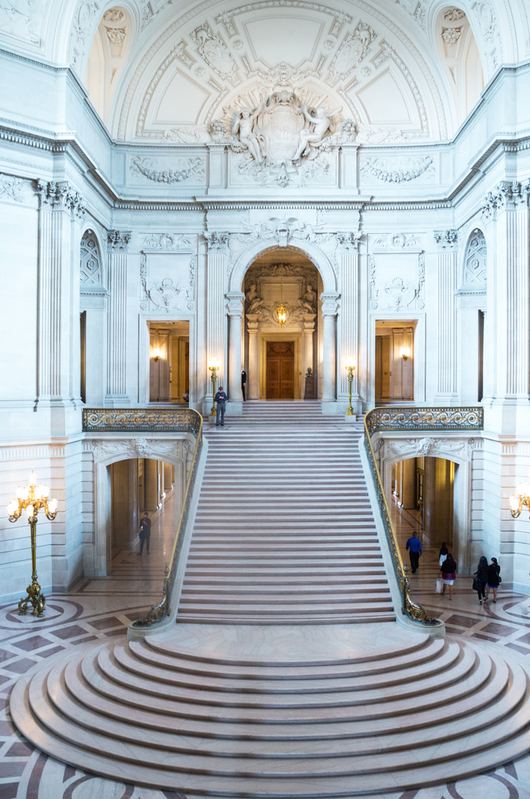 San Francisco is known as the city of love for a reason. Featuring a romantic skyline, twinkling structures, iconic landmarks, and gorgeous outdoor spaces, the City by the Bay is where many choose to officially begin their lives together. The sprawling metropolis features an astonishing collection of venue options, including regal government buildings (San Francisco City Hall), hip museums (California Academy of Sciences), stately event spaces (Julia Morgan Ballroom), striking churches and chapels (Grace Cathedral), magical woodsy parks (Golden Gate Park), lush gardens (Shakespeare Garden), posh hotels (The Westin St. Francis San Francisco on Union Square), and historic properties (Golden Gate Club)—some of which offer views of the cityscape, Bay Bridge, or Golden Gate Bridge.
Couples have a wealth of options at their fingertips and everything they need to make their wedding a memorable one. Your guests can also plan a fun trip around your event, as the city is home to family-friendly attractions, such as Fisherman's Wharf, Pier 39, and the Exploratorium; an assortment of innovative, award-winning restaurants; shopping destinations like Union Square; and a variety of hotels for any budget. You and your sweetheart may even want to join your guests and stick around for a day or two after your wedding!
Big Sur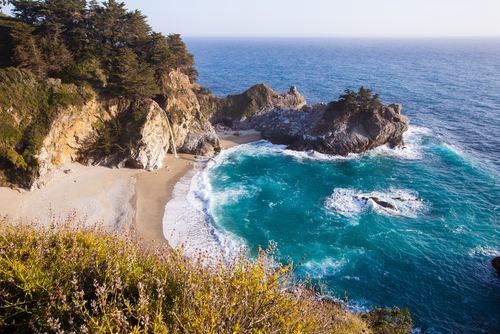 There are seemingly endless reasons to hold your wedding in this rugged, mountainous region. With its breathtaking blend of ocean, forest, and mountains, Big Sur offers a dramatic landscape and stunning views, making it a popular choice for couples seeking an ethereal wedding destination along the Central Coast. Whether you imagine saying "I do" while overlooking the Pacific Ocean at sunset, being surrounded by majestic redwoods, or standing on a hillside with views of forests and canyons, Big Sur's natural beauty serves as an enchanting backdrop. And there's no shortage of impressive venues for weddings large or small, from the luxurious Ventana Big Sur, to the intimate Wind and Sea, to the secluded Glen Oaks Big Sur, to the iconic Julia Pfeiffer Burns State Park. Guests also have their choice of luxe accommodations and gourmet restaurants—and of course, innumerable opportunities to enjoy the great outdoors.
Santa Barbara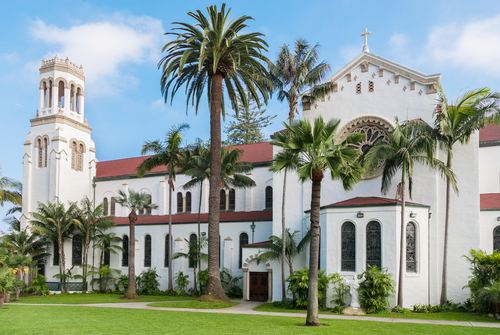 Tucked between the chaparral-covered Santa Ynez Mountains and the brilliant-blue Pacific Ocean, Santa Barbara is a slice of paradise along the Central Coast, boasting year-round sunshine, miles of pristine coastline, beautiful mountainscapes, Spanish Colonial architecture, and a renowned wine country. Aptly nicknamed the "American Riviera" due to its spectacular natural backdrops and Mediterranean-like climate, this waterfront city pretty much has it all, which is why several celebrities (such as Ellen Degeneres and Oprah Winfrey) call it home—and why it's a popular place for destination weddings. Santa Barbara also maintains a distinctly California vibe while having its own unique charm, offering soon-to-be newlyweds an array of venues for any style.
Whether you're considering exchanging vows atop the roof of the historic Canary Hotel, in a meadow at the foot of Figueroa Mountain, on the bluffs overlooking the Pacific at Dos Pueblos Ranch, among the vines at Sunstone Vineyards and Winery, surrounded by majestic oak trees at the Santa Barbara Museum of Natural History, or next to the beach at the luxurious Four Seasons Resort the Biltmore Santa Barbara—you'll find a wealth of options. There are plenty of perks for guests, too, including posh accommodations, fine dining, trendy bars and tasting rooms, and a variety of outdoor activities. Between it all, Santa Barbara is an ideal place to get hitched.
Los Angeles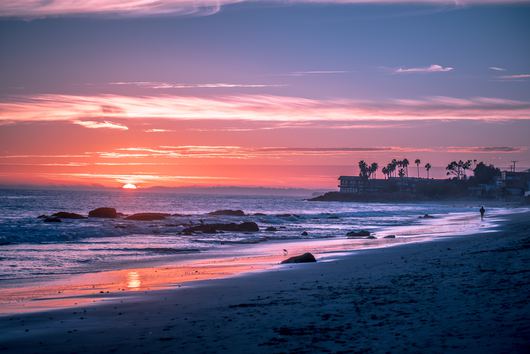 The sun-soaked beaches, culinary hot spots, stylish nightlife, and glitzy yet laid-back vibe all combine to make Los Angeles one of the coolest cities in America—so it's no surprise that locals and out-of-towners alike choose to get married there. The urban paradise is home to an eclectic assortment of neighborhoods, which allows couples to have the wedding of their dreams, whether it's a casual, intimate affair or a formal, elaborate soiree. With venues ranging from industrial-chic buildings (Carondelet House), to luxe hotels (Intercontinental Los Angeles Downtown), to waterfront gems (Bel-Air Bay Club), to historic structures (The Ebell of Los Angeles), to rustic yet elegant ranches (Saddlerock Ranch), to opulent and glamorous locales (Taglyan Complex), Los Angeles can provide the picture-perfect setting for your Hollywood ending. There's also so much for guests to see—it is the second largest city in the United States, after all—between the cultural attractions, famed landmarks, outdoor activities, fine-dining establishments, and film and TV studio tours.
Joshua Tree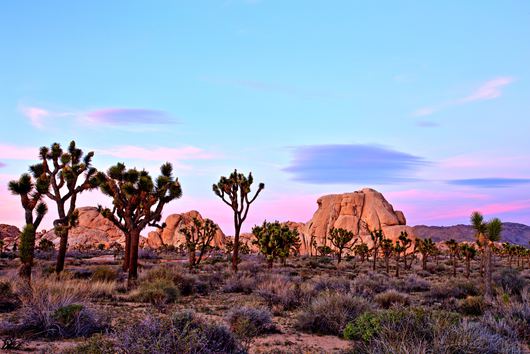 Situated where both the Mojave and Colorado Desert ecosystems come together, Joshua Tree National Park is famous for its gnarled Joshua trees, colorful rock formations, fascinating flora and fauna, and stark yet striking landscape—a dreamy backdrop for adventurous, free spirits who want to treat their guests to sunshine, mountainous views, and bohemian glamour. If you're planning on having a smaller gathering, you'll have several scenic options to choose from. Larger weddings are held at the jaw-dropping Indian Cove Amphitheater, while smaller gatherings may take place at Cap Rock, Live Oak, Split Rock, or picturesque picnic areas. Another option is The Ruin Venue, a former abandoned home that's been transformed into a rustic-chic private event space. No matter what spot you choose, you will enjoy unparalleled sunsets and star-studded night skies, making Joshua Tree a magical setting for saying "I do".
Palm Springs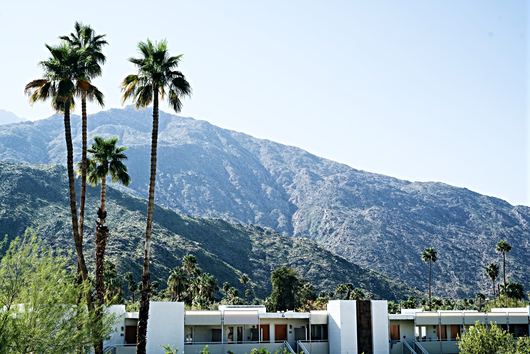 The pretty resort town of Palm Springs has been attracting A-List celebrities ever since Frank Sinatra stumbled upon the desert oasis and decided to buy his famous Twin Peaks home there. Now, after seven-plus decades, the formerly sleepy enclave is home to hip hotels, trendy eateries, regal private estates, and mid-century architectural treasures—which is why an increasing number of couples are opting to get married in "Hollywood's Playground". The venues are lovely, too, from the historic, Spanish-style Casa de Monte Vista; to the expansive O'Donnell House at The Willows Historic Inn; to the ritzy, Moroccan-inspired Colony Palms Hotel; to the intimate and lush Moorten Botanical Garden. (You can even rent an Old Hollywood home for your big day!) Palm Springs also provides a multitude of entertaining activities for you and your guests during your downtime, including its famous Walk of Stars, celebrity home tours, outdoor adventures, and rejuvenating spa treatments. It's a truly special place that will provide memories for years to come.
San Diego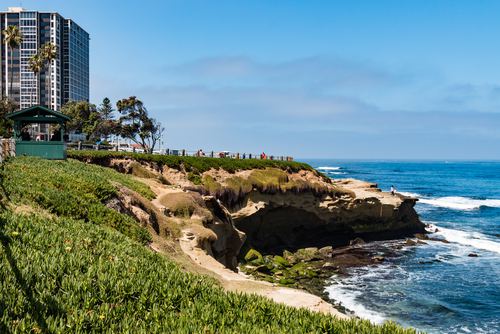 At the southernmost end of California, near the U.S.-Mexico border, San Diego is a standout location for those wanting a Golden State wedding. Featuring Instagram-worthy coastal views, a relaxed atmosphere, diverse culinary offerings, and sunny skies for most of the year, it's no wonder "America's Finest City" attracts couples from both near and far. And as the second largest city in California, San Diego provides a variety of wedding venues that will suit any taste. Whether you want to tie the knot with your toes in the sand (La Jolla Shores Hotel), on a bluff overlooking the Pacific (Cuvier Club), at a historic locale (Hotel del Coronado), at a posh resort (L'Auberge Del Mar), or among verdant surroundings (Karl Strauss Brewing Company), you're bound to find your ideal venue in this oceanside gem. San Diego itself has plenty to offer guests as well, with its outdoor recreational activities, cultural attractions, family-friendly entertainment, booming dining scene, and dynamic nightlife. It's a perfect place to turn your California Dreamin' into a reality.