By

California.com
December 16, 2020
As California mitigates health risks during the COVID-19 pandemic, some travel restrictions may remain in certain communities. Call the local and regional tourism offices to learn more about the restrictions in your intended destination. Thank you for reading, and stay safe.
If you haven't been on a winter hike yet, you're missing out big time. Fewer people, no bugs, clear skies, and fresh air—the perks of hiking in cold weather are endless. Whether you're dying to strap on your snowshoes and stomp across glittering, snow-covered winter trails or seeking an easygoing, secluded path along the coast, you can find your ideal winter adventure in California.
The Best Winter Hikes to Plan Next
The secret to a good winter hike is making sure you have the appropriate footwear, warm clothes, hydration, and protection from the sun. Since the days are shorter, make sure you plan your hike so you finish it prior to sunset—it's all about getting the perfect pic for the 'Gram. Once you master the basics, you'll be obsessed with traversing winter hiking trails.
Winter trails in Northern California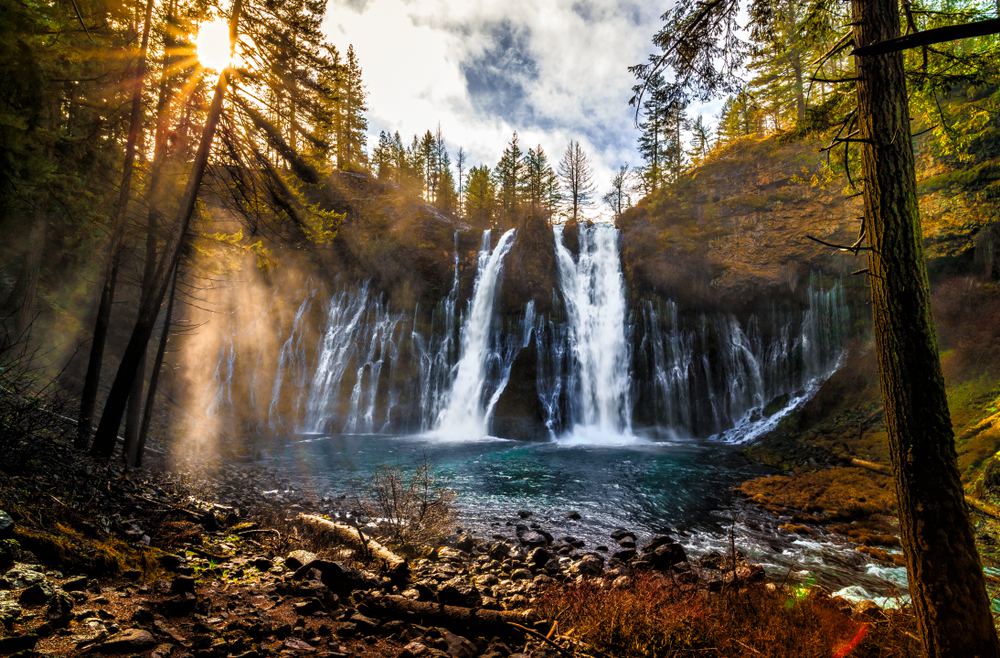 1. Burney Falls Loop Trail
Location: McArthur-Burney Falls Memorial State Park, 24898 Highway 89, Burney
Length: 1 mile round-trip
Difficulty: Easy
The lush Cascade Range northeast of Redding is home to the majestic 129-foot Burney Falls. The park features several hiking trails along the creek and through the woods that can be enjoyed year-round but are less crowded this time of year. The Burney Falls Loop Trail brings hikers to a scenic viewpoint above the falls before descending into the basin right to the foot of the cascade. This easy trail is an excellent family-friendly winter hike.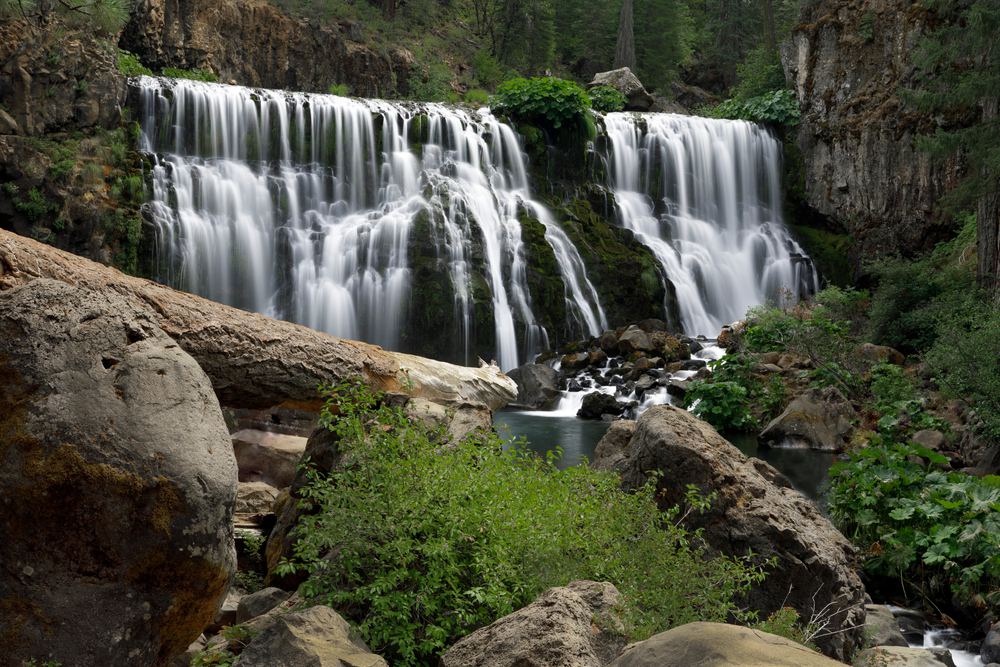 2. McCloud River Falls Trail
Location: Right off Highway 89, five miles east of McCloud
Length: 4 miles round-trip
Difficulty: Easy-moderate
Black basalt cliffs, canyons of cooled lava, and three waterfalls are all found on one short hike—the McCloud River Falls Trail has it all. You'll begin your winter hiking journey amongst the vast flatlands spreading out beneath the southern foot of Mount Shasta. Explore the wildly unique volcanic environment of the area. The mostly flat out-and-back trail welcomes hikers of all levels and features an elevation gain of only 300 feet.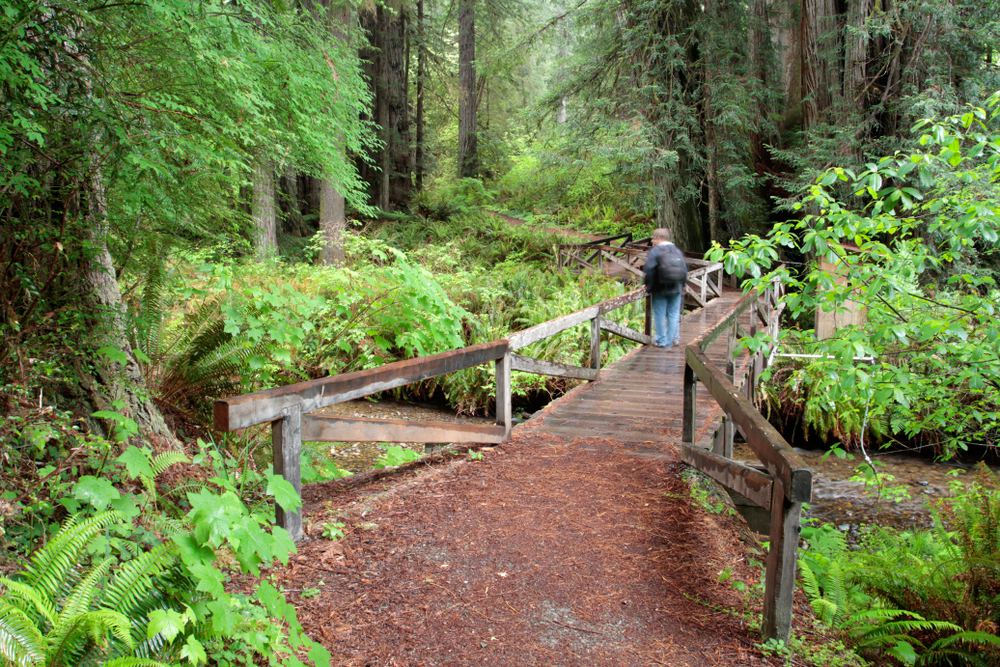 3. James Irvine Trail

Location: Prairie Creek Redwoods State Park, 127011 Newton B. Drury Scenic Parkway, Orick
Length: 10 miles round-trip
Difficulty: Moderate
Hikers, you'll be enchanted by some of the world's tallest and oldest trees at Prairie Creek Redwoods State Park. The 10-mile James Irvine Trail is one of the best winter hiking trails in Northern California. Winding through dense redwood forests, along hillsides and ridges, and through valleys, the out-and-back trail will have you gazing amazedly at the spectacular scene unfolding in front of you. If you're up for a challenge with a worthwhile endpoint, continue on when you reach the connecting 0.6-mile section of the Fern Canyon Trail, which leads to the beach.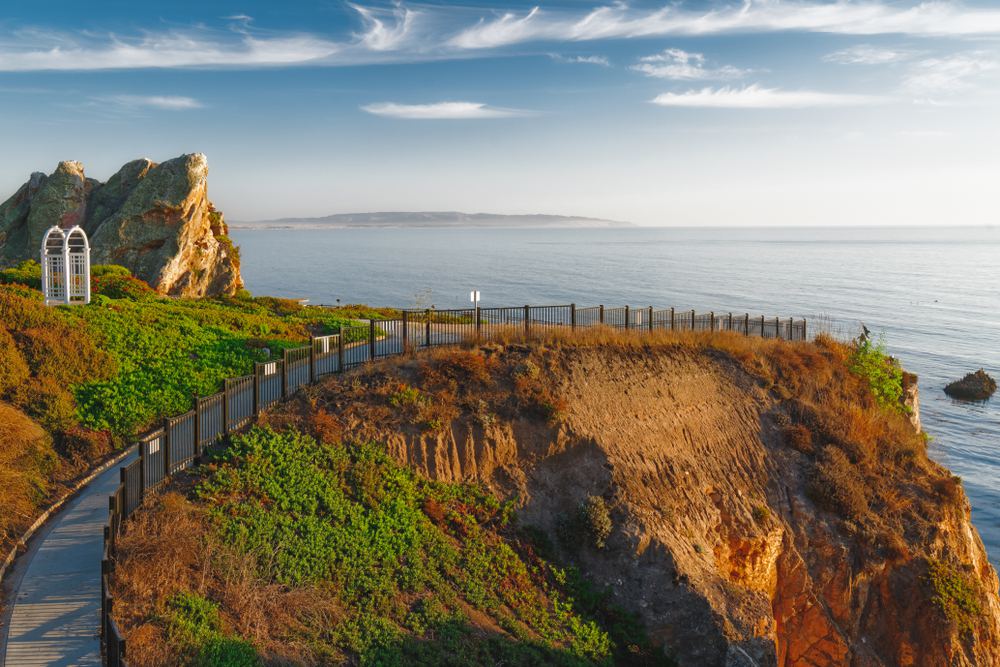 4. Pomo Canyon to Shell Beach
Location: Sonoma Coast State Park, 3095 Highway 1, Bodega Bay

Length: 6.5 miles round-trip
Difficulty: Moderate
Pomo Canyon Trail is a scenic loop trail located near Jenner. The moderate winter hike offers diverse views—you'll climb through a lush forest and then continue along a wooded ridge with stunning vistas of the ocean. Explore this trail early in the morning; you'll definitely want to spend time at Shell Beach. The mid-checkpoint of the trail is definitely a California beach worth visiting.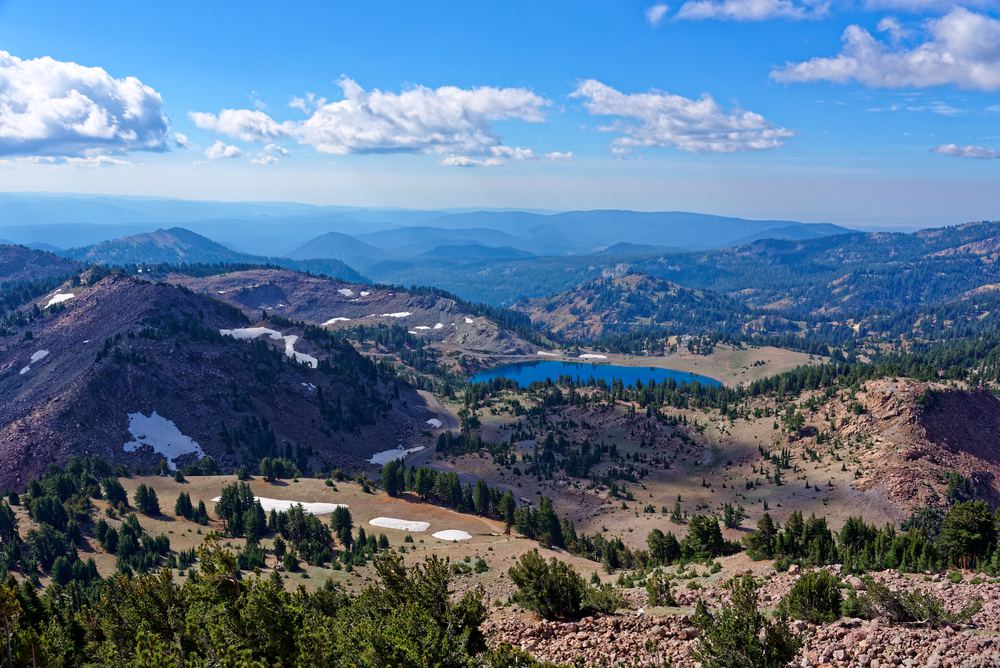 5. Lassen Peak Trail
Location: Lassen Volcanic National Park, Highway 36E, Mineral

Length: 5 miles round-trip
Difficulty: Challenging
This trail is for experienced hikers looking for a true challenge. Leading to the tallest point in Lassen Volcanic National Park at nearly 10,500 feet, the Lassen Peak Trail is one for champions. Start this winter hike at Lake Helen and climb 2,000 feet of steep and occasionally rocky trails to reach the top of the currently dormant volcano. The views at the end are otherworldly. You'll also get to witness the devastation of the volcanic mountain itself as you're climbing. If the hike is too tough for you, cross-country skiing and ranger-led snowshoe tours are also available at the park.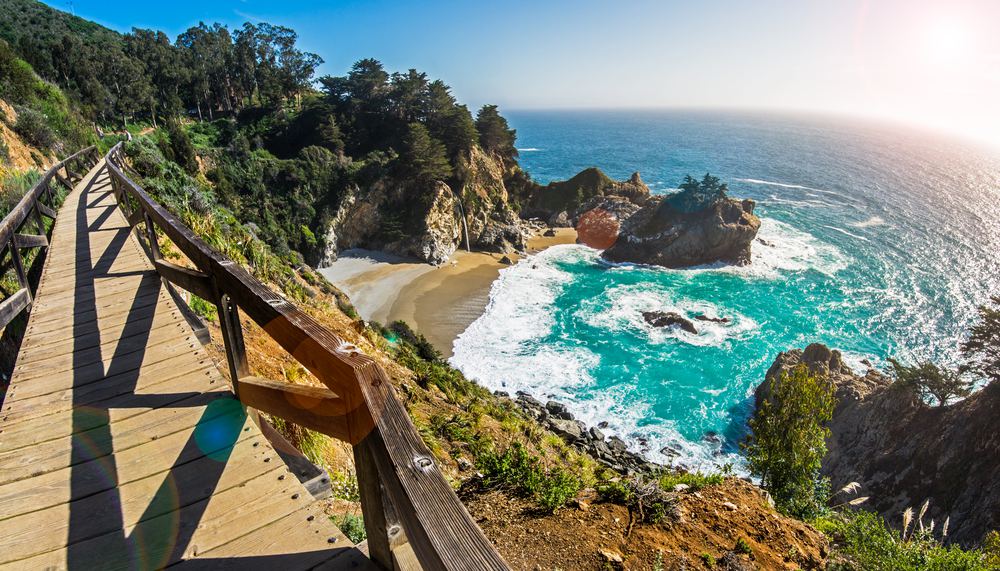 6. Overlook Trail to McWay Falls
Location: Julia Pfeiffer Burns State Park, 52801 CA-1, Big Sur
Length: 1.2 miles round-trip
Difficulty: Easy
This out-and-back coastal trail is the perfect winter hiking spot when visiting the Big Sur region. Best trekked between September and December, the Overlook Trail has an elevation gain of only 190 feet, so you can enjoy this scenic hike with no struggle. You might spend more time admiring the views of the majestic waterfall than completing the approximately 30-minute stroll. Explore Julia Pfeiffer Burns State Park while on this hike and learn about the female pioneer who owned a ranch in Big Sur during the early 1900s. During the winter migration season, you'll likely spot whales moving towards warmer lands, too.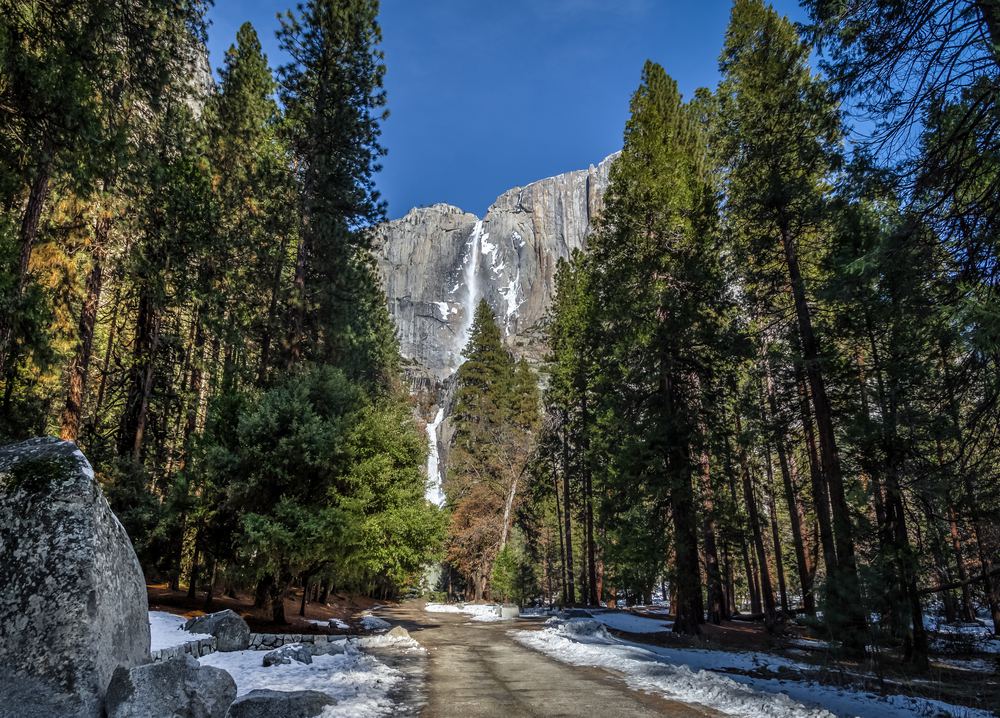 7. Upper Yosemite Falls Trail

Location: Yosemite National Park, off of Highway 120

Length: 7.2 miles round-trip
Difficulty: Challenging
Regardless if it's winter or not, this is one of the best hiking trails in Yosemite National Park. Recommended for experienced hikers only, the Upper Yosemite Falls Trail will stun you with its close-up views of the tallest waterfall in North America. Make sure you dress in warm clothing—hikers often feel the cool mist from the waterfalls as they're climbing. After reaching the summit of this challenging trail, you'll be dazzled by the expansive views of the entire Yosemite Valley.


Scenic Winter Walks in Southern California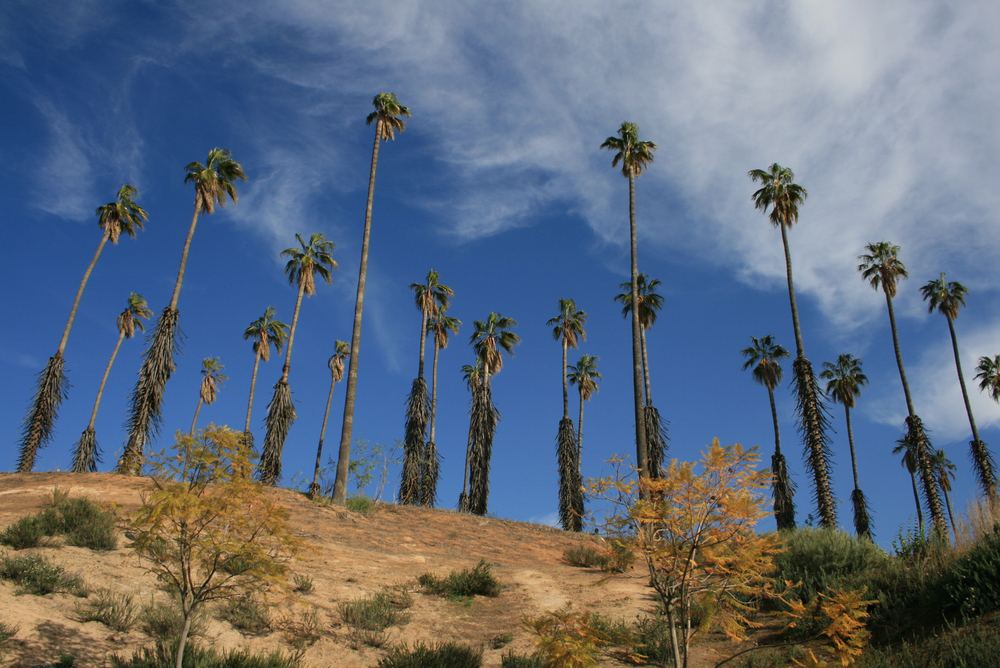 8. Citrus Interpretive Trail

Location: California Citrus State Historic Park, 9400 Dufferin Avenue, Riverside
Length: 1.1 miles round-trip
Difficulty: Easy
When the rest of the country is experiencing frigid conditions, the citrus groves in SoCal are at their peak. California Citrus State Historic Park is lovely at all times, but when the fruits are being harvested during the colder months, you'll get a chance to hand-pick the fruits off of the trees. Head to the visitor center to take advantage of the fruit tastings to boost your energy before taking on the winter hiking trail. Oranges, lemons, limes, and more exotic varieties of citrus (such as star ruby grapefruit) are a few examples of the fruits you'll get a chance to taste at this Southern California paradisical destination.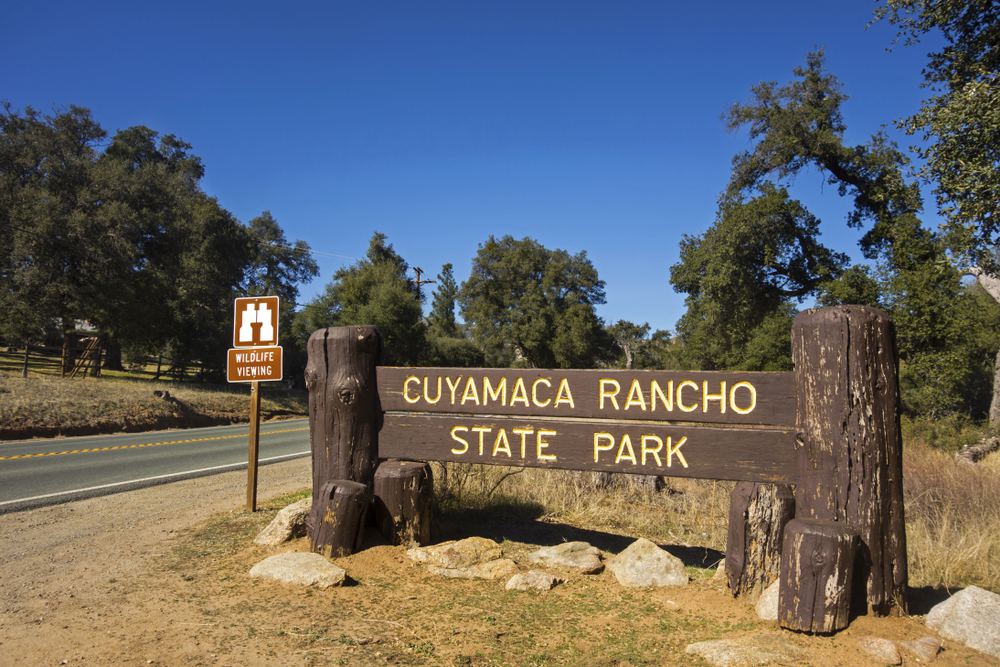 9. Middle Peak Loop Trail
Location: Cuyamaca Rancho State Park, 14592-14674 CA-79, Julian
Length: 6 miles round-trip
Difficulty: Easy
Expect to be surrounded by majestic snow-covered mountains while trekking this six-mile loop trail with views of Lake Cuyamaca. You can even make a day out of exploring Cuyamaca Rancho State Park. On-site, you'll find many group camping and picnicking spots (although not all of them are operating currently), and warm up around one of the fire rings with your fellow winter hikers.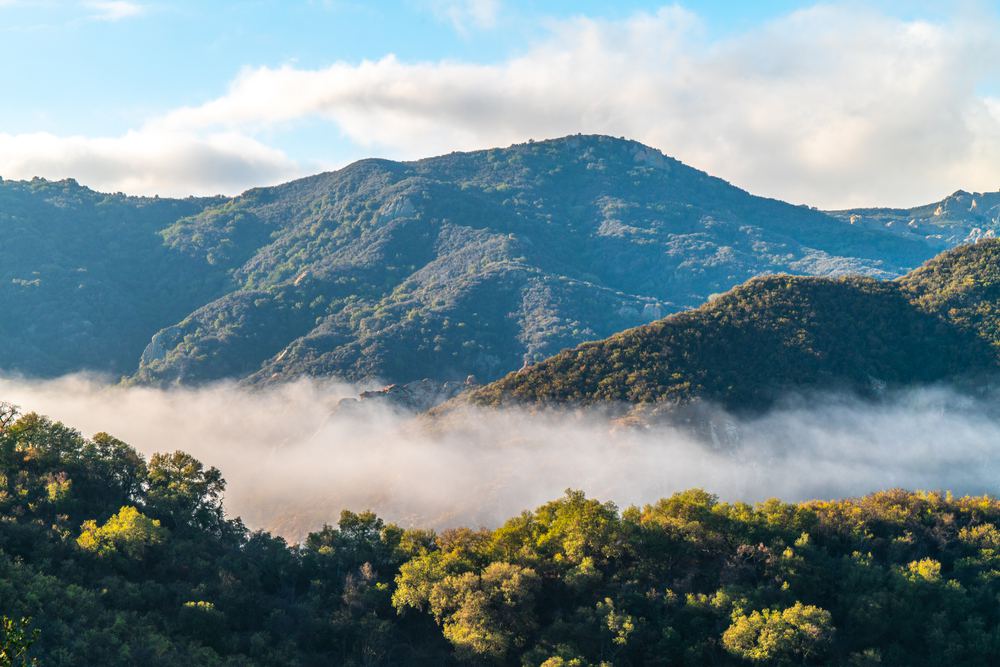 10. Malibu Lake Trail
Location: Malibu Creek State Park, 1925 Las Virgenes Road, Calabasas
Length: 6.6 miles round-trip
Difficulty: Moderate
Malibu beaches attract people from all over the world, but not many know that there are also prime places for winter hiking around this area. More than 30 miles of trails are available at Malibu Creek State Park. The Malibu Lake Trail is accessible year-round, offers a number of activity options, and welcomes horseback riders. There's plenty to explore in the state park, too. The creek was used as a set for many Hollywood productions; you might recognize scenic views from some of your favorite movies such as The Planet of the Apes, which was shot right here.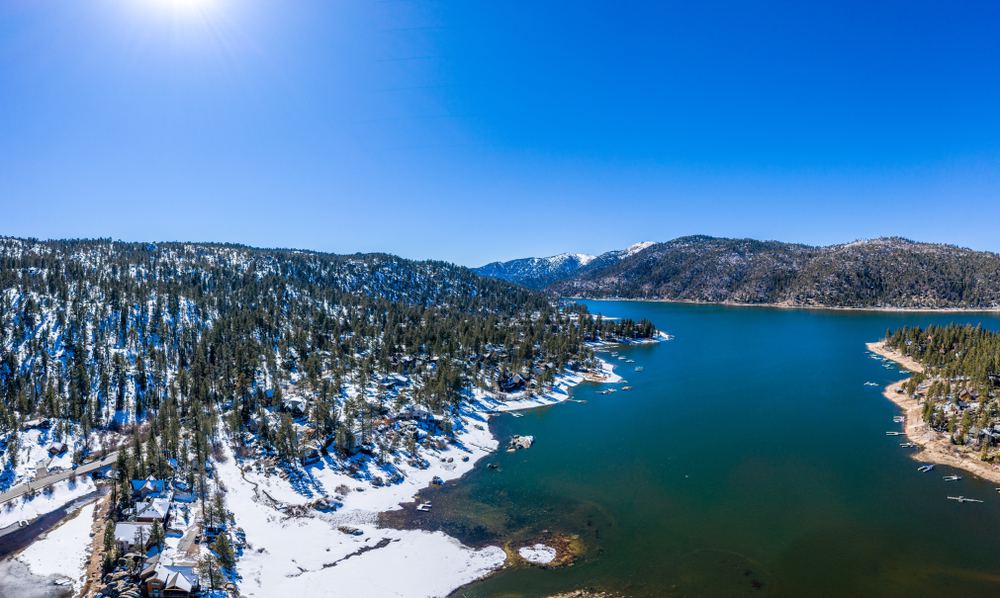 11. Castle Rock Trail

Location: Big Bear Boulevard, Big Bear Lake
Length: 2.6 miles round-trip
Difficulty: Moderate-challenging
Castle Rock Trail is one of the best hiking trails, regardless of the time of year, but winter may be the best time to visit due to the lack of crowds. The panoramic views of Big Bear Lake are among the factors that make this trail the most popular one in the area. Bring your water bottle and make sure you're well-rested; this winter hike has a steep climb that will get your heart pumping for the first half-mile. As you head towards Castle Rock, the trail levels out significantly and gives you a chance to catch your breath. The road gets pretty icy during the colder months, so make sure you have snowshoes.