A-HOME Electric
High quality residential electrical services
Our Recommendation Program highlights top-quality California businesses with a demonstrated love for their community.
Providing High Quality Electrical Services Without High Prices
With over a decade of experience in the electrical industry, founder Mark Phillips knows a thing or two about providing top-notch service. While he's licensed in California as both a journeyman electrician and an electrical contractor, Phillips and his team at A-HOME Electric—short for All Home Owners Maintenance Electrical— are dedicated to offering affordable rates and higher quality services than you might expect.
The A-HOME Electrical Difference
Serving Huntington Beach and Orange County, Phillips goes above and beyond the call of duty, evaluating each individual problem and creating holistic solutions. The team at A-HOME Electric comes equipped with years of hands-on expertise and more than qualified to troubleshoot and pinpoint electrical issues; find potential hazards; install the necessary electrical equipment; and replace old, dangerous, or outdated components—all at prices everyday homeowners can afford.
With such comprehensive service—and a commitment to getting the job done right the first time—there's no reason to rely on anyone else. From installing lighting to replacing electrical outlets, to upgrading existing electrical panels, A-HOME Electric does it all.
A-HOME Electric's full range of electrical services include:
Installing indoor and outdoor lighting, including bespoke recessed lights and sconces

Upgrading existing electrical panels including updates required in order to install electric vehicle charging equipment and solar panels

Installing and replacing electrical outlets to avoid shocks

Replacing electrical switches

Facilitating energy-efficient updates

Maintaining, replacing, removing, and cleaning chandeliers and

ceiling fans
Living The California Dream
Born and raised in Orange County, it was only natural for owner Mark Phillips to establish his business in the Golden State. After obtaining his journeyman electrical license and electrical contracting license, Phillips went on to work for other people, but in 2015 he took the leap and opened A-HOME Electric.
Inspired by the ability to help Southern California residents navigate the journey of updating electrical systems to become more sustainable and functional, Phillips turned his expertise into a thriving business. In fact, he was so passionate about the future of electricity that during a fishing trip he convinced his brother to join him and A-HOME Electric's sister company, A-EV Installs, was born.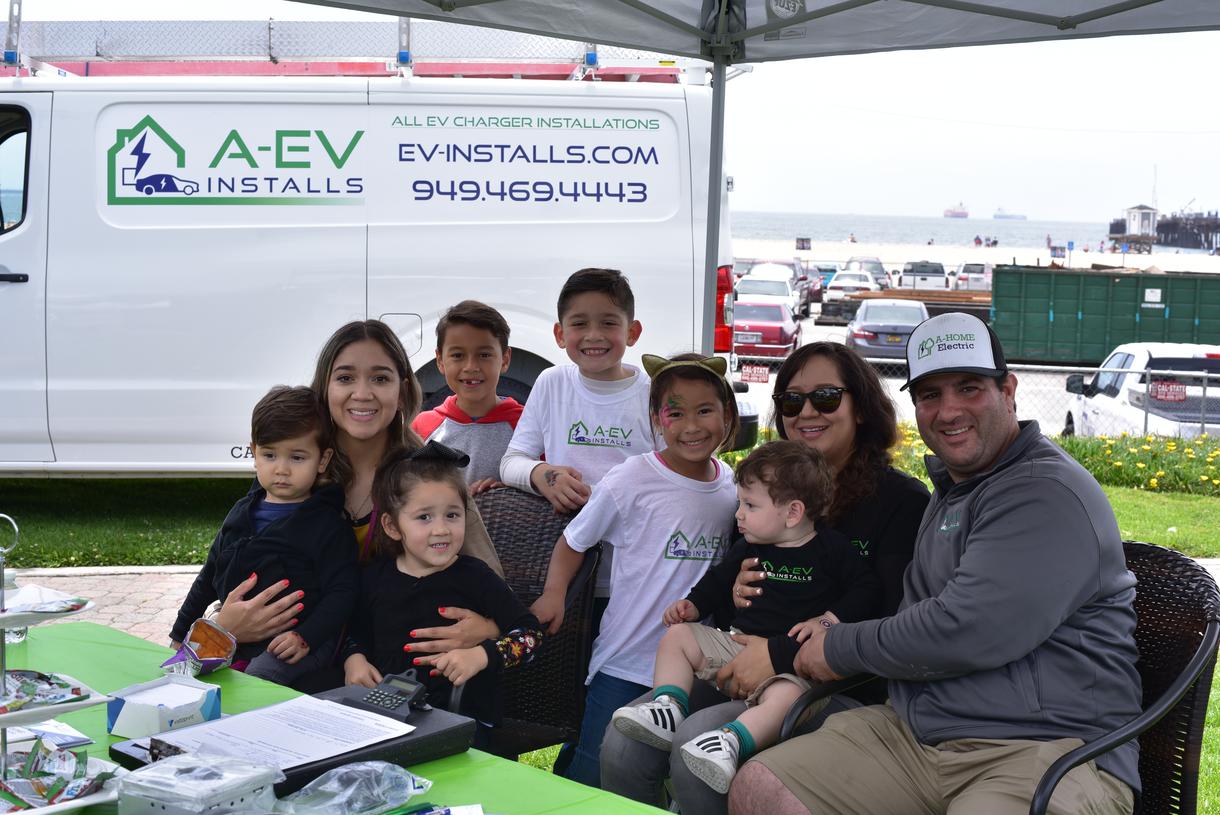 FUSED TO THE COMMUNITY
Fully rooted in the Orange County community, Phillips and his team take pride in helping their surrounding neighborhoods. "We feel good about the fact that our business helps to reduce the impact on our environment through energy efficient upgrades, smart home meters, and EV charging installations," says Steven Phillips, co-owner of A-EV Installs. Along with reducing the overall impact their customers have on the planet, A–HOME Electric recycles the scrap wire they acquire and donate the proceeds to local organizations in Huntington Beach. While the work the team does every day helps to make the region a better place, A-HOME Electric doesn't stop there.
At the end of the day, while we are still a for profit business, we are the type of company that will not charge a customer who just needs a light bulb replaced or a breaker flipped back on.
The Phillips brothers spend their free time advocating for streamlined electrical permit processes that are easier for homeowners to understand. In addition, they offer residents free advice on clean energy incentives and sponsor local trade fairs to educate people about proper electrical housekeeping, energy efficiency, and electric vehicle charging technologies.
join our recommended business program
Great businesses deserve unique recognition and customers should be able to cut through the noise to easily find them. When customers see our recommendation badge on your website or on ours, they know your business stands out for a reason that matters.
LEARN MORE