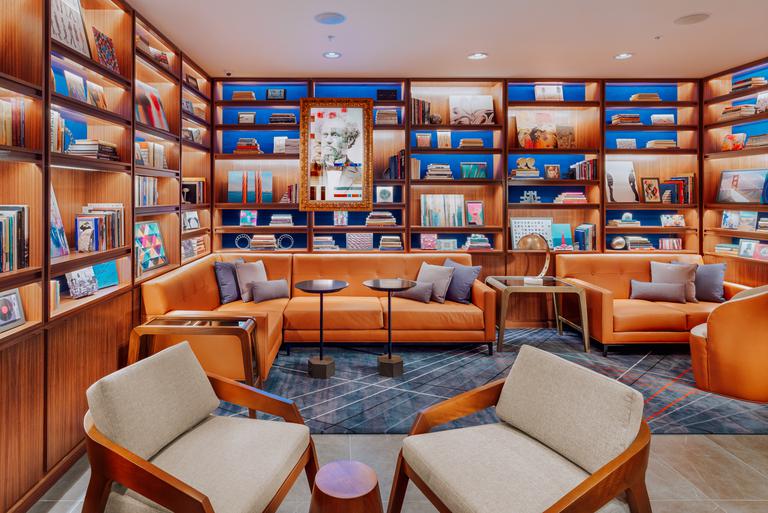 Axiom Hotel
This destination brings sustainability to the San Francisco hospitality industry.
Our Recommendation Program highlights top-quality California businesses with a demonstrated love for their community.
Bringing Sustainability to the San Francisco Hospitality Industry


Situated at the corner of Powell and Market—right next to the famous Powell Street cable car turnaround—the Axiom Hotel in San Francisco features an artful combination of old and new. Originally constructed after the devastating 1906 earthquake and fires, the historic building that houses the Axiom has proved its tenacity over the years, but it is the hotel's intentionality that truly makes it one of a kind.
From its strong commitment to sustainability to its unwavering dedication to offering an unparalleled technological experience, the Axiom is not a typical place to lay your head at night. While the Brita hydration stations on every floor, LEED Silver–certified building, exclusive arcade, high-speed Wi-Fi, and state-of-the-art fitness center help to amplify the hotel experience, it is the staff that truly makes the Axiom a coveted destination.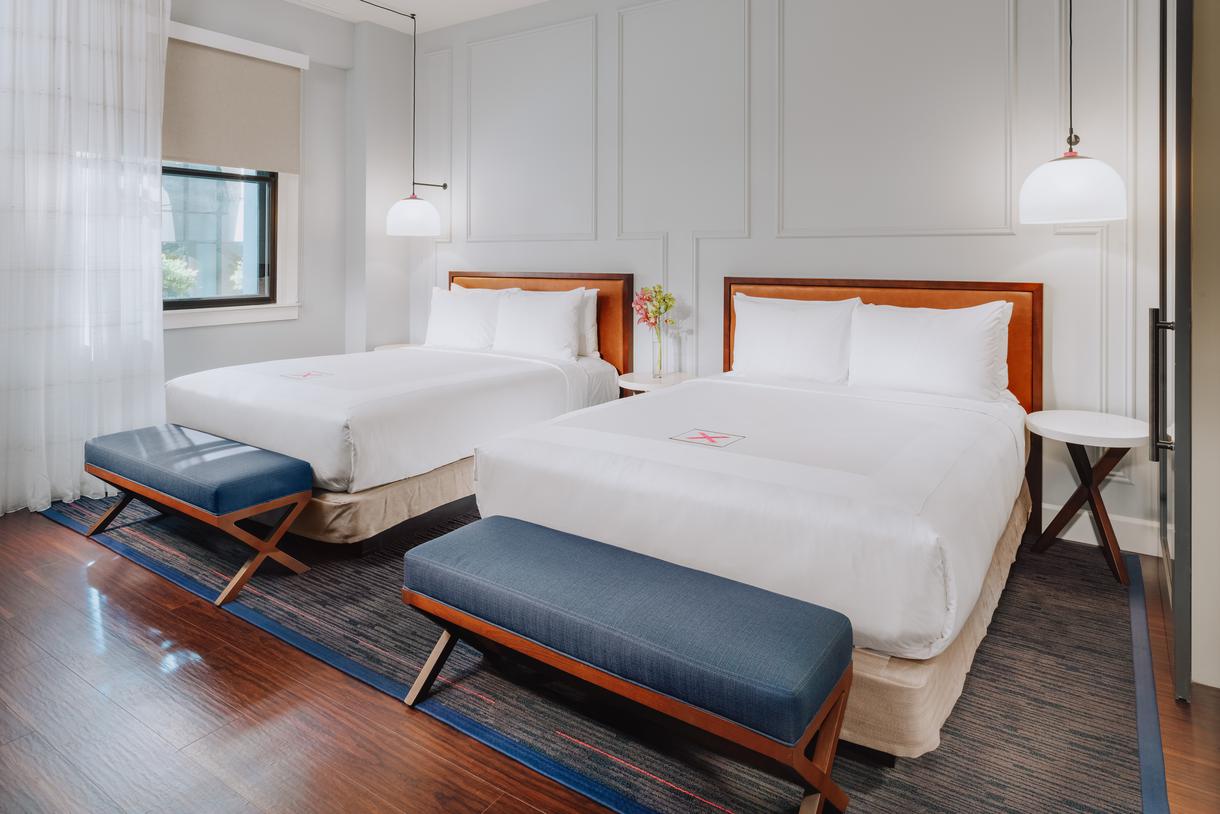 Be Our Guest: The Humans Behind The Axiom's Success


Heiko Novak, the director of sales and marketing at The Axiom, has been in the hospitality industry for 20-plus years, but his commitment to excellence goes far beyond his job duties. Excited by the possibilities of the then–newly opened hotel, Novak moved across the country to elevate The Axiom's status in the San Francisco hospitality scene. To get more intimately acquainted with the property, "I moved and then lived here for a month in the hotel", he stated, "and it was a great way for me to experience the hotel itself and what we were doing."
This dedication to creating the best guest experience possible is evident throughout the hotel; from the managers and the concierges to the housekeepers and the marketing team, every staff member aims to accomplish their shared goals—and that means taking care of one another, too.
"The Axiom is a very tightly-knit team. It's [about] 40 employees taking care of the whole property, so we try to make sure we're taking care of one another. We try to make sure we're accommodating and working together to achieve our goals—and that can sometimes be forgotten, but it's a big part of success, so I'm proud to say we do it really well here." —Heiko Novak, Director of Sales & Marketing


An Unparalleled Boutique Hotel Experience


Given the unique combination of historical significance and modern amenities at The Axiom, you can expect to be pampered from the moment you check in. Accommodations include:
Ambient lighting that promotes relaxation

Bespoke furnishings that evoke the spirit of San Francisco

Espresso machines to fuel your wanderings

Brita hydration stations on every floor, plus carafes in every guestroom

Evening turndown service

Quality workout equipment in the fitness center—which never closes

Plush pet beds along with food and water bowls

Nostalgic video games and foosball

Concierge services
Q: What do you like to do on your days off?
I love to explore the different neighborhoods of San Francisco, like North Beach and the Mission. If I'm not in the city, I have an old motorcycle I like to ride along the ocean, and I'll go north to Tomales Bay or Point Reyes Station. It's such a beautiful ride to go through in the immediate area—you really can't beat it!
Q: Is there anything you wish you knew before you moved to San Francisco?
A: I knew what I was in for. Coming from Chicago, [housing] was the biggest change. I would consider Chicago to be one of the most affordable cities in the U.S.—as far as the city itself—and coming here, I knew the challenges that were ahead of me in terms of the affordability of housing. It was a big deal because I really wanted to experience the city itself. When I came here, I had to change my lifestyle quite a bit; [I went] from owning my own condo for 12 years [to having] a roommate who's a scientist from China and works in San Jose. But in exchange for that, I live in an awesome neighborhood, there's a park in my backyard, and I can explore—so to me, that's worth it.
Q: What's your favorite local eatery?
A: My personal favorite—I keep going back to it—is Anchor Oyster Bar in the Castro. It's a small seafood spot with counter service. It's just a tiny diner that I can't imagine seats more than 30 people at one time; you wait outside until there's a space open for you. They have the best crab Caesar I've ever had, and the cioppino there is awesome. When I have guests or friends in town, I always recommend that.
Q: What do you enjoy most about working at the Axiom?
A: Never knowing what to expect. Everything changes here; it's very fast-paced. We work with a lean team and, as with any small hotel, you have to wear different hats. We try to make sure we're taking care of everything, and we work together to give our guests a warm welcome—whether it's a personalized amenity or a welcome note. Any time we can personalize someone's stay, we love doing that.
join our recommended business program
Great businesses deserve unique recognition and customers should be able to cut through the noise to easily find them. When customers see our recommendation badge on your website or on ours, they know your business stands out for a reason that matters.
LEARN MORE