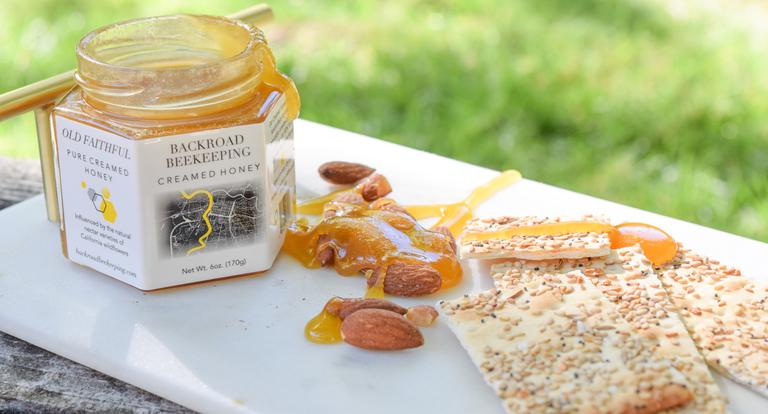 Backroad Beekeeping
Backroad beekeeping are crafting unique varieties of infused and creamed honey.
Our Recommendation Program highlights top-quality California businesses with a demonstrated love for their community.
The California.com Recommended Business Program highlights only the best businesses in the Golden State. To be featured, each business must be highly regarded, have a unique California story, and make a positive impact in their community.
THE BACKROAD BEEKEEPING DIFFERENCE
Based in Northern California, Backroad Beekeeping specializes in crafting unique varieties of infused and creamed honey. Exclusively using California wildflower honey from Jace and Sara Becker's family beehives, Backroad Beekeeping blends all natural ingredients into hand-crafted recipes for quality you can taste. Offering unique options including Golden Milk and Sugar N' Spice, this smooth, creamy, and spreadable delight is so much more than your grandma's jar of honey.

OUR CALIFORNIA DREAM
California has and always will be home to Sara and Jace Becker, the husband and wife duo behind Backroad Beekeeping. Born and raised in the countryside of Sacramento, Sara and Jace are in awe of what Northern California has become—and are ecstatic to be a part of that growing legacy.
Jace was raised in the seat of his father's forklift, moving beehives well into the night to pollinate various farmer's crops. Today he works with the sons of those same farmers and carries on his family's heritage as a fourth generation beekeeper. Sara was introduced to the world of bees by Jace and was all-in after her first drop of golden honey.

SPREADING CALIFORNIA LOVE
California is a powerhouse of agriculture, producing an incredible amount of fruits and vegetables year-round. While being a farmer might sound antiquated to some, it's still a profession with deep roots in the Golden State's rich soil.
The beehives the Beckers raise have an incredible impact on California's rich agricultural scene. Honeybees are pollinators by nature—in fact, they are one of the most efficient pollinators nature has ever created. Pollination by honeybees allows for the incredible production of food that provides nourishment throughout the state every season.
In addition to supporting the honeybee community, Backroad Beekeeping fundraises for and participates in The Alzheimer's Association's 5k to support Alzheimer's research; donates products to the local high school's auction; and takes time to educate local teachers about beekeeping and the role that honeybees play in the agricultural community, so they can share the information with their students.
join our recommended business program
Great businesses deserve unique recognition and customers should be able to cut through the noise to easily find them. When customers see our recommendation badge on your website or on ours, they know your business stands out for a reason that matters.
LEARN MORE