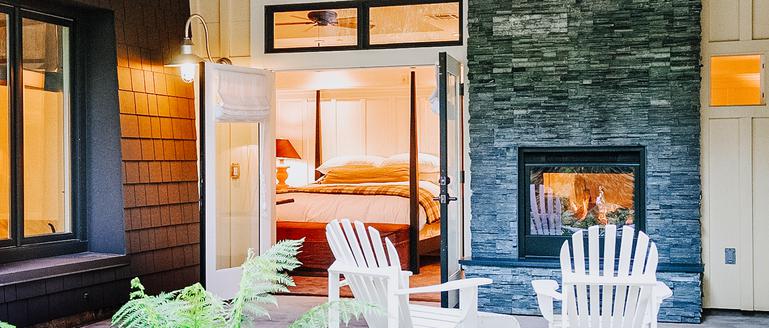 Farmhouse Inn
Experience this luxurious farmhouse retreat in the Russian River Valley.
Our Recommendation Program highlights top-quality California businesses with a demonstrated love for their community.
An Idyllic Farmhouse Retreat in Sonoma's Russian River Valley

Arriving at the Farmhouse Inn feels like stepping into a dreamy wonderland: The aquamarine water in the pool dances with the sun's rays, and the charming cottages brim to life as guests excitedly wander into their romantic hideaways. Rose-lined pathways invite relaxation, while the elegantly neutral interiors serve as a reminder of Sonoma's rustic-chic ambience. Relax in a white adirondack chair as you warm your hands by the outdoor fireplace, roast marshmallows by the firepit as the stars twinkle overhead, and sink into the lush bedding of your countryside abode to take advantage of the upscale accommodations.
When you bring together fifth-generation farmers, a Michelin-starred chef, and a passion for hospitality, it's bound to be dynamic. For siblings Catherine and Joe Bartolomei, these elements culminated in the luxurious Farmhouse Inn and its accompanying Farmhouse Inn Restaurant. The Bartolomeis chose to see potential in the once run-down property and have since transformed it into one of the most coveted destinations in Northern California.

A Personal Touch


While there is much to love about the intentionally designed inn, there is nothing like bespoke amenities to transform a good experience into a great one. Between the herbaceous drink pairings, personalized itineraries, and customized spa treatments, staying at the Farmhouse Inn feels more like staying at a friend's guest cottage.
"The soap you're using in your bathroom was produced with herbs that grew in Catherine's garden. When you go into the spa, the shrub you have before your treatment is infused with fruits that came from Joe's trees. It's this continual story that's tied back to the land." —Brian Gipson, Director of Sales & Marketing
At the Farmhouse Inn, you can expect an abundance of amenities, including:
25 intimate cottage rooms and suites featuring elevated charm in bucolic environs

Plush feather-beds and cozy down comforters that promote restful sleep

Luxurious private bathrooms with heated floors and jetted tubs, saunas, or steam showers that are reminiscent of a spa day

Organic, artisanal bath products—including handmade soaps, brown sugar scrubs, and milk baths—crafted from Sonoma-grown ingredients

Exclusive spa treatments

Robust fireplaces that allow all of your stress to melt away

Seasonal bouquets, which adorn the coffee tables, mantles, or windowsills of guestrooms to bring a piece of the outdoors in

Eloquent dishes prepared at the Michelin-starred Farmhouse Inn Restaurant

Nightly turndown service, complete with house-made, gluten-free cookies and milk so you'll always end the day on a high note
A Tradition of Excellence


A scattering of quaint cottages, a relaxing hot tub, farm-to-table spa treatments, and a highly curated local touch make the Farmhouse Inn a distinct destination. The brother-and-sister team relished the opportunity to transform the property just three miles from their great-grandfather's ranch into the renowned getaway that Farmhouse Inn is today. By incorporating their farming heritage into everything they do, the Bartolomeis have created farm-forward amenities that showcase their hometown.
With a family history that dates back to 1911, Catherine and Joe grew up around olive trees and vineyards but never could have imagined what the Farmhouse Inn would blossom into. Joe's love for livestock and organic agriculture has translated into farm-fresh eggs for breakfast, microgreens and organic vegetables for dinner, and hundreds of gallons of honey for any dish possible. Similarly, Catherine's estate provides strawberries, grapes, citrus, and herbs for the inn's beverages, desserts, and bath products. Thanks to the siblings' hard work, the Farmhouse Inn has been a unique destination since it opened its doors in 2001.
join our recommended business program
Great businesses deserve unique recognition and customers should be able to cut through the noise to easily find them. When customers see our recommendation badge on your website or on ours, they know your business stands out for a reason that matters.
LEARN MORE