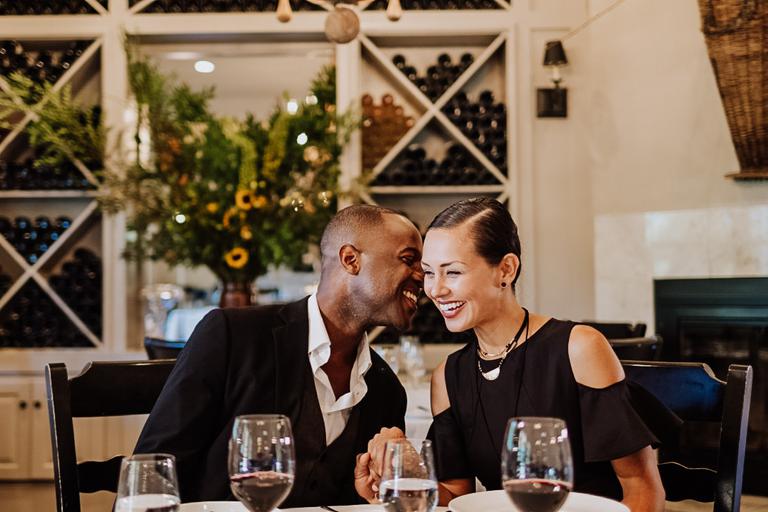 Farmhouse Inn Restaurant
Savor farm-to-table cuisine in the heart of Wine Country.
Our Recommendation Program highlights top-quality California businesses with a demonstrated love for their community.
Farm-to-Table Cuisine In the Heart of Sonoma County


Farmhouse Inn Restaurant provides a dining experience unlike any other, highlighting the fresh bounty of Sonoma's Russian River Valley in every innovative, seasonally driven dish. Delicate mozzarella di bufala sits alongside juicy heirloom tomatoes, crisp petite lettuce, and a perfectly balanced arugula-basil pesto. As you put down your fork after your last bite, a savory dish of corn ravioli appears in front of you. Sungold tomatoes, arugula, and pepato cheese dance around the plate, complementing the aromatic garlic and ever-so-slightly spicy chili but leaving the immaculate pasta as the dish's shining star.
You can smell the decadent flavors of your main course before you can even see it: A confit of rabbit leg sits beside a roasted rack as applewood-smoked bacon encompasses the loin; fingerling potatoes are placed alongside them, and a creamy whole-grain mustard sauce pulls it all together in an elegant cacophony of flavors. Just when you think you've experienced the best bites imaginable, the stone-fruit tart bursts into your life, pulling your taste buds into a new love affair. Fresh market pluots adorn the frangipane's almond pastry cream, while the estate-made honey-lavender ice cream boasts herbaceous notes that elevate the luxurious dessert to an entirely new level.

Growing the Ingredients for Success

While these refined delicacies might sound too good to be true, they actually embody the caliber of cuisine that executive chef Steve Litke and Farmhouse Inn owners Catherine and Joe Bartolomei have been serving to guests since 2001. But even before the eatery was offering locally grown, handmade dishes to the public, the Bartolomei family was living off of the land.
As fifth-generation farmers, siblings Catherine and Joe know a thing or two about agriculture. To this day, Catherine resides on her great-great-grandfather's 82-acre estate three miles from the inn; meanwhile, Joe lives three miles in the other direction on his own 35-acre plot, so there's always plenty of produce to go around. Whether it's incorporating Catherine's herbs, strawberries, and citrus or Joe's livestock, eggs, honey, and organic vegetables into the restaurant's recipes, you can bet the Bartolomei family had a hand in every dish that arrives on your table.
Living the Farm-to-Table Lifestyle


Whether you're sticking around for a single night or an entire week, the Farmhouse Inn Restaurant can satisfy your every need with the following:
Two-course breakfast menus showcase the region's unique diversity and seasonal delicacies, which can be savored in the comfort of the Michelin-star dining room and alfresco in the stunning courtyard.

Farmstand snacks—including made-to-order guacamole, seasonal vegetable crudite, smoothies, and burgers featuring grass-fed Sonoma County beef on house-made brioche buns—can satiate every craving between meals.

Three-, four-, and five-course dinner menus highlight the sophisticated selection of local products and cutting-edge culinary techniques for a gastronomic experience that's impossible to forget.
A Dollop of Expertise and A Sprinkle of Adventure


Chef Litke has been with the Bartolomei family since the venture began and has been instrumental in the success of the Farmhouse Inn Restaurant. As an avid traveler, he seeks out the best tricks and cooking techniques from around the world and brings them back to the eatery to craft unique culinary experiences. But in the end, it all comes back to the local bounty of the Russian River Valley. Litke has been known to arrive at work with a basket full of fresh fruits and local goods in his arms and alter the menu to accommodate these treasures—and offer items that sell out within the day. Whether it's bespoke, handcrafted juices and herbaceous pairings that complement a particular menu item, or a first-course dish that uses the ripest seasonal vegetables, chef Litke's innovations and creative spirit never falter.
join our recommended business program
Great businesses deserve unique recognition and customers should be able to cut through the noise to easily find them. When customers see our recommendation badge on your website or on ours, they know your business stands out for a reason that matters.
LEARN MORE