Frame Therapy
Frame Therapy is a California-based platform that connects people to therapy and brings awareness to mental health
Our Recommendation Program highlights top-quality California businesses with a demonstrated love for their community.
A community where people can learn, grow, and find support.
Therapy is steadily becoming a commonplace part of many people's lives, and Frame Therapy is at the forefront of this important movement. As a platform that connects people to specialists and brings awareness to mental wellbeing, Frame is on a mission to support you on your journey towards giving your mental health the attention and care it needs.
How Frame Works
If you've been putting off therapy due to the sheer amount of work and stress it requeires to get started, you can breathe a sigh of relief; Frame Therapy is here to help you every step of the way. This company is on a mission to make therapy more relatable and accessible and offer three core ways to engage and learn from the top therapists in California:
1) Tune In
For those curious about therapy and looking for some quick support, Frame offers a full library of free therapist-led content. These videos showcase therapists in action tackling topics in bite-sized Q&As as well as hosting full length conversations with volunteer participants across a variety of themes. Tune in for a peek into the world of therapy, observe the different styles and technigues that each professional can offer and return for tools and insights any time you need.
2) Read Up
For thos looking for a weekly read, check out Frame's Blog. Here you'll find interesting articles, therapist guides, and q&as covering all things therapy 101 and the latest trending topics in mental health & wellness.
3) Start Talking
Frame makes it easy to connect with the right therapist for your needs. The process is quite simple: Complete a short questionnaire and you're already halfway done with your journey towards finding your best therapist match. The quick and easy-to-fill form asks you necessary questions such as the reasons you're seeking therapy and your preferred mode of communication, and presents you with the top six therapists that match your needs and wants. Afterwards, you can read about the vetted specialists' area of expertise, their interests, and approach to therapy, and decided who you'd like to get to know better. You're free to message as many of the recommended specialists as you want and set up a call--all for no charge. In fact, you don't pay for anyone or anything on Frame until you actually start therapy.
How It All Started
Co-founders of Frame, Kendall Bird and Sage Grazer, grew up next door to each other in Los Angeles. While they each independently started seeing therapists at a young age, Grazer and Bird eventually went on different journeys in life, only to be reconnected later through the topic of therapy. Grazer had gone on to work as a licensed psychotherapist, and Bird was back home in Los Angeles as one of the first marketing hires at Snapchat.
When Bird was overhwhelmed with her job and wanted to talk to a therapist about it, she realized how complicated re-starting the mental health journey alone can be and reached out to Grazer. Their unique experiences in the field--both from the therapist's and client's perspectives--made them notice a gap in the industry that needed to be filled, and the idea for Frame Therapy was born.
Why Frame Therapy
Frame stands out as a mental health service because of their therapists. The company has built a strong network of mental health professionals that span across the state of California and specialize in a wide variety of treatment modalities and focus areas. No matter what your need is, Frame has a therapist that can meet it.
Additionally, the company offers access to therapy at different price points. From their free, on-demand content to their ability to match you to a therapist - there's a something here for all Californians!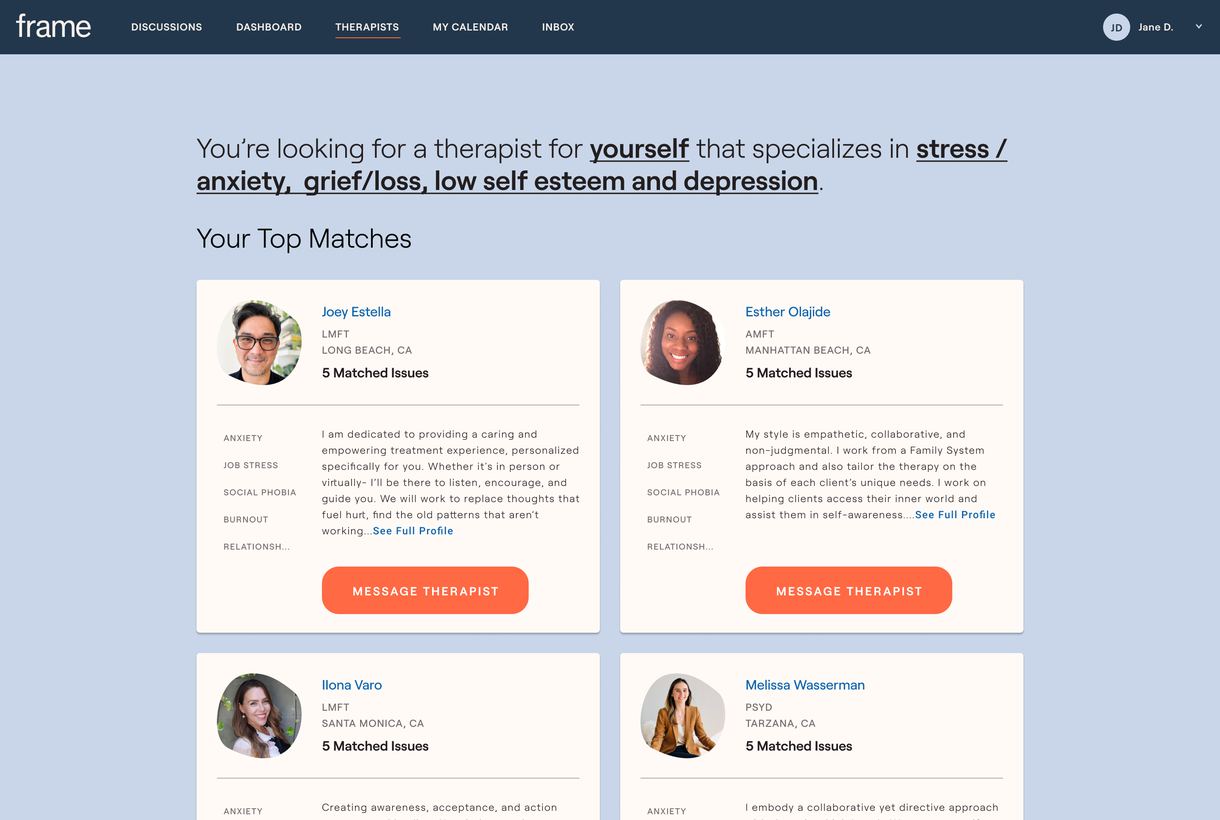 Frame Therapy and California
As a company founded and based in California, Frame also has a growing story that is influenced by the health and wellness culture prevalent in the state. "There's so much that comes with living in California," reflects Bird, "and it's been so amazing getting to meet incredible therapists across California, who all focus on different things and help different groups of people." Grazer adds, "California is very wellness-oriented in general, and being a wellness therapy company, it feels like a good alignment."
New to the world of therapy? Frame is your one-stop shop to kick off a fruitful journey of learning, growing, and findng support as you prioritize youre mental health.
New to the world of therapy? Frame is your one-stop shop to kick off a fruitful journey of learning, growing, and finding supports as you prioritize your mental health.
A number of testimonials disclose how Frame Therapy has helped people overcome personal challenges such as work-related stress, loss, grief, post-graduation depression, and children being out of school. By simply tuning in to some of the free content catered toward their issues, they were able to find the help they needed--Frame provides a completely new perspective.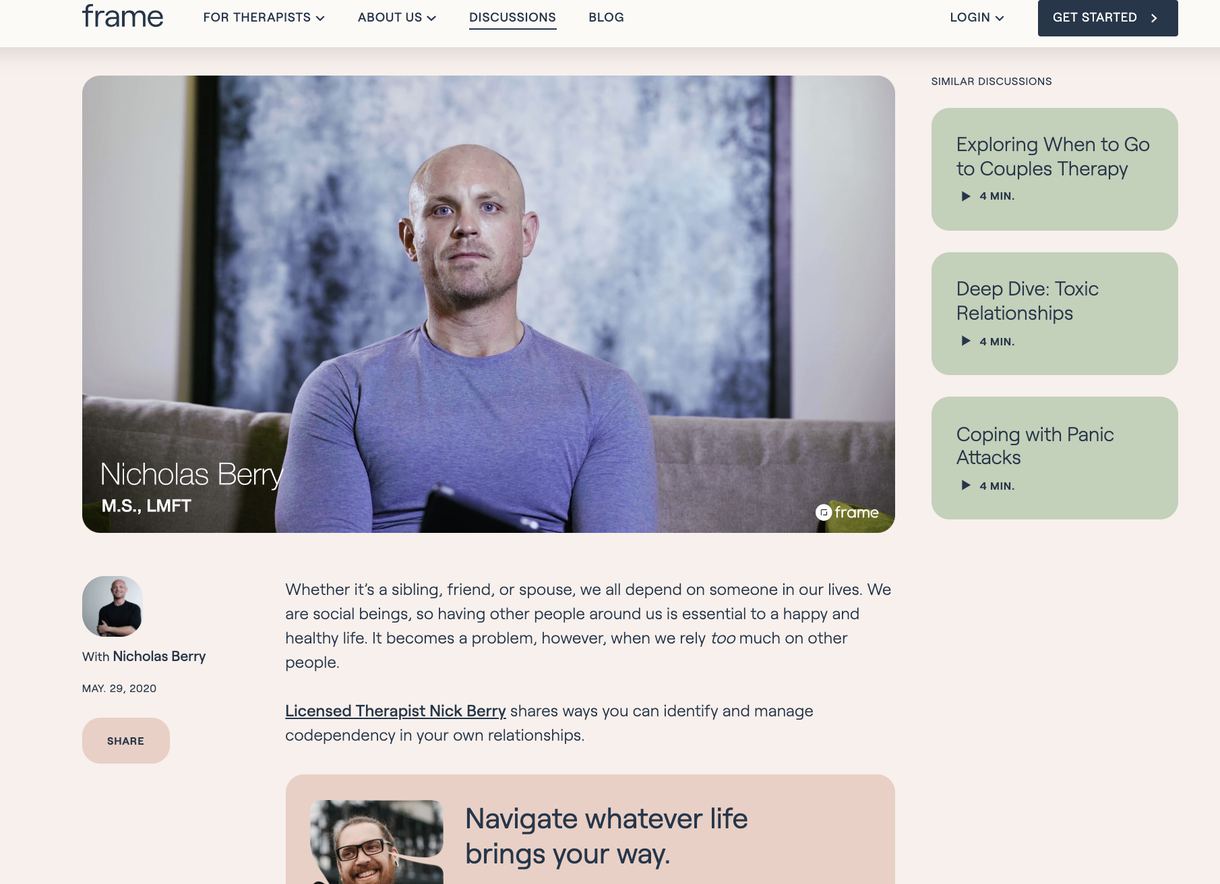 join our recommended business program
We're committed to helping you discover the places, people and businesses that make our state Golden. Our online publication, updated daily, brings you all the content you need to live your California dreams. And that's just the beginning…
LEARN MORE

ABOUT US