Hotel del Coronado
Hotel del Coronado, also known as The Del and Hotel Del, is a historic beachfront hotel in the city of Coronado, just across the San Diego Bay from San Diego, California.
Our Recommendation Program highlights top-quality California businesses with a demonstrated love for their community.
A taste of upscale island life on the charming shores of Coronado.
Vibrantly striped beach chairs dot the pristine sands of Del Beach as new surfers practice their paddling near the shores; red roofs top the white-washed buildings, imitating the coastline's undulations; and the distinct class and history of the luxurious, awe-inspiring Hotel Del Coronado beckon to Californians and ocean-lovers alike.
The Del became an instant classic after opening its doors in February 1888, drawing visitors from far and wide to its rich amenities. The hotel's remote yet accessible location catapulted the resort to star status and made it an exotic alternative to the been-there-done-that vacation spots previously known for attracting the rich and famous. As a seaside destination resort, the Hotel Del Coronado took everything to the next level: When it debuted, the hotel was one of the largest buildings in the entire country to use electric lights, with other amenities including music and billiard rooms, sweeping verandas, and telephone service far before it became commonplace.
All of these touches helped to enliven the original vision of entrepreneurs Elisha Babcock Jr. and Hampton Story, who had purchased the entire undeveloped peninsula of Coronado just three years earlier. The continuous innovation and careful attention to detail have allowed the Hotel Del Coronado to not only survive, but also thrive—proving its staying power as one of the only 19th-century American resorts to flourish.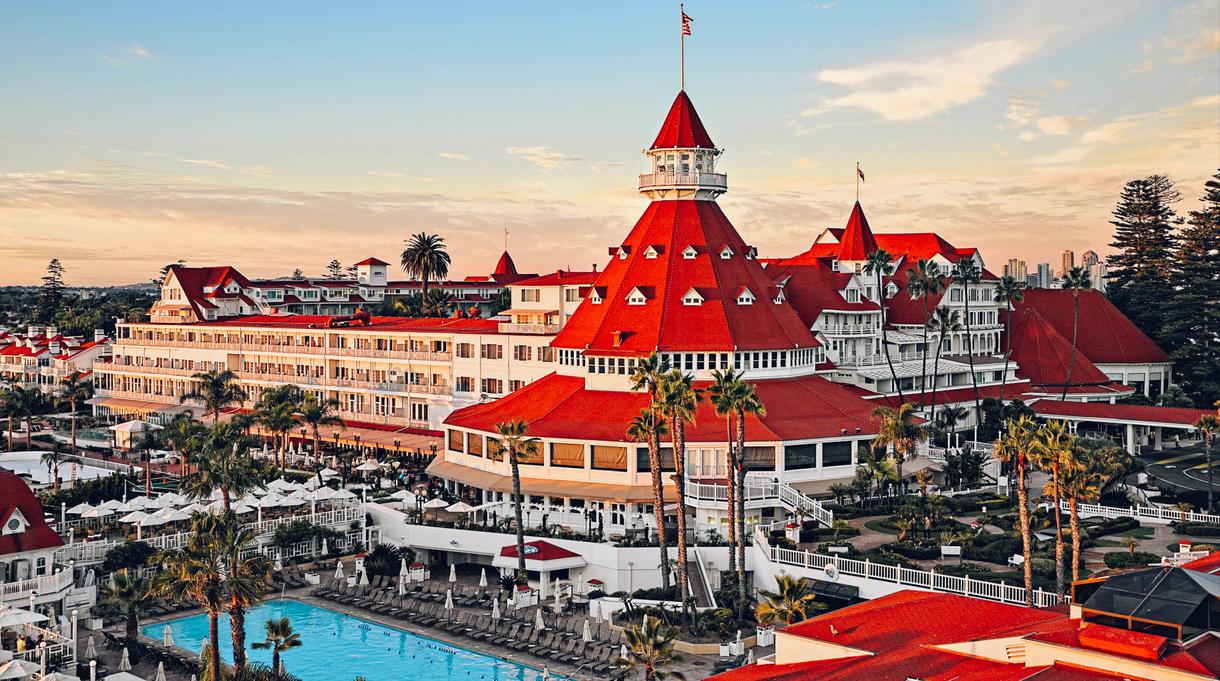 An Immersive Vacation Experience


The Del is an iconic destination full of amenities that honor the hotel's distinct location:
Upscale rooms and suites are strewn elegantly across the 28-acre property

The luxurious Beach Village offers extra privacy and exclusive access to eateries and hot spots

Ocean-inspired spa treatments take advantage of the natural wonders, while the infinity pool terrace overlooks the sparkling waters of the Pacific Ocean

The resort's acclaimed restaurants promote the farm-to-table movement with locally sourced, seasonal produce and freshly caught seafood

Daily Legendary Tours provide insights into the hotel's past, highlighting the royal families and movie stars whose footsteps you have followed in

"Yappy Hour" celebrates the furry friends in your life with gourmet dog treats, specialized bedding, and a pet-friendly guide to Coronado

Cabanas, fire pits, and surf lessons allow guests to become more intimately acquainted with all that Del Beach has to offer

Hotel Del Coronado provides so much more than a place to lay your head; every detail has been thoughtfully implemented and tailored to fit any style. Whether you are hoping to stay in the historic Victorian building to surround yourself with Queen Anne architecture from within your towering red turret; prefer the privacy of the secluded oceanfront cottages and villas in Beach Village; or crave the modern California vibes of the Ocean Towers and California Cabanas, every item has been curated to set you at ease.
Vacation mode is a way of life at the Hotel Del Coronado. Ocean breezes blow through the doors opening up onto private balconies, as the brilliant blue waves invite you to go downstairs to appreciate all that island life has to offer.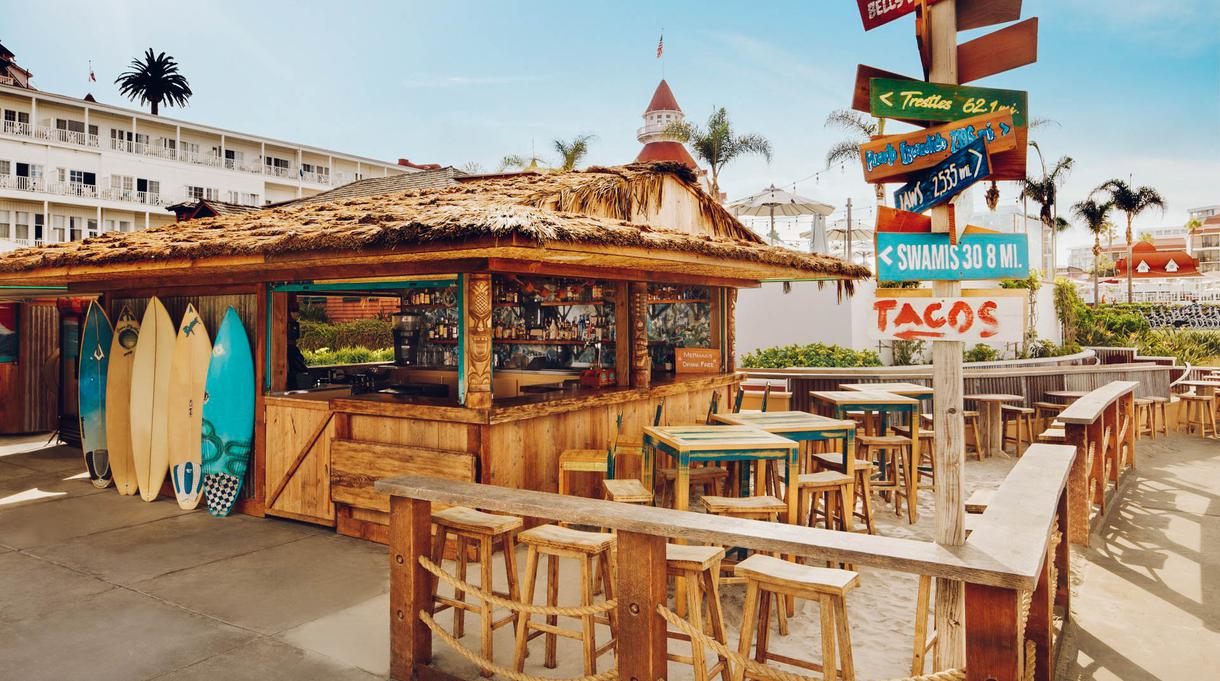 Delectable Dining at the Del


Arched, dark wood ceilings and swirled maroon carpeting encompass the Crown Room, setting the perfect stage for a gourmet Sunday brunch. Indulge in the dozens of options highlighting fresh, seasonal ingredients and covering every flavor profile imaginable.
Begin with the decadent brown-sugar waffles or classic vanilla pancakes topped with caramelized bananas and whipped cream before moving on to the savory creations. Pile the chilaquiles high with salsa verde, avocado mousse, cilantro, lime, and poached eggs; slice off some pepper-crusted prime rib and pair it with the buttermilk-garlic mashed potatoes, asparagus tips, and ratatouille; and finish with a selection of cured meats, local mozzarella, Point Reyes blue cheese, dried fruits, and California nuts—making sure to save room for the gelato station.
Spend the rest of the morning relaxing on the smooth, sandy beach, and grab a taco (or two) later on as you plan your adventures throughout the picturesque city of Coronado. Gentle waves provide the ideal ambient noise, while live music excites the senses at the Beach and Taco Shack.
Plan a luxurious dinner at Serẽa for the following night to savor sustainable seafood with Mediterranean influences. The outdoor patio overlooks the green grass, palm tree–lined pathways, and wide-open ocean that meets the horizon.
The elegant, upscale dishes combine the freshest fish of Southern California with locally grown produce, creating an experience you can't get anywhere else. Roasted-garlic aioli and exquisite caviar complement the lobster croquettes; pine nuts, lemon, parsley, and capers complete the crispy calamari; pancetta, piave cheese, and white balsamic balance out the wood-roasted brussels sprouts; and blistered tomatoes and arugula add a light touch to the masterfully cooked filet.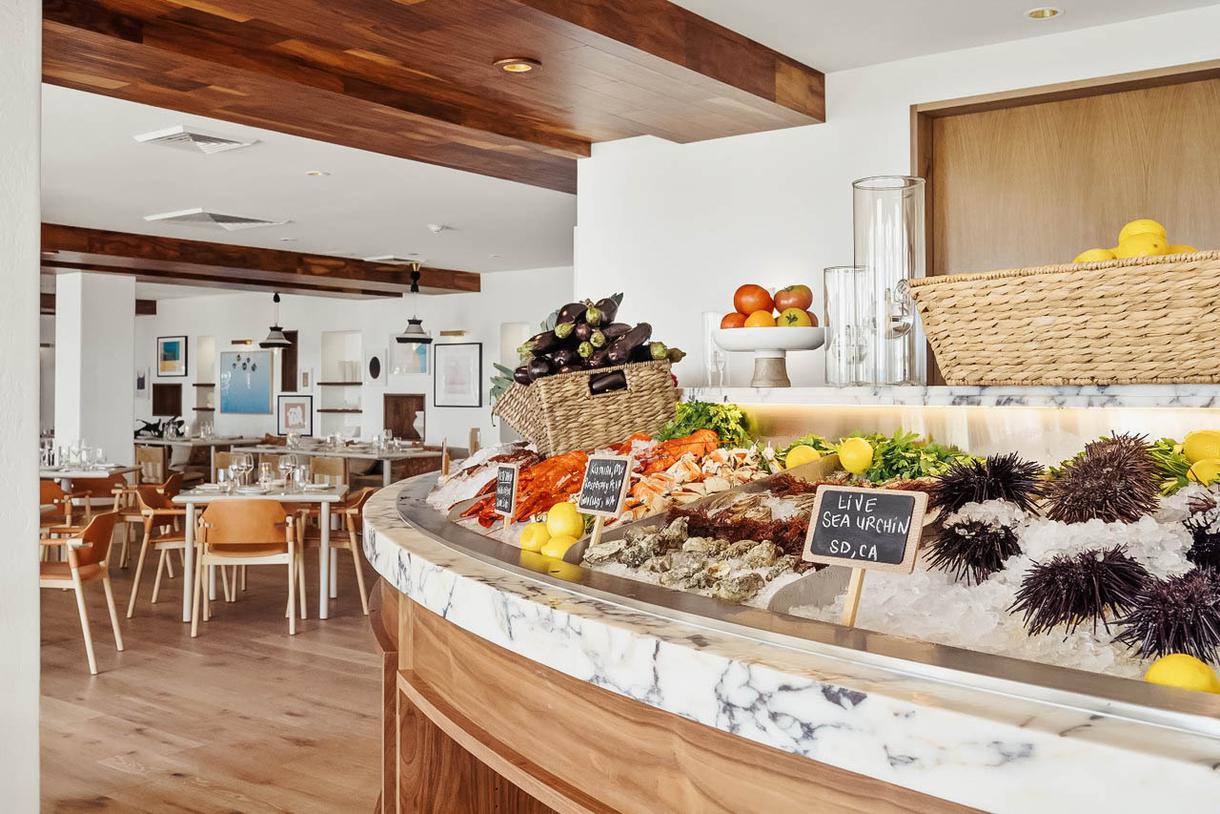 Sea to Spa


Even the spa treatments at Hotel Del Coronado integrate the local environment and take advantage of San Diego's prime location. From massages and facials to spa rituals and body treatments, there are endless ways to unwind here.
Start the relaxation journey with the sea-salt stone massage to enjoy nearly an hour of therapeutic re-mineralization for the entire body. Sea-salt stones warm the body as comfortable pressure helps to trigger the release of tight muscles. Keep it going with a restorative ocean facial. This experience provides 80 minutes of soothing stimulation as organic ingredients, antioxidant algae complexes, and aromatherapy oils combine to get your skin looking and feeling its best. Finish up the pampering session with a seaweed leaf wrap to soften and nourish your skin. This rejuvenating treatment begins with a seaweed body buff, continues on with a seaweed leaf wrap, and ends with a soothing seaweed, aloe vera, lime, mandarin, and plum-seed massage.
Extend your sense of calm by visiting the hot tub before carrying on with your vacation. A deep soak and a trip to the steam room will also allow any remaining tension to slip away, while a dip in the infinity pool that overlooks the Pacific Ocean will exhilarate your zest for life.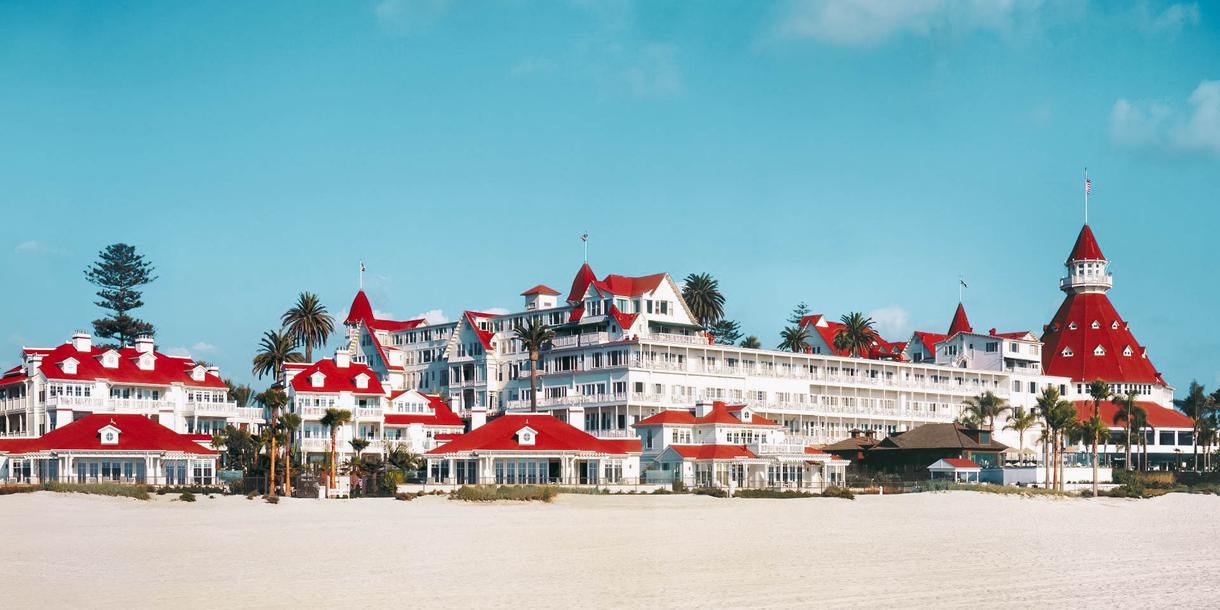 Dive Into Del Beach


The sweeping ocean views and warm weather of Del Beach make it a must-see spot. Add a touch of elegance to your beach trip with entry to Del Beach Lounge and access to exclusive, VIP use of the day beds. If you find yourself longing to get out on the water, make sure to head over to Del Watersports to rent a surfboard, kayak, or skimboard so you can splash around. Or, sign up for a surfing or stand-up paddleboard lesson to up your game at any time of year.
Round out the day with a bonfire, a beachside yoga or spin class, and a movie on the beach (if you come during the summer). The Del even offers meditation classes, so it's easier than ever to find balance while the waves soothingly crash against the shore. You can also watch the sun go down by the fire as you savor a Pacific shrimp cocktail, cheese and charcuterie board—featuring locally made cheese and charcuterie, grilled crostini, California olive oil, and house-made pickled vegetables—and, of course, some s'mores.
join our recommended business program
Great businesses deserve unique recognition and customers should be able to cut through the noise to easily find them. When customers see our recommendation badge on your website or on ours, they know your business stands out for a reason that matters.
LEARN MORE