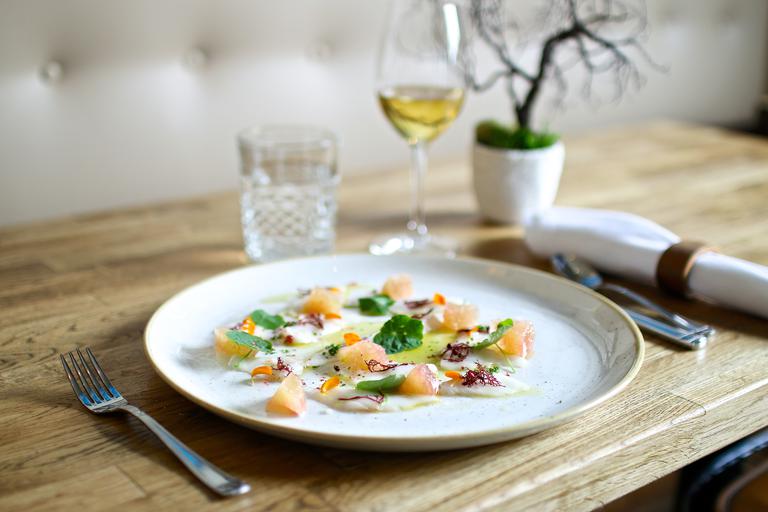 Kali
This Michelin-starred eatery brings approachability to upscale California cuisine.
Our Recommendation Program highlights top-quality California businesses with a demonstrated love for their community.
Bringing Approachability to Upscale California Cuisine


The dining experience at Kali is a feast for the senses. Vibrant cilantro blossoms, plump grapes, and decadent buttermilk verjus highlight the complex flavors of yellowtail crudo. Nearby, the potent kombucha vinaigrette wafts over the charred avocado as the black garlic ash, pistachio nuts, and shaved seasonal vegetables provide a unique flavor profile.
Then, the entrée arrives and everything else fades away; the brilliant blues and greens that adorn the eatery's walls seem to dull as the flavors of the succulent hanger steak dance along your taste buds. The textures of charred leeks, savory confit potatoes, and perfectly cooked beef take you through an unexpected culinary journey while the sabayon ties it all together.
Just when you feel like you can't take another bite, you catch the hues of lemon verbena panna cotta in the corner of your eye; its citrus granita, green tomato marmalade, and puffed rice are the uncanny combination you won't believe you've never tried.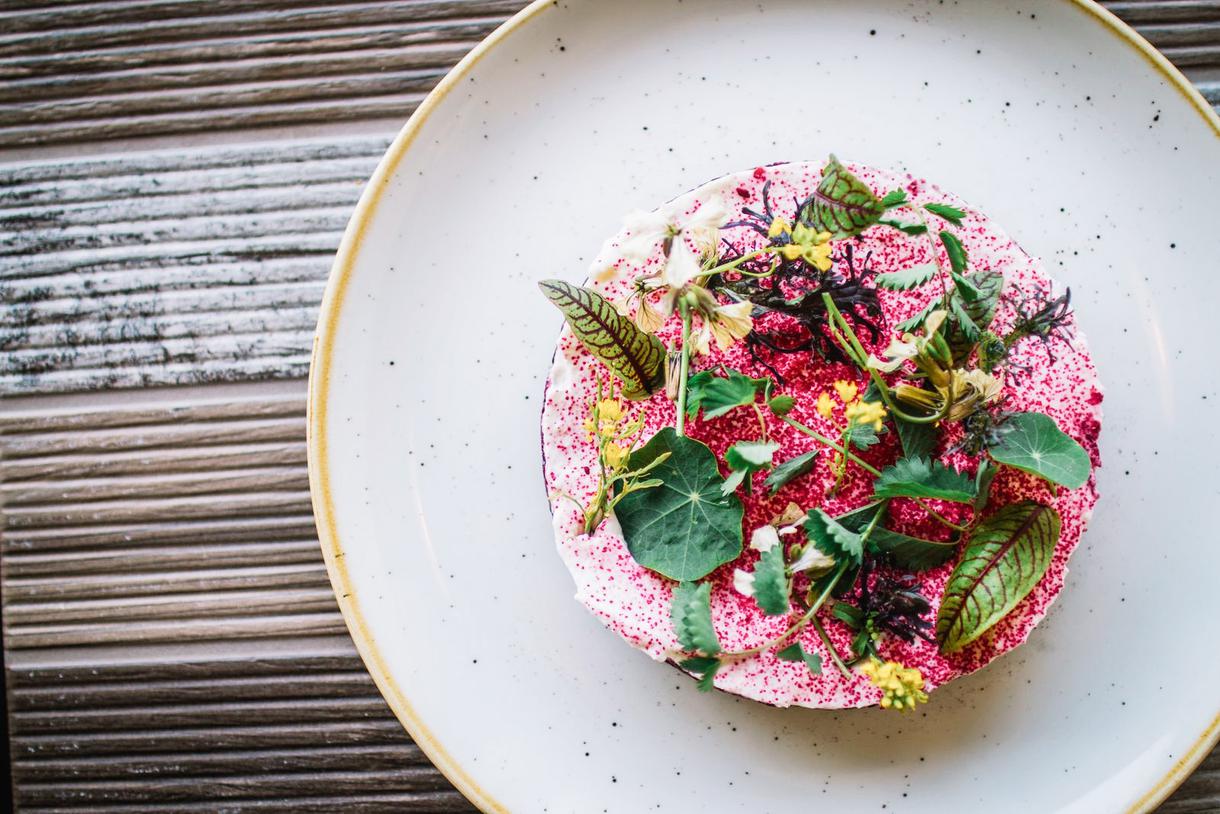 Indeed, Kali stands out from the crowd for a myriad of reasons. Chef Kevin Meehan starts with fresh proteins; searches for the highest-quality, seasonal produce from the local farmers market; and makes it his mission to honor each ingredient.
"That approach is different for every item," chef Meehan says. "So, if it's a persimmon, or a watermelon, or a squab, or a fish from Santa Barbara, they all have their own techniques and preparations, but I like to source the finest ingredients in California and then highlight them on the menu. [That's why] I'm on the phone all day talking to vendors about oysters or abalone or shrimp."
But for chef Meehan and his longtime friend and business partner Drew Langley, Kali is about much more than simply creating dishes.
A Deep Appreciation for California


Hyper-seasonal ingredients meld with an intense passion for the culinary arts to create the exceptional dining experience you'll get at Kali. This attention to detail and intentionality translates into every aspect of the eatery; from the chairs, to the plates, to the paint on the walls, every detail has been carefully curated to create an approachable environment for employees and guests alike to appreciate the nuances of Californian cuisine. Though chef Meehan hasn't always lived in California, it's safe to say the Golden State has made an impression on him.
"I finally moved out here in 2000, and I'm still in love with California. It's a great state, Los Angeles is a great county, and I live in the greatest little part of the world," he says.
The ever-changing menu is inspired by the state and its seasons, expressing a refreshing kind of love for California. Though the menu changes weekly, minor adjustments occur daily—so in the course of a month, you wouldn't be able to recognize the menus.
The ingredients are handled with care to enhance their flavor and integrity. Since they are showcased for what they are, guests experience the tastes of the farmers market in every bite. Order the playful charred avocado, savory black barley "risotto", succulent hanger steak, and show-stopping meringue gelato for an intimate look at Kali cuisine.
The Recipe for Success

Chef Meehan is wildly talented, but his greatest attribute might be his outlook. While his Michelin-star caliber could easily lead to a pompous outlook and pretentious dishes, chef Meehan has retained a level head and offers a welcoming atmosphere for both his employees and his patrons. But above all else, Kali is a safe space—a place that invites everyone in and fosters growth in the kitchen.
Rather than using his success to boast, chef Meehan recognizes the responsibility that comes with a Michelin star and stays committed to perfecting his craft. Because the eatery relies on a strong group of chefs, Kali aims to empower its employees and create a space in which they can thrive.
Though much of their time is spent in the kitchen or managing the restaurant, the staff still has plenty of time to get inspired. "I play family twice per week and try to surround myself with inspiring things," chef Meehan says. "I go to the farmers markets and music venues and just try to stay positive."
Q: What kitchen tool couldn't you live without?
A: I couldn't live without a digital scale, a Vitamix, or a spoon for tasting.
Q: How did you get into the culinary field?
A: I started cooking at a young age. My mother used to enjoy driving to Manhattan and going to Broadway shows. We would drive to the city and go see Cats and Les Misérables, and we'd go get dinner beforehand. I always enjoyed the idea of going to a restaurant and getting a menu. I was exposed to hospitality at a young age, and I have always loved the idea of going out to dinner—it's a very special thing and it was more fun than eating at home.
Q: What should people know about Kali?
A: Our restaurant is a safe environment. We're located right in the middle of Hollywood, and we have a really diverse demographic that comes to our restaurant. Now that I own a restaurant and I host guests in my house every day, I really think people appreciate the fact that they can come here and everyone's welcome.
The word "safe" is a real thing to many people, and I never had to know what that meant because I was a privileged white male who could just go anywhere and not worry about my safety. But a lot of people are uncomfortable in a lot of places, and one thing that I pride my restaurant on is being diverse and safe. I'm raising two little girls right now, and hopefully by the time their generation comes around, [this Civil Rights movement is] going to be something they don't remember.
But [I want] my restaurant to be a safe place where my employees are treated equally and feel challenged. I have women in my kitchen—I have 12 cooks, and 5 of them are women, which is a high percentage [in this industry]—and I want them to work in a kitchen where they're treated equally and fairly and where it's a safe environment for them. There's no harassment or foul language in the kitchen—I want them to focus on their trade and learn and develop and not have to be in that environment. Hopefully, other chefs will follow suit and realize the power they have.
join our recommended business program
Great businesses deserve unique recognition and customers should be able to cut through the noise to easily find them. When customers see our recommendation badge on your website or on ours, they know your business stands out for a reason that matters.
LEARN MORE