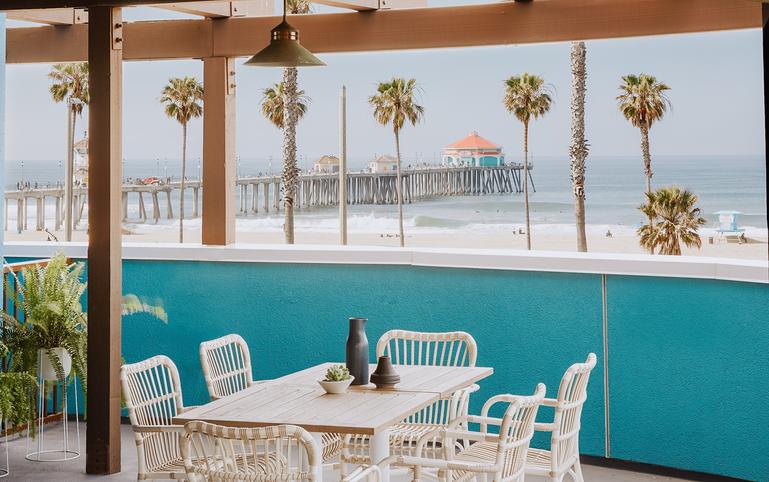 Kimpton Shorebreak Huntington Beach Resort
Stay at a surfer-inspired haven in the heart of Huntington Beach.
Our Recommendation Program highlights top-quality California businesses with a demonstrated love for their community.
An uber-stylish, surfer-inspired haven in the heart of Huntington Beach


Driving along the palm-fringed Pacific Coast Highway with the tunes turned up and the crisp coastal breeze invigorating the senses, it's easy to fall into a state of utter relaxation upon arriving in picture-perfect Huntington Beach, also known as "Surf City USA". And there's no better way for visitors to immerse themselves in the laid-back vibes of this SoCal paradise than by staying at the award-winning Kimpton Shorebreak Huntington Beach Resort. Located merely steps from the iconic Huntington Beach Pier and the hustle and bustle of Main Street, the retro-chic resort mirrors its scenic surroundings—and is anything but corporate.
The Cool Kid on the Block


Overlooking the crashing surf and pristine sands of Huntington Beach, the Kimpton Shorebreak beckons with its picturesque perch beside the famed PCH, and visitors can feel the tidal wave of relaxation wash over them as soon as they check in. With its bright and breezy environs, beachy furniture, teal and coral accents, ocean photography, and surfboard-adorned walls, the lobby oozes coastal-cool vibes that carry over into the 157 guest rooms.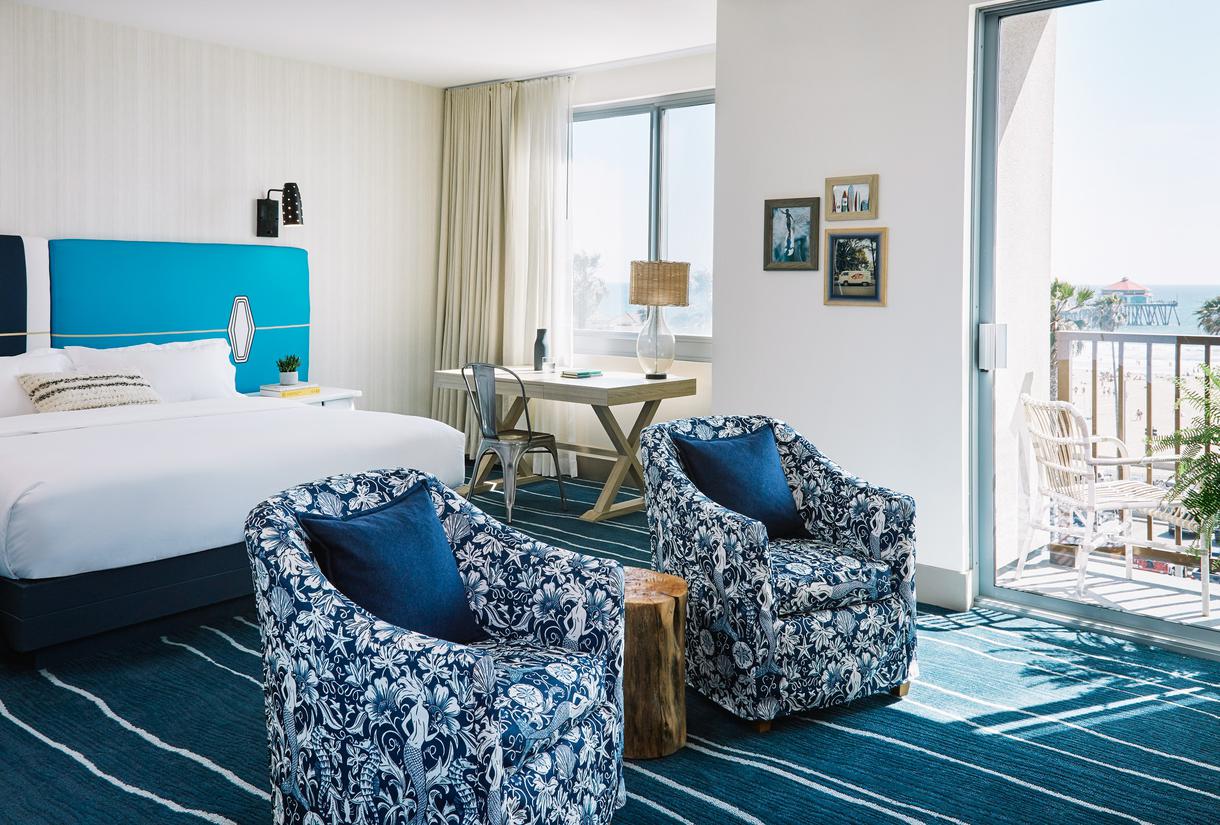 The spacious, airy accommodations feature enviable amenities such as large soaking tubs, plush pillow-top mattresses, sumptuous Italian Frette linens, soft bathrobes, yoga mats, record players with Bluetooth capability, high-speed Wi-Fi, and 55-inch flatscreen televisions (though who really wants to watch TV when the beach is waiting just outside?). Guests who really want to go all out should book one of the waterfront Huntington Beach suites, which boast Instagram-worthy views of the spectacular Pacific Ocean framed by soaring palm trees.
But don't let the chill, playful vibes fool you—the Kimpton Shorebreak takes the guest experience very seriously. From providing complimentary coffee and tea (plus cold pizza) in the morning and fireside s'mores at night to offering free beach supplies and a dedicated Surf Ambassador, the resort thrives on offering guests an array of services and comforts destined to create a memorable stay. The Kimpton Shorebreak also takes in dogs of all sizes (not to mention feathered and scaly critters) for no extra charge, making it possible for visitors to bring their furry best friends with them. When four-legged guests arrive, the resort breaks out the welcome mat (literally), water bowls, chew toys, and cozy beds. Pups can even accompany their owners to the nightly happy hour and receive freshly made dog food at Pacific Hideaway.
Other unique amenities and services offered by the Kimpton Shorebreak include:
Shorebreak beach cruisers for riding around town and along the beachside bike path

Beach amenities, including umbrellas, sunscreen, chairs, towels, volleyballs, footballs, Frisbees, and toys

Surfboard lockers, bike racks, and golf-club storage

Daily surf report

A Surf Ambassador, who can point guests to the prime beach breaks, the best chill spot, or the hottest local restaurants

A 24-hour fitness center, The Gym, which includes a Peloton bike, interactive MIRROR device, and 40-foot-wide bouldering wall

A record library, allowing guests to borrow music to play in their rooms

Outdoor firepits

Personalized business and printing services, including incoming and outgoing faxes, for those squeezing in work at the beach

Complimentary newspapers

"Forgot it? We've got it!" essential travel items

Fully stocked honor bar with gourmet and organic options

Valet parking


The Kimpton Shorebreak also offers a series of distinct events and activities that give guests a taste of what the SoCal lifestyle is all about. From tacos and tequila, to whiskey and vinyl, to community yoga classes, there's always something to do, no matter when guests arrive.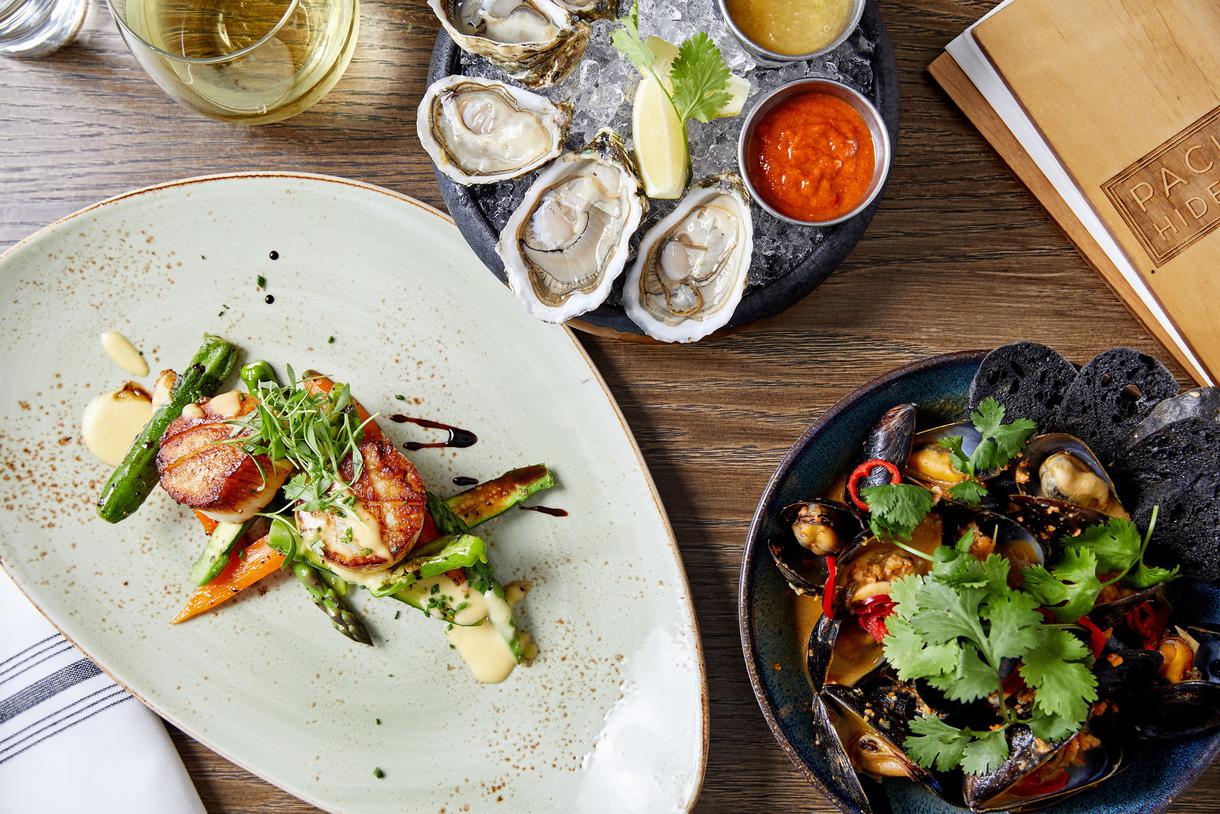 Latin and Southeast Asian-Inspired Coastal Cuisine


Indeed, Kimpton Shorebreak guests will want for nothing at this Surf City hot spot—all the food, drink, entertainment, socializing, and activities for a truly refreshing vacation are provided. The resort even attracts in-the-know locals with its globally influenced, hipster-cool restaurant: Pacific Hideaway. As its name implies, the trendy eatery is tucked away above bustling 5th Street, but those who spot it and step inside will immediately feel its distinct presence. The striking design is accentuated by a colorful, floral mural dubbed Frida and intricately patterned tilework, but the real draw here is the innovative fare.
Inspired by Pacific Rim surf shacks and world-renowned surf destinations from Bali to Baja California, Pacific Hideaway serves up an array of mouthwatering coastal plates—not to mention coveted views of the Huntington Beach Pier and sapphire-hued Pacific Ocean—along with creative concoctions and California wines and brews. The family-style dishes are infused with Asian and Latin American flavors but highlight local ingredients.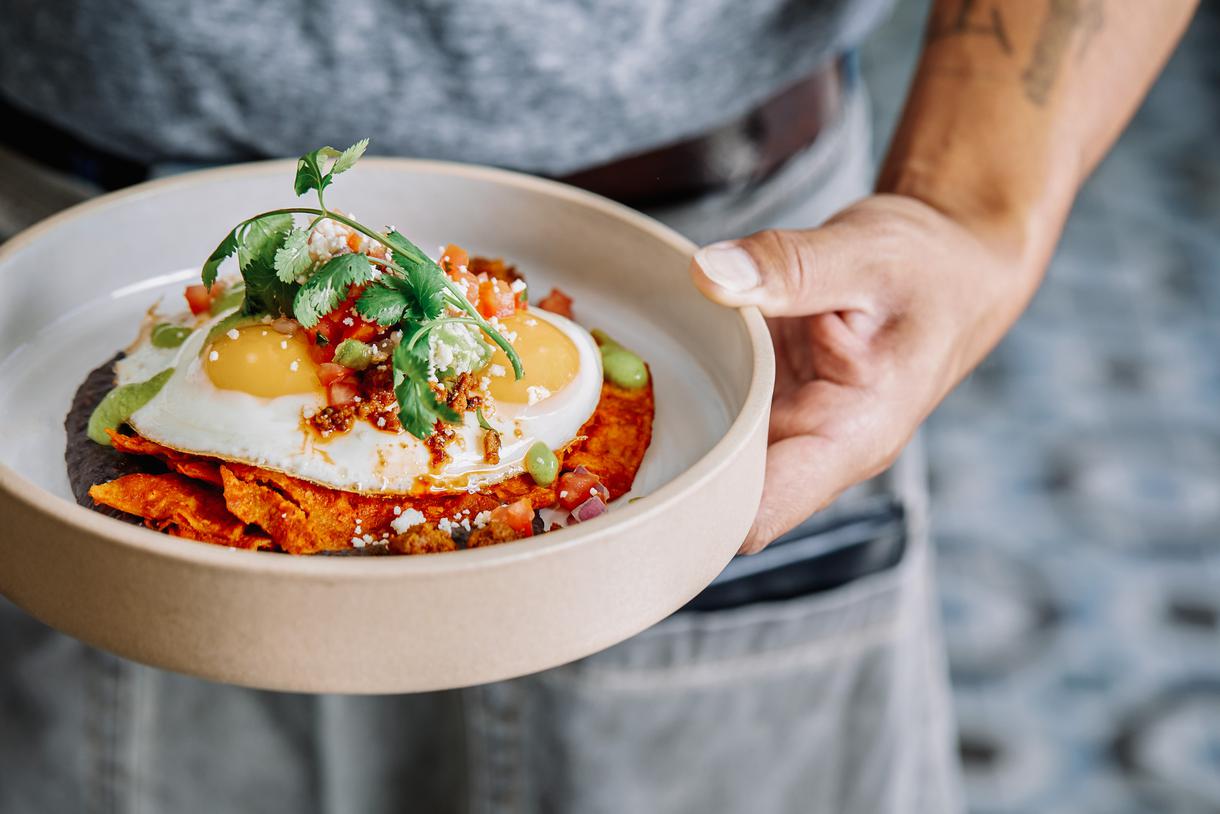 Kick off the day with the signature Hideaway Hash Benny—featuring crunchy coconut rice cakes topped with house-made Lao sausage and perfectly poached eggs drenched in decadent hollandaise—or the ultra-fresh açaí bowl loaded with blueberry açaí, kiwi, bananas, strawberries, toasted coconut flakes, and sunflower-seed granola. (For good measure, make sure to throw in an order of the Nutella-stuffed crepe, too.) Diners also have their choice of freshly pressed juices, protein shakes, smoothies, and "A.M Vices".
Those who stop by Pacific Hideaway after spending an afternoon riding the waves can refuel with the blackened mahi-mahi tacos loaded with Mexican coleslaw and pineapple pico de gallo; the bánh mí featuring a squid-ink baguette slathered in chili aioli and stuffed with Longanisa sausage, pickled veggies, and cilantro; or the crispy Thai snapper accompanied by green papaya salad, vermicelli noodles, house-made kimchi, fresh herbs, and hot sauce. But no matter what diners order for lunch or dinner, every dish is best enjoyed with a seasonally driven drink (or two).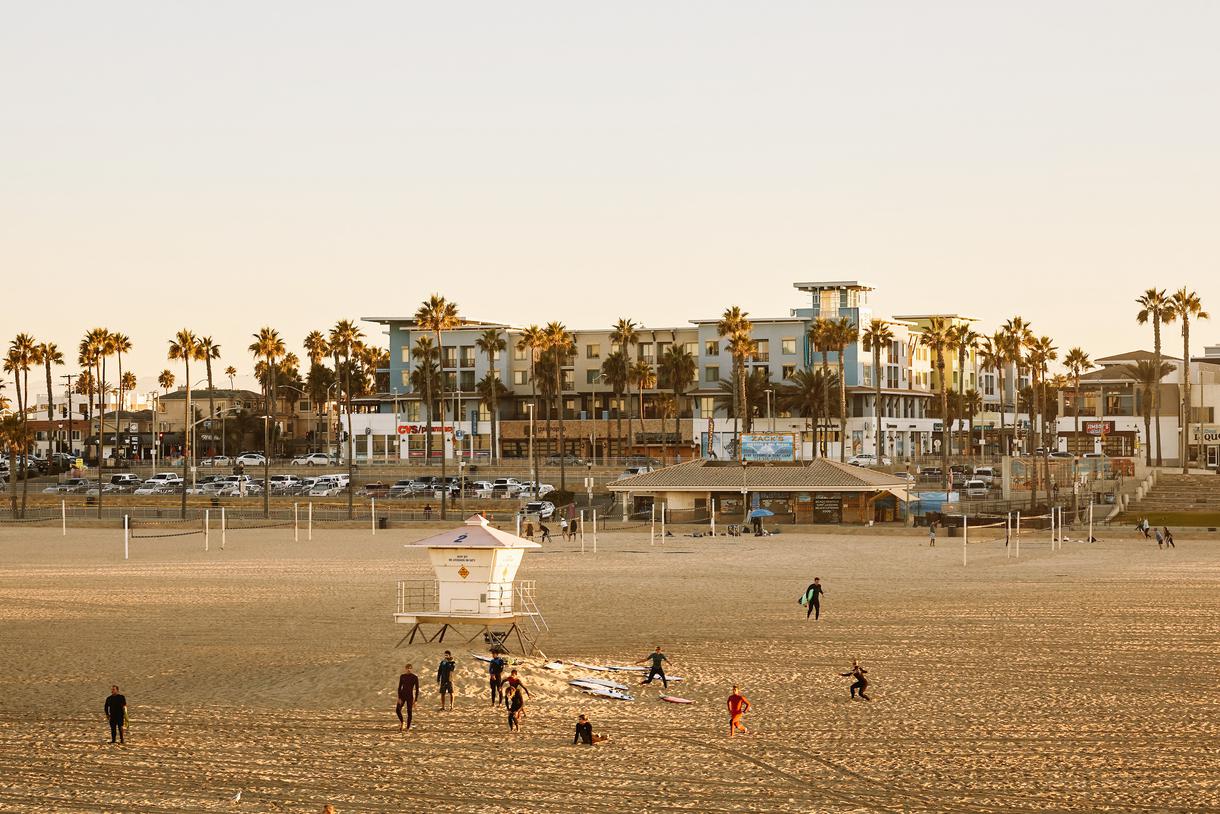 Surf City–Centric Digs


While there's no pool or hot tub at the Kimpton Shorebreak, guests won't ever miss it. After all, the famed Huntington Beach is right across the street and is the prime spot to unwind by the water. Those craving a bit more excitement can also find plenty of action nearby. The resort is truly in the thick of things, offering everything visitors could want right outside the front door: Meander down Main Street, explore the prominent eateries and shops lining the 1,850-foot-long Huntington Beach Pier, learn about the history of surfing at the International Surfing Museum, take surf lessons, check out Surf City Nights (on Tuesdays), go for a stroll with Fido at Dog Beach, and pick up souvenirs at the Surf City Store.
It all awaits in Huntington Beach, and the Kimpton Shorebreak is the closest resort in the world to the celebrated attractions, providing a luxurious yet laid-back homebase for all who visit this idyllic California beach town.
Kimpton Shorebreak Huntington Beach Resort
---
join our recommended business program
Great businesses deserve unique recognition and customers should be able to cut through the noise to easily find them. When customers see our recommendation badge on your website or on ours, they know your business stands out for a reason that matters.
LEARN MORE