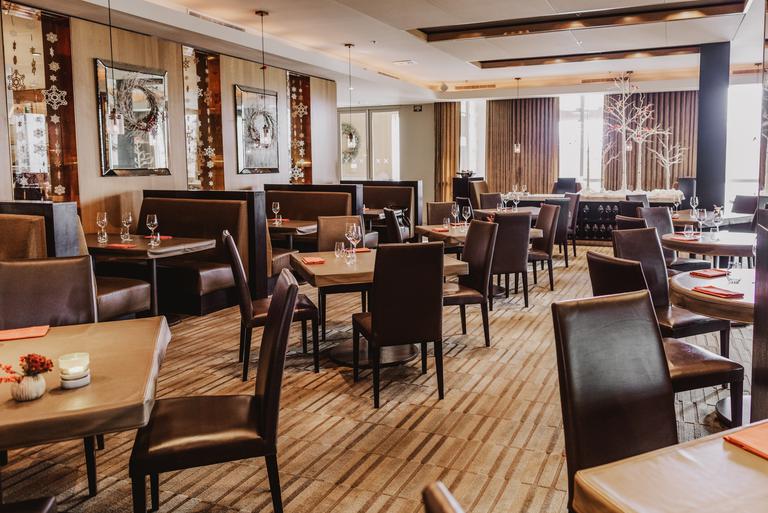 La Toque
Dine at a Michelin-starred, fine-dining destination nestled in the Napa Valley.
Our Recommendation Program highlights top-quality California businesses with a demonstrated love for their community.
A Michelin-starred, fine-dining destination nestled in the Napa Valley


The Napa Valley is synonymous with world-renowned wine and superb cuisine, but few establishments have excelled in providing both for as long as the venerable La Toque. This revered restaurant has offered an exemplary fine-dining experience for more than two decades, solidifying its status as a superior California eatery. With a special focus on pairing superb wines with dishes that showcase the best seasonal and local ingredients, La Toque has earned a coveted Michelin star every year they've been awarded in Wine Country and has received The Grand Award—becoming one of only 100 restaurants in the world to garner Wine Spectator's highest honor—for its extensive wine list and stellar service.
Chef-owner Ken Frank is the mastermind of it all, providing an impeccable and unforgettable dining experience for each guest. The esteemed culinarian opened the original La Toque in Los Angeles in 1979 at the young age of 23, and then came north to the Napa Valley to open a new version of the same eatery in 1998. Shortly after nabbing his first-ever Michelin star in 2008, he moved his Rutherford restaurant into bustling downtown Napa. Now tucked inside The Westin Verasa Napa hotel, La Toque still stands out—and not because there's a giant, glowing chef's hat (or toque) hanging over the portico at the entrance. Chef Frank continues to raise the standard for Wine Country restaurants, honoring timeless French culinary aesthetics while embracing the richness and boldness of contemporary California cuisine.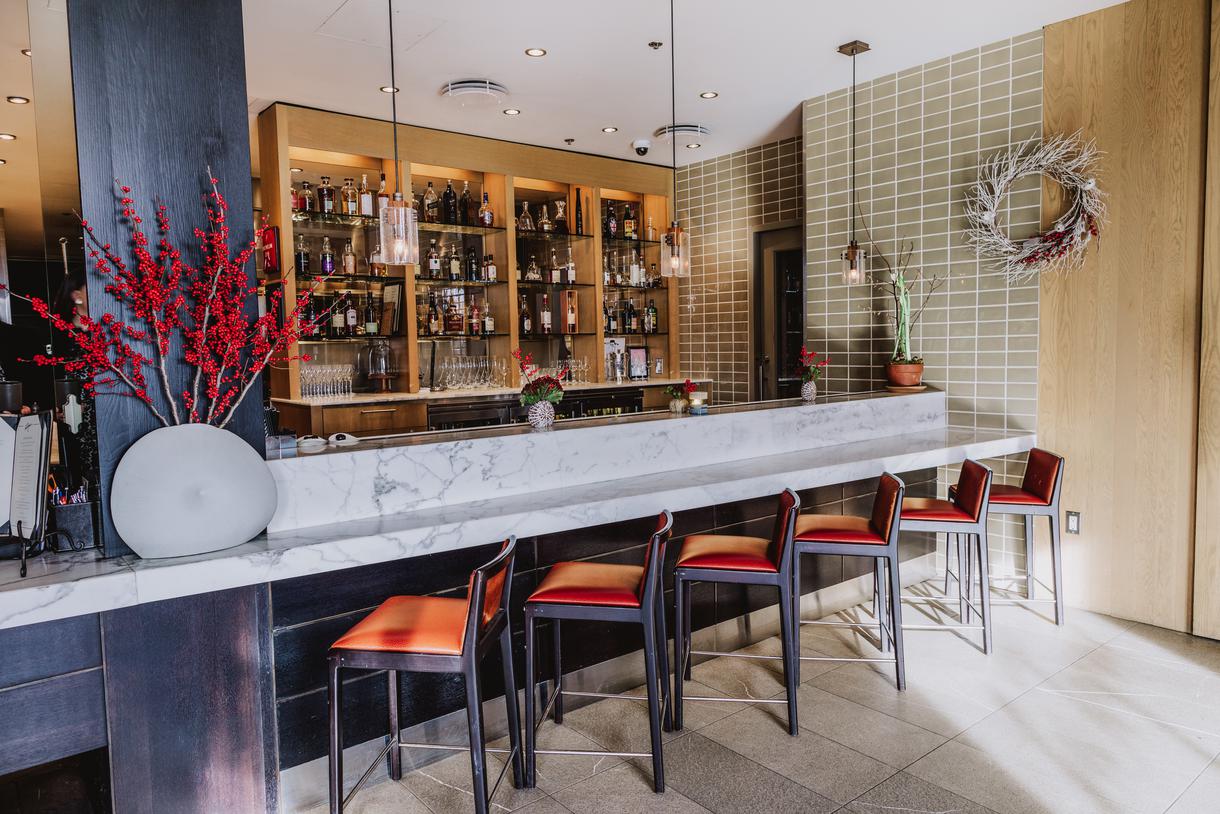 A Refined Dining Experience


Weaving classic luxury with understated elegance, La Toque's upscale yet unpretentious environs makes diners feel at home, especially with the affable staff keeping the experience casual and comfortable. From the dining room, the open-air kitchen remains visible behind long windows that frame the busy staff orchestrating dinner service. On the opposite wall, an impressive fireplace crafted from stacked marble slabs creates a textured rustic surround. The adjacent windows overlook the glass-enclosed patio, which comes complete with a retractable shade awning, fireplace, and teak benches. While the cozy ambience encourages guests to unwind, the leather-topped tables adorned with flowers and crystal stemware set the tone for the exceptional, multi-course meals about to be served.
Diners will soon discover a philosophy about food that centers on a foundation laid with classic French cooking techniques paired with incredibly fresh, local, and sustainable ingredients. It's California cuisine in its most elevated form, enabling diners to discover simple, precise flavors throughout the meal. Chef Frank tries to source almost everything from the Napa Valley, maintaining a strict locavore policy.
Each night, there are three inspired menu options, providing guests with a choose-your-own-adventure type of dining experience. Traditionalists will want to go with the Core Menu, which allows guests to create their own four- or five-course meal from a list of savory dishes and desserts. This offers a substantial overview of the French–meets–Wine Country fare such as rösti potatoes topped with Regiis Ova caviar, succulent sea scallops seared in brown butter and sprinkled with pine nuts, and dry-aged Liberty duck in mole negro. For vegetarians, there's a five-course vegetable-driven tasting menu (which may include such delicacies as sushi rice congee with pickled kohlrabi or roasted white chanterelles intermingled with delicata squash and savory mushroom-garlic essence) that ends with two desserts. And for the culinary inquisitive, the Chef's Table Tasting Menu features nine artfully plated courses, including a cheese plate and two desserts. This menu provides the ultimate La Toque experience, allowing the chef to take you on a gastronomic journey.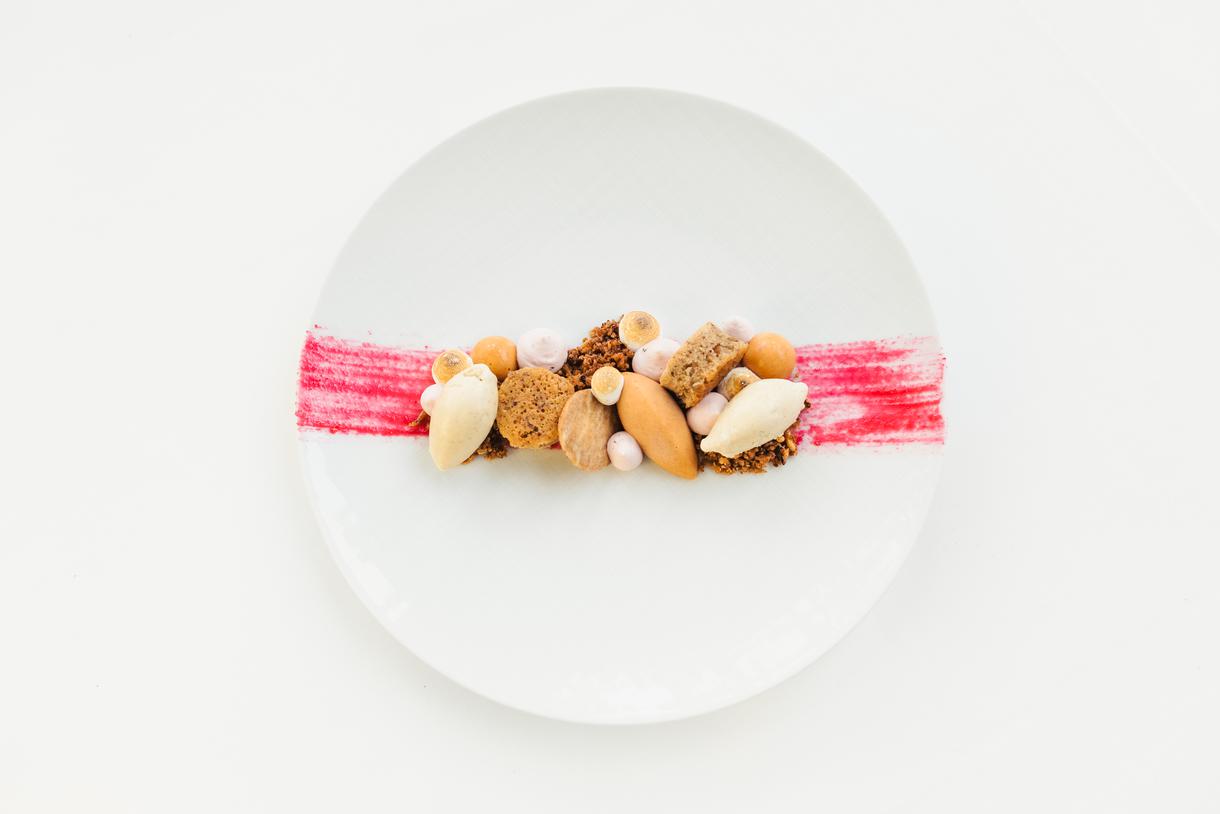 A Top Chef


Since starting his culinary career in the mid-1970s, chef Frank has become a master at continuously crafting innovative, seasonally driven dishes and has earned a stellar reputation for his personalized style of cooking, which is grounded in the French cuisine he grew to know and adore while living in France as a teenager—an experience that ultimately launched his culinary career. When he was 15 years old, Frank and his family moved from San Marino, California, to the French side of Lake Geneva for a year, residing in a quaint village of 300 people who mostly worked as steamboat captains, fishermen, or hoteliers. Chef Frank ended up falling in love with the French lifestyle and cuisine, and when the year was over, he begged his parents to let him stay. They agreed, on the condition he got a job, and that very day, he landed a gig as a dishwasher at a hotel restaurant.
The rest, as they say, is history: Chef Frank became completely immersed and infatuated with the culinary world and never left it, even when he returned to California to study at UC Irvine. He started working at a fine-dining restaurant in Newport Beach to help pay for his tuition, but he soon discovered that the kitchen was where he was supposed to be—not college—so he took a leave of absence and went on to become the original chef at Michael's in Santa Monica. Committed to using only the freshest, seasonal ingredients, he was considered a pioneer for his time, and at the young age of 23, he opened his first restaurant—the original La Toque—on Los Angeles' iconic Sunset Strip.
Fast-forward 40-plus years, and chef Frank has garnered numerous accolades and Michelin stars, earning his place among California's top culinarians. While becoming a chef was entirely accidental, continuing his evolution as a chef is completely intentional. His latest iteration of La Toque is a showcase for his modern French cuisine and his passion for fine wine, perfectly pairing edible works of art with notable vintages to create an unparalleled and unforgettable dining experience.
Q: What do you enjoy most about being a chef?
A: You get to meet really fascinating people, and you get to cook for them. Cooking for people has always been very rewarding to me. I think most chefs would tell you the same thing. Cooking something for someone and seeing them really enjoy it is a really great feeling. It's super satisfying.
Q: How has your cooking style evolved over the years?
A: While it's evolved, it's also mostly improved. When I opened the original La Toque in 1979, just before my 24th birthday, it was heralded as one of the best restaurants in Los Angeles. But if that restaurant dropped into Los Angeles today, it would be one of the worst restaurants in Los Angeles. We've come a long way. As one of the first young American chefs back in the 70s, I was really fortunate to catch that early wave and surge all the way forward, learning as I go.
What I've learned in the last 40 years is that I incorporate not only Asian influences, but also Italian and Spanish influences now. The range of products we have to work with is bigger, the range of techniques we've all learned is so much bigger, and the range of equipment available to us is so much bigger and better. Everything has moved so far that it's almost hard not to evolve. But I'm still learning, and I still enjoy that. It's a very dynamic business, and if you're standing still, your competition will pass you by.
Q: What is your creative process for crafting the various seasonal menus?
A: My menu-creation process has always pretty much been: What do I want to put on the menu? What do I like to cook? What do I like to eat? My taste has evolved a lot over the last many decades, but it still basically boils down to: What do I think should be on the menu? What am I excited about? My menu is also entirely ingredient-driven. I've always been about: What's the best stuff we can find? What's in season? What's fresh? What's fantastic?
In California, we arguably have access to some of the best ingredients. California's always had great produce, but today, given the array of products that we have—from wine, to artisanal meats, to carefully ranched birds—it's just amazing the quality of food we get from small artisanal producers in California that have pioneered and are now thriving. Cooking in California is like shooting fish in a barrel—we have everything. And in the Bay Area, it's almost harder to try to use things that aren't local. While I'm not afraid to fly truffles in from Europe—and we get fantastic seafood from different corners of the globe—you usually don't have to go very far for great ingredients when you start [in California].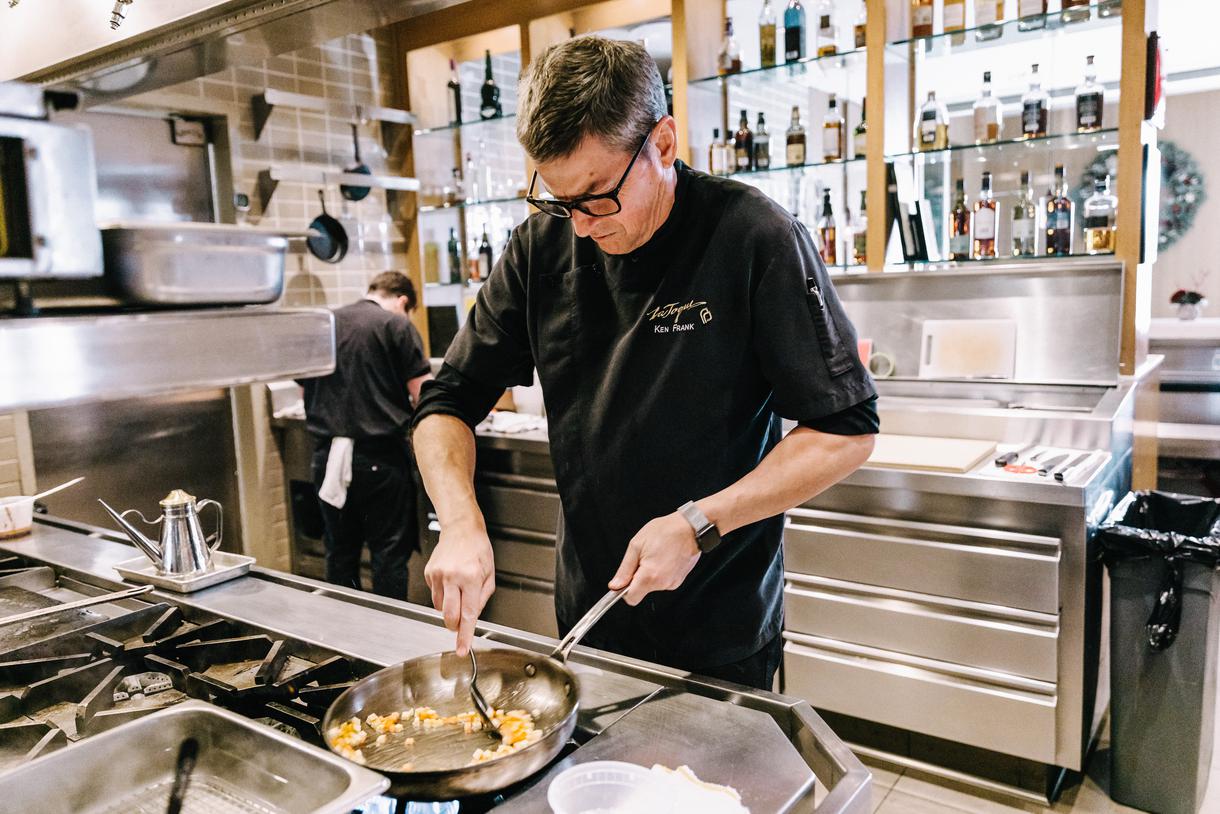 Q: What are some of your favorite ingredients?
A: Truffles have long been one of my favorite ingredients. There's something mysterious about them. It's taken an entire career to get really good at getting the best out of them, and I'm still learning. But this January will mark our 38th annual All Black Truffle Menu. In the last few years, we've done a second All Black Truffle Menu in the summertime because we now get black winter truffles from Australia in the summertime (which is our winter, their summer), and what's particularly exciting about that is we get to use fresh black truffles with ingredients we can't get in the winter. We don't cook with fresh corn in January; but in July, corn, butter, and truffles—who knew it could be so good?!
And I love wild mushrooms, for some of the same reasons I like truffles. They're one of those gifts from Mother Nature that we have no control over but are fascinating to work with. I also love seafood and game birds—wild duck in particular.
Q: Do you have a particular dish you're known for or like to make often?
A: Boy, that's like trying to pick your favorite child! [Laughs.] But some kind of really fresh fish, probably simply done. I love everything about seafood: I like cutting seafood, I like cooking seafood, I like eating seafood. I just always have.
Q: What do you do when you're not cooking?
A: I love to travel. I like to garden. I have a very high-maintenance reef aquarium where I grow coral and have exotic fish. When I went to UC Irvine, I was either going to be a doctor or a marine biologist. My reef tank gives me the opportunity to indulge my inner Jacques Costeux. I have always been fascinated by anything on the water. I like riding boats, I like driving boats, I like catching fish and eating fish, I like watching fish.
Q: Why do you think La Toque has been able to maintain its prestige and popularity over the years, especially in such a competitive industry?
A: It's about continuing to grow and keep moving forward—it's from hiring new people, it's from relentless travel and seeing what other people are doing, it's from a desire to continuously learn new things and get better. Don't stand on your laurels; don't stand still. Keep trying. To stay relevant in this business is not easy. It's a very dynamic business, and it's a young person's business. Many chefs do their best work when they're very young, and many chefs burn out shortly after that. That I've managed to not do that is pretty great.
Q: What continues to drive you?
A: I love my job. I would do it for free! I was really lucky to find something that I was good at that I really love to do early on. There was no doubt by the time I was in my early 20s what I wanted to do, and that's a great gift.
join our recommended business program
Great businesses deserve unique recognition and customers should be able to cut through the noise to easily find them. When customers see our recommendation badge on your website or on ours, they know your business stands out for a reason that matters.
LEARN MORE