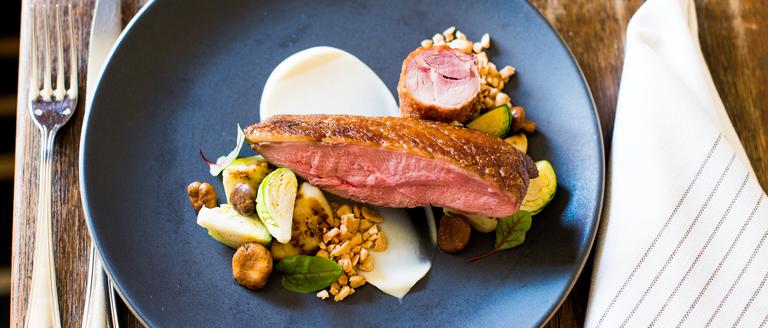 Madera
This acclaimed restaurant brings California produce to the forefront.
Our Recommendation Program highlights top-quality California businesses with a demonstrated love for their community.
Bringing California produce to the forefront


Delicate kale, hearty butternut squash, savory lentils, and a nostalgic yellow curry complement perfectly roasted cauliflower in the main course after a bowl of potato leek soup with pickled pearl onions. While the taste alone is enough to grasp your attention, it is the cherry on top of the exquisite dining experience at the Michelin-starred Madera restaurant in Menlo Park.
One thing is consistently clear in the intentional plating: the produce comes first. Local fruits and vegetables are treated with a respect that can only be delivered by an experienced chef who truly honors them—and executive chef Reylon Agustin's food philosophy touches your soul and alters the way you think about cooking.
When the dining experience goes beyond a primal instinct, past necessity, and into the realm of fine dining with a sustainable, seasonal, and local emphasis, enjoying a meal becomes much more meaningful. It is through this elevated lens that chef Agustin crafts his culinary masterpieces—but he remains grounded by placing emphasis on creating and maintaining relationships with those who make his artwork possible: the community of farmers who grow the produce.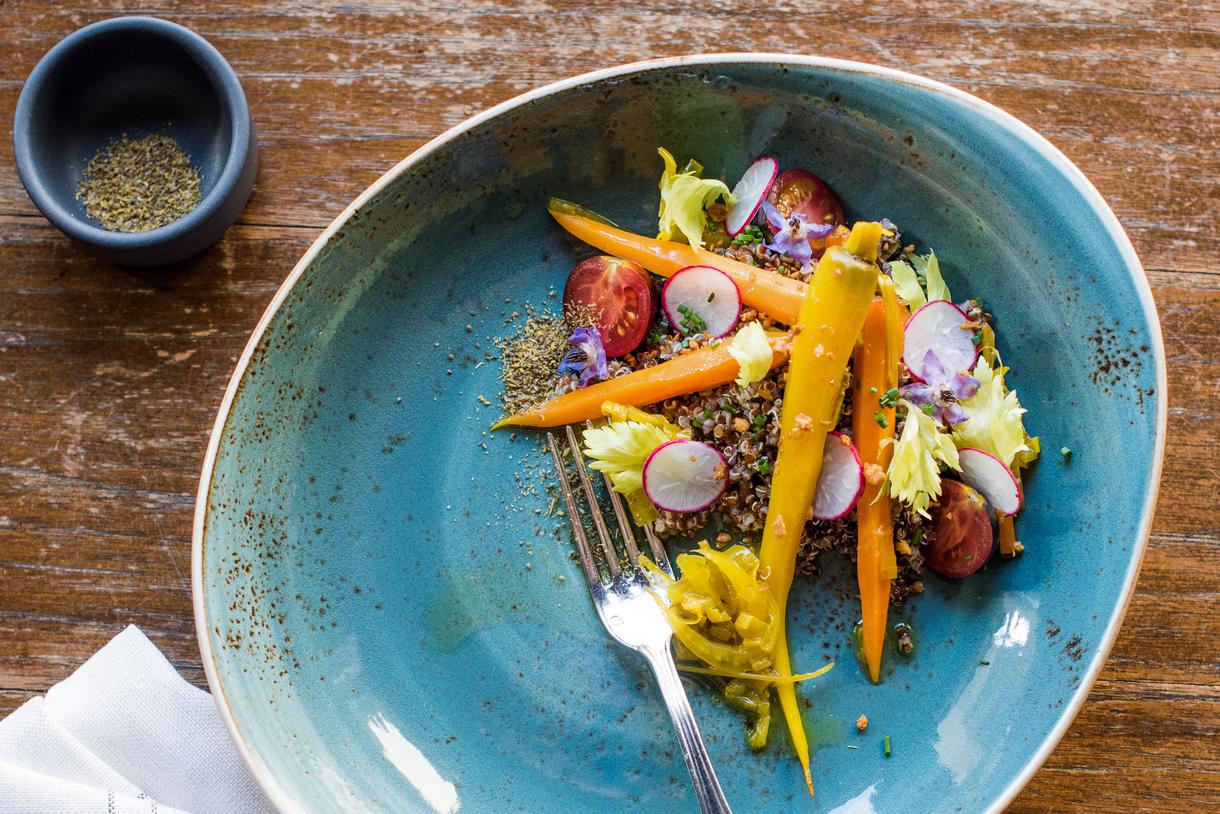 Crafting Madera's Recipe for Success
Striving for perfection has made Madera a renowned institution in the South Bay. The staff takes the time and puts in the effort to make every dish impeccable—by following the rule: "If you wouldn't put it in front of your mother, then don't put it out"—earning the eatery numerous accolades and placing it on the cutting edge of the culinary scene.
"That's the thing about a chef—whenever we make something, we're already over it. We've made it! We finally perfected it; we've gone through 8 or 9 or 10 drafts where it needs more acid or needs more texture. So, [when] we get to the final destination … we're looking for the next thing." —Executive Chef Reylon Agustin
The Northern Californian approach to cuisine and the hyper-local focus are responsible for the ever-changing menu at Madera. Chef Agustin and his talented team start with the fruits and vegetables that are available at the San Francisco Ferry Building farmers market, and work backwards to formulate the recipes for the ever-changing menus. The most significant alterations occur based on what the farmers can offer that week, but the chef's intimate relationships with these farmers—some of which are going on 15 years—are what make Madera a staple in the Bay Area community.
The People Behind Madera


While Madera has found great success just outside the bustling culinary scene of San Francisco, it's chef Agustin and his experiences that have impacted the ways the staff thinks about food. At the young age of 15, Agustin knew he wanted to be a chef; while the dishwashing and prep-cooking gigs he received weren't exactly what he had in mind, they laid the foundation for his career and inspired him to go to culinary school. After graduating from the California Culinary Academy, chef Agustin took his skills a step further. Entering the chaotic world of Michelin-starred kitchens and working alongside legendary chefs such as Gordon Ramsay and Marcus Wareing offered a newfound respect for the industry. But it wasn't until he found his mentor, chef Traci Des Jardins, that Agustin really understood the relationship between chef and farmer.
Going to the farmers market, writing the daily menus, and getting a feel for each dish became the new way of life. Rather than simply following recipes, chef Agustin realized, "You have to know how to address each vegetable, and when you coalesce that into a pan or onto a plate, [you have to know] where the fine-tuning happens," he says. This level of artistry elevated his technique, allowed him to perfect his craft, and provided a methodology for the Madera kitchen. But chef Agustin doesn't work alone; he and his staff enjoy monthly tastings where they set their egos aside and engage in honest conversations about how to make every dish better, how to improve their craft, and how to honor the produce.
Q: What was it about the produce-first method that inspired you?
A: It challenged me as a cook and as a chef. Stepping into [Michelin-starred] kitchens was very intimidating; the level of consistency in terms of execution is paramount, and with that comes recipes. And recipes are great—they teach you a great foundation and teach you how to execute something consistently—but the one thing that chefs never talk about is touch. The missing elements when you lift the words off the page of a recipe are experience and understanding how to interpret the ingredients you have with the framework of the recipe. So, [putting the produce first] was enlightening for me because I understood that recipes weren't devout; they weren't something you would never question—[they should be used] as a framework and as guidance.
Q: How would you describe Northern Californian cuisine?
A: The talk about sustainability and local farms is what almost everyone puts at the bottom of their menus now. That visibility and that relationship have blossomed into something that guests expect, but that was such a defining difference between Northern California cuisine and almost the rest of the United States. There wasn't really that attentiveness to cooking seasonally, but Northern California has always been that way—cooking backwards, essentially: going to the farmers market, tasting through the varietals of a particular item, then going back and figuring out what protein you're going to cook with it is something that a lot of [Northern Californian] chefs [have] really embraced.
Northern Californian food has a minimalistic approach to it. There aren't a lot of alterations to it, but I feel like that has always been going on here. Although things like molecular gastronomy have opened our eyes to certain techniques about how we make food, I don't think it's changed as far approaching food from a standpoint of honesty. I think the relationships [with] the farms bring that more into focus because you shake hands with these people on a weekly basis. And I report back to them with, "This is what we did with your eggplant; this is what we did with the summer squash," so they get to see the fruits of their labor taken one step further. But I'm always cognizant, and I think that's always been the thing—that respect of not bastardizing the time and effort, or the care and love that it took to grow a particular item.
Q: What inspired you to come work for Madera?
A: I was drawn to Madera because being in this restaurant and even standing out on the terrace looking at the Santa Cruz Mountains reminds me of California. For the most part, I've lived here, and when I think about growing up as a kid, I was always outdoors. We were hiking or going to the beach or doing something outside. So, smelling eucalyptus and hearing seagulls are things that I didn't realize I'd miss until I moved abroad, but they resonate so strongly with me—they're so ingrained in me. At Madera, we can do the food that best represents California in a setting that doesn't really have as much pressure. I feel like being outside the city allows you to carve out your identity a little bit more.
join our recommended business program
Great businesses deserve unique recognition and customers should be able to cut through the noise to easily find them. When customers see our recommendation badge on your website or on ours, they know your business stands out for a reason that matters.
LEARN MORE