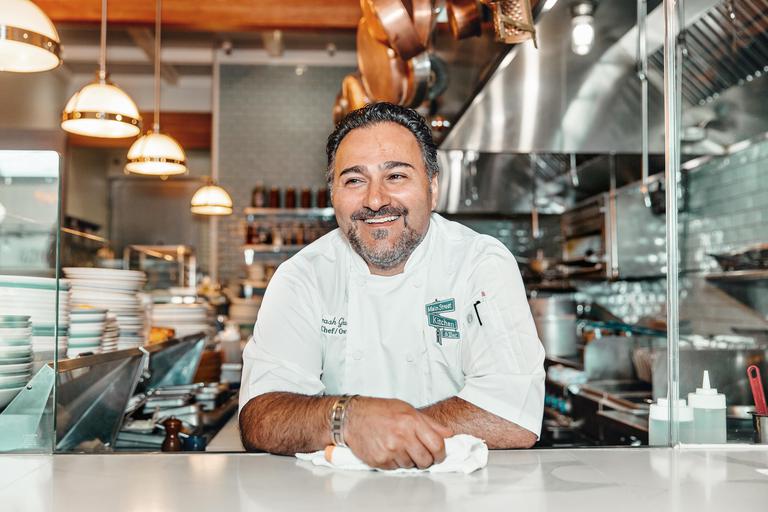 Main Street Kitchen
Savor creative farm-to-table cuisine in Walnut Creek.
Our Recommendation Program highlights top-quality California businesses with a demonstrated love for their community.
$$ American (New), Modern European
Bringing charming farm-to-table cuisine to the heart of Walnut Creek.
Juicy watermelon sits alongside tenderly roasted eggplant while hints of mint, cured black olives, and ricotta salata serve as edible confetti that is only enhanced by the warming embrace of a bright sherry vinaigrette. A single bite and everything is clear: This is a true labor of love.
Arash and Lauren Ghasemi are the incredible humans behind the artistry that is Main Street Kitchen. The husband-and-wife team opened the casual-chic restaurant in 2015 with a desire to bring seasonal, California-fresh cuisine to downtown Walnut Creek. While you can find chef Arash working at the restaurant between 90 and 100 hours per week and Lauren overseeing the staff and day-to-day operations, the couple's work never truly ends. From dreaming up the recipes; to traveling across the Bay Area to visit farmers markets and pick up the highest-quality, seasonal produce; to calling the meat suppliers to find the best products for the week's menu; to managing the staff, who have become more like family than employees; to sprinkling in a dash of salt and a whole lot of heart into every dish, the Ghasemis dedicate their entire lives to their craft—and to doing it right.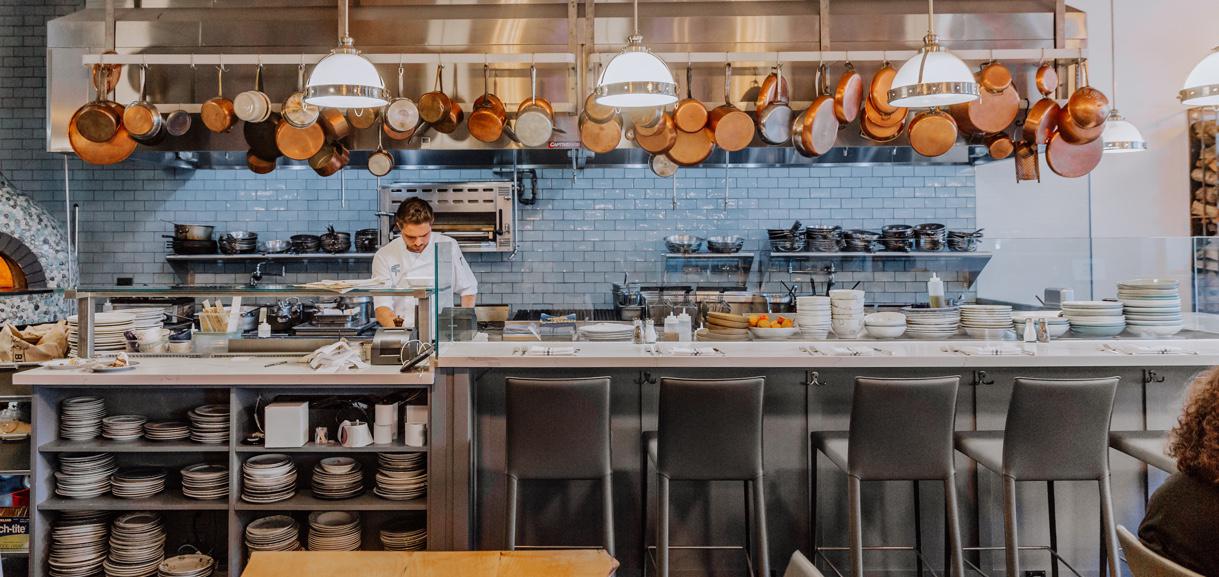 Staying True to Sustainability
The couple has found success by remaining true to its core values:
Serve fresh, local, seasonal, farm-to-table food
Craft clean cuisine with no unnecessary ingredients
Be environmentally responsible
Do the best you can all of the time
Pay people fair, living wages
Do the right things
There is no perfection; there is only better than yesterday
The commitment to providing sustainable, California-fresh fare can be tasted in every dish, thanks to chef Arash's attention to detail. He has developed an acute awareness as to where each product is grown and gathered. Hundreds of pounds of heirloom tomatoes are delivered to the restaurant every other week during the season from a farm outside of Brentwood; the wild-caught fish come from San Francisco or Half Moon Bay and—to avoid capturing and harming turtles—are never caught with nets; the fresh sardines come from San Francisco; and the 11-year-old sourdough starter for the pizza dough came from an Oakland baker who happened to be a regular customer. Arash says, "You'll always find me or see me at the farmers markets", so it is no wonder that 90 percent of all the produce used in the eatery is local to the Bay Area. Once sourced, these ingredients are artfully combined to create nostalgic dishes with balanced profiles and fresh flavors that transport guests to beloved memories of times past.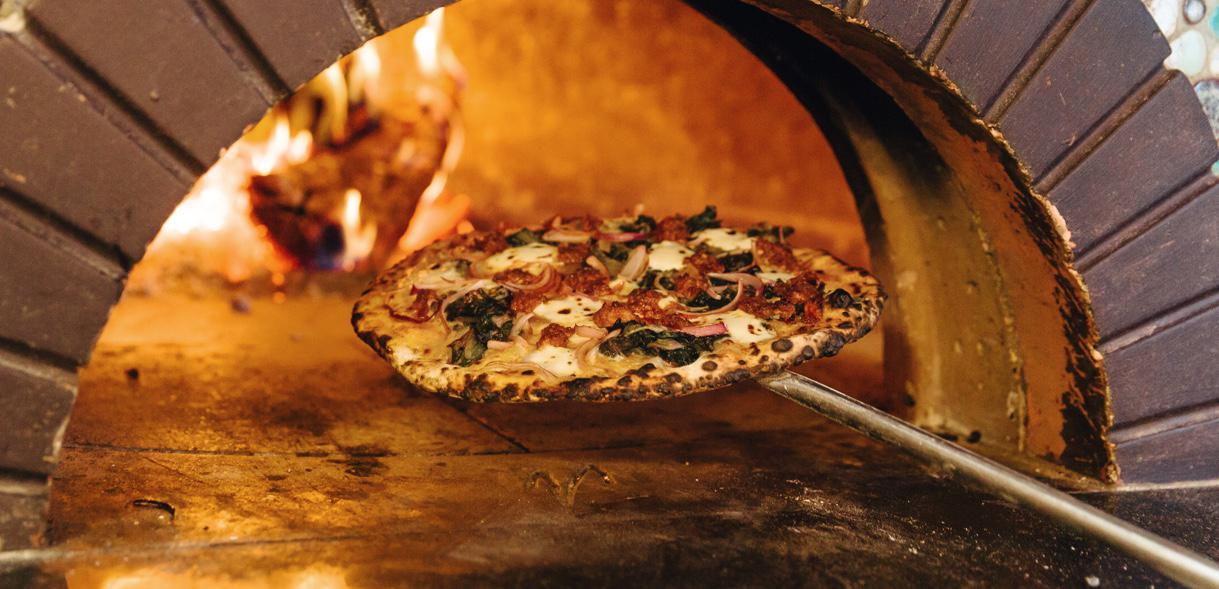 The road to main street
Though it may seem like Arash and Lauren were meant to end up in the restaurant business, their paths were anything but straightforward. Both of their culinary careers began at pizza joints during high school. Arash, who had fled Iran at the age of 14 and settled in Holland, began as a dishwasher—a welcome change from his brief stints as a newspaper deliverer and shoe salesman—and worked his way up to become the chef of the company's three restaurants within six years.
Lauren had a similar work ethic, working at a pizza chain in Chicago where she managed the restaurant's inventory at just 17 years old. In 2002, Lauren moved from Chicago to San Francisco to pursue her education at the American Academy of Art before transferring to the Academy of Art University. She continued to hold various restaurant positions—including hostess, server, and banquet captain—which provided a peek into her future of becoming an entrepreneur. Arash was not far behind her; after opening and selling his first restaurant in Holland, he realized his longtime dream of moving to the United States in 2004. And on Halloween of that same year, he met his future wife.
During this time, Lauren was working at McCormick & Kuleto's and learning how to train a staff, while Arash was settling in as a chef in the Bay Area. It wasn't until 2006 that Arash found the job that changed him as a chef and inspired the values that he holds so dearly today: He scored a position at Berkeley's Eccolo cooking alongside chef-owner Christopher Lee. Having worked at the iconic Chez Panisse for 20 years prior to opening his own eatery, Lee fully embraced the farm-to-table movement and taught Arash the importance of using local, organic ingredients to make food from wwscratch.
Then in 2008, with the devastating market crash in full swing, Arash and Lauren invested the money they had hoped to use as a down payment on a house to open up their first joint venture in Oakland: Café 15. Committed to providing high-quality, reasonably priced food for people on the go, the duo set out to feed the neighborhood—but they ended up changing it for the better, too. The farm-to-table concept and compostable packaging were a huge hit.
We were going in that green way of thinking; we had compostable cups, compostable coffee lids, and compostable straws—before you could find them anywhere. … A lot of businesses only consider the cost, and you can't only consider the cost. The cost is important, but if you're going to be giving out hundreds of these things, what impact do you want to have?
But the pair eventually outgrew the counter-service café and decided to open a new eatery a bit closer to home—two miles from their Walnut Creek house to be exact—and to go bigger with an all-day menu and a full dining room. So in April of 2015, Main Street Kitchen was born.
For about a year, Arash and Lauren simultaneously ran their two operations—learning how to trust others (as well as each other) and figuring out how to work as a unit rather than making unilateral decisions. But when the space next to Main Street Kitchen suddenly became vacant, the owners jumped at the opportunity to expand the restaurant and focus on dinner service. After securing the spot, they relinquished ownership of Café 15 and started an extensive renovation for their Walnut Creek restaurant.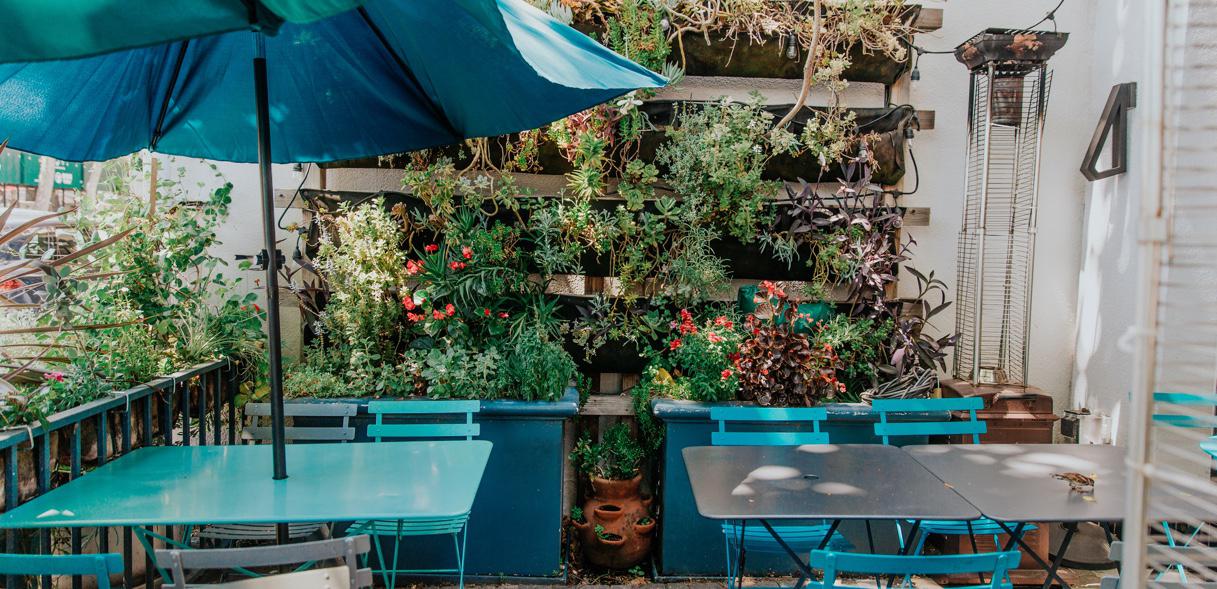 Lauren oversaw the renovations and is responsible for the charming interior design. Her eye for detail creates a family feel and reinforces the homestyle atmosphere that can also be tasted in the food. From the mix-and-match plates, to the silver-plated dinnerware, to the one-of-a-kind light fixtures, to the fabrics she selected 10 months in advance, everything comes together to highlight the company's values and create a home away from home. Every detail reflects the importance of the farm-to-table movement, creating an elevated dining experience that feels approachable for suburban families while still maintaining an elegance that Bay Area foodies have come to expect.
As Lee used to impart upon Arash, you have to taste the food in your mind before you can create it with your hands and taste it in your mouth. Arash takes this principle to heart; his recipes are only in his head—not written down—so to learn them, you must stand beside him, watch intently, and build the ingredients, one after the other, in your own head. This ability to experiment has enabled chef Arash to create a destination restaurant suitable for every meal—brunch through dinner—and to showcase his values and passion in every plate. He says, "I always said I would never want to cook, and look at me now."
The sophistication is showcased in every Main Street Kitchen dish through high-quality ingredients, seasonal produce, and tailored menus. Unlike the counter-service cafè in Oakland, Main Street Kitchen is able to feature curated entreès such the signature chicken al mattone, roasted ribeye, and grilled salmon. While some of the dishes are classic standbys that will always be on the menu (including the old-fashioned potato hash featuring savory house-made fennel sausage, crispy Yukon gold potatoes, zippy red onions, and sunny side-up eggs), other items fully adapt to the seasonality of local ingredients and require continuous innovation (such as the impressive array of sensational pizzas and Benedicts).
Q: What do you love most about working in restaurants?
A: To me, it's just a challenge or a game between me and the printer. The tickets are coming, and let's see who goes faster.
Q: What's your favorite ingredient?
A: Salt; it brings out the flavors. I think I will die the day [I am] without salt.
Q: Where do you get your inspiration?
A: The ingredients. I go to bed thinking about them, I wake up in the middle of the night thinking about them, and then I wake up. … You just carry it with you. It's the life of a chef.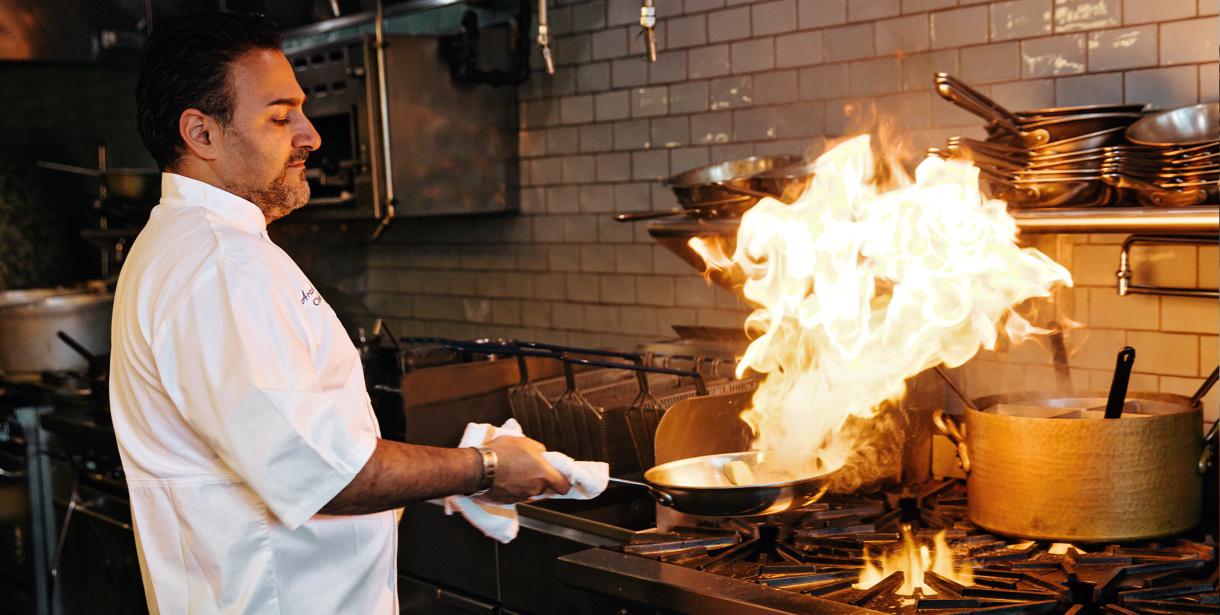 Q: What kitchen tool could you not live without?
A: I am the worst chef when it comes to knives. The thing I really like is my microplane. It's for your Parmigiano … and the zest of the lemon. I use it every day.
Q: If you could have a superpower, what would it be?
A: I don't know if it's a superpower, but being an octopus. That's the joke in the kitchen when it's busy: I say, "OK; let's go, let's go!" And they say, "Hey man, I'm not an octopus. I only have two hands," and I'm like, "Then become an octopus! Let's go". But a superpower: I wish I had the energy I had even 10 years ago … I think I still have a lot of it, if you ask my wife.
join our recommended business program
Great businesses deserve unique recognition and customers should be able to cut through the noise to easily find them. When customers see our recommendation badge on your website or on ours, they know your business stands out for a reason that matters.
LEARN MORE