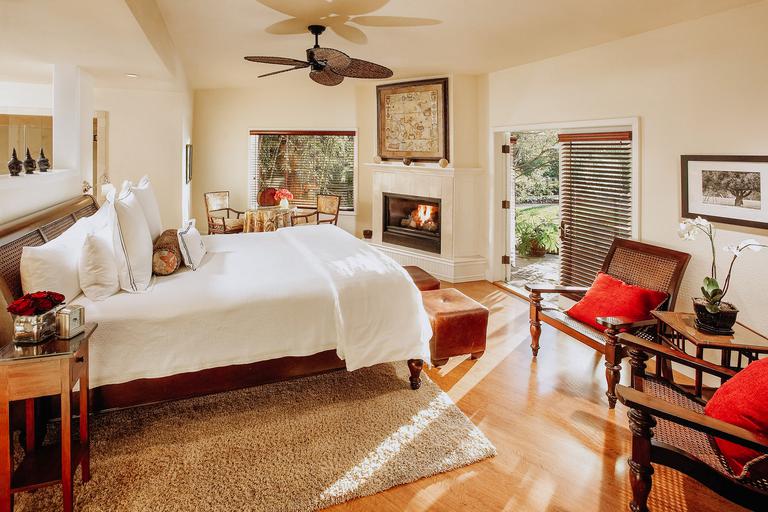 Milliken Creek Inn & Spa
Discover this hidden gem in the heart of Wine Country.
Our Recommendation Program highlights top-quality California businesses with a demonstrated love for their community.
A hidden gem providing luxury accommodations in the heart of Wine Country


Nestled amongst the verdant, vineyard-blanketed hills of the world-renowned Napa Valley, the Milliken Creek Inn & Spa boasts a picturesque perch along the lush banks of the Napa River. The charming clapboard home is fringed by oak trees, whose lengthy boughs stretch across the expansive lawn dotted with fragrant flowers and the meandering pathways punctuated by calming fountains. Given the gorgeous environs and tranquil atmosphere, guests can't help but unwind as soon as they arrive at the picture-perfect Milliken Creek Inn & Spa.
Situated along the winding Silverado Trail, the acclaimed Milliken Creek Inn & Spa has come a long way from its roots as a Gold Rush–era stagecoach stop. The secluded grounds now serve as a romantic, luxurious hideaway for those seeking a quintessential Napa experience without the hustle and bustle of downtown. Though the attractions of downtown Napa are less than a 10-minute drive from the property, guests will feel as if they're in a whole new world at Milliken Creek Inn & Spa—and they likely will not want to leave it.

Creating a Unique Boutique Experience


The Milliken Creek Inn & Spa provides an experience unlike any other in the Napa Valley, welcoming and pampering guests in a way that makes them feel as though they are about to enter the home of a good friend or family member—not a corporate hotel. The cozy lobby beckons with its roaring 1860s fireplace and thoughtfully appointed artwork. A jar of freshly baked cookies entices guests to indulge their sweet tooth and enhances the homey, inviting ambience.
The elegant touches are also evident in the 11 suites. These chic rooms take a page from the stylebook of British-colonial Asia, featuring a khaki-and-cream color scheme and sumptuous canopy beds, plus black-and-white photography, bedside orchids, flickering fireplaces, rain showers, oversized hydrotherapy soaking tubs complete with L'Occitane bath salts, and spectacular views of the surrounding scenery.

Providing a Reposeful Retreat


The peaceful Milliken Creek Inn & Spa is the ideal refuge after spending a full day exploring the numerous tasting rooms, famed Oxbow Public Market, Culinary Institute of America (CIA) at Copia campus, and fashion-forward boutiques in downtown Napa. There's nothing better than entering the tastefully grand lobby and sinking into a plush chair by the fire just in time for the complimentary wine reception at sunset, when guests can savor an array of coveted boutique reserves, artisanal cheeses, fresh fruits, and locally sourced nuts. Linger until the sun drops into the horizon and transforms the sky into breathtaking sherbet hues, then take a nightcap back to your suite, where lighted votive candles set the mood.
In the morning, guests are greeted by mugs of steaming, French-pressed Moschetti coffee and a gourmet breakfast—which can be delivered anywhere on the property, giving guests the option to savor their meals in their room, beside the blue waters of the river, or out on the terrace—featuring savory frittatas, crispy Belgian waffles, fresh fruit, house-made granola and yogurt, or fluffy bagels and cream cheese.
By combining inviting environs with exceptional service and stellar amenities, Milliken Creek Inn & Spa has become famous for making guests feel at home and providing an unparalleled stay in the Napa Valley, leading visitors to return time and time again.
join our recommended business program
Great businesses deserve unique recognition and customers should be able to cut through the noise to easily find them. When customers see our recommendation badge on your website or on ours, they know your business stands out for a reason that matters.
LEARN MORE