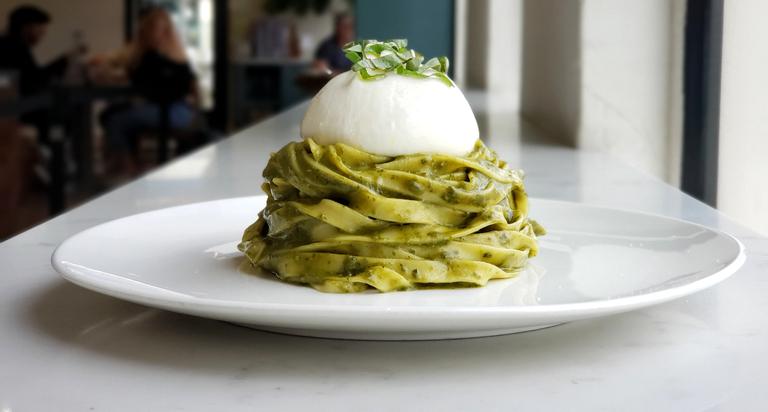 Pasta Sisters
A family-owned Italian eatery and fresh pasta shop.
Our Recommendation Program highlights top-quality California businesses with a demonstrated love for their community.
The California.com Recommended Business Program highlights only the best businesses in the Golden State. To be featured, each business must be highly regarded, have a unique California story, and make a positive impact in their community.
The Pasta Sisters Difference
Pasta Sisters is a family-owned and operated Italian restaurant and fresh pasta shop with a mission to bring customizable authentic Italian cooking at an affordable price. Pasta Sisters serves unparalleled house-made pastas and sauces made with the finest ingredients that taste like Italy using recipes that have been in the same family for over 100 years.
In order to bring an elevated food experience in a casual dine-in-deli setting, Executive Chef Paola Da Re, her family, and their dedicated team prioritize quality ingredients imported from Italy above all else. Whether making homemade pasta or its legendary Eggplant Parmigiana, there is love on every plate served at Pasta Sisters.
The cuisine can be defined by what Italians call "cucina casalinga" (Italian home cooking). Spaghetti, tagliatelle, pappardelle and gnocchi are designed to be mixed and matched with a variety of slow cooked and made-from-scratch sauces. The concept perfectly marries today's free-spirit lifestyle and traditional palates.

OUR CALIFORNIA DREAM
When Da Re and her family opened the first Pasta Sisters location in 2015, they never anticipated the success it would ultimately receive. The founders originally imagined the concept as a fresh pasta shop where they could sell their homemade pastas—spaghetti, tagliatelle, pappardelle and gnocchi—as well as their slow-cooked and scratch-made sauces. The vision quickly changed and evolved into becoming a restaurant thanks to pasta-loving Angelenos.
Through word of mouth, the first location on Pico Blvd in Arlington Heights began gaining popularity in the community. The turning point occurred when Pasta Sisters won first place for a pasta contest in Los Angeles, and the rest was delicious history. Within 24 hours, Pasta Sisters' Pico location was flooded with new guests, forming lines out the door of the 12-seat pasta shop on a daily basis—leading the Pasta Sisters to expand beyond its Mid-City strip mall location. In 2018, Pasta Sister's successfully opened its second location in the Helms Bakery District of Culver City.

SPREADING CALIFORNIA LOVE
"Our restaurant team and LA community truly make up our extended Pasta Sisters family," says Paola Da Re.
Not only do we strive as a business to put smiles on guests' faces, but we also strongly believe it's equally important to get involved in the community beyond the four walls of our restaurants.
Throughout the last few months, Pasta Sisters has partnered with the Culver City's Feed Culver charitable initiative to provide over 100 meal donations to those in need—especially seniors, the immunocompromised, and the underhoused. Pasta Sisters also continues to work in partnership with Italian-run non-profit organization Lasting Impressions, dedicated to helping victims of violence and abuse recover from their trauma through various forms of art therapy.
join our recommended business program
Great businesses deserve unique recognition and customers should be able to cut through the noise to easily find them. When customers see our recommendation badge on your website or on ours, they know your business stands out for a reason that matters.
LEARN MORE