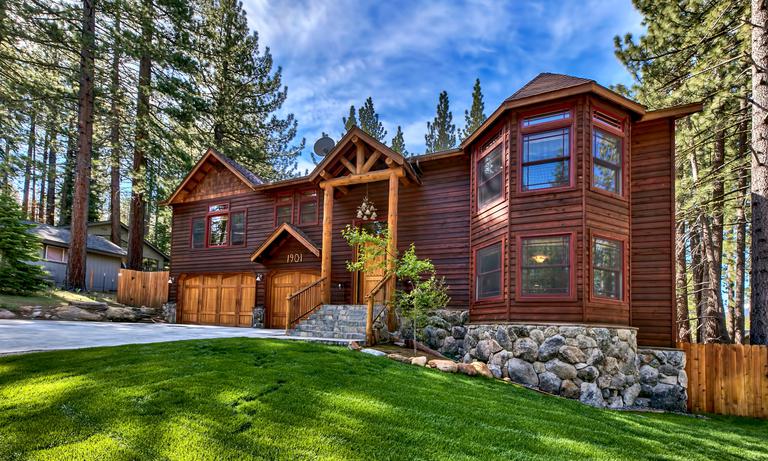 RnR Vacation Rentals
A top full-service property management firm.
Our Recommendation Program highlights top-quality California businesses with a demonstrated love for their community.
2494 Lake Tahoe Blvd , Unit B2, South Lake Tahoe, CA 96150
GET DIRECTIONS
The California.com Recommended Business Program highlights only the best businesses in the Golden State. To be featured, each business must be highly regarded, have a unique California story, and make a positive impact in their community.
The RnR Vacation Rentals Difference
RnR Vacation Rentals is a full-service property management firm based in South Lake Tahoe. RnR Vacation Rentals' mission is simple: to be the best little company in the world. Its motto, "We Make Happy Happen," rings true for its guests who enjoy 5-star customer service from the friendly staff as well as for the vacation home owners who trust RnR's team to market, maintain, and expertly manage their vacation homes. From luxury lakefront townhouses to spacious mountain retreats, RnR Vacation Rentals prides itself on having the perfect selection of homes for any South Lake Tahoe getaway.
Our California Dream
South Lake Tahoe has a special place in the hearts of Stu and Diana Roberson, owners of RnR Vacation Rentals. Diana grew up in a small town nearby and Stu spent many childhood family vacations at the lake. In 2010, while living and working in Silicon Valley, the Robersons purchased their dream home in South Lake Tahoe. They rented out their Tahoe home to vacationers when they could, and it wasn't long before neighbors started asking Stu and Diana for help renting out their homes, too. The Robersons started RnR Vacation Rentals in 2013 and now the company manages 60-plus homes in the area. As fate would have it, Stu and Diana now enjoy living in the dream home that started it all!
Spreading California Love
While the RnR Vacation Rentals team would like to think visitors return to South Lake Tahoe every year because of the immaculately-kept vacation homes, they know guests really come for the lake and the mountains. RnR is deeply committed to keeping the region's water pristine, the trails litter-free, and the ecosystem healthy for locals and visitors to enjoy for generations to come.
In an effort to protect the environment, RnR refills soap, shampoo, and conditioner bottles, and provides a reusable tote bag in all the vacation homes to eliminate single-use plastics and reduce the amount of waste directed toward the landfill. RnR Vacation Rentals also supports the League to Save Lake Tahoe, a local nonprofit working to reduce pollution, encourage restoration, and stop the spread of harmful invasive species. In addition to donating as a member of the Keep Tahoe Blue Business Program, RnR collaborates with the league on volunteer projects and awareness campaigns, along with encouraging guests to support their education efforts.
join our recommended business program
Great businesses deserve unique recognition and customers should be able to cut through the noise to easily find them. When customers see our recommendation badge on your website or on ours, they know your business stands out for a reason that matters.
LEARN MORE