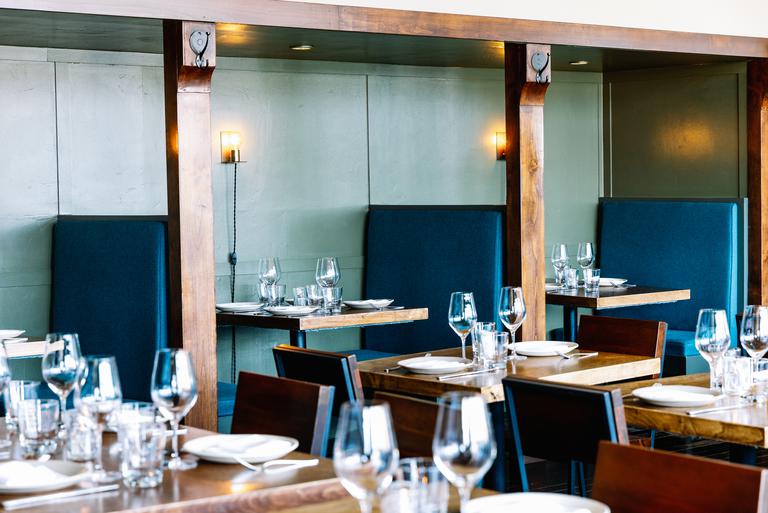 Rustic Canyon
Discover honest California cuisine in Santa Monica.
Our Recommendation Program highlights top-quality California businesses with a demonstrated love for their community.
Discover honest California cuisine in Santa Monica


Creativity flows out of every bite at Rustic Canyon, proving that this Michelin-starred eatery is as focused on passion as it is sustainable, seasonal, and California-grown ingredients. Red beets, ripe Morro Bay avocados, juicy berries, dark red quinoa, and savory pistachios meld together to craft a colorful, perfectly balanced experience of flavor and texture. The delicate profile of each ingredient is honored and uplifted in a cuisine that is best described as honest. Farm-fresh produce is artfully sliced, diced, and chopped, resulting in dishes that feel complete, regardless of garnish.
Chef-owner Jeremy Fox teaches by example, crafting simple dishes with artistry and integrity, but it is executive chef Andy Doubrava that brings Fox's concept to life daily at Rustic Canyon. "We are proud to change the menu as much as the market changes," chef Doubrava says. "Even though I'm the one typing the menu up every day, it's really the farms that are creating it."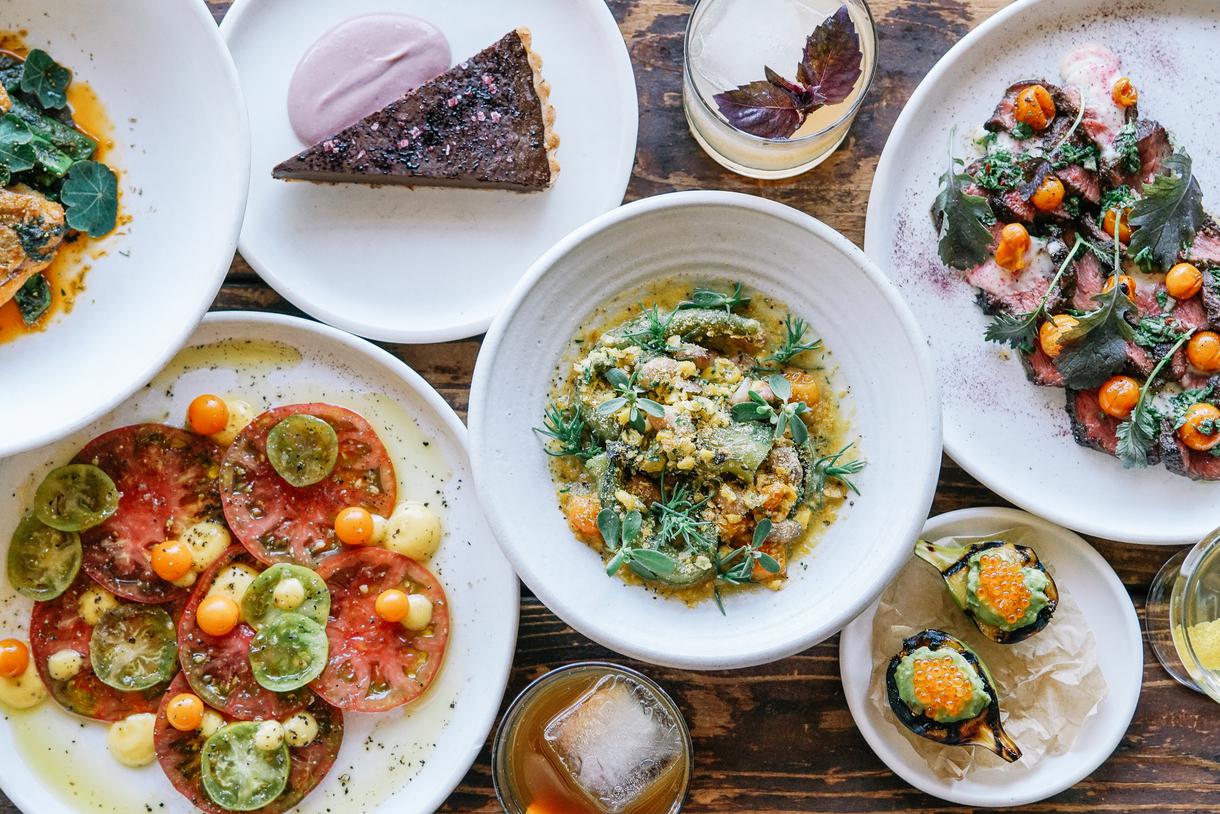 The down-home food philosophy at Rustic Canyon carries through every aspect of the restaurant, creating an atmosphere that feels welcoming and authentic. The staff are warm and professional, but they don't take themselves too seriously. "We're not a white-tablecloth restaurant," Doubrava says. "Our servers wear T-shirts and jeans—they're not going to start wearing suits, and we're not going to start doing things differently."
Though the cuisine is highly acclaimed, the accolades and recognition haven't changed who Rustic Canyon is at the core; if anything, the attention has strengthened the restaurant's conviction to remain authentic and offer unique experiences for its guests.
Q: How did you get your start in the restaurant industry?
A: I originally went to school to be an English teacher. I screwed up college and ended up dropping out. Then, I went to a music school; I had always played the drums—jazz band and concert band in high school, and some bands for fun—but then I screwed that up, too. Throughout all of that, I'd been working at a family-style Italian restaurant in New York. I got tired of screwing up and decided to take food seriously. I ended up going to a very good culinary school in New York. After high school, it was really the first thing that I finished and was proud of, and I've been working [in restaurants] ever since.
Q: What was it about food that motivated you to pursue a career as a chef?
A: I like to create—I think that's why I was really into music. In the grand scheme of things, when you compare food to other kinds of art, there's a much quicker gratification for yourself and for the people you're sharing it with. It's kind of that classic story: Before I started doing this professionally, I always wanted to cook for friends. It's for that gratification you get when somebody tells you how good something is or [asks], "How'd you do that?" or "Why can't I do that?"
Q: What inspired you to join Rustic Canyon?
A: Jeremy Fox. I started cooking professionally right around the time that Instagram became a thing … I was a big fan of his and his approach to food, and I sent him a billion messages on Instagram and email. He finally responded and invited me to hang out in the kitchen for the day. After dinner service that night, he sat me down outside and offered me a job. I literally dropped everything. I was living in Queens in New York City, and I was the executive chef of a great restaurant out there. I quit my job, hired a moving company, and moved to L.A. three and a half weeks later. Moving out here was really the first time I'd been to L.A., so I put a lot of faith in Jeremy and the restaurant. Now, I've been there for almost five years. I got lucky.
Q: How would you describe chef Jeremy's approach to food, and what makes it unique?
A: I think it's kind of trendy or cool to say you're doing simple food, because anybody that cooks for a living knows [it's about] taking all of the pretty garnishes off the plate and really showing the vegetables without adding a whole slew of things to it. [Jeremy]'s the one who's really doing that: honest, simple food with nothing to hide.
The main thing about Jeremy that I've come to admire is that he is 100-percent honest all of the time. Whether it hurts your feelings or the opposite, there's honesty in him and there's honesty in his food. He has nothing to hide.
Q: The Rustic Canyon menu has such a heavy focus on vegetables. Where do you source your produce from?
A: We change the menu as much as we need to—whether it's once a week, every day, or even halfway through dinner service—and it all has to do with what we can get from the handful of farmers that we trust and that we buy from.
There's a woman named Karen Beverly, and she is basically the first one at the farmers market. She sends out these emails with what looks good, what she tasted, and what's great this week. It 100-percent drives the menu.
I can look forward to say, asparagus—it seems to be the one vegetable that everybody looks forward to every year when you work in a kitchen—but we're not going to get asparagus from say, South America, just because we can. We're going to wait until we can get it from one of our local, organic farmers and support small businesses.
A lot of these farmers that we buy from for the restaurant have become friends. Like I said, I've been here for five years and I see these people at least two to three times per week at the different markets we go to. It's the combination of Karen and the farmers themselves that really tell us what to be excited for.
Q: What's your favorite ingredient?
A: We work with one farm [called] Peads & Barnetts, and I love their pork. I think there's a common misconception that we're a vegetarian restaurant—which we are not. We are a vegetable-forward, super vegan-friendly, and vegetarian-friendly restaurant, but I like pork. Oliver, the farmer, is a perfect example of a guy that I've known and worked with for a very long time.
We also do all of our own charcuterie and preserved meats. We don't serve anything that we don't make. So, when people think of bacon, they think, Okay, you buy it at the store. But at Rustic Canyon, if we want bacon, we're going to wait the two weeks that it takes to make and do it ourselves. Our charcuterie program forces us to be patient.
Q: What are your favorite local restaurants?
A: Birdie G's, which has the best matzo ball soup I've ever had. I think about it every day. But I honestly cook a lot of one-pot meals at home and I don't go out to eat as much as a lot of other chefs. I have two dogs, a cat, and a fiancé, and we like our quality alone time.
join our recommended business program
Great businesses deserve unique recognition and customers should be able to cut through the noise to easily find them. When customers see our recommendation badge on your website or on ours, they know your business stands out for a reason that matters.
LEARN MORE