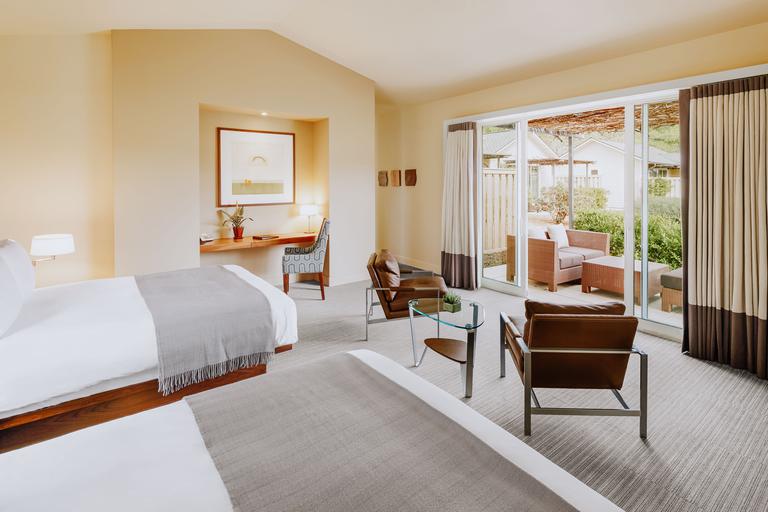 Solage, Auberge Resorts Collection
Enjoy an encompassing retreat inspired by Calistoga's healing mud and mineral waters.
Our Recommendation Program highlights top-quality California businesses with a demonstrated love for their community.
An Encompassing Retreat Inspired by Calistoga's Healing Mud and Mineral Waters


Rolling hillsides, manicured landscapes, and majestic vineyards surround the guest rooms, spa, and eatery comprising the renowned Solage resort. Cleanse away your toxins, savor Napa Valley's vibrant seasonal bounty, and lounge in luxury to experience relaxation the way it was intended.
A bucket-list destination for foodies and wellness enthusiasts alike, Calistoga is revered for its hot spring–centric history and calming ambience. Solage perfectly encapsulates the essence of Wine Country and celebrates the region's unique weather with sun-dappled terraces, locally grown ingredients, modern studios, and a sleek aesthetic. Bubbling mineral pools and light breezes flow through the vineyards, providing a soothing atmosphere where stress ceases to exist and relaxation becomes a way of life.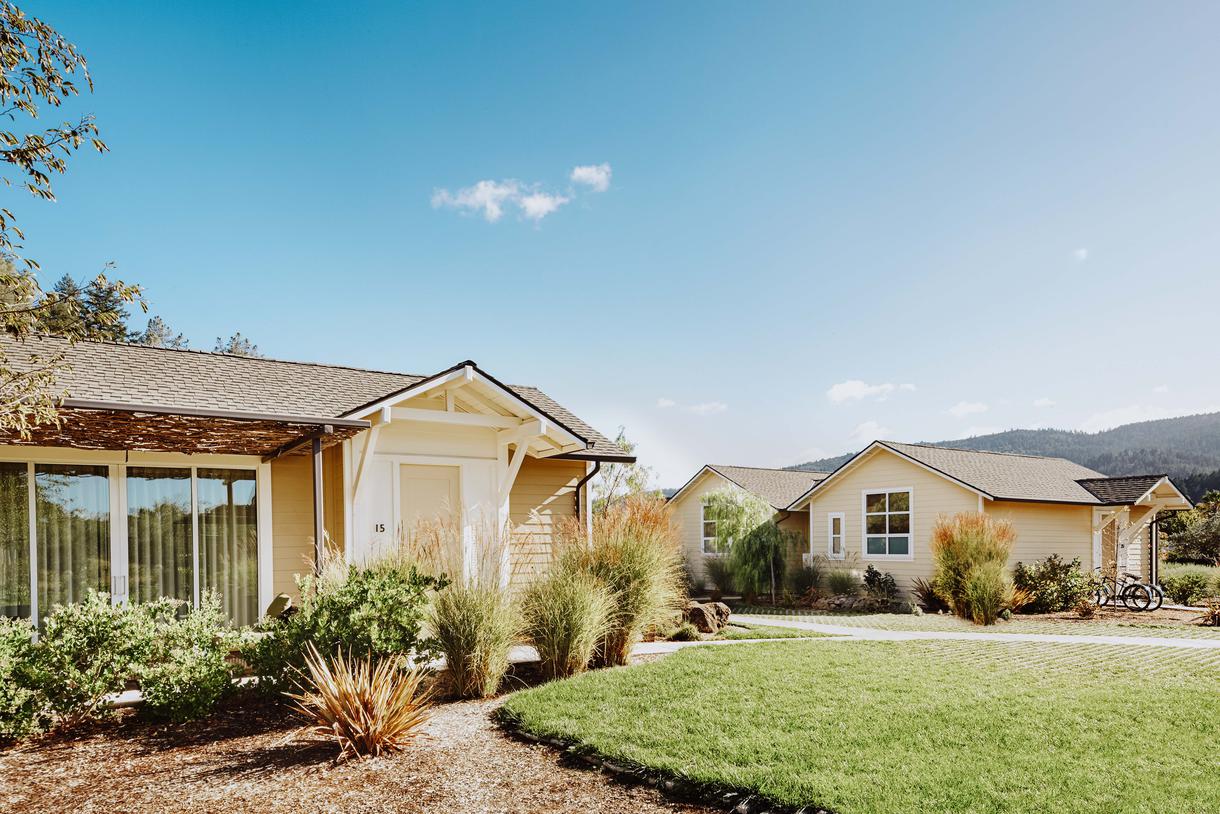 Unparalleled Amenities


An intimate warmth surrounds Solage's studios and suites, creating a getaway unlike any other. This comforting embrace is accompanied by world-class experiences and amenities that truly make this resort one-of-a-kind. Throughout the property, you can expect:
Airy vaulted ceilings

Locally made bath products

Semi-private patios

Complimentary valet parking

89 intentionally designed rooms and suites, complete with luxurious linens and down bedding

Complimentary bikes, perfect for riding into downtown Calistoga

Pebble-stone floor showers and large soaking tubs in select studios

Five healing geothermal pools, with temperatures ranging from 50 to 104 degrees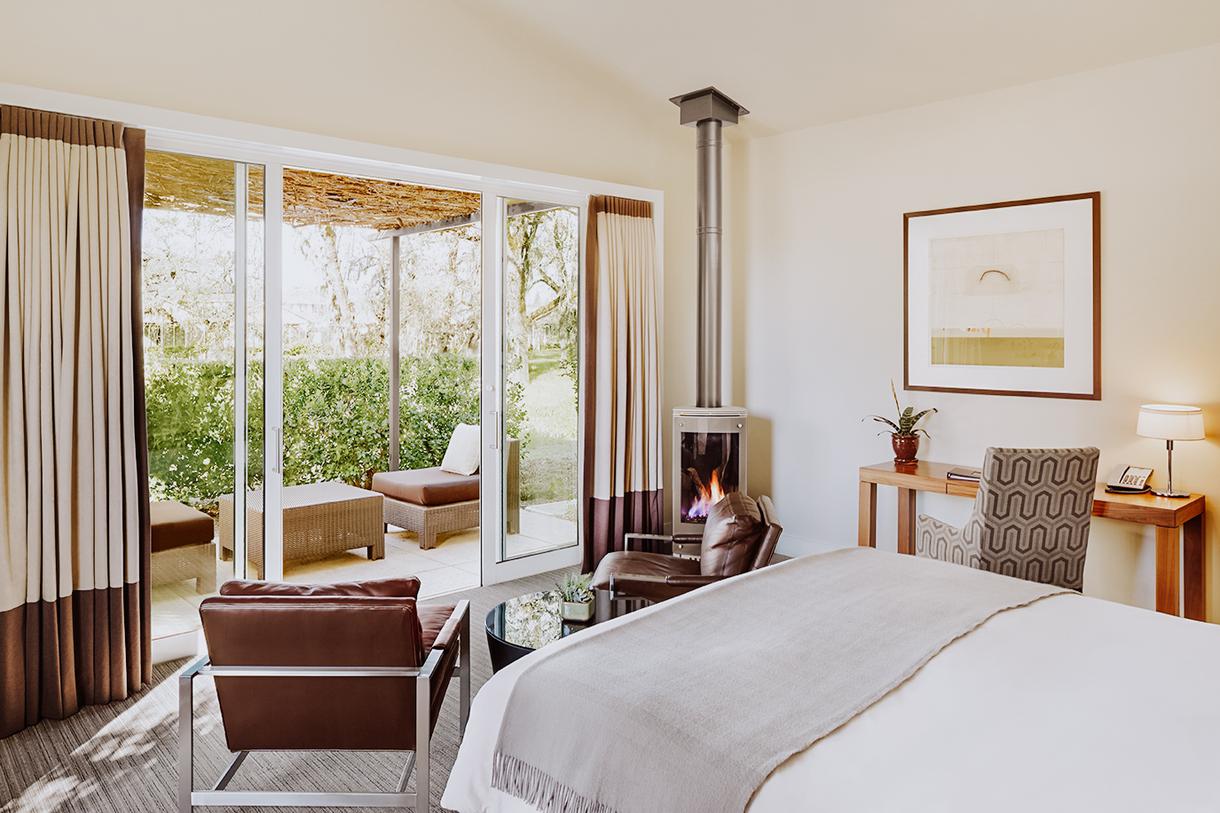 Sample The Seasons in Napa Valley


Solage's eatery, Solbar, combines the freshest regional ingredients with globally inspired flavors to create an unexpected gastronomic journey. Begin the day with a slice of Calistoga avocado toast to experience the complex textures of creamy ricotta, savory scrambled eggs, crunchy toasted seeds, and fresh-from-the-garden sprouts. Start exploring the region after a round of made-to-order maple donut holes—but return in time for a decadent supper that will transport you around the world and back.
Enjoy the evening with a half dozen Pacific oysters on the half shell, served with mignonette and a slice of lemon. As the sun sets over the vineyard, let the elegant cream of cauliflower lull you into a state of bliss as black truffles mix with marbled potatoes and cauliflower florets. Continue with the olive oil–poached Alaskan halibut served with mushrooms, brussels sprouts, and luscious Béarnaise sauce. End your meal with the awe-inspiring butterscotch pudding—featuring fleur del sel, caramélia toffee, and amaretti crumbs—and your dreams are sure to be sweet.
Additional Adventures


Solage has more to offer than meets the eye. Lounge on your suite's patio, grab a bite at Solbar, let the geothermal baths soothe your muscles, and allow a rejuvenating spa treatment to brighten your spirits before exploring the surrounding region. Before you return home:
Take a five-minute bike ride to downtown Calistoga

Book a zipline tour through the redwood forest

Capture the beauty of your surroundings with a private painting lesson

Take your adventure to new heights with a hot-air balloon ride above the vineyards

Join a complimentary on-site fitness class

Hike through the verdant hills of Calistoga to see panoramic vistas
Solage, Auberge Resorts Collection
---
join our recommended business program
We're committed to helping you discover the places, people and businesses that make our state Golden. Our online publication, updated daily, brings you all the content you need to live your California dreams. And that's just the beginning…
LEARN MORE

ABOUT US