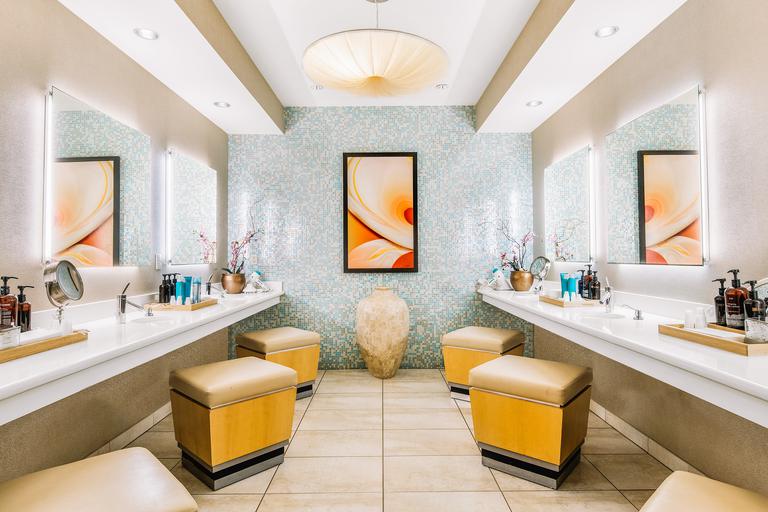 Sunstone Spa
Relax and recharge at this luxurious oasis in the middle of the Palm Springs Desert.
Our Recommendation Program highlights top-quality California businesses with a demonstrated love for their community.
A Luxurious Oasis in the Palm Springs Desert


Stepping foot inside the serene Sunstone Spa is akin to entering a private paradise. The cozy, welcoming lobby sets the tone with soothing music, warming color schemes, and relaxing scents as the gracious staff members greet you with sumptuous robes and escort you to the airy, lavender-infused locker rooms. Slip further into a blissful state by soaking in the private whirlpool, sweating it out in the menthol dry sauna, or sitting in the eucalyptus steam room before your treatment. Then, settle into one of the plush, zero-gravity leather chairs in the relaxation lounge as you sip coconut-infused water and munch on such delectable snacks as coconut-rolled dates, dried fruits, and nuts until your spa attendant is ready for you. No matter which treatment you experience, Sunstone Spa will leave you feeling like a new person in no time.
Restorative, Earth-Inspired Treatments


Hidden away from the hustle and bustle of the gaming floors found inside the adjacent Agua Caliente Resort Casino Spa Rancho Mirage, the Sunstone Spa beckons with its promise of delivering relaxation, rejuvenation, and positive energy to every guest. The spa's tranquil, down-to-earth surroundings mirror its namesake: the sunstone, an iridescent gem that is believed to bring renewal and good fortune to those who carry it. Inspired by the healing energy of the sunstone, the spa serves as a place for guests to unwind, reconnect, and refresh their spirits.
The theme is also evident in the extensive services menu, which is filled with dozens of one-of-a-kind treatments that incorporate gems and crystals. Every massage oil is laced with crystals like rose quartz to balance the body's energy and promote a sense of well-being; detoxifying salt stones are utilized during certain services to lower inflammation; jade rollers are used after facials to improve circulation; and desert sea salts and gemstone-infused clays are integrated into body treatments to help heal and restore skin.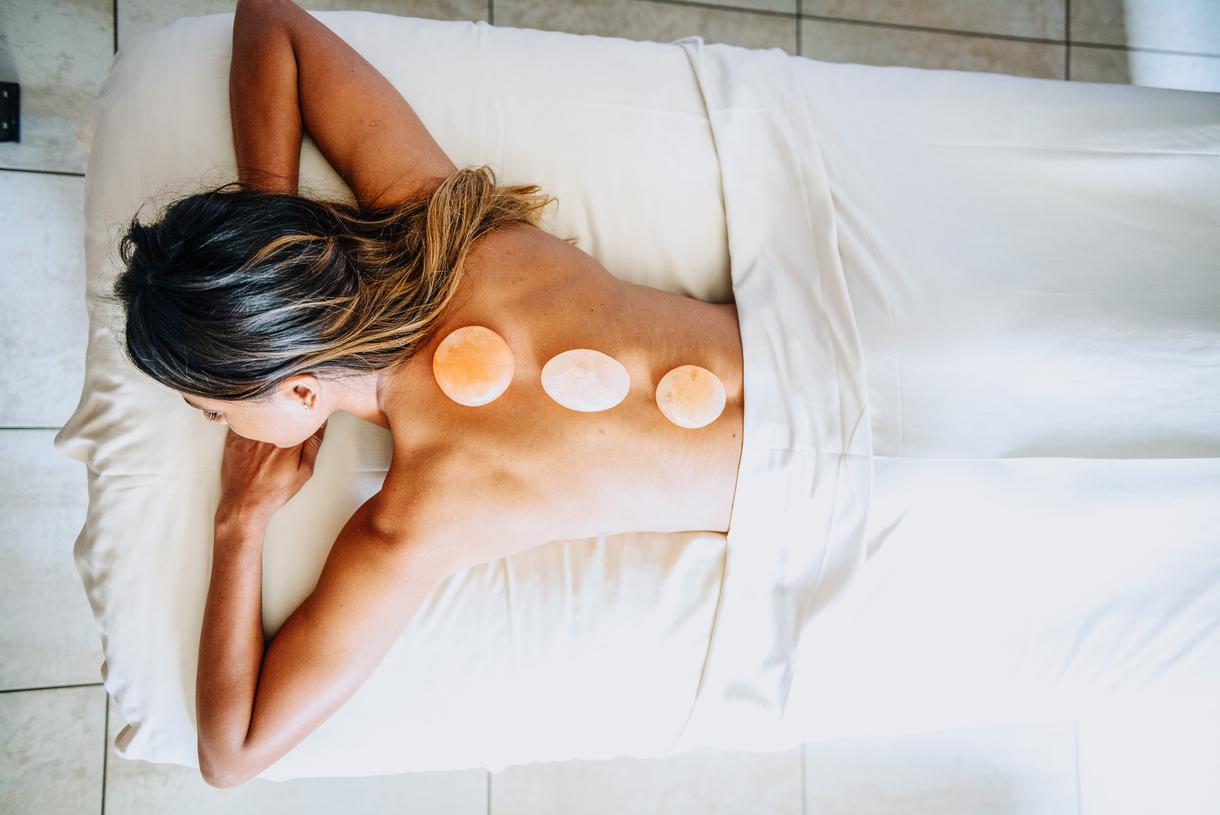 One of the most popular services is the Sunstone Signature. During this 80-minute treatment, guests are pampered with a body massage—which incorporates grapefruit- and jasmine-infused essential oils, custom-made sunstones, and Himilayan salt stones—an exfoliating foot scrub, a restorative foot wrap, and a full scalp massage. Indeed, this luxe head-to-toe treatment is bound to melt away any tension, detoxify the body, and restore energy, leaving guests feeling replenished.
Other top treatments include:
Gemstone Polish: Choose from five different scrubs crafted from ancient salts, gem powder, and clay to polish, pamper, and renew the skin.
Therapeutic Arnica: Relieve tight muscles and fight inflammation with this healing massage, which uses a blend of sage, arnica, and lavender to relax the mind and incorporates stones of unakite and ruby zoisite to release tension.
Anti-Aging Collagen Facial: Aloe vera, marine collagen, elastin, and rose essential oil work together to minimize visible wrinkles and lines, leaving skin glowing and youthful.
Restored Energy: Utilizing Eastern techniques of shiatsu and reflexology, this massage features a combination of amber and blue chalcedony stones along with a medley of frankincense, pine, and sandalwood to ease stress and balance the mind.


The healing Sunstone Spa services are enhanced by the grounding treatment tables, which reduce inflammation by removing electrical currents from the body. Guests can also be assured that organic, sustainable, eco-friendly products are used during their services, when possible; as a member of the Green Spa Network, the Sunstone Spa works with companies that use all-natural ingredients and give back to their communities.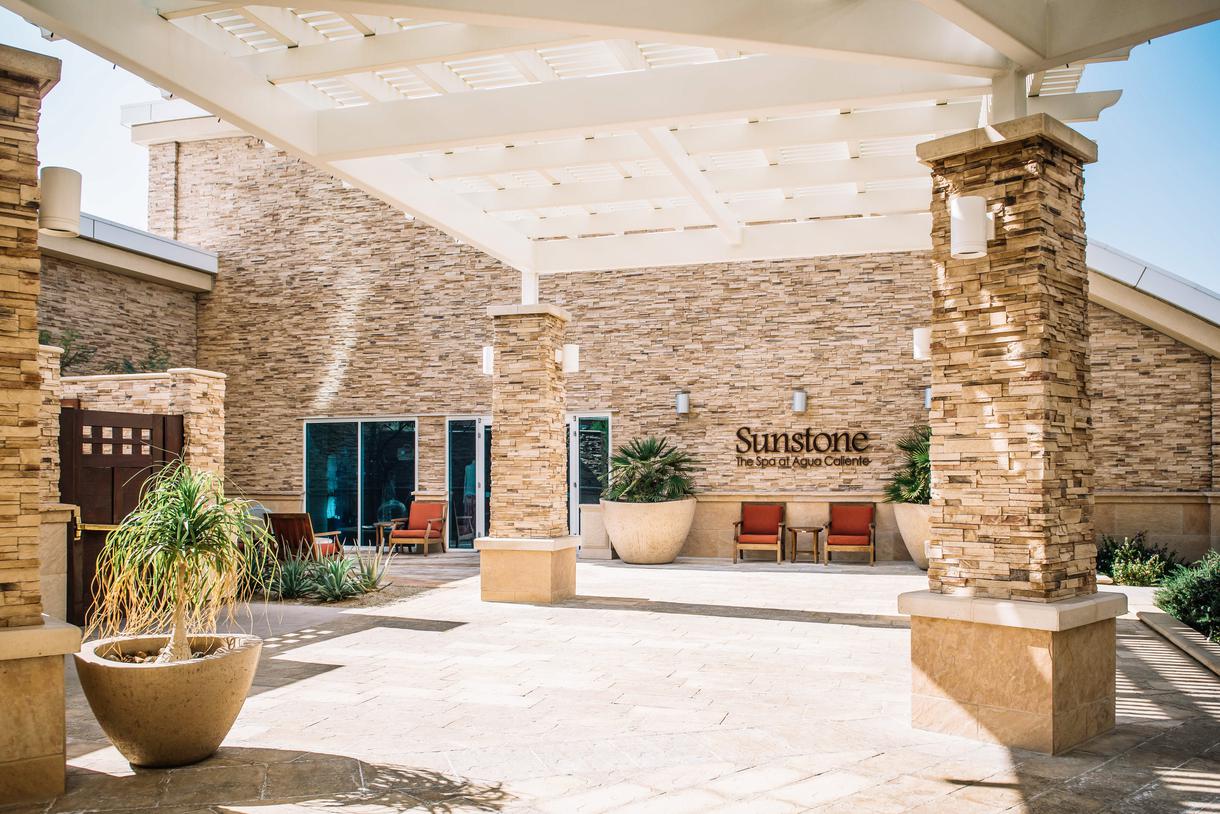 The Total Package


To elevate your experience, opt for one of the Sunstone Spa packages or retreats. (Or, create a custom package if you're celebrating a special occasion.) There are several options, but two of the most beloved offerings are The Polished Gem and The Milk and Honey Retreat. The Polished Gem is an 80-minute experience comprised of a full-body custom scrub and a Swedish-style massage, serving as an ideal choice for those wanting to rejuvenate their skin and restore their entire body. Meanwhile, the 100-minute Milk and Honey Retreat is perfect for moisturizing dry skin and unwinding the mind, with its use of a coconut sugar scrub, milk- and honey-infused coconut massage oil, and heated stones.
No matter which treatment you choose, it's hard to resist taking a dip afterward in the outdoor pool, which overlooks the snow-capped mountains and serves as the picture-perfect spot for soaking up the sun. If you desire additional privacy, book the Spa Cabana Retreat, which comes complete with a private whirlpool and food and beverage service. And if you need to freshen up before returning to your room, the spa has you covered; the locker rooms feature aromatic-infused rain showers and fully stocked vanities with brushes, blow dryers, lotion, and deodorant—guests truly want for nothing here. Lounging by the pool is an ideal way to wrap up your spa day, but if your treatments end up leaving you energized, you can always get a workout in the spa's fully equipped fitness center.
Indeed, an afternoon at the Sunstone Spa will leave you well rested for a night out on the town, especially when you let the full-service salon take care of the primping. Services include waxing, manicures, pedicures, beard trims, and an array of hair services ranging from blowouts and updos to cuts and color.
You can truly pamper yourself at the Sunstone Spa, and the stellar staff will ensure your experience enlivens your senses, calms your mind, and renews your soul.
join our recommended business program
Great businesses deserve unique recognition and customers should be able to cut through the noise to easily find them. When customers see our recommendation badge on your website or on ours, they know your business stands out for a reason that matters.
LEARN MORE