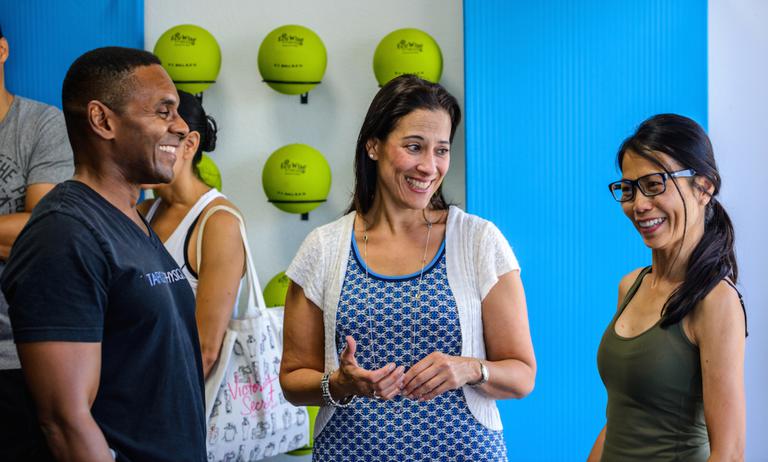 Tafiq's Physiques
A health and fitness studio focusing on those over 40.
Our Recommendation Program highlights top-quality California businesses with a demonstrated love for their community.
The California.com Recommended Business Program highlights only the best businesses in the Golden State. To be featured, each business must be highly regarded, have a unique California story, and make a positive impact in their community.
The Tafiq's Physiques Difference
Tafiq's Physiques is a West Hollywood-based transformation studio specializing in health and fitness for individuals over 40. The studio provides private and semi-private coaching, workshops, and corrective exercise training with small class sizes—no larger than five—to provide clients with plenty of personal space and personalized experience in a group setting.
In addition to in–person classes, Tafiq's Physiques offers nutrition, fitness and wellness coaching online. These personalized transformation programs are customizable to address individual hormonal and metabolic needs and deliver better results to every client.

OUR CALIFORNIA DREAM
Born in Ohio, Tafiq Akhir moved to Florida and worked as a professional dancer at theme parks, conventions, and bat mitzvahs. After several years, Akhir decided it was time for another change and, knowing the cold weather of New York wasn't for him, set his sights on the West Coast. After a single visit to California, he knew that Los Angeles would become his home. In April of 2000, he loaded his car and drove across the country.
It was the first place I had ever been with such a diverse mixture of people and cultures. The best way I can explain it is that I felt a sense of comfort and a sense of hope during my visit.
With a longstanding love of health and fitness, Akhir left the entertainment business and became a full-time personal trainer. Just two years later, Tafiq's Physiques was born and Akhir committed to earning the certifications and education needed to give his clients the best training possible. After years of working for the best-known fitness studios and gyms in L.A., Akhir decided it was time to open up his own studio. In 2017 he turned his dreams into reality and celebrated the ribbon cutting with the Mayor and the West Hollywood Chamber of Commerce on his birthday. "I still feel that sense of hope and comfort everyday," he says, "and I believe that's why Tafiq's Physiques is still going strong."

SPREADING CALIFORNIA LOVE
Akhir's mother was passionate about giving back to the community, so his family was always getting involved in fundraising and community events. By the time he was a teenager, Akhir had acquired a similar passion, working during the summer at Collinwood Community Center—a safe-haven offering arts programs for low–income children whose families couldn't afford daycare. As an adult, Akhir has continued to seek out ways to give back—this time to his community in Los Angeles.
In 2012 Akhir serendipitously met Mel Culpepper, the director of the Boys and Girls Club of Hollywood, while looking for a gymnasium to rent for his bootcamps. Since the gym was located inside the club, Akhir got the chance to learn about their educational classes and programs for the community's low income residents. In addition to fine and performing arts programs, Akhir learned that the Boys and Girls Club of Hollywood provided valuable skills—including computer, coding, reading, robotics, and math programs to help the local children.
Akhir has been a supporter ever since, working to advance the club's mission and support the community. Soon after, Akhir organized FIT FOR A CAUSE, an annual donation-based dance and fitness masterclass hosted by some of L.A.'s top fitness professionals. After three consecutive years, Akhir had raised upwards of $12,000. Seeing his passion, the Boys and Girls Club of Hollywood asked him to become a member of the Board of Directors, a title he proudly holds today.
join our recommended business program
Great businesses deserve unique recognition and customers should be able to cut through the noise to easily find them. When customers see our recommendation badge on your website or on ours, they know your business stands out for a reason that matters.
LEARN MORE