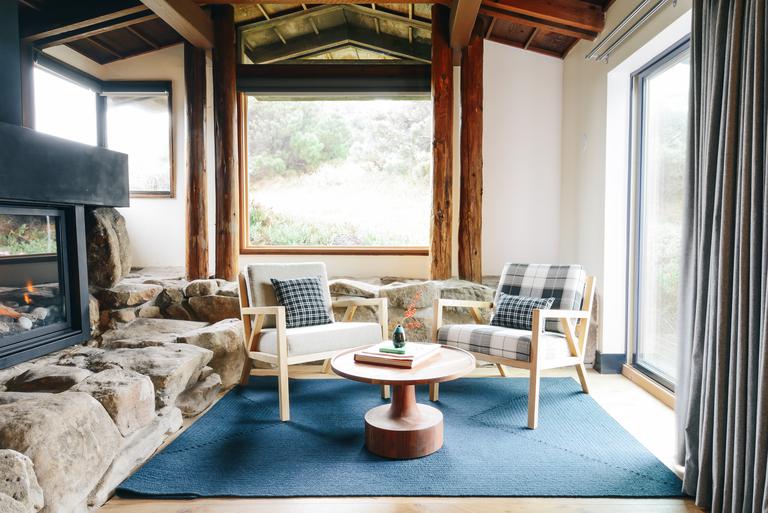 Timber Cove Resort
Timber Cove Resort is an idyllic escape along the Sonoma Coast.
Our Recommendation Program highlights top-quality California businesses with a demonstrated love for their community.
An Idyllic Escape Along The Sonoma Coast


Mid-century modern accents, warm stonework, and rugged timber beams highlight the organic architecture of the Timber Cove Resort as vast Pacific waters lap against the rugged bluffs just outside the window panes. The interior's relaxing ambience mingles with an intense curiosity to explore Sonoma Coast's untamed shores, while nostalgic sounds of spinning records fill the air with the feeling of home.
Perched atop the weather-worn cliffs of Northern California, Timber Cove rises above all expectations. Outfitted with Adirondack chairs, fireplaces, cozy nooks, and plush linens, the resort provides endless opportunities to find balance and unwind.
"Every Saturday afternoon, you can walk along the balcony that overlooks the lobby and see a lobby full of people playing games, interacting with a stranger, and truly enjoying themselves. It's the opposite of any lobby you've ever seen in the world that's filled with laptops and cell phones, arguments, and strangers. No one is a stranger while they're here, and that's the best part."
—David Ahern, General Manager of Timber Cove Resort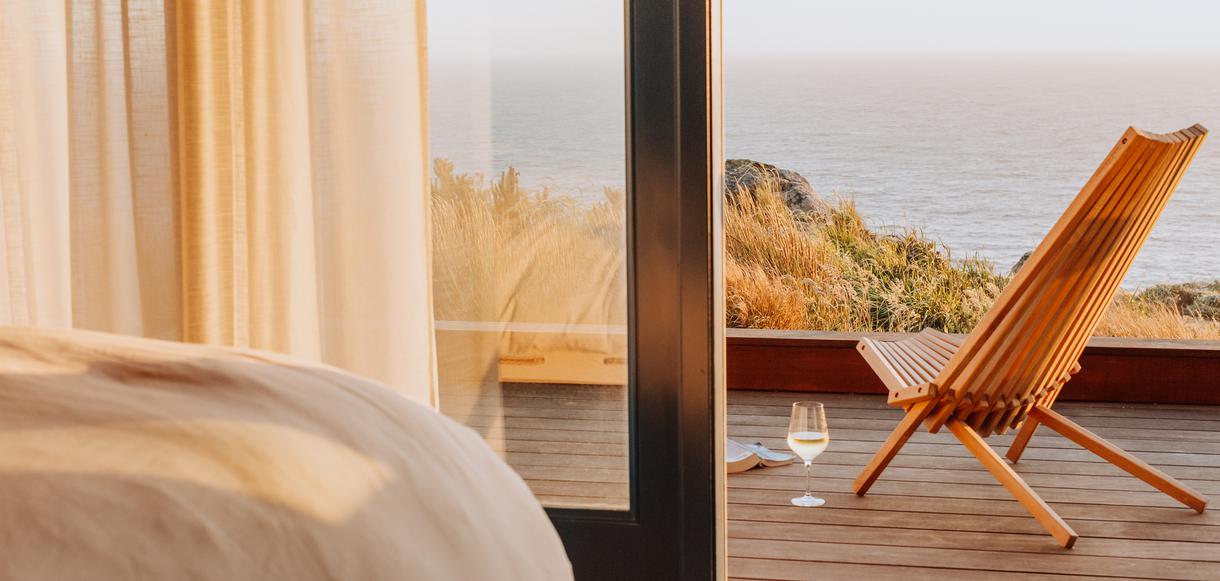 A Naturally Beautiful Respite
Tucked between the expansive forest and invigorating coastal waters, Timber Cove is the remote destination of your dreams. Games, nature hikes, and complimentary yoga turn strangers into friends, while curated comforts transform the 46 guest rooms into happy hideaways. Whether you seek a romantic getaway, a girls' weekend, or a sabbatical from modern technology, the Timber Cove Resort is pleased to oblige.
Filled with charm and authenticity, the property combines high-quality amenities with the great outdoors. Complete with Frank Lloyd Wright–inspired architecture, coastal vistas that inspired Ansel Adams, sheltered wedding venues with panoramic views, inspired cuisine, and luxurious suites, Timber Cove is one of the best-kept secrets off Highway 1.
Scrumptious Seasonal Seafood
Locally sourced ingredients meet coastal cuisine at Timber Cove's Coast Kitchen: Vibrant lemon wedges and a butternut-squash mignonette provide pops of color but are merely accoutrements to the stars of the show—a half-dozen freshly harvested Tomales Bay oysters on the half shell. Gazing out from the ocean-view table, there is no doubt that these delicacies are beyond compare.
Every corner of Coast Kitchen exudes an approachable elegance that encourages guests to sit back and stay a while. From house-made granola and Greek yogurt at breakfast, to grilled Pacific swordfish and truffle mashed potatoes for dinner, this eatery beckons morning, noon, and night.
Since many of the items are sourced directly in the town of Jenner—from the farmers markets, local artisans, and rich waters—every dish is unique to the Sonoma Coast. It is apparent after a single bite that melding unexpected flavors (like smoked trout, fennel, and micro cilantro) is executive chef Ronald Andrade's specialty. Since the menu changes with the seasons, there's always a good excuse to visit.
Q: How has your time in Jenner differed from your experience living in L.A.?
A: Personally, I like Northern California more than Southern California. SoCal is exactly what it's supposed to be—it's the Hollywood scene, it's L.A., it's Beverly Hills, it's Rodeo Drive, it's hustle and bustle. It never stops; you're just constantly going. But up in Northern California, every day is relaxed. I jokingly say that working here is a working vacation because it's so tranquil and serene. I love every moment of it.
I live around 30 to 45 minutes away [from the Timber Cove Resort]. This is the perfect dichotomy between Jenner and L.A. My commute is 45 minutes—but it's up Highway 1 and I get the natural beauty of the redwood forest, the ocean, birds flying … everything is beautiful and wonderful. [But] 45 minutes in L.A. traffic, you haven't moved a mile and you're wondering what you're doing with your life.
Q: What is Timber Cove's best attribute?
A: The number-one amenity is almost intangible. [When you] check in, you're surrounded by a comforting, warm environment where you want to sit by the fireplace, eat, drink, relax, and unplug while you're with us.
The resort sits on 22 acres of natural coastal habitat, so there are paths and scavenger hunts built into the landscape. We have picnic tables and Adirondack chairs all over the property, so you can take a picnic basket with you and just watch the Pacific Ocean. Maybe the best part of the hotel is the scenery. The Pacific Ocean wasn't created by us, but we get to take advantage of its amazing beauty.
Q: What makes Timber Cove unique?
A: For historians and history buffs, it's wonderful to see the exposed beams, the 50-foot fireplace we have in the lobby, the fireplaces in the rooms, and the record players. Everything's meant to give you a sense of home, and the added value is our location.
We're situated on the Sonoma Coast, literally on the Pacific Ocean. But you can take the view away, take the scenery away, and you're still going to have an amazing experience with our food and beverage program, interacting with our staff, and interacting with the other guests. It's a place to reconnect with yourself and with your family and friends.
Q: What are your favorite local spots?
A: I have to say that my favorite restaurant is Coast Kitchen. I eat there every day. Now, if I'm traveling out and about or getting into the local area, Healdsburg is probably my favorite city in Northern California. I spend as much time there as I can. If I'm going to eat anywhere other than Coast Kitchen, I'm dining at Valette in downtown Healdsburg. Every time I take my wife there for dinner, she's always looking at the real estate listings, so I'm well aware that I'll be living in Healdsburg sooner or later.
join our recommended business program
Great businesses deserve unique recognition and customers should be able to cut through the noise to easily find them. When customers see our recommendation badge on your website or on ours, they know your business stands out for a reason that matters.
LEARN MORE