By

Mackenzie Hutson
June 18, 2019
The Golden State is known for its abundance of everything from sunshine and surfable waves, to organic produce and fresh seafood. While many companies still take California's natural bounty for granted, a select few capitalize on the fertile soil and oceans by using the natural elements in sustainable ways and protecting the environment.
Skincare companies, in particular, can be quite divisive in their practices. Some brands focus on providing healthy products made from natural ingredients, but many do not, even though natural skincare dates back hundreds of years and was the norm before synthetic ingredients became so prevalent. The beauty industry is not highly regulated, either, so harmful ingredients—such as carcinogens, alcohol, fillers, hormone disruptors, GMOs, and synthetic fragrances—seep into our skin through skincare products, which can lead to health issues in the long run.
Luckily, innovative skincare companies are rejecting these antiquated, destructive practices and are on a mission to change the industry for the better by using ingredients grown in their own backyards. Here are some of our favorite natural skincare companies that are shaking things up in California.
1. Le Prunier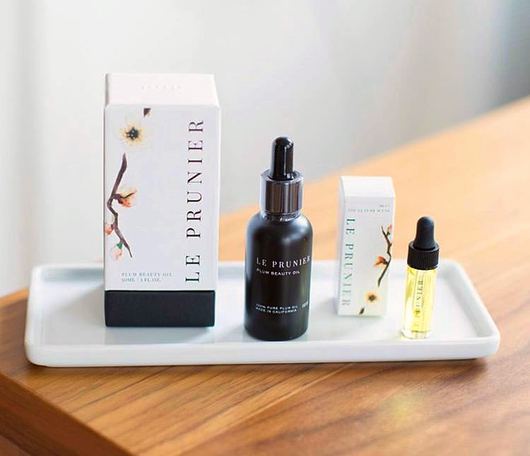 Based in: Santa Monica
Le Prunier focuses on crafting a single product and doing it well. The company's signature Plum Beauty Oil is made using sustainable practices: Every drop is derived from a family-owned farm in Sutter County, about 30 miles north of Sacramento, which is the world's largest grower of organic plums. Not only is the oil crafted on the 103-year-old farm from start to finish—from growing the trees, to harvesting the fruits, to cold-pressing every plum, to producing each bottle—but it is also organic, vegan, cruelty free, and gluten-free.
Dried plums have many benefits as both a superfood and a topical treatment. Plums are naturally rich in essential fatty acids (such as Omega 6 and 9) and phytochemicals (like polyphenols), which act as powerful antioxidants that are safe for all skin types—making the Plum Beauty Oil popular among those with acne-prone skin, rosacea, or eczema.
2. The Grapeseed Company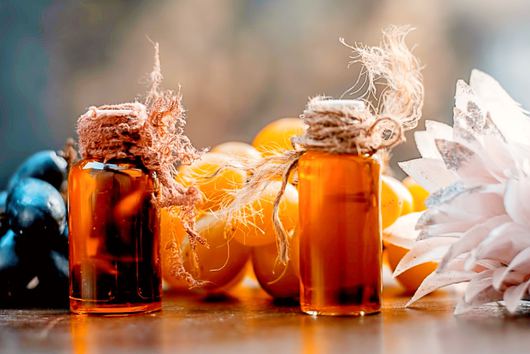 Based in: Santa Barbara and Carpinteria
The Grapeseed Company is pioneering sustainable skincare by using the byproduct of the American wine industry to create a unique skincare line. Antioxidant-rich grape seeds are the primary ingredient in the brand's 100-plus natural, organic products. The oils are extracted naturally, mixed with aloe juice—rather than bacteria-inducing water, which acts as a filler and necessitates the need for harsh preservatives—and packaged in recyclable materials to result in a sustainable end product.
The brand is fully transparent, too, listing every ingredient on its packaging and company website. Even the scents are naturally produced: The Grapeseed Company crafts scented lotions, body mist, scrubs, and soaps by sourcing essential oils that are grown in the ground and extracted by steam distillation—culminating in phthalate-free fragrance oils such as rosevine, surf, sunshine day, and pink grapefruit ginger.
3. Santa Barbara Soaps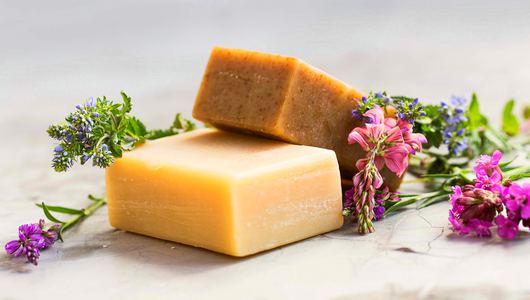 Based in: Santa Barbara
Santa Barbara Soaps produces handcrafted soaps and body creams from the best ingredients available. Using the traditional cold-process to make its soaps, the company employs high-quality, vegan ingredients that are kind to skin. Each item is made to last, all while providing the smooth, luscious lather and invigorating scents that make bath time so luxurious.
4. Ama Sea Beauty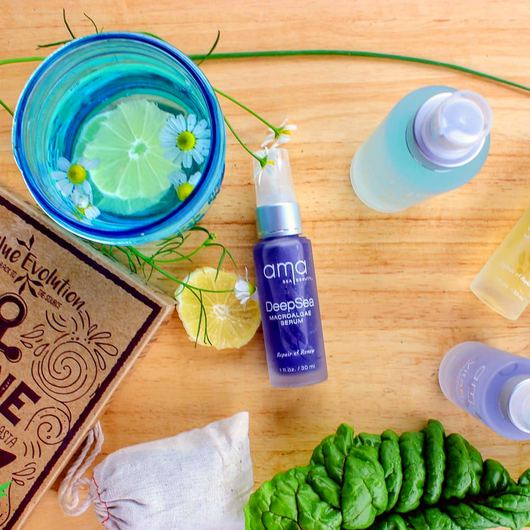 Based in: Santa Barbara
Ama Sea Beauty is doing things differently. Equipped with a team of ocean aficionados and natural-beauty practitioners, the company crafts oils, scrubs, and several other bath products using hand-selected ingredients and responsible packaging. Each product is made with minimal ingredients, allowing the organic, naturally occurring bioactive compounds from the sea to restore and regenerate nutrients on a cellular level. But Ama Sea Beauty doesn't stop there; the brand is committed to protecting the oceans that provide the bounty. The company's 25-acre Ocean Farm addresses climate stability and encourages the masses to be ocean stewards.
5. Last Meridian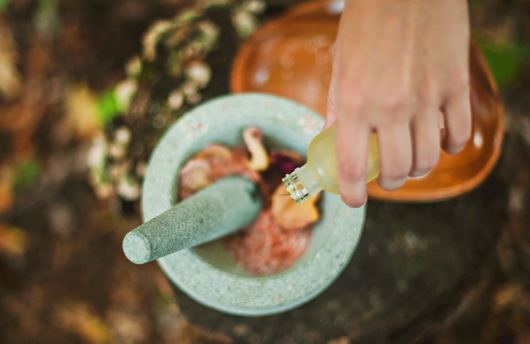 Based in: Santa Cruz
Founded by Isabella Teixeira Kantek in 2012 as a way to reconnect with the wild and strengthen her herbal education, Last Meridian is dedicated to supporting local, organic, seasonal farmers who have a deep respect for the earth and its ecosystems. Every item is intentionally handcrafted in small batches, where each ingredient plays a specific role in gently caring for the body. Products include everything from reef-safe sun protection, to sleep balm, to under-eye serum, to herbal eye pillows, to fragrant perfume. Essential oils, flowers, and beeswax provide the base for many of the company's products, resulting in a high-quality, naturally made final product.
6. Juniper Ridge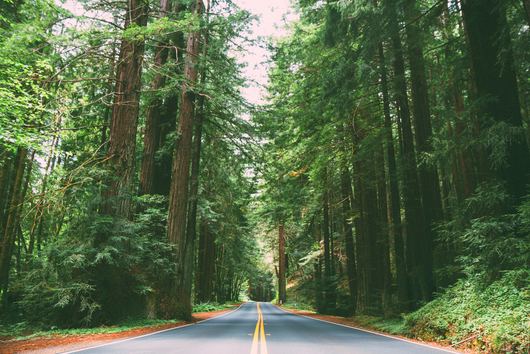 Based in: Oakland
Inspired by the scents and nostalgia of outdoor adventures, Juniper Ridge is committed to capturing these special moments in all-natural perfumes. Each product is named after the place where the ingredients were gathered and is created using classic perfume-making techniques such as distillation, tincturing, infusion, and enfleurage. Since the ingredients come directly from natural sources, the perfumes change over time and vary depending on the amount of rain, the temperature, the season, and the precise location in which the elements were harvested—resulting in perfumes that perfectly capture a snapshot of time in a particular location.
Juniper Ridge focuses on sustainability and shows its respect for the earth when gathering each wild plant. The team returns to the locations where they have harvested year after year in order to watch the regrowth of the species and participate in restoration projects. It's also worth noting that invasive species are never used in the products, so the scents truly are representative of the natural landscapes. The Juniper Ridge scents are developed in the Field Lab; small amounts of each fragrance are crafted along the trails in an attempt to perfectly capture the atmosphere that surrounds the artisans in that moment. These fragrances are then taken to the Oakland workshop and formulated into full batches of 100-percent plant-based, cruelty-free, dye-free, preservative-free, and paraben-free soaps, oils, and perfumes.
7. Laurel Whole Plant Organics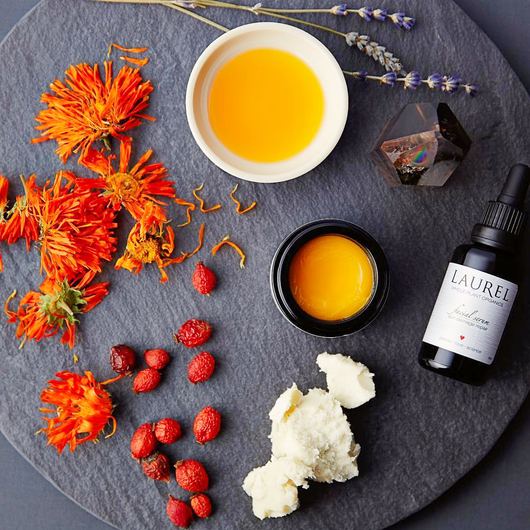 Based in: Sausalito
Laurel Whole Plant Organics takes slow beauty seriously; every step is intentional from the beginning—from the moment the ingredients are planted to the time they are harvested and bottled. This seed-to-bottle process culminates in effective elixirs, serums, balms, face masks, and cleaners for every skin type. While the main focus is on what is put into the products, just as much care is put into keeping harmful elements out. Laurel refuses to incorporate any harmful ingredients such carcinogens, lab-created ingredients, alcohol, and conventionally grown plants. Instead, the company favors fully organic, raw, unrefined, plant-based ingredients that naturally offer antioxidants, nutrients, and vitamins that nourish skin.