By

California.com
October 07, 2020
If all you need in life is sun, sand, and surf, then the Golden State is the place for you, offering everything you need to enjoy an enviable coastal lifestyle. Though California is known for having the country's most expensive and desirable cities, it's not entirely impossible to live in a gorgeous and affordable beach town.
Some may find it hard to believe that inexpensive places exist on the West Coast, but they do—there are several affordable, swoon-worthy beach towns with the charm, scenery, and laid-back vibes you crave. If you want to turn your fantasy into a reality, here are the most affordable beach towns in California where you can make your dreams come true without breaking the bank.
The Cheapest Beach Towns in Northern California

Crescent City
Location: About six and a half hours north of San Francisco
Median home price: $251,337
One of the cheapest places to live in Northern California, Crescent City has something for everyone. Home to the two northernmost lighthouse stations in California, Battery Point and St. George Reef, the city provides ample outdoor adventures and activities. Redwood parks, pristine beaches, and miles of scenic drives are at your fingertips waiting to be discovered.
This affordable coastal city in California rebuilt itself from scratch after a devastating tsunami destroyed most of the city in 1964. Now, it attracts surfers from all over the state. Pebble Beach is a local favorite with a long string of connected coves, while Kellogg Beach is a more remote spot with driftwood, agates, and fossils lying on the shore. The family-friendly beach town is also home to Ocean World, a privately-owned aquarium housing sharks, seals, and rays.

Eureka
Location: About five hours north of San Francisco
Median home price: $303,638
Quirky festivals and Victorian homes define the northern seaport town of Eureka. Home to the Carson Mansion—one of the highest executions of Queen Anne style architecture—the city is abundant with sightseeing opportunities, museums, and recreational activities. With its unique combination of nature and culture, Eureka is an ideal place to live if you crave a coastal region with a small-town feel but plenty of things to do. (It's also among the most affordable beach towns to retire in California.)
Old Town Eureka is one of the most magical local attractions. Featuring countless restaurants, boutiques, and modern artworks, this charming district is on the National Register of Historic Places. The affordable beach town is also home to lush forests. Sequoia Park Forest and Garden is a favorite among locals; 67 acres of hiking and biking trails, a colorful explosion of flowers, and picturesque gazebos complementing water features can be found here.
Arcata
Location: Roughly five hours northwest of Sacramento
Median home price: $344,307
First established in 1858 as Union, Arcata got its official name (which means "where there is a lagoon" in Yurok) in 1860. The cheap beach town is known for its expansive forests, easygoing lifestyle, and the Plaza—the heart of the city. With colorful buildings and vibrant flower beds lining the streets, the small city welcomes visitors with open arms.
The affordable beach town in California not only preserves its breathtaking natural environment but also promotes a youthful and intellectual way of life. Valuing diversity, culture, art, and nature, Arcata is full of must-visit landmarks and fun adventures. The famous Oyster Festival and the Kinetic Sculpture Race take place in this beautiful college town. You can also enjoy long walks on the Lanphere Dunes and Mad River Beach County Park, where miles of picturesque scenery comes into view. Explore the delightful shops, bookstores, boutiques, and restaurants that make Arcata even more appealing to visitors.
Affordable Beach Towns in Southern California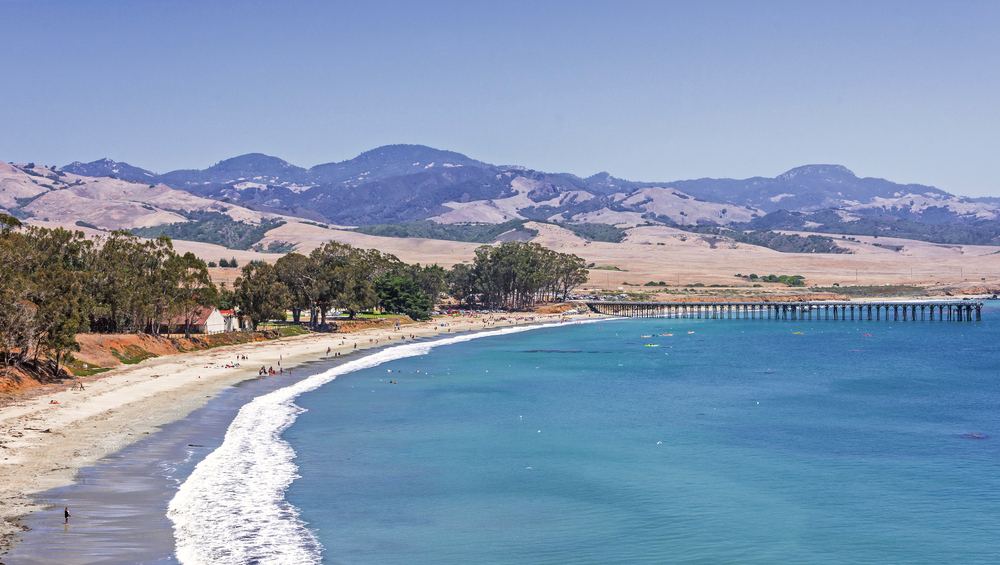 San Simeon
Location: Roughly four hours north of Los Angeles
Median home price: $486,082
San Simeon is a quintessential Golden State coastal town known for its imposing terraces, turquoise pools, lush gardens, and extravagant art collections. As elegant and luxurious as it sounds, it's actually one of the most affordable coastal towns in California. Given San Simeon's wide range of activities, tours, and sightseeing spots to choose from, people just can't get enough of its beauty and charm.
Residents and visitors alike are enticed by the Piedras Blancas Rookery, where elephant seals lay and play on the shore. The world-famous Hearst Castle is also found in San Simeon. The carefully-preserved hilltop mansion is now a museum that brings history to life and is a prime example of California's coolest architecture. Boasting miles and miles of spectacular coastline, San Simeon is among the best seaside towns on the West Coast with wonderful affordable housing choices.

Oxnard
Location: One hour north of Los Angeles
Median home price: $518,706
Oxnard's laid-back lifestyle and comfortable year-round climate captivates people and persuades them to move here. The coastal city has endless opportunities both for work and recreation and is among the most affordable places to live in the state. With magnificent beaches and a well-preserved historic downtown, Oxnard attracts thousands of visitors for the annual California Strawberry Festival, which is one of the top food festivals in the nation.
Locals flock to Oxnard State Beach Park, where white sands and tall palm trees offer a quintessential Golden State experience. Channel Islands Harbor also has wonderful spots for swimming, biking, and picnics, plus a number of fine restaurants waiting to serve you. Another must-visit in Oxnard is the Mullin Automotive Museum; view the exhibits dating back to the early 20th century, and take a tour to learn more about the craftsmanship and design of classic cars. As one of the most desirable and cheapest beach towns to live in California, Oxnard might just be the perfect place to settle.

Ventura
Location: One hour north of Los Angeles
Median home price: $612,163
Ventura is not only one of the most coveted places to reside on the West Coast, but also one of the most affordable places to live in California near the beach. The vibrant town has a rich history and an artistic culture, both of which embody its liveliness and casual atmosphere. Ventura also has an impressive park system that includes 32 parks and historic sites, along with 800 acres of verdant areas offering a variety of outdoor activities.
Thanks to its thriving cultural scene and award-winning schools, the cheap beach town is continuously growing—so you might want to move here sooner rather than later. The SoCal coastal city is lined with palm trees and modest houses, making it a picturesque place to call home. If that's not enough to entice you, perhaps the 272 days of sunshine will.