If you're big into backpacking, then you likely already know that summer is backpacking season, and you're ready to hit the trails and start planning your trip! California is home to numerous outdoor destinations with varied landscapes, diverse wildlife, and enviable climates making it a prime place for backpackers.
Whether you want to traverse undulating mountains, meander through verdant forests, or hike along the epic coastline, California has the backpacking trail for you. While there are numerous options, we've rounded up our top four backpacking destinations in California. It's important to note that some places require permits and only have seasonal access, so plan ahead and make reservations before you dust off your trusty hiking boots and start packing.
Yosemite National Park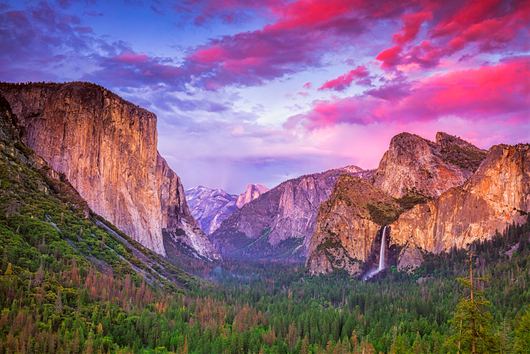 The iconic Yosemite National Park offers several trails for backpackers of all skill levels. From the spectacular, 8.6-mile Cathedral Lakes Trail to the famed, 14.8-mile Half Dome Hike, you can't go wrong with backpacking here. That being said, if you're looking to escape the crowds and explore in peace, Yosemite might not be ideal for you. It is one of the most visited parks in the country, so you should be prepared to share the stunning views with lots of other people if you choose to go here.
Pros: Stunning scenery, incredible views, hundreds of species of fauna, beautiful flora, affordable park fees, natural waterfalls, and rock climbing
Cons: Crowded, rocky roads; must make reservations well in advance; strict camp rules
Permit required: Yes
Preferable seasons: Spring, summer, fall
Day-use or parking pass required: Yes
Dogs allowed: Yes
Trinity Alps Wilderness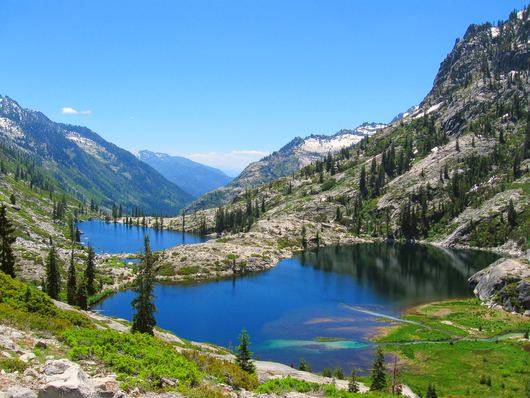 Tucked away near the northern edge of California, the Trinity Alps Wilderness is home to 47 scenic trails and hundreds of miles of lush land. Since this destination is off-the-beaten path, it is less frequented by visitors—making it an ideal spot for those seeking solitude. The hiking paths here are also on the more strenuous side, so you should come expecting a challenge. But the burning sensations in your legs will certainly be worth it once you witness all the gorgeous scenery the Trinity Alps has to offer.
Pros: Breathtaking mountain views, ample water sources, swimming, beautiful wildflowers
Cons: Seasonal bugs, rattlesnakes, overgrown trails
Permit required: Yes
Preferable seasons: Summer, fall
Day-use or parking pass required: No
Dogs allowed: Yes
Sequoia National Park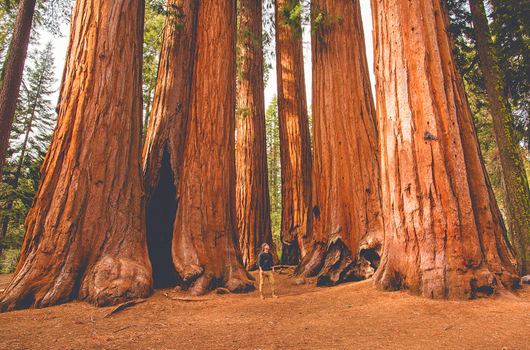 As the name implies, Sequoia National Park is most famous for its forests full of ancient Sequoia trees. It is also one of the few national parks that has retained its landscape to look the same way it did before the settlement of the West, so take it all on as you backpack through its wilderness. The park offers popular trails such as the John Muir Trail and High Sierra Trail, vistas of the Sierra Nevada mountain range, and access to Mount Whitney—which boasts one of the highest peaks in America.
Pros: Giant sequoia groves, access to the High Sierra
Cons: Trails closed in winter, park entrance fee
Permit required: Only for certain areas
Preferable seasons: Spring, summer, fall
Day-use or parking pass required: No
Dogs allowed: Yes
Crystal Cove State Park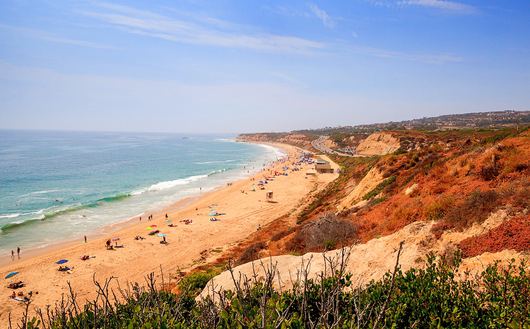 Crystal Cove State Park in Orange County draws backpackers in-the-know with its sweeping ocean views and gorgeous pathways. Whether you're looking for a quick trip or an extended exploration, this is the perfect destination for you. There have plenty of backpacking trails where you can leave the crowds and snag the million-dollar sunset vistas all to yourself.
Pros: Epic sunsets, beautiful beach views, ample camping spots, not overly crowded
Cons: No coal or wood fires allowed, parking fee, rattlesnakes
Permit required: No
Preferable seasons: Winter, spring, summer, fall
Day-use or parking pass required: Yes
Dogs allowed: No