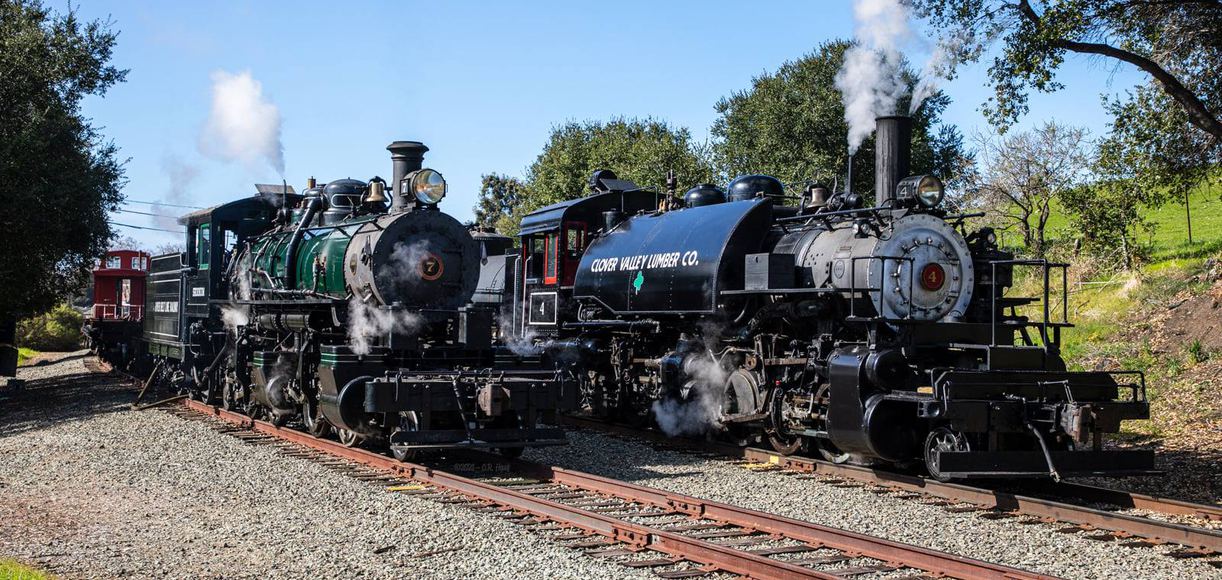 Photo courtesy of Niles Canyon Railway
By

California.com
April 09, 2021
As California mitigates health risks during the COVID-19 pandemic, some travel restrictions may remain in certain communities. Call the local and regional tourism offices to learn more about the restrictions in your intended destination. Thank you for reading, and stay safe.
Once upon a time, traveling from the East to the West (ahem, best) Coast meant sitting in a horse-drawn wagon for months on end. However, it all changed in 1869. With the completion of North America's first transcontinental railroad, people were able to travel from New York to San Francisco in a matter of weeks.
While the railroad's construction was a mammoth enterprise, history's course had changed for good. With large-scale commerce, affordable travel, and growing industrial power, the iron horse linked California to the rest of the nation. It brought the West to the world and the world to the West.
Scattered all over the Golden State, these railroads stand as a proud testament to an era gone but never forgotten. Trade in a trip to a free art gallery with a visit to one of California's railroad museums, where vintage meets historic grandeur.
Southern California Railroad Museums

Fullerton Train Museum
Location: 200 East Santa Fe Avenue, Fullerton
Admission: Free
Renowned for its guided tours and railcar collection, the Fullerton Train Museum is a pioneer among Orange County's train museums. Travel through time by way of old-timey railroad cars and admire remnants from the Wild Wild West.
Open the first and third Saturdays of each month, the museum is dedicated to preserving and restoring the state's railroad history. The Fullerton Train Museum boasts several historically significant artifacts. These include a 1951 Santa Fe 85-foot streamlined sleeping car and a 1961 Southern Pacific bay window caboose. Check out the 1942 Union Pacific lunch counter, lounge bar, and cupola-style caboose before heading out.

Travel Town Museum
Location: 5200 Zoo Drive, Los Angeles
Admission: Free
Located near Griffith Park, Travel Town (open under normal circumstances) adds to the park's allure. Originally intended to be a railroad petting zoo, this Los Angeles museum is a haven for train engineers and railroad enthusiasts alike. Travel Town features railcars from different areas. The railroad museum walks you through the intricate development of transportation—a fun experience for the whole family.
The nine-acre site is full of exciting adventures. Take a ride on a miniature train, explore an array of different vehicles, and marvel at 104-ton locomotives—all free of charge.
Southern California Railway Museum
Location: 2201 South A Street, Perris
Admission: $8–$12, free to children 4 and under
Home to the largest collection of railcars in the West, the Southern California Railway Museum brings history back to life. Railway locomotives, streetcars, passenger and freight cars offer a peek into 1870s Los Angeles. Spanning over a hundred acres, this railway museum hosts weekly tours to educate visitors about its 64-year old history.
The museum railway—showcasing passenger train classics—invites you to hop on and go for a ride. If you really want to feel like an engineer, you can even operate a real locomotive. This hidden gem in SoCal is the ultimate spot for an exciting family outing.
San Diego Train Museums

San Diego Model Railroad Museum
Location: 1649 El Prado, San Diego
Admission: $6–$13
With over 27,000 square feet of railroad magic, the tracks of this San Diego museum are a perfect addition to Balboa Park backdrops. Showcasing beautifully engineered designs, the San Diego Model Railroad Museum (open under normal circumstances) draws in visitors of all ages. A series of miniature models represent an era gone by with a mission to preserve its rich heritage.
Pristinely preserved and presented, the model train museum boasts the very best of old-timey California. Soon-to-be engineers and modelers find endless inspiration via the fascinating programs. The activities are developed to spark curiosity and critical thinking in young minds.
Find every twist, turn, and tunnel covered in artifacts—all paying tribute to the tour de force known as the transcontinental railroad. If you're wondering where to bring the munchkins, the San Diego Museum is great for families. The museum hosts several family-friendly programs such as summer camps and scout programs.
Northern California Model Train Museums

Redwood Valley Railway
Location: 2481 Grizzly Peak Boulevard, Orinda
Admission: $3, free for ages 2 and under
Placed in the very heart of the Bay Area, the Redwood Valley Railway (open under normal circumstances) traces its origins all the way back to 1952. Marvel at the stunning backdrop of Oakland Hills as the 15-inch scale steam locomotives transport you back in time. The smell of valve oil dances in the air all throughout your visit.
Your adventure on the tracks starts at Army Camp depot—all while surrounded by towering redwoods. When you reach Windy Point, feast your eyes on spectacular views of the San Pablo Bay and Mount Tamalpais.

Niles Canyon Railway
Location: 6 Kilkare Road, Sunol
Admission: $15, free for ages 2 and under
Californian railroad heritage is alive and well at the Niles Canyon Railway—a living testament to the greatness of the Golden State. Well-preserved artifacts are housed in an old-timey museum, which serves as the connection between Sunol, Pleasanton, and the Niles District of Fremont.
The Niles Canyon Railway boasts a large collection of steam and diesel locomotives, cabooses, and freight cars. Most pieces date back to the construction of the transcontinental railroad. Several interpretive exhibits and educational programs showcase the beauty of the railroading West.
Sacramento Railroad Museums

California State Railroad Museum
Location: 111 I Street, Sacramento
Admission: $12 for adults, $6 for youths ages 6-17, free for children 5 and under
Having first opened its doors in 1976, the California State Railroad Museum (open under normal circumstances) is now one of Sacramento's top visitor destinations. This popular spot offers rides along the rails that shaped California's history.
The museum is home to over 225,000 square feet of must-see artifacts. Knowledgeable docents walk you through exhibits where you can see fully restored railroad cars.
While most people hear about the economic side of railroading, this museum offers a glance at those behind the engine. A Pullman-style sleeping car is also found on the premises. Here, you and your family can experience fine railroad dining.