If you're anything like me, unruly eyebrows are a way of life. While, of course, I'd like to have the picture-perfect face that everyone on Instagram seems to always have, I'm not the type to obsess over my looks or even slather on makeup in the morning. But when it comes to my eyebrows, I've definitely made an effort to get it together. And while I adore the idea of a just-waxed glow, the redness and breakouts aren't a good look on my sensitive skin. Though these side effects eventually go away—after a day or two of suffering—I can't say waxing is worth it for this California girl. So naturally, I've grabbed the tweezers and anxiously plucked away all that I could.
But after a few years of avoiding the gnarly wax that had me feeling more like a freak than on fleek, I have grown tired of tweezing and am ready to get my eyebrows done by a professional. While tweezing has its advantages—namely not making my skin look like the angry monster waxing turns me into—keeping up with the maintenance and getting the right brow shape are out of my wheelhouse.
I thought sugaring would be my savior, but after experiencing the painful results of sugaring first-hand, it's definitely not for me. So with very few options remaining, I've set my heart on eyebrow threading to save me from my bushy brows. This revelation did not occur overnight, however. After a laborious research process—in which I also discovered that threading is an ancient form of hair removal that originated in East Asia—I've determined some of the top things you should know before you head to the threading salon.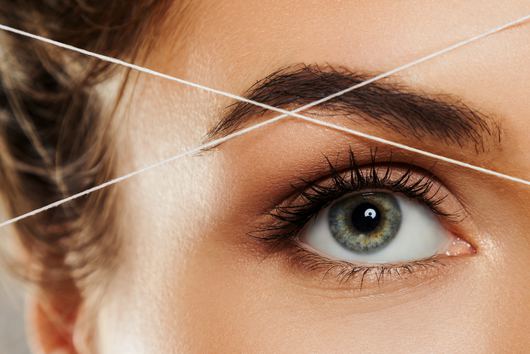 Brow Threading is Safe for Sensitive Skin
Unlike waxing—which can be harmful to those with sensitive skin and those who use specific medications—threading is a viable option because it does not remove the skin in the process. While wax adheres to the skin, threading simply involves twisting a piece of thread on itself. Though it is not uncommon to experience redness after the procedure, this irritation is simply due to stimulation as the threads pass over the skin, not to the removal of any excess skin.
Brow Threading is Precise
Similar to tweezing, threading is meticulous enough to remove individual hairs—unlike waxing, which eliminates everything it touches. This means the results are more exact, and threading experts will be able to give you perfect-looking brows every time. And because threading can remove even the tiniest of hairs, the process does not typically require any maintenance in between appointments, which can usually be scheduled two to four weeks apart.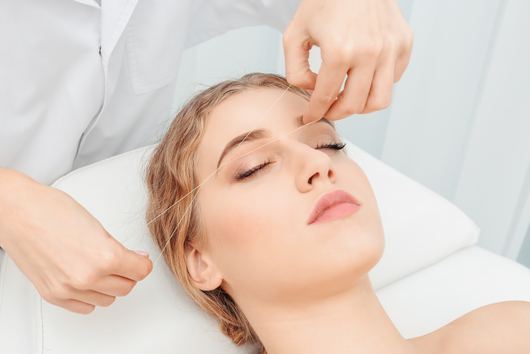 Eyebrow Threading Costs About the Same as Waxing
In general, eyebrow-threading prices are similar to those of waxing, and threading appointments should take about 15 minutes for both the consultation and the threading. Unlike waxing, this ancient form of hair removal is not taught in cosmetology school, but that doesn't mean just anybody can thread your brows. Since threading does not involve invasive techniques or the placement of any chemicals on the skin, it does not require a cosmetology license in California, so it's important to find an experienced technician you trust. That being said, there are plenty of eyebrow-threading studios that have mastered this brow-shaping method, so it's easy to find the best eyebrow-threading salon near you.
Things to Keep in Mind Before Threading Your Eyebrows
Because threading doesn't use harsh chemicals or pull the skin, it is said to hurt less than waxing and tweezing, but it still involves removing hair, so it's going to hurt at least a little. Similarly, since the process involves pulling the hair out at the root, your pores will be open after your brows are threaded. To avoid clogging these vulnerable pores and irritating the skin, don't put makeup on immediately afterward, and try to stay away from pools, saunas, steam rooms, direct sunlight, and hot temperatures for a full day after your treatment.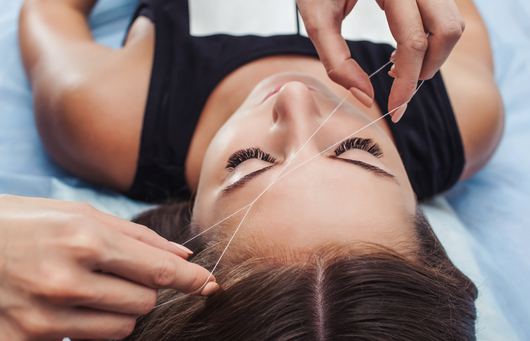 This is What Happened When I Got My Eyebrows Threaded
It honestly started out as a complete disaster. I had attempted to schedule an appointment at an eyebrow-threading salon in Walnut Creek a few months back, but the studio never got back to me. Having heard good reviews, I decided to give the spot another chance and schedule a new appointment, all while trying to keep an open mind about this eyebrow-threading salon.
Feeling anxious about this experience but excited to try something new, I showed up for my appointment a bit early and was directed to the threading salon in the back of a hair salon. Though I had an appointment, nobody was available to do so much as greet me. But I waited and waited, not wanting to be that person who barges in on someone else's appointment. More than 40 minutes later, losing all hope that a technician would come out to help me, I called the phone number listed for the threading salon and was told that the assistant had gone home early.
Thoroughly annoyed at having been forgotten and ignored, I began to dismiss the idea of eyebrow threading—I mean, of all the places to get my eyebrows done, I just had to choose the one with the worst customer service. Needless to say, I won't be going back there.
But alas, I hadn't given up on threading entirely, so it was off to iBar for me. iBar opened in 2009 and has been expanding across the Bay Area ever since; with a wide range of wellness options and an incredible dedication to providing great customer service, if any place was going to change my mind about threading, it would be this spot. And thank goodness I didn't give up on the process, because this single threading appointment made me never want to go back to waxing or plucking. My experience at iBar couldn't have been more different than my experience at the previous salon the day before.
I was greeted as soon as I walked in, even though I didn't have an appointment; the ambience was much more soothing than I had expected; and the friendly employees made any lingering frustration melt away. Best of all, I was signed in and laying back in the chair within five minutes of arriving at the salon. Though the technician advised me away from the arched shape I was after—because it would leave my brows too thin, thanks to my plucking adventures—I was pleasantly surprised at how much they seemed to care.
The butterflies in my stomach started to flutter a bit as the strand of thread made its appearance, but they were instantly calmed when the threading began. To my surprise, I hardly experienced any pain as she skillfully tamed the right brow. The service felt more like an afternoon at the spa than the gut-wrenching hair pulling that I had prepared myself for. About halfway through the process, she had me hold the skin on my eyelid and my forehead to pull it taught and assist her in the threading process; it felt a bit weird to do and caused my eyes to water a bit from the slight pressure, but there was no extra pain associated with it.
The left brow was shockingly more sensitive for me. While it still did not compare to the sharp discomfort of waxing, the removal of these finer hairs was more surprising than anything—like when you get sore in a muscle you didn't even know you had. But despite the unexpected sensation, threading is, without a doubt, the least painful hair-removal method for me.
The whole process couldn't have taken more than 10 minutes, but after the technician quickly massaged aloe onto my freshly shaped brows, I felt more refreshed than I had in months. It's surprising how much small acts of self-care can change your attitude, but after such an incredible experience, I'm trying to figure out when I can see Vimaa and her team at iBar again—and what service I should get next. Should it be eyelash extensions? A bespoke massage? A brightening facial? Leave us a comment and let us know what adventure you'd like to read about next.