When the festive sound of mariachi bands and the mouthwatering scents of crispy churros and street tacos fill the air in Downtown Santa Barbara, it can only mean one thing: Fiesta is in full swing. The seaside city's Spanish and Mexican colonial heritage comes alive during this annual summer festival—the granddaddy of local celebrations, reaching all the way back to 1924—as the thoroughfares burst with live music, flamenco dancing, time-honored traditions, and outdoor bazaars and food markets.
From July 31 to August 4, revelers from near and far will be cracking colorful cascarones (confetti-filled eggs), savoring authentic cuisine, and grooving to castanets for five days to commemorate the 95th Old Spanish Days Fiesta. So if you want to join in on the festivities (Trust us: You do), grab a drink, put on your dancing shoes, and prepare for some fiesta fun in the sun-soaked city of Santa Barbara.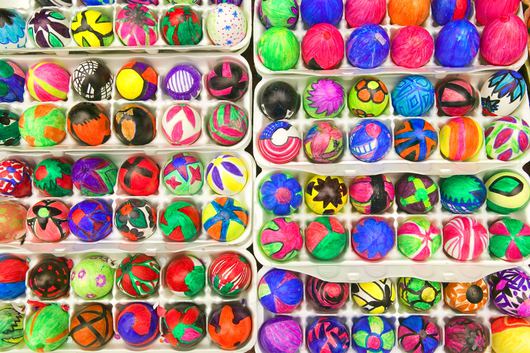 Fiesta Santa Barbara 2019
Kicking off on Wednesday, July 31, Old Spanish Days Fiesta 2019 begins with La Fiesta Pequeña at the Old Mission Santa Barbara at 8 p.m. Bring blankets and lawn chairs to enjoy a free performance of traditional flamenco, Spanish classical, and Mexican folklórico dances as the sun slowly sets behind the historic "Queen of the Missions"—which has hosted the official opening of Old Spanish Days since 1927.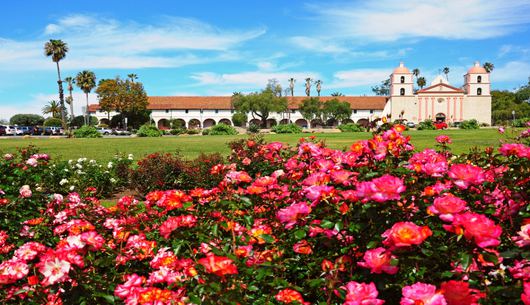 The jamboree continues on Thursday, with highlights including DIGS (Celebración de los Dignatarios) and the Professional Bull Riding (PBR) competition. DIGS is held at the Santa Barbara Zoo and is known for being the Old Spanish Days fiesta to attend. During this soiree, guests meander through the lush zoo gardens as they savor libations alongside delicious bites from local eateries, then dance the night away to DJ beats. Plenty of action can also be found across town at the Earl Warren Showgrounds, where bull riders compete for the grand prize during the evening PBR competition.
But the most famous Old Spanish Days celebration is El Desfile Histórico—one of the largest equestrian parades in the country—which takes place this year on Friday, August 2, at 12 p.m. The beautiful, lively procession begins at the west end of Cabrillo Boulevard and continues up State Street to Sola Street, featuring more than 600 horses, antique carriages and wagons, historic floats, marching bands, and dancers. This is a cherished Santa Barbara tradition that draws thousands of spectators annually, so get up early to grab a spot along State Street. You'll want a good seat for this must-see spectacle.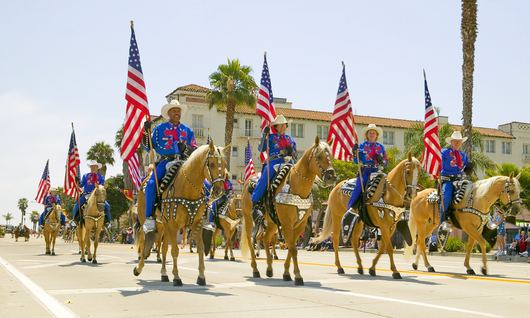 As the weekend rolls around, the fiesta fun is far from over. In addition to the special weekday events, there are various parties taking place throughout Old Spanish Days that honor the food, culture, and traditions of Santa Barbara's rich history. The colorful mercados are among the most frequented attractions during Fiesta, and there's something for everybody to enjoy at each one. At El Mercado de la Guerra, a Mexican market in De la Guerra Plaza, you can feast on tacos, enchiladas, tamales, and much more; shop for crafts, clothing, and souvenirs; and enjoy entertainment all day and into the early evening. Families with little ones are also bound to love El Mercado del Norte. Situated in Mackenzie Park, this family-friendly market offers carnival rides, games, delicious (and kid-approved) food, live music, and dance performances. But above all, make sure to leave time for the Our Lady of Guadalupe Mercado, where you will discover a tantalizing, mind-boggling array of Mexican cuisine and get a delicious taste of what Old Spanish Days is all about.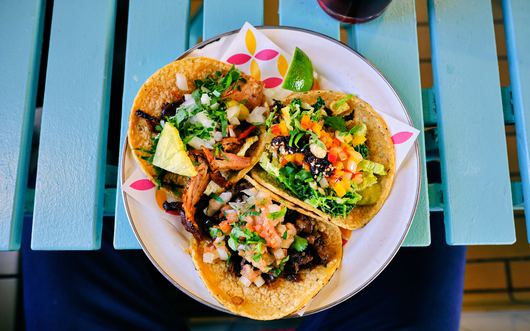 When you need a break from the crowds, take a stroll along the beachfront Cabrillo Boulevard, just west of Stearns Wharf, and browse for handcrafted treasures created by local artisans. The Fiesta Arts and Crafts Show is an all-day fest taking place on both Saturday and Sunday, giving you plenty of opportunities to check out the artisanal goods and admire the spectacular views of Santa Barbara's picturesque marina and surrounding coastal mountains.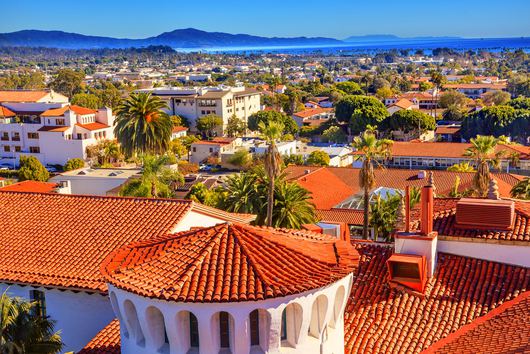 Another can't-miss Fiesta weekend event is the Las Noches de Ronda, or Nights of Gaiety, which is held on Saturday in the famous Sunken Gardens of the Santa Barbara County Courthouse. The free evening show features over 200 performers portraying everything from the fire of flamenco to the charm of Mexican folklórico dances. (Tip: Get a unique perspective by watching from above; buy tickets to the Courthouse Legacy Foundation's Fiesta Party to see the performance from the courthouse's Loggia and Mural Room on the second floor—and to take in the breathtaking, sweeping views from the Clock Tower.)
Music aficionados should return to the Sunken Gardens at 3:30 p.m. on Sunday, too, to witness the West Coast Symphony's 47th Annual Free Fiesta Concert, conducted by Dr. Michael Shasberger. So round up your friends or family members, pack a picnic, and don't forget to bring a blanket or lawn chairs for optimal viewing.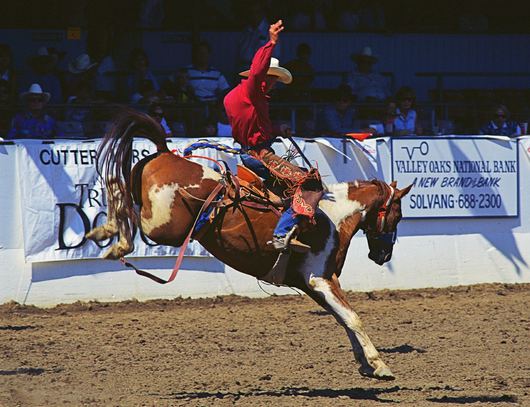 Those wanting to wrap up their Old Spanish Days experience on a more exciting note should head to the Earl Warren Showgrounds for the Santa Barbara Fiesta Rodeo. See cowboys and cowgirls in action as they compete in barrel racing, team roping, breakaway roping, bull riding, and more.
Though the Old Spanish Days festivities come to a close on Sunday evening, the spirit and enthusiasm of the celebration never fail to leave their mark—especially with the colorful cascarone confetti adorning the streets. The event is bound to leave an impression on all who attend, too. Viva la Fiesta!