By

Mackenzie Hutson
January 09, 2020
There is no better way to start the year than by giving back to your community, spreading love, and helping to make the world a better place. While your New Year's resolution may not include saving the world, there's never a bad time to make someone's day, and the Skid Row Carnival of Love is the perfect place to start.
At this Los Angeles event, people of different backgrounds and socioeconomic statuses come together to share love, tell stories, and connect with the community. Aimed at helping those experiencing homelessness, The Wayfarer Foundation's Carnival of Love has become the largest event of its kind in America since it launched six years ago—but it all started with actor Justin Baldoni's simple request to have his friends bring supplies to Skid Row instead of throwing a birthday party.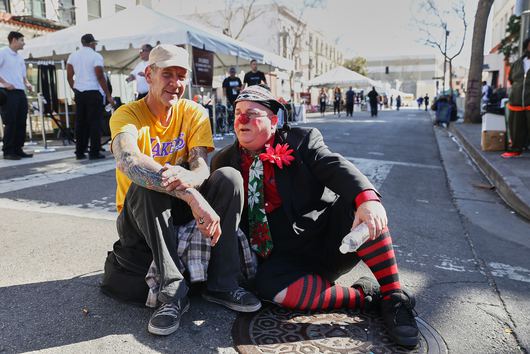 The carnival has been showered with support and has successfully served 4,000-plus people in downtown Los Angeles every year. The event connects thousands of volunteers with Skid Row residents to provide health checkups, hugs, showers, dog grooming, haircuts, job preparation, and entertainment to those who need it most—supporting The Wayfarer Foundation's mission of bringing everyone to the table and building relationships in order to end homelessness.
When is the Skid Row Carnival Of Love?
Saturday, January 25, from 10 a.m.–4 p.m.
Where is the Carnival Of Love?
Skid Row, 5th and San Julian Streets, Los Angeles
Support The Wayfarer Foundation's Skid Row Carnival Of Love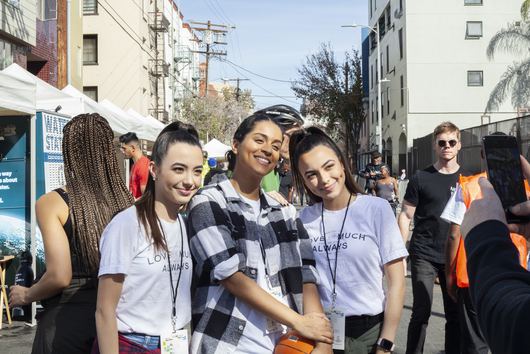 Volunteer
Join California.com in volunteering at the Carnival of Love. While many of the shifts have already filled up, there are still ways to get involved. Shifts that are still currently open include:
8 a.m. to 4 p.m.
Shoe Donations: Help guests choose a pair of shoes that fits perfectly.
10 a.m. to 4 p.m.
Personal Guide (18+): Walk with a guest to help them find the services and experiences they are most excited about at the carnival.
10 a.m. to 4 p.m.
Face Painters: Turn guests' faces into works of art.
4 p.m. to 8 p.m.
Event Clean-Up: Help leave Skid Row cleaner than it was before the event. Pack up leftover supplies, break down boxes, and dispose of trash. While it might not sound like the most glamorous job, it is one of the most important tasks (and if you stay the whole time, you'll get your first choice for volunteering shifts next year).
Donations
Want to help out but can't make it to L.A. on January 25? Check out the fundraising list below to see how your contributions directly impact the Skid Row Carnival of Love, and donate here.
$3: Healthy snacks (3,000 needed)
$5: Gift bags (3,000 needed); socks (4,000 needed)
$10: Blanket (4,000 needed); meal (4,000 needed)
$20: Care package (4,000 needed)
$50: Restrooms (15 needed)
$200: Children's area tents (10 needed); donation and activity area tents (30 needed); medical and career services areas (35 needed)
$300: Carnival games and staff (4 needed)
$525: Permits (3 needed)
$700: DJ and audio (1 needed)
About Justin Baldoni and The Wayfarer Foundation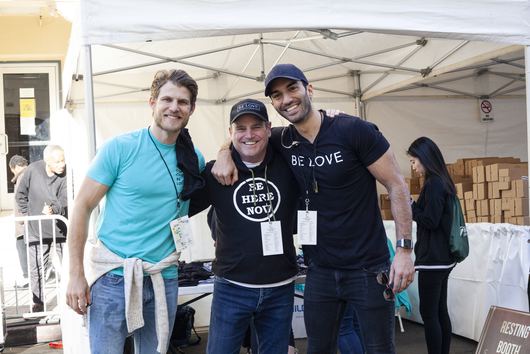 The Wayfarer Foundation is a nonprofit organization that brings love, dignity, and compassion to people experiencing homelessness by engaging volunteers and unhoused neighbors to solve the issue. The organization was founded by Justin Baldoni who is a cause-driven entrepreneur, director, producer, chairman, speaker, and actor who is best known for playing Rafael on Jane the Virgin. Baldoni lives in Los Angeles with his wife and children and continues to celebrate his birthday each year at the Skid Row Carnival of Love.