As California mitigates health risks during the COVID-19 pandemic, some travel restrictions may remain in certain communities. Call the local and regional tourism offices to learn more about the restrictions in your intended destination. Thank you for reading, and stay safe.
For a change of scenery, escape to one of California's small towns nestled in the Golden State's majestic mountain ranges. Perfectly picturesque and full of character, these small mountain towns will leave you craving more. From lakeside charms to tree-lined pathways, California's small mountain towns offer a rich history with endless relaxation and recreation.

The best small mountain towns in the Golden State
The varied terrain of California hosts many small mountain towns which are perfect for an escape from big cities. World-class ski resorts, beautiful national parks, and sprawling lakes make these towns an outdoor lover's paradise. Whether you're on the hunt for the best small mountain towns to live in or vacation at, these alpine destinations will provide you with a "peak" experience.
Northern California's best mountain towns to visit
1. Truckee
Often overlooked for its more glamorous neighbor, Truckee is a small mountain town you should have on your radar. Stroll through the charming downtown, hit the coveted ski slopes, and dine at the tastiest eateries while exploring one of the best mountain towns to visit. You'll want to make this underrated town near Lake Tahoe your go-to spot for a relaxing mountain escape.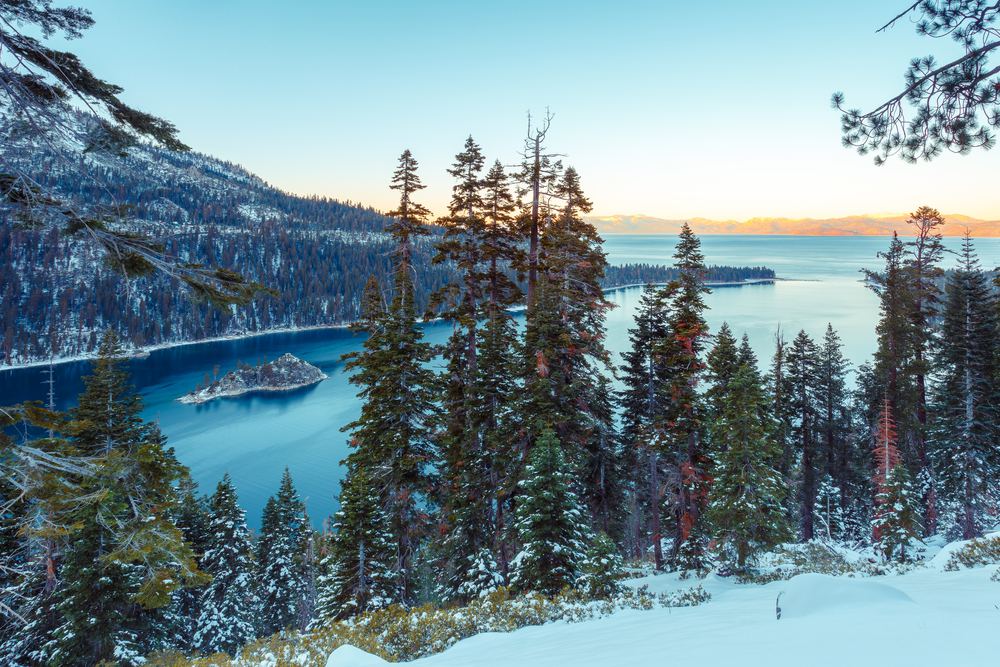 2. South Lake Tahoe
South Lake Tahoe is an enviable mountain escape near San Francisco that has a special place on anyone's mountain vacation bucket list. Whether you crave an adventure over water or an alpine ski escape, you'll appreciate the sheer range this small mountain town has to offer.
3. Burney
Head to Burney in Shasta County for an unbeatable NorCal alpine adventure. Highly renowned for fly fishing, this little mountain town has plenty of brown and native rainbow trouts. Hiking enthusiasts shouldn't miss out on trekking the trail to Burney Falls, a breathtaking California waterfall worth seeing. Admire its glory up close at McArthur-Burney Falls Memorial State Park.

4. Tiburon
The bayfront small town of Tiburon is perfect for a luxurious relaxing getaway. The Marin County destination overlooking the docks offers the best of hiking, biking, dining, and relaxing—it's a gorgeous NorCal small town you just can't miss. For top-notch views of the small mountain town and the Bay Area skyline, head to Ring Mountain and prepare to be mind-blown by the stunning vistas.
5. Sierraville
Sierraville puts the 's' in small. Tucked at the base of the eastern Sierra Nevada, this little mountain town offers you complete solitude. With a population of less than a thousand, most Sierraville residents are descendants of Italian-American families that settled in the area in the 1800s.
6. Kirkwood
Kirkwood is a small mountain town best visited during winter. The NorCal destination is home to the coveted Kirkwood Ski Resort, where you'll find over 2,300 acres of skiable terrain. From calm beginner runs to thrilling cliffs, Kirkwood is a town you should remember as you plan your next California ski tour.

7. Nevada City
Located 60 miles northeast of Sacramento, Nevada City is one of the best small towns in the mountains of NorCal. Almost the entire downtown district of this Gold Rush town is on the National Register of Historic Places. Here, you'll find quality restaurants, comfortable accommodations, and a plethora of cool boutiques—don't forget to visit the museums with small mountain town charm.
8. Auburn
Another NorCal city with a rich Gold Rush era history is Auburn. Located between Truckee and Sacramento, Auburn is a small mountain town loved by bikers, hikers, and horseback riders. The Auburn State Recreation Area features plenty of hiking trails along lakes and through trees that all outdoor adventurers adore.
9. Dunsmuir
Up in the Trinity Mountains, you'll find the charming town of Dunsmuir. One of the best mountain towns near Sacramento, Dunsmuir claims to have the best water on the planet. We don't know about you, but we sure do want to take a sip of that H2O. The town also features amazing fishing, skiing, climbing, and sightseeing opportunities.
Little mountain towns to see in Central California

10. Bridgeport
From hiking the peaks of Sawtooth Ridge to trekking the Pacific Crest Trail, Bridgeport is a city to see. Offering something for every outdoor enthusiast, this is a small mountain town you can't miss. Unwind by the lake with a cup of coffee and admire the views that Bridgeport has to offer.
11. Bass Lake
Head south from Yosemite National Park and you'll come across Bass Lake, a little mountain town with a population of just 500. While Yosemite is usually brimming with people, this underrated town nearby is a great spot to beat the crowds. Bass Lake also has excellent accommodations for an idyllic mountain vacation.
12. San Simeon
Piedras Blancas Light Station and Hearst Castle (open during normal circumstances) are both iconic landmarks located in this scenic small mountain town. Combining the best of both worlds, San Simeon is a California small town that's too beautiful to miss. You'll have a range of activities to enjoy while visiting the Central Coast's best mountain town—make sure you set aside enough time to cherish it all.

13. Mammoth Lakes
Mammoth Lakes gets its name from the nearby Mammoth Mountains. The picturesque small-town features many amenities, from high-end restaurants and spas to natural wonders that take your breath away. This small mountain town is where you'll find the Devil's Postpile National Monument and Mammoth Mountain Ski Area.
14. Lone Pine
Lone Pine shows you a side of California you don't normally get to see—one that's more connected to the Old West. What most solidifies this reputation is the town's appearance in many Hollywood films throughout the years, specifically Westerns. Head to the Museum of Western Film History to pick out which location you want to check out personally.
15. Fish Camp
Fish Camp is an underrated small town in California you should definitely check out. While the name of this little mountain town isn't the most enticing, the gorgeous au naturel scenery begs to differ. The highlight of this town is the Yosemite Mountain Sugar Pine Railroad, a historic train ride that takes you on a journey through the Sierra National Forest.

16. Three Rivers
Three Rivers is an outdoor enthusiast's heaven. The small mountain town gets its name due to the three forks of the Kaweah River converging here. If hiking, biking, and kayaking are activities you'd enjoy, you'll have a grand time in this small mountain town.
17. Lakeshore
Lakeshore is located on the north shore of Huntington Lake and is generally seen as a resort town. One of the best mountain towns to visit for a winter getaway, Lakeshore is home to several of California's most beloved resorts. Snowboarding, skiing, snowshoeing, and more winter activities attract tourists to this small mountain town.
Southern California's best small towns in the mountains

18. Ojai
A getaway to Ojai is unlike any other SoCal staycation. Did you know that chain stores are prohibited in this town? Yes, everything you find in this small mountain town is authentically Ojai. And oh boy, you'll find plenty to explore! Boutique hotels, recreational activities, and farmers markets—Ojai has plenty to offer. But what tourists rave about most is the pink-hued sunset over the Topatopa Mountains; make sure you don't miss it.
19. Wrightwood
Sitting pretty in a pine-covered valley in the San Gabriel Mountains, Wrightwood is one of the best mountain towns for booking a winter cabin. Ski and snowboard during the winter months and hike, bike, and zipline on sunny summer days. Wrightwood will have you leaving with a closer connection to nature.

20. Julian
The charming SoCal town of Julian has been keeping a tradition alive since 1949, and it's all about delicious apple pies. Visit the small mountain town during September and take part in the Julian Apple Days Festival. This is a month-long celebration of apple-related everything in Julian. Can it get more American than apple pie?
21. Idyllwild
Surrounded by tall pines and sweet-smelling cedar trees, Idyllwild is the little mountain town you should head to for your next vacation. Book a cabin any time of year and experience the peace and quiet Idyllwild has to offer. This little mountain town also has overnight hiking trails to challenge yourself on as you backpack through California.
22. Claremont
Claremont is one of the best mountain towns to live in, especially for students. Home to seven colleges, the town full of scholars has blossomed into an upscale location with a vibrant downtown. Worried you might crave the big-city life? L.A. is just 35 miles away, so you can escape "the city of trees and PhDs" in no time.

23. Big Bear Lake
Spending time in the San Bernardino Mountains along a scenic lake? Say no more. The gorgeous town of Big Bear begs for a getaway any time of year. But if you go during winter, you'll see the small mountain town at its peak. You'll have plenty of renowned ski resorts to visit and even more post-skiing adventures to embark on.
24. Mount Baldy
Located below Mount San Antonio (commonly known as Mt. Baldy), this little mountain town is a winter wonderland. Mount Baldy transforms into a snow-capped dream every winter and attracts adventurers from all over the world. While you're there, check out the Bridge to Nowhere for a unique hike, and drive along Mount Baldy Road for scenic views.
25. Lake Arrowhead
The dreamy town of Lake Arrowhead in the San Bernardino Mountains is a cozy escape like no other. Known for its outdoor recreational activities, this best mountain town to live in is a nature lover's heaven. The town is home to an upscale community of golfers and yachters—it's also a popular spot for business conferences. If you haven't been yet, take this as a sign.