If you are flipping through a magazine and admiring the faces of Kendall Jenner and John Legend touched up by makeup artist Anna Branson, obsessing over the lipstick on Rachel Goodwin's clients Emma Stone and Rachel Bilson, or scrolling through the infinite photos on Instagram to find Monika Blunder's red-carpet makeup looks on Gigi Hadid or Jennifer Lawrence—you must be in need of the Hollywood treatment. While it is easy to get wrapped up in the glamour of La La Land and start wishing you were a starlet, finding (and affording) a makeup artist, nail salon, eyelash service, plastic surgeon, and fashion designer to recreate the celebrity looks may prove to be challenging.
Luckily, it does not always take a team of doctors and specialists to feel like a million bucks; sometimes all it requires is the perfect manicure or set of eyelashes to turn heads and complete a look. Enter celebrity status by treating yourself to a service (or two) from one of the best salons in Los Angeles.
Nail Salons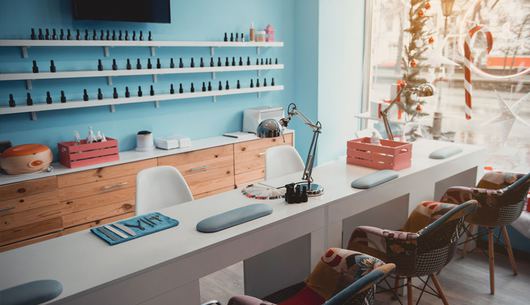 Olive & June
Not all manicures are made equally, and this salon is undoubtedly a step above the rest. Founded in 2013, Olive & June provides luxurious treatments at reasonable rates. With a wide range of nail services available, the hardest part may be choosing which service and color to get. For a truly California experience, we recommend going with "The Margot", a version of the salon's signature treatment—which includes nail shaping, cuticle care, exfoliation, and a massage—using organic beauty products made by California-based brands.
Base Coat Nail Salon
Base Coat Nail Salon specializes in non-toxic beauty so that customers do not have to sacrifice health to feel like a celebrity. Each product has been custom formulated, including the salon's plant-based nail-care products and "8-Free" polishes, which avoid the top eight toxic chemicals found in most other polishes. Try the "Luxe Coat" for an incredibly lavish manicure or pedicure, featuring an aromatherapy soak, nail shaping, deep-moisturizing oil treatment, and hydrating crème massage. With the array of elegant services available, this salon will make you forget about acrylic nails and embrace the clean, natural way of life.
Côte
This Los Angeles nail salon is everything you expect from professionals and more. The namesake brand removes all the harmful chemicals and gluten from its ingredients lists, but the polishes still retain the chip-resistant, lasting shine you want. On top of its toxin-free commitment, Côte is a vegan, cruelty-free, and U.S.-based brand, making your celebrity makeover entirely guilt-free. Relax with a "Healing Crystal Pedicure" and the "Luxe Côte" manicure, both of which moisturize and provide SPF protection so your nails will be beach ready.
Eyelash Services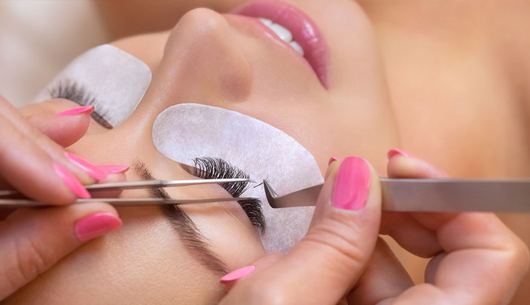 Iris + West Lash Co.
Launched in 2015, this West Hollywood eyelash bar set out to end the bad reputation of lash extensions. Using its own technique, Iris + West Lash Co. is able to safely apply the new lashes to each natural eyelash. This method allows clients to avoid complicated beauty routines after the service, enjoy extremely natural-looking lashes, and feel confident and feminine. Choose between synthetic and silk eyelashes to create any look, or opt for a lash lift to darken and curl natural lashes if you aren't quite ready to try a set of extensions.
Blinkbar
Choose from seven different lash materials and four lash styles at this Melrose salon for a customized look that will leave you feeling world-famous. Add a lash lift to your full set for seriously wow-worthy lashes without the hassle of mascara and eyelash curlers, or simply get your brows shaped to further accentuate your eyes.
Celebrity-status pampering is only an appointment away, so book your next manicure and eyelash service, spoil yourself, and see what it's like to feel red-carpet ready every day.