Continued from Getaway Guide: Joshua Tree - Part 1
Day 1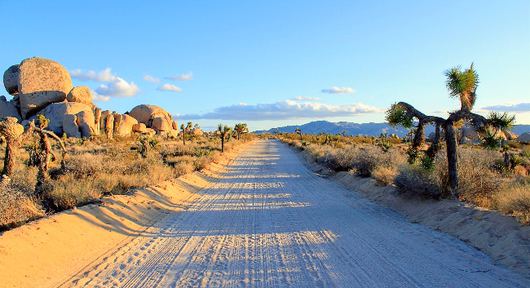 Arriving
A feeling of pure joy washes over us as we fly into Palm Springs, knowing Joshua Tree National Park is so close. After landing, grabbing our luggage, walking out of the airport, and hopping into our rental car, we begin the hour drive from Palm Springs to Joshua Tree.
Before heading into the park, we stop to fill up the tank, pick up an additional gas can—to make sure we don't run out along the way, since there are no gas stations in the park—and swing by the grocery store to get tons of water and enough food to last our entire trip. By this point, we can barely sit still; the anticipation of fulfilling a lifelong dream is nearly realized, but the slow pace of the narrow, winding park roads remind us to slow down and take it all in.
A glimpse of the rare desert tortoises and the stunning views that make Joshua Tree so special take my mind off of the excitement and create a renewed sense of calm. Coming from Palm Springs, we drive through the north entrance in Twentynine Palms. After passing through the toll booth and paying our $30 vehicle fee, we officially begin driving through Joshua Tree. The arid climate can be felt in every pore; my knuckles already look and feel dry, my throat begins to feel parched, and the 100-degree temperatures penetrate through the closed windows as we cruise to our nearby campground in hopes of securing a spot for the night.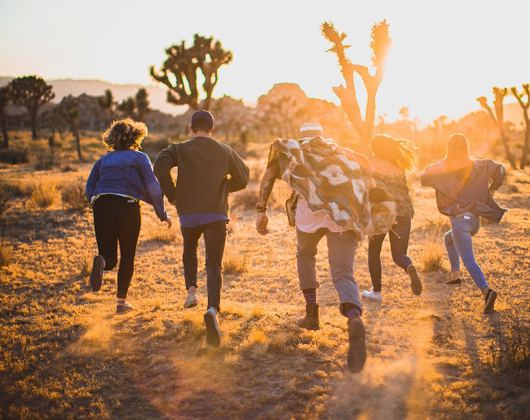 Afternoon
As a classic over-planner, the inability to reserve a campsite at my preferred Joshua Tree campground has caused quite a bit of anxiety leading up to this moment. Since we decided to fly in and drive the rest of the way, I've had nothing but time to think about all of the terrible possibilities and imagine my dreams being crushed in a thousand different ways. Pulling up to Black Rock Campground with two $20 bills, the highly anticipated moment is upon us. Since sites 40–60 and 66–99 are closed between June 10 and August 29, I know there are only about 45 spaces available, but who else is crazy enough to go camping at Joshua Tree in the middle of summer?
While there are many other souls who are just as audacious as we are, there are not so many that the campground is full—much to my relief. We arrive at our site, and take a moment to let it soak in that we are actually camping in Joshua Tree. Since we are so close to the Black Rock Nature Center, we walk over to see what we can of it, even though we know it is closed for the season.
After returning from this excursion, setting up camp, and having a protein bar to keep our hunger at bay, we don our hiking boots and take a short trek around the immediate area. Luckily, the infamous Joshua Tree bees have kept their distance so far, but we make sure to check our surroundings and keep the rest of our food securely packed inside the car. We consult our maps and compasses, but it soon becomes apparent that we should've broken them out in our hometown a few more times before setting out, because orienteering ourselves is harder than it should be when an iPhone compass isn't available.
Seeing as how our skills aren't quite up to snuff, we stay close to camp and begin taking photos to capture the beauty of the park. The way the light falls, the color of the shadows in the desert, and the vast expanses that open up to reveal the wonders of nature are truly breathtaking. While I was getting caught up in my attempt to savor these moments forever, it seems that I spoke too soon. With sweat dripping from every inch of our bodies, bees have found their way over to take advantage of the moisture, and it takes everything in me not to swat them away—especially since I'm allergic to bee stings. Fearful of getting stung, we retreat to our campsite, hoping that insect-repelling candles and the activity of our fellow campers will be enough to keep bees away.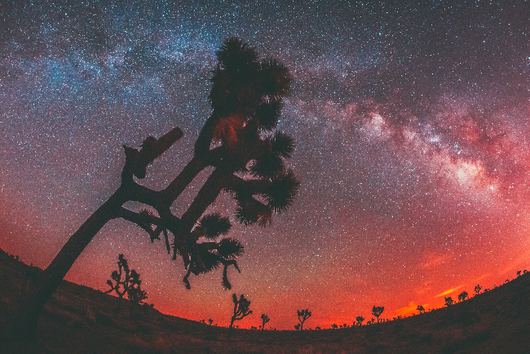 Evening
We break out the biodegradable cooler, ice, and comfort food that we bought at the store earlier in the day for the trip. Using skewers, we roast hotdogs over the fire ring and wait for night to fall before we toast marshmallows and prepare s'mores—an undeniable camping tradition. After some stargazing and a few attempts at photographing the night sky, it's time to tuck in and rest for the next day.
Day 2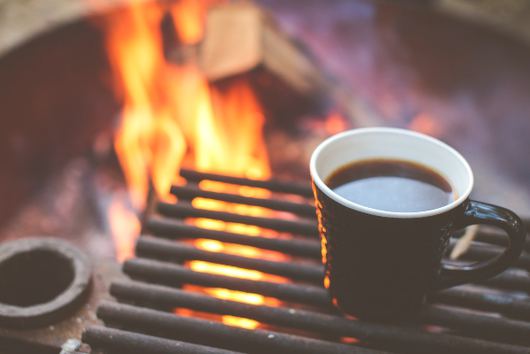 Morning
The 75-degree nighttime temperatures make for a nearly nonexistent sleep schedule, but the excitement of further explorations puts a pep in my step. Of course, coffee always helps to fuel the day, and thanks to Verve Coffee Roasters' single pour over drip kits, a camping kettle, and a camp mug, a great cup of joe is only a few minutes away.
Once the coffee has been made and the fire has been set, we move on to preparing breakfast. Since the day is filled with physical activity, we pack on the protein with sausage and egg breakfast sandwiches and eat some cubed potatoes for sustained energy. We take turns cooking and getting ready so we can head out as soon as we're done eating.
Loaded with four gallons of water, trail mix, protein bars, maps, compasses, a first-aid kit, and crash pads, we set out on our climbing excursion. Joshua Tree is known for its bouldering and is a fairly safe place to practice—as long as you avoid stepping on and grabbing places that you can't see; black widows, scorpions, and rattlesnakes call Joshua Tree National Park home and like to reside out of sight.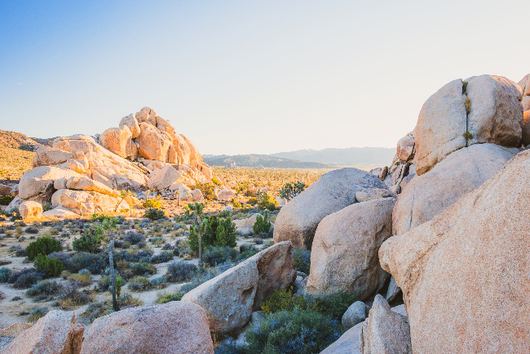 Afternoon
While the breakfast sandwiches and trail snacks have lasted longer than anticipated, the high temperatures and challenging climbing routes have us blowing through our water supply. Though it kills us to leave without finishing all of the boulder problems, we head back to camp when we have about a quarter of our water left.
Since we only packed two gallons of water per person per day, we decide to refill our jugs at one of the few water stations in the park. Luckily for us, one is tucked inside the Black Rock Campground, so the journey is not far. After loading up on more water than we expect to need, we get in the car and drive over to the Joshua Tree National Park Visitor Center by the West Entrance to learn more about the park and offer our muscles a much-needed break.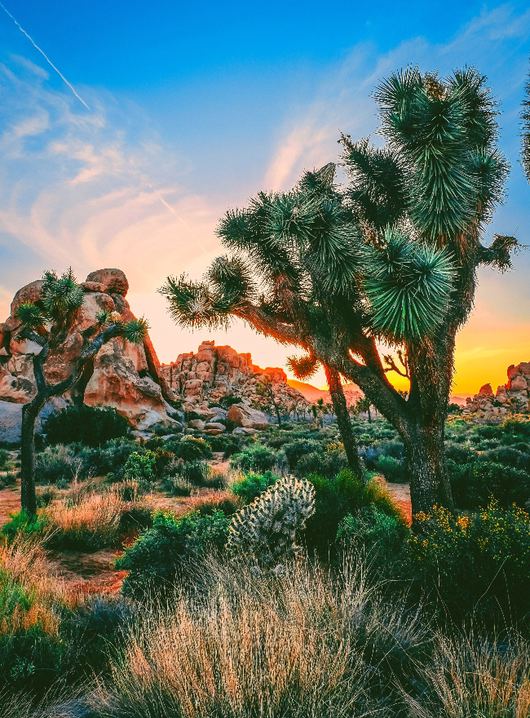 Evening
The days are passing far too quickly—as they only seem to do during vacation. The hues of golden hour hit the desert sands, giving off a luminous quality that I wouldn't believe was real had I not seen it for myself. This majestic scene draws many others away from the campground to marvel at the beauty and take pictures with the Joshua trees, providing the perfect opportunity to meet everyone.
It comes as no surprise that families from all over the country have made the journey to visit this California landmark, but it is interesting to see the different kinds of people who decide to come here. While many have been longing for this adventure for years—and even decades—some stumbled upon it during their quest to find other getaways, and others were impulsively invited to tag along with friends. As the sunlight begins to fade, all the campers make their way back to their sites to start fires and cook before darkness falls.
We throw chopped bell peppers, chunks of canned pineapple, cubed chicken, and teriyaki sauce into tin-foil packets and place them near the fire to cook. I get changed while the meal cooks, making sure to flip it halfway through. The sounds of campfire stories and songs can be heard in the distance as the silence of eating good food echoes through our campsite. Once we clean the utensils and throw the used tin-foil in a bag in the car, we head to bed a bit early.
Day 3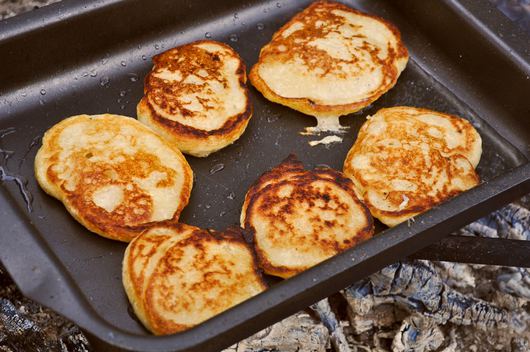 Morning
After a better night's sleep, I wake up to the smell of pancakes. Feeling refreshed from the early night, my boyfriend got a jump-start on the day and whipped up a batch of applesauce protein pancakes. (With such hot temperatures in the park, we didn't want to risk eggs going bad, and a banana allergy prevents us from using the most popular substitution, so applesauce is the next best thing.) Being alleviated from breakfast duty, I spend the time getting ready, slathering on sunscreen, and packing for the day's outing.
Once the pancakes are cooked and the coffee is made, we extinguish the fire and begin our Joshua Tree hike—a few miles seem to drag on forever out in the intense desert heat. While we are no strangers to neither hiking nor warm temperatures, there is something about a dry heat that makes us feel exhausted and dehydrated, even after eating salty snacks and taking water breaks. But in the spirit of adventure, we continue on until half of our water supply is gone.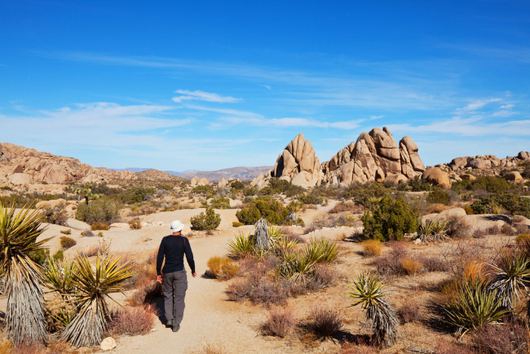 Afternoon
Walking back to camp feels like it takes an eternity. Hiking in the desert is no joke, but we make it back and feel incredibly proud of ourselves for powering through the fatigue and following our instincts to head back. After pouring water over our heads and chugging water to our hearts' content, we begin packing up our campsite. While it is bittersweet to leave Joshua Tree, the hotel amenities await, and I can barely contain my desire to be cool after so many hours under the boiling sun.
Once everything is packed and there is no trace of our stay, we say our final goodbyes and begin the drive through Joshua Tree, leaving a piece of our hearts behind. While camping in Joshua Tree National Park was a dream come true, spending a night at the luxurious Colony Palms Hotel before flying home provides the perfect end to an unforgettable vacation.