Yosemite National Park. Just those words alone transport me into the unaltered wilderness full of waterfalls, geological wonders, hiking trails, and giant sequoia trees you wouldn't quite believe were real if you hadn't gazed upon them with your own eyes. There's so much history nestled between the pine cones and river rocks, yet so much hope remains for the future; with Half Dome reflected in the pools of water, Horsetail Falls glowing in the rays of golden hour, and panoramic views that can only be described as picturesque, it's nearly impossible to stand still, gaping at the wondrous beauty that surrounds you.
Given the inherent richness of this land, it seems impossible to live in a world where Yosemite is not protected; however, this was the reality until 1864, when President Abraham Lincoln signed legislation to guard Yosemite Valley against development. Possibly even crazier to think about is just how old the valley and its natural wonders really are; what remains today is the result of 30 million years of glacial movements, erosion, and weathering. All 748,436 acres of land comprising Yosemite National Park have endured harsh storms, brutal summers, and the impact of humans over the years—and have prevailed. Today, Yosemite welcomes about 4.3 million annual visitors, who come to explore the park's untamed wilderness and feel the inspiration that has flowed over so many before them.
Day 1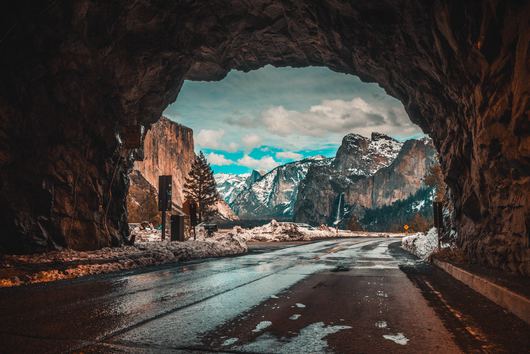 Arriving
Driving through the regions of Oakland, San Leandro, and Livermore, it's hard to believe the vast unknown lies less than three hours from city life. For some, a trip to Yosemite might seem like a tortuous excursion into the dirty world of camping, but for me, it is more akin to a Disney fairytale (Belle's "I want adventure in the great wide somewhere" dances in my head as we draw closer). But it's not until we are winding through the suddenly all-encompassing trees that it even begins to feel real.
There is hidden magic tucked alongside the shoulders of two-lane highways, an adventure to be had over every ridge, and a kind of energy that can only be consumed from amongst the green-fringed branches of decades-old trees. It's that inexplicable feeling of excitement that simultaneously feels like rushing downhill on a rollercoaster and achieving the most peaceful sense of calm.
Afternoon
There is an elevation change of over 11,000 feet throughout the entirety of Yosemite, leading to vegetation that ranges from alpine meadows and subalpine forests at the highest elevations all the way to oak woodlands and pine forests at the lower elevations. But right now, as the traffic slowly gives way to movement and the Big Oak Flat entrance to Yosemite lies just ahead, it seems impossible to view anything other than these cedar, fir, and pine trees encompassing everything as far as the eye can see.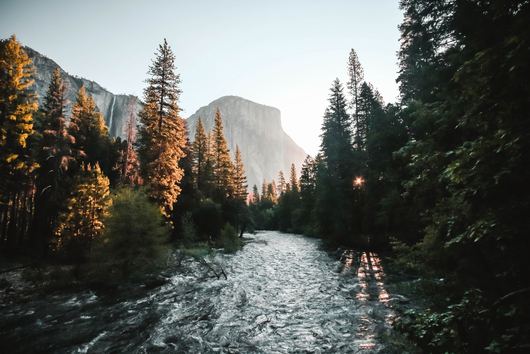 A surge of joy flashes through me as soon as we see the entrance, knowing our drive is nearly over and we will soon be surrounded by all of nature's beauty. Our encounter is brief, because we decided to buy the $70 annual pass rather than doling out $35 for a seven-day visit; this way, we can feed our adventurous spirits whenever the impulse finds us. And as soon as we enter the park, the real adventure begins.
Cruising down Big Oak Flat Road suddenly feels different, as if we have entered a mythical land full of towering monoliths and pieces of history. The going is slow along this winding road, but nobody seems to mind in such a serene landscape. We make a note of the junction to Tioga Road—which will lead us further on our journey—as we continue into the Yosemite Valley.
El Portal Road follows the western banks of Artist Creek until the roadway splits and creates a circular one-way road that travels through the valley. Sparsely placed trees and grassy roadsides are replaced with lush foliage and shrub groundcover as we travel farther along Southside Drive, increasing our excitement as we try our best to obey the 35-mile speed limit. As the roadway begins to swerve one way and then the next, I catch myself holding my breath in anticipation for the beauty that is sure to show itself around the next turn. Through a clearing in the trees, the larger-than-life granite formations come into view, welcoming us to the heart of Yosemite.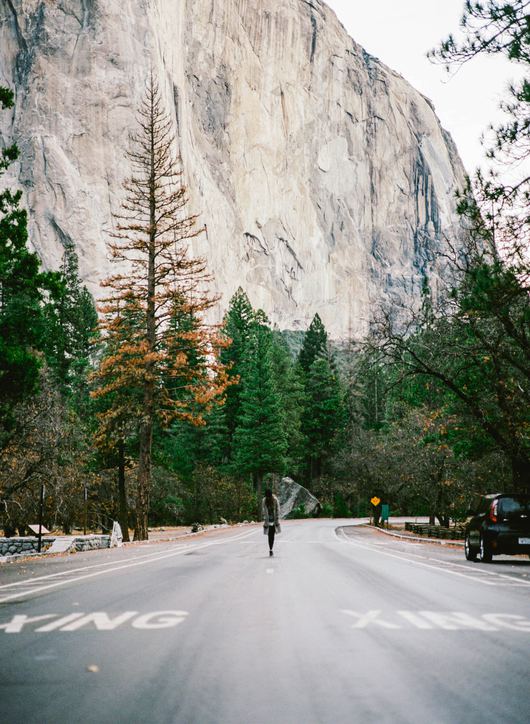 Passing by the 41 junction, it's only a matter of minutes until we feast our eyes on the park's most prominent landmarks. Parked cars begin to line the roads as visitors wrap their camera straps around their necks to capture the brilliant mass of El Capitan. Our drive continues and trees start to pop up again, shrouding the massive rock formation with their green branches, as if our El Capitan sighting was just a dream.
Not much farther down the road, right past Sentinel Beach and Yellow Pine, the trees open up to a large grassy field. We pull over to admire the scenic landscape; with towering forests to our right and granite mountains to the left, it's easy to put things into perspective and get caught up in the striking surroundings. This gorgeous place is the perfect spot to enjoy lunch, so we roll out our checkered picnic blanket and take a seat as we chow down on our sandwiches. A half hour zips by as we sit in pure bliss, but with so much still to see, we hop back in the car and continue down the road.
We decide to stop by the Yosemite Valley Visitor Center, so we make a left onto Sentinel Drive and a right onto Northside Drive toward Yosemite Village. After parking in the lot on Village Drive, we make the half-mile trek up to the visitor center, which resides in a complex next to the Yosemite Wilderness Center, the research library, and the post office. We walk around the exhibit hall to take a look at the plants and wildlife we can expect to find throughout the park, and grab another map before heading out. From here, we head over to the Lower Yosemite Falls Trailhead to really get things started.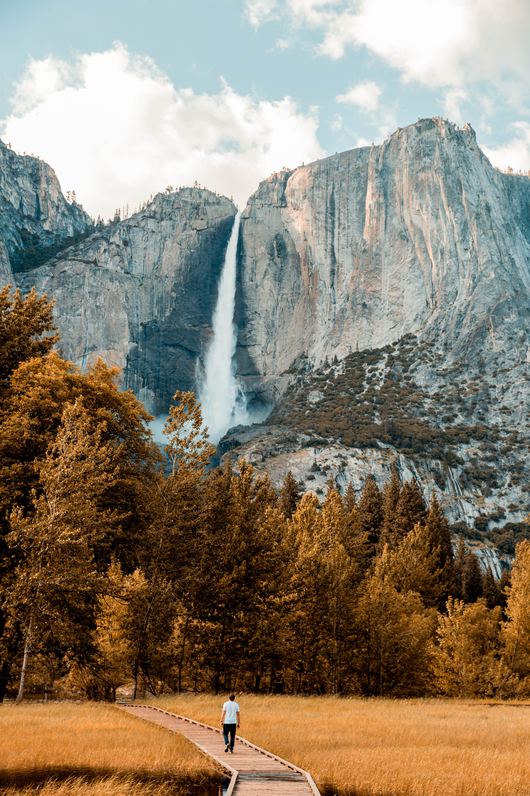 At 2,425 feet, Yosemite Falls is the tallest waterfall in North America and the fifth largest in the world, so there's no way we were missing it—even if the water had mostly dried up for the season. Like the majority of waterfalls in Yosemite National Park, Yosemite Falls relies on snowmelt to flow, so mid- to late May is prime waterfall-chasing time. But the formation is impressive regardless of the season. The Lower Yosemite Falls Trail wraps around the smallest of the three sections and is about 1.5 miles round-trip, giving us the perfect taste of Yosemite without completely tiring us out. We resolve to hike the full 7.2 miles to the summit of Upper Yosemite Falls during spring of next year to get the whole experience.
Evening
After finishing one of the best hikes in Yosemite, we get back in the car, turn onto Sentinel Drive, turn left onto Southside Drive, and make our way to the Lower Pines Campground. While there are many campgrounds and plenty of places to stay in Yosemite, only a few are typically open into October, and even fewer are available for reservations—a comfort I absolutely need in order to have a stress-free vacation. This particular campground is not only convenient, but also is in the perfect location along the Merced River near Half Dome Village. So we pitch our tent, settle in for the night, and get a campfire going to roast hotdogs and make s'mores.
Day 2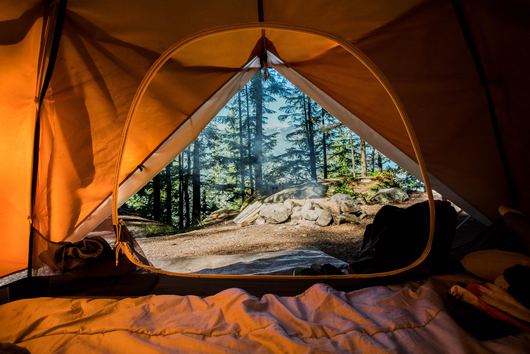 Morning
Waking up to the fresh forest air and the sounds of chirping sparrows, there is no doubt we are surrounded by wilderness. Getting up is much harder than I anticipated; having not been camping in years, I can attest to the fact that the ground is not very comfortable, and I feel entirely too young to feel so decrepit. After a few minutes, I roll out my yoga mat and stretch my muscles, which are now sore from both the short hike and the night's sleep.
Next up is a desperately needed cup of coffee. Boiled water, a mug, Verve's Dripkits, and a splash of soy milk are all I need to jolt me awake and leave me feeling refreshed. With the leftover boiled water, we prepare oatmeal with soy milk, sliced almonds, and berries—all of which had been secured in a bear canister overnight. After a fairly leisurely morning, it's time to begin preparing for the trails. The main event of the day is seeing Half Dome up close and personal from Mirror Lake.
We set out from the Lower Pines Campground, cross the Merced River, and follow the Mirror Lake Trail past the trailhead. The trek to Mirror Lake is just over one mile, but the views of Half Dome are unparalleled. Rising up 5,000 feet, Half Dome is a Yosemite Valley staple. The geological wonder is beautifully reflected in the pools of water created by Tenaya Creek during springtime and is perfectly framed by foliage for the rest of the year.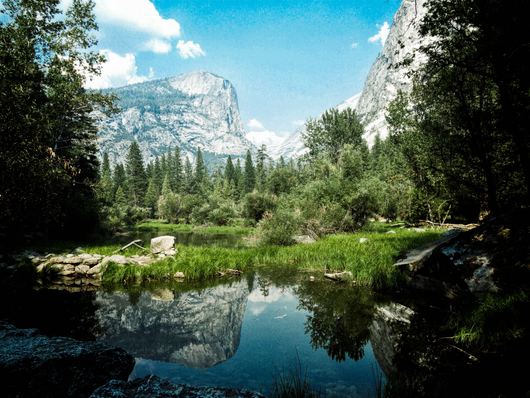 Though we finish the hike in about one hour, we spend some time taking in the sights once we make it out to Mirror Lake. With so much nature surrounding us, we can't bring ourselves to return to the car, so we hike back to the campsite, replenish our water supply, grab some snacks, and make our way south to Vernal Fall.
Afternoon
Walking back across the bridge over the Merced River, a sense of déjà vu comes over me but quickly dissipates as we hook a right to follow the river. This trail merges with the John Muir Trail and borders the northern banks of the river for just over two miles before crossing the Vernal Fall Bridge along the river's southern edge. Even without a drop of water flowing from the falls, it is hard to not be impressed by the natural wonders covering the landscape: Giant rocks meet wild grasses, trees line the tops of sheer granite rock faces, and dirt holds everything together while moss finds a home along the hillsides.
The trip takes about two hours, and before we know it, we're back at the campsite. The hours pass so quickly in Yosemite, and though there is so much left to see, it is incredibly apparent that there is no way we can experience it all in one weekend. Multiple trips and dozens more hikes in Yosemite are in our near future, but for now, it's time to rest our legs for a little while as we drive out to see the famous panoramas of Yosemite from Tunnel View.
Due to the one-way road surrounding the valley, this excursion takes significantly more effort from Northside Drive; once you complete the rest of the loop, Pohono Bridge takes you back down Southside Drive, where it's possible to turn onto the 41 for Wawona Road. After taking this road down to Wawona Tunnel, we find a parking spot and take the Artist Point trail up to Old Inspiration Point for a less-crowded view. The way up is a steady incline along the Pohono Trail, but the elevation gain provides unbelievable sights across the valley, without nearly as many people. But with the sun threatening to set soon, we return to the car without finishing the 2.3-mile out-and-back trail. We are surprised to find fewer people in the parking lot on our way back, especially with golden hour beginning to hit Half Dome and El Capitan. With our hearts full, we return to our tent for some rest.
Evening
Sitting around the fire, there is nothing but happiness written across our faces. We can't stop talking about the day's adventures and how we must have chosen one of the best campgrounds in Yosemite because of its excellent location. It's hard to believe we already have to leave tomorrow; there are so many things still left to do in Yosemite such as hiking more trails, rock climbing, and backpacking—though all of these activities have made the list for our next excursion. Maybe we'll hike the Pacific Crest Trail from Lake Tahoe to Yosemite, return for a Yosemite Valley wedding ceremony, or choose Yosemite as our California honeymoon destination. With so many ideas and memories swirling through my mind, it's hard to settle in for a restful night. So we lay under the night sky and stargaze for a while, still in awe of this incredible national park.
Day 3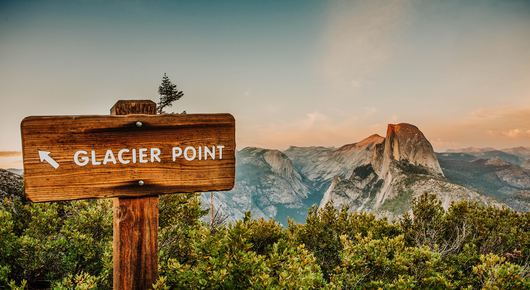 Morning
It's hard to shake the sadness of leaving a place with so much left to explore. From traveling north to Hetch Hetchy; to driving south to marvel at the Three Brothers, Yosemite's Glacier Point, and the giant sequoias nestled in Mariposa Grove; to wandering east to Tuolumne Meadows, hundreds of miles of adventures await. A quick stretch, a protein bar, and a cup of coffee start off the morning before we take down our tent and accept that our vacation has nearly come to an end.
Afternoon
Traveling through Yosemite still feels unreal, and I keep waiting for someone to wrinkle a portion of the backdrop—like waiting for a cast member to open a door at Disneyland's Star Wars: Galaxy's Edge to get a peek at what's really going on. But of course, this time never comes. Instead, we are left gazing at the endless natural beauty, hoping it will remain unchanged until we return.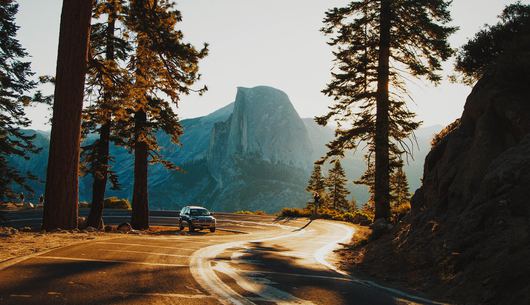 As we cruise along Northside Drive, we decide to pull off the road to capture the majesty of Half Dome as it reflects in the Merced River. While it seems wrong to climb back into the car after such an amazing photo op, we convince ourselves that the journey is not quite finished and we must carry on. Our last stop before leaving the park is at Valley View. Though it is so hard to say, this might be my favorite view from the entire trip; Yosemite's giant granite slabs rise above the treetops as the waters of the river sparkle between the rocks. I hold on to this image as we wind our way out of the valley, through California's suburbs, and back into the cityscape of San Francisco, knowing that I've left a piece of my heart behind.