By

Mackenzie Hutson
May 24, 2019
From helping you through your (many) breakups, to introducing you to your favorite band, to celebrating your promotions, you and your bestie have been through it all together. Now your ride or die is getting hitched, and it's making you feel some type of way. But you need to put the jealousy and fear of losing your best friend aside, because the time has come to repay her for everything she's done for you (including that one time y'all vowed to never speak of again).
Luckily, you've decided to host the bachelorette party in California, and we've done the hard work for you. Here's everything you need to know about planning the party of her dreams.
The Basics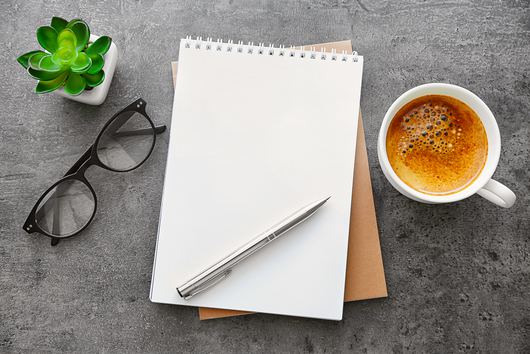 Who Plans the Bachelorette Party?
Traditionally, the maid of honor or matron of honor is largely responsible for planning the party. Since you're the best friend of the bride, that's probably you! If you're a busy mom, live far away from the bride, or have other life circumstances that may make it difficult to plan such an elaborate party, make sure to talk to the bride and ask about other bridesmaids who may be able to help. Did one of them create a detailed itinerary for their last vacation or recently throw a dazzling birthday bash? Does another bridesmaid enjoy making to-do lists everyday so that no task is left undone? Try to find her type-A, organized friends who can help you plan the perfect bachelorette party if you find it overwhelming to do on your own.
Who Creates the Guest List?
While surprising the bride-to-be with fun destinations and activities can be an exciting part of the party-planning process, when it comes to the guest list, the bride should have full reign. Nothing kills a festive gathering faster than feuding friends and unwanted guests, so allowing her to maintain control can mitigate these disasters. Knowing the number of attendees will also be a great help in determining which activities are feasible for the group.
The Nitty Gritty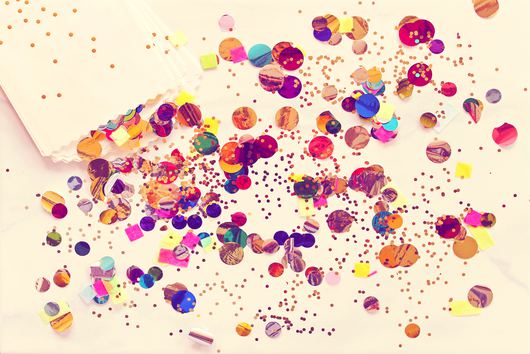 Determine the Budget
Between the wedding day outfits, wedding gifts, and travel expenses, being good friends with someone who is getting married can get pricey. Add on the cost of attending a bachelorette party, and friends can easily get priced out of participating and be left will all kinds of FOMO. As the party planner, it is important to consider everyone's price ranges, including the bride-to-be. With all the other expenses the bride has to consider, money is likely a touchy subject right now, so easing the burden for her will be noticed and greatly appreciated.
It's also important to be realistic about how you are paying for each activity. Some friends may not be as on the ball as you would like, so send out reminders and payment deadlines so you don't end up fronting the bill, especially if hotel rooms are involved. Relying on PayPal and Venmo rather than in-person payments can help ease this burden; just make sure to keep track of who has and hasn't paid if you're accepting multiple forms of payment.
Decide on a pLace
If all of the guests are located in the same area—and you aren't looking to plan a bachelorette getaway—consider hosting a night out rather than a weekend-long event. But if everyone would have to travel a bit to get to the party anyway, a weekend retreat might make more sense. Consider what the bride would like best; has she been talking about needing to get out of town or about needing rest? Use this as a jumping off point to choose something that will vibe well with the bride and with the group as a whole. If you've determined that budgets are tight, a weekend shindig might not be possible for the majority of invitees.
Choose a Theme
Is the bride-to-be more outgoing or laid-back? Does she prefer shopping or spending time outdoors? Choose a theme that will resonate with her personality; remember that you are not alone and it is perfectly reasonable to ask other bridesmaids or family members for advice. The theme can literally be anything; from throwing a garden party, to going glamping, to participating in a yoga retreat, to hosting a beachside bash complete with surfing lessons, the possibilities are endless.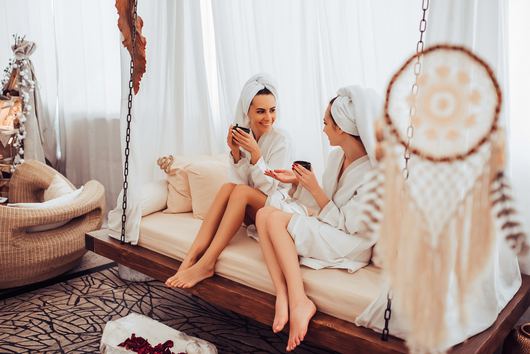 Pick a Date
Now that you have a better idea of the type of party you are planning and where it will be held, send out an email or text to all of the guests and decide on a date. While this may seem like an easy task, coordinating everyone's schedule—particularly for a weekend away—can prove to be the most challenging part of the entire process. Whatever you do: Make sure the dates work for the bride-to-be.
Send Invites ...
Once a date is finally set, the time has come to send out invitations. Digital invites are a great way to save money, cut down on time, and help the environment—so fire out those emails. Ensure the invites clearly communicate the timing, RSVP deadlines, and any special requests (like asking guests to bring certain attire for pictures).
… and Then Itineraries
Once you've nailed down the basic details, create an itinerary for the weekend and send it to guests so they can plan ahead and get a better idea of what to expect. It'll also make your life easier; since the itineraries take most of the guesswork out of the party, you won't receive a million individual emails from concerned guests leading up to the event.
Things to Keep In Mind When Planning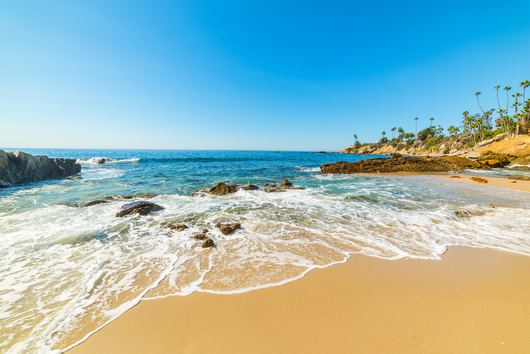 Location, Location, Location
California is the perfect place to host a bachelorette party thanks to its varied landscapes, incredible cuisine, and availability of adventures. Whether you are looking for a relaxing spa escape in Palm Springs—where the Colony Palms Hotel, Ace Hotel & Swim Club, and Sands Hotel & Spa make for Instagram-worthy stays—or a fun-filled trip to Disneyland where you can embrace your inner child, it's all possible in California. Other great options include:
Paddleboarding in South Lake Tahoe

Checking out the art galleries and boutiques in Venice Beach

Exploring Joshua Tree and staying at the exquisite Joshua Tree House
Checking in to The Surfrider Hotel in Malibu for a beach getaway
Learning how to surf at Surf Diva in La Jolla before staying the night at the Surf House in Encinitas
Getting in touch with your inner foodie and honing your photography skills during the Eat This, Shoot That tour of Santa Barbara's Funk Zone (make sure to stay at the remarkable Hotel Californian)
Heading to Big Sur's wooded coast and spending the night at Glen Oaks Motor Lodge

Packing your bags for Guerneville and camping in an airstream trailer at AutoCamp

Going on an outdoor adventure in Yosemite

Attending the adult version of summer camp at Los Angeles' Camp No Counselors

Lounging in luxury at the Madonna Inn in San Luis Obispo (order the famous pink champagne cake)
Soak Up the California Sun
With temperate weather nearly year-round in many parts of the state, a bachelorette weekend simply would not be complete without some fun in the sun. Whether exploring Southern California in a kayak, finding your balance on a surfboard, spending a chill day on the beach, hiking in a national park, or exploring galleries in San Francisco, the climate is sure to enhance your experience.
Plan Multiple Activities
Keep everyone engaged with various activities. Whether you're planning a slumber party with brunch the next morning or a yoga retreat with camping and fitness classes, different activities allow for different kinds of bonding, so include as many as you can. Events like cooking classes, manicures, paint nights, tea parties, scavenger hunts, and picnics make for memorable party activities that can be done in nearly any region of California.
Keep in mind, however, that it is a good idea to set aside some time for relaxing between activities. Though it can be tempting to plan out every moment of the girls trip, establishing designated down time will give guests the chance to reconnect and get ready for each portion of the day.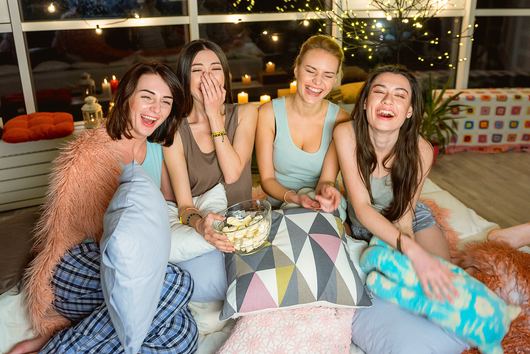 Keep It Classy
While bachelorette bashes are undoubtedly about fun, more relaxed and gender-neutral parties have taken over the scene. Spa days, adventurous outdoor excursions, and backyard movie nights have become the things to do—none of which will leave you wondering if the fiancé would approve.
Make Reservations
California offers so many opportunities, but if you're looking to go somewhere specific—like a Michelin-starred restaurant in the Bay Area—reservations are absolutely necessary. Plan ahead for hotel reservations, campground accommodations, and any other experiences you have your heart set on.
Surprise the Bride
Whether it be a single activity or the hotel you're staying in, keeping the mystery alive with the bride-to-be will make the whole event more exciting and memorable. You can also coordinate with the fiancé to have him write a personalized note and arrange for flowers to be delivered during the trip so that the bride-to-be feels extra special and loved during her time away.
Hire a Photographer
The bachelorette party will undoubtedly be highly memorable, so make sure to capture those special moments in photos. Investing in a photographer will free up time for guests who may otherwise be focused on taking photos and will give the bride something to look back on for years to come.