By

Mackenzie Hutson
July 09, 2019
The lakes sparkle under the shining sun; the rivers glisten as the trees sway in the wind and cast shadows over the flowing water; the ocean calls to surfers all along the rugged coastline and across the pristine beaches; and the hot springs beg to be discovered. Now that summer is in full swing, you can jump right into the ombre waters throughout California while donning enviable beachwear from Los Angeles' best swimwear stores.
Using fabrics created from recycled fishing nets, plastic bottles, and natural rubber, California's fashion designers prove that it is possible to create swimwear that is both stylish and sustainably made.
Seea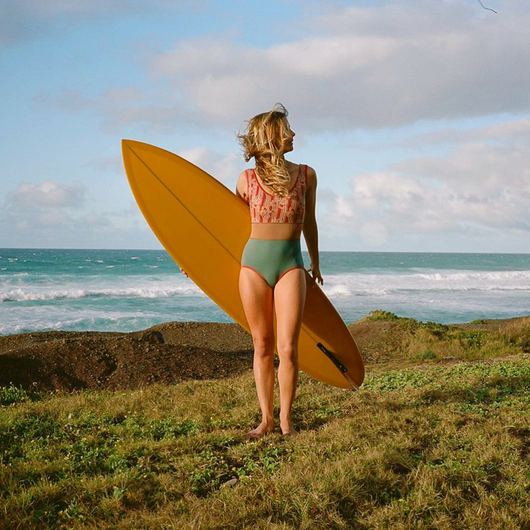 Based in: San Clemente
Price range: $$-$$$
Seea combines comfort and femininity in each of its pieces to create a distinctive look that complements any adventurous wardrobe. Carrying everything from bikinis to rashguards and featuring styles that are both retro and modern, the store offers something for everyone.
The boutique clearly labels its more sustainably made items as "recycled"—like the polyester that gave plastic bottles a new life and the nylon that turns fishing nets, the largest ocean pollutant, into fashion statements—so it is easy to pick an eco-friendly swimsuit.
Greenlee Swim
Based in: Los Angeles
Price range: $$-$$$
Dedicated to making minimalist, elegant swimwear separates for women of all sizes without causing unnecessary environmental harm, Greenlee Swim is out to change the industry norm. Each item is designed using sustainable and recycled materials, culminating in modern lines that are made to set trends rather than follow them. Boasting a range of halter and tie-back tops—plus briefs, shorts, tie-side bottoms, and one-piece suits—this boutique is turning heads.
Bikyni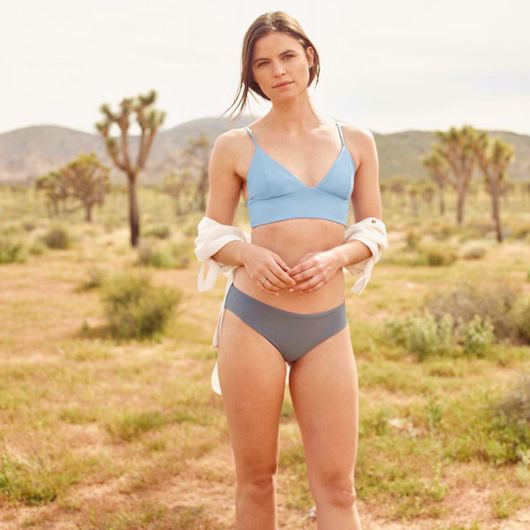 Based in: Pasadena
Price range: $-$$
Bikyni takes the hard work out of swimwear shopping by providing small yet stylish collections of bikini tops, bottoms, and one-piece tank suits in a handful of colors. The boutique is committed to crafting high-quality, minimalistic swimwear using recycled post-consumer materials (such as plastic from landfills and oceans) or rescued waste (like ghost fishing nets). Mix and match your swimsuit to fit your mood, and proudly strut your good deed.
Vitamin A
Based in: Laguna Beach
Price range: $$-$$$
Vitamin A is one of the few swimwear stores that designs and produces every item here in California. This allows the brand to keep a close eye on the operations and to drastically reduce its carbon emissions by eliminating the transportation of raw materials.
Prior to opening Vitamin A, owner Amahlia Stevens worked alongside Patagonia founder Yvon Chouinard, who expressed his desire to redefine the outdoor clothing industry by creating sustainable alternative fabrics that made use of recycled plastic bottles. Inspired by his vision, Stevens set out to redefine the swimwear industry in a similar way and ended up creating a signature fabric—EcoLux—made from recycled nylon, which is used in conjunction with polyester crafted from recycled plastic bottles.
The sustainable, feminine designs are inspired by the beach glamour of the '70s and the modern beach babes who exude the relaxed California vibes. Choose between the neutral separates and patterned favorites for a look that is laid-back and uniquely you.
Galamaar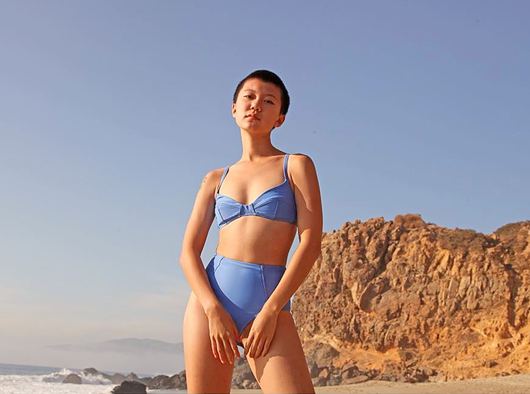 Based in: Los Angeles
Price range: $$$-$$$$
Galamaar designs swimwear with timeless lines and versatile colors that easily become coveted wardrobe staples. With slightly retro vibes, the swimwear store creates every piece with comfort and functionality in mind—without sacrificing the environment. The fabrics are made from fishing nets and engineered to last from season to season.
BOLD Swim
Based in: Hollywood
Price range: $-$$$
BOLD Swim's vibrant, patterned bathing suits are designed in Los Angeles but produced in Brazil to reduce the carbon emissions of shipping the native fabrics. The swimwear store offers a dozen-plus styles in a variety of colors at incredibly reasonable prices. But even more impressive than the swimwear collection is the brand's sustainability strategy, which includes producing the garments using recycled water, donating the remaining textiles to local artisans, using recyclable packaging, and crafting the swimwear from eco-friendly fabrics.