Once the excitement of the engagement settles in, the overwhelming process of planning a wedding can take over and cause waves of panic and stress. Though you may already have a vision in mind and several inspiration boards for your wedding, the reality of having to book vendors, create a guest list, and stick to a practical budget is much more daunting. Not only are there real concerns about the logistics, but it is also likely that your idea of the perfect wedding will not align with what your partner and parents have in mind, so many conversations—and a lot of planning—need to take place before walking down the aisle and saying "I do". Here are the most important steps for newly engaged couples.
Getting Started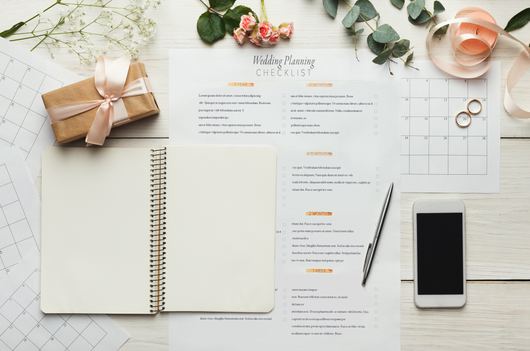 The first decisions largely revolve around big-picture ideas that will help to shape the rest of the proceedings, such as the general vision for your wedding, the budget, and the approximate number of guests you would like to have. These are typically less stressful to figure out because you do not need to involve any third parties.
The vision for the celebration will vary greatly from couple to couple. Many want to bring guests together to meet each other, some desire a beautiful destination wedding, and others aim to honor cultural and religious traditions. Regardless of your vision and mission, it is incredibly helpful to write down your goals and keep them in mind throughout the entire planning process. Things like the budget and the number of guests are likely to change (at least a little bit), and that's okay. If your finances are very strict, set your wedding budget slightly under what you can afford so you have a cushion; for example, if your absolute maximum is $20,000, then set the budget at $15,000 so that your financial situation will still be okay even if certain vendors and items cost slightly more than what you had planned for.
Choose a Venue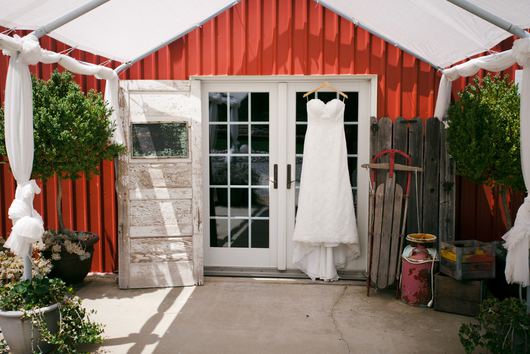 The next step is choosing a venue. It is vital to understand your basic budget and approximate guest count prior to beginning the search for a venue because those factors will drastically affect your options. It is better to avoid smaller venues, for example, if your family alone requires a 100-plus guest list; knowing these things ahead of time will save you from becoming emotionally attached to a venue that does not fit your needs. Other things to consider: Will you host the ceremony and the reception at the same location? Are you looking for a location that allows you to bring in an outside catering company? Are things like furniture and linens available on-site, or will you need to rent those items? Your answers to these questions will also help to narrow your search, so plan with intention, and find a clear pathway with your "must-haves"—but also leave a little wiggle room for your "like-to-haves".
Hire Vendors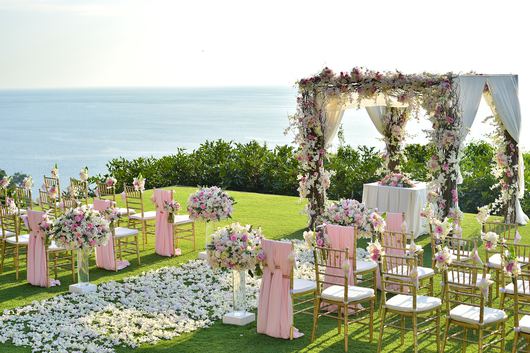 Once the major decisions have been made, take a breath and prepare yourself for the finer details. The process of choosing your caterer, photographer, wedding planner, and rentals can be both thrilling and confusing; these vendors can come with higher-than-expected price tags, expensive add-ons, and unanticipated features that may or may not be necessary.
If you do not have a ton of industry knowledge, it is a good idea—and worth the investment—to hire a wedding planner with an understanding of average prices and the ability to find packages that fit your needs and budget. Though you may think a wedding planner is just an additional, unnecessary expense, it is priceless having someone who can recommend local vendors, negotiate deals, and guide you through the process from start to finish. A wedding planner can even help save you money overall.
With everything else, talk to your partner and decide which elements take top priority, and commit to spending a little more in those areas. For instance, if good food is important to you, spring for the higher-quality caterer (but perhaps opt for a buffet-style meal to nab some savings); if your photos are the most vital thing, consider splurging on a phenomenal photographer (and have that person shoot your engagement photos so you can get more comfortable with him or her prior to the big day); if the rentals and decor are important, think about spending less on other aspects of your wedding so the location will be more aesthetically pleasing.
Now that the primary vendors have been selected, it is time to turn your attention to the entertainment, florals, officiant, and cake. With an even clearer vision (and hopefully some help from your wedding planner), it should be a breeze to hammer out these decisions.
Flowers can be terrifyingly expensive, so if you are worried about the cost, consider opting for more greenery, choosing less expensive flowers like carnations over pricey roses, or setting out live plants as centerpieces so you can enjoy your investment for years to come. When it comes to music, there are innumerable options; from DJs to live bands, any genre, budget, and style can be accommodated. Regardless of who you hire, make sure the musician or DJ has a clear understanding of your do-not play list as well as your must-play list. Cake tastings are possibly the most fun part of the entire planning process, but the cake can also come with a high price tag. If you are looking to cut costs in this area, consider having a smaller wedding cake instead of splurging on an all-white, tiered version that can cost thousands of dollars. When it comes down to it, if the traditional wedding aesthetics are not your highest priority, focus on the taste of the cake—that is what you and your guests will remember.
Finally, with all of the big decisions made, you can start writing vows, deciding on the rehearsal dinner, picking outfits for the bridal party, inviting guests, getting a marriage license, and figuring out hotel room blocks. Give yourselves plenty of time to make these decisions; while they are smaller checkboxes than the ones you have already completed, they are important steps toward making your day unique and can be overwhelming when tackled all at once.
Establish a Timeline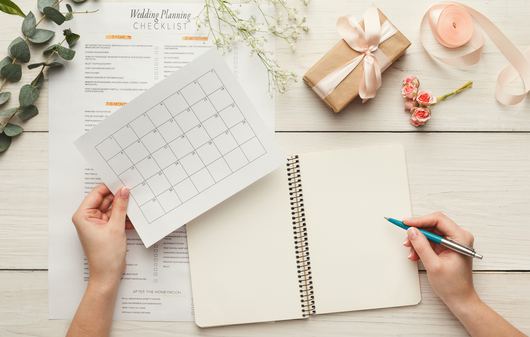 Creating a timeline for yourself will make the entire process feel more manageable. There is no right or wrong amount of time for planning a wedding, and there is no wrong vision, so do what is best for you. Remember to leave yourself more time than you think you will need, as work and life tend to get in the way. In the end, the day should be special—not stressful—and reflect you as a couple, so try not to get too caught up in other people's ideas of how your day should be.