After years of anticipation, Disneyland Park's Star Wars: Galaxy's Edge is finally here! With so much to explore and taste inside this new themed attraction, going in with a game plan can help you get the most out of the land, particularly during the first several weeks while there is limited access to the galaxy. So grab your walking shoes, get hyped, and may the force be with you.
How to Visit Star Wars: Galaxy's Edge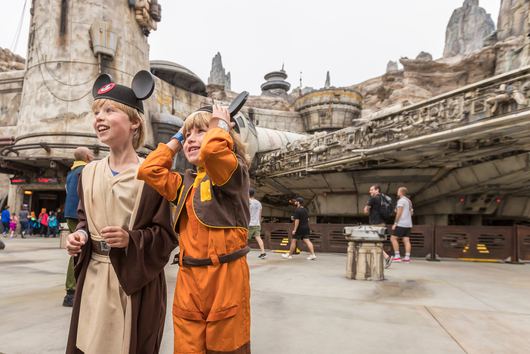 Star Wars Land Reservations
Due to high demand, Star Wars: Galaxy's Edge requires reservations for all visits until June 23. Though online reservations are no longer available, guests staying at one of the three Disneyland Resort Hotels before June 23 will receive a timed reservation to visit Galaxy's Edge. Guests will be allowed into the land during their designated time if they have purchased Disneyland Park tickets. Starting on June 24, reservations will no longer be needed.
Checking In to Star Wars Land
Should you be lucky enough to have a reservation, the check-in point is located on the first floor of the Star Wars Launch Bay in Tomorrowland. Guests may check in up to two hours before their specified reservation start time, though checking in early will not result in earlier admission.
All guests in the party must be present at the time of check in and must show a valid, government-issued photo ID prior to entering the land. If the person who reserved the time slot does not have proper identification, nobody in the party will be allowed inside, so make sure to come prepared. Once all IDs are checked, you will receive wristbands, which must stay on until you leave the land. This process may take a while, especially if the line is long, so set aside plenty of time to check in prior to your start time. If you're done checking in early, Disneyland cast members will show you where to enter the land when you return at your reservation start time.
*Note: All experiences inside Star Wars: Galaxy's Edge operate on a first-come, first-served basis, and there is no re-entry to the land—even during your reserved time—until June 23.
Experience Galaxy's Edge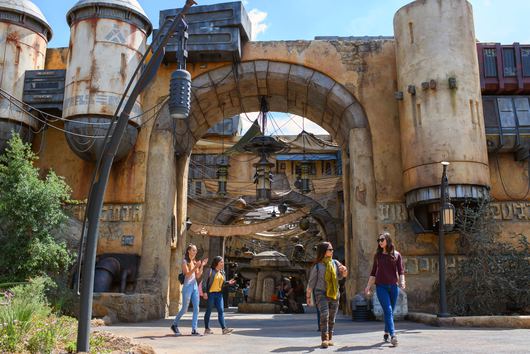 Tucked between Wild Space and the Unknown Regions on the edge of the galaxy lies the forgotten planet, Batuu. The largest village there is known as Black Spire Outpost—the gathering ground for scoundrels, smugglers, and rogues who wish to fly under the radar—which resides atop the remains of ancient structures built by extinct civilizations. Rumor has it that members of the Resistance have been spotted among the towering trees surrounding the outpost, hoping to go unnoticed by the First Order. Seek help from the Gatherers to determine where your path lies among these misfits, but use discretion to avoid members of the First Order who harbor ulterior motives.
Millennium Falcon: Smugglers Run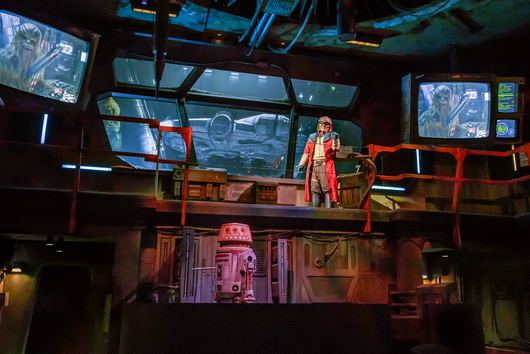 Help local "business man" Hondo Ohnaka transport hard-to-find items from inside the cockpit of the Millennium Falcon. Compile your team with a pilot, engineer, and gunner; feel the rumble of the ship's engine; and brace yourself as you jump into hyperspace and attempt to tackle every obstacle thrown at you during this smuggling excursion.
*Pro tip: Go twice! You are in control of the ride's outcome, and the first time through will train you for higher scores and further enjoyment.
Eat Across the Galaxy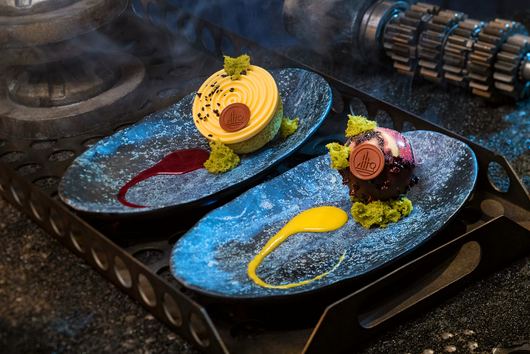 Whether you are looking for a sweet-and-spicy snack from Kat Saka's Kettle, a hearty wrap on the go from Ronto Roasters, or some hydration from Oga's Cantina, you can find it all in the galaxy.
Milk Stand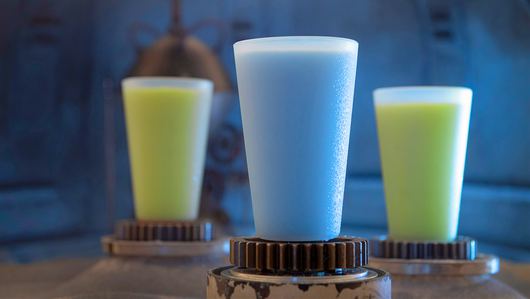 Drink like Luke Sykwalker: with a glass of milk of hand. Served frozen and crafted from a blend of coconut and rice milks, the refreshing beverages at Milk Stand are out of this world. Choose between the Green Milk (infused with Mandarin orange, passion fruit, grapefruit, and orange blossom) shown in Star Wars: Episode VIII – The Last Jedi, and the Blue Milk (featuring flavors of dragon fruit, pineapple, watermelon, and lime) from Star Wars: Episode IV – A New Hope.
Oga's Cantina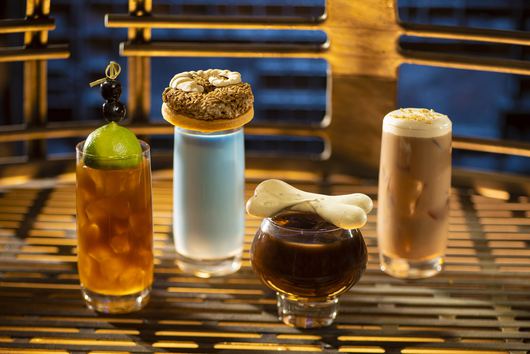 Fuel up alongside the travelers, smugglers, and rogues that dwell on the forgotten planet at Oga's Cantina. Recharge with the music of former Starspeeder 3000 pilot droid DJ-R3X as you decide between the colorful concoctions. In the morning hours, the cold-brew coffee, honey, falernum, passion fruit, and citrus of the Black Spire Brew will kick your spirits into overdrive. For those who prefer to smuggle in the afternoon, the Blurrgfire (lemonade, pomegranate juice, and habanero-lime) or the Cliff Dweller (citrus, hibiscus grenadine, ginger ale, and coconut) should do the trick.
Docking Bay 7 Food and Cargo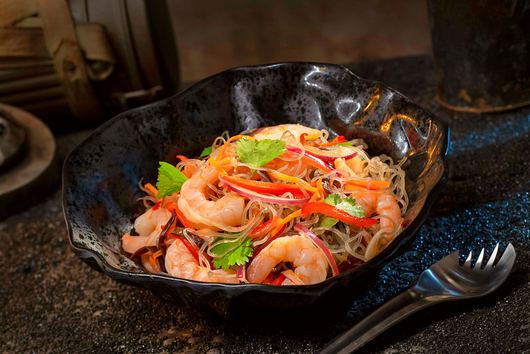 Sample the galaxy's best planetary delicacies at Chef Strono "Cookie" Tuggs' docked food freighter. Enjoy the shade from inside the hangar as you dine on the marinated noodles, vegetables, and shrimp of the Yobshrimp Noodle Salad or the crispy chicken, mashed potatoes, and herbed gravy of the Fried Endorian Tip-Yip. When you're done eating, venture outside to see the desolate walls that used to encapsulate the village marketplace as you plot your next adventure.
Explore Intergalactic Shops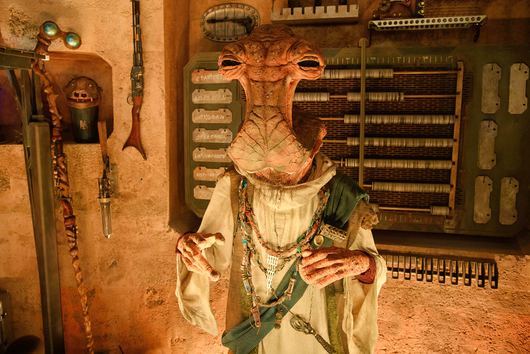 Make your way through the land, stopping to gaze at the exotic life forms in the Creature Stall, pick up some goods from the Toydarian Toymaker, browse antiques from Dok-Ondar's Den of Antiquities, and gather gear at Resistance Supply to guard the galaxy against the First Order.
Savi's Workshop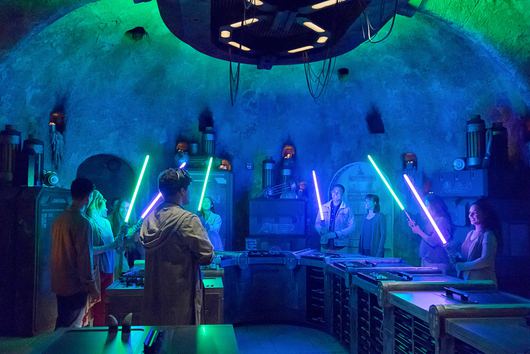 Hone your powers by building your own custom lightsaber at Savi's Workshop. Start by selecting a hilt theme: Peach and Justice honors fallen guardians with salvaged segments of Jedi temples and starships; Elemental Nature pays tribute to the Force and all the living things that create it; Power and Control acknowledges the dark side with what remains of Sith temples; and Protection and Defense commemorates the ancient origins of the Force. With your purpose solidified, Gatherers will bring your lightsaber to life with a red, green, blue, or violet kyber crystal and allow you to begin assembling the hilt. Your path will then be clear, and the Gatherers will adorn your lapel with a cloisonné pin, signaling to the galaxy where you stand.
Droid Depot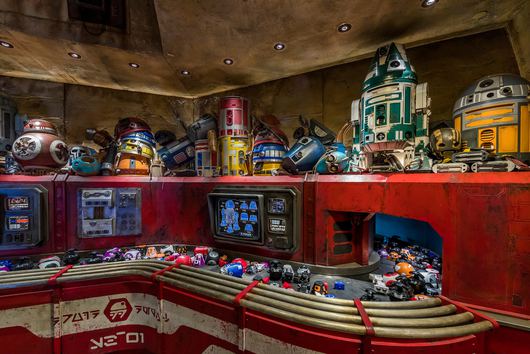 Create the companion that will join you on your journey through the galaxy. Register for either a BB-series or R-series unit to receive blueprints for your Astromech Droid Unit. Then, stop by the parts station's conveyor belt to pick up the customizable pieces that will bring your droid to life, and continue on to a workstation to assemble it. A remote control will activate your droid to move on its own, but take care to protect your droid in your grips throughout the galaxy; any unit caught moving freely throughout the Outer Rim will be confiscated by the First Order.
With so much to see and do—and plenty of Star Wars treasures hidden throughout the land—Galaxy's Edge is sure to become a favorite among Disneyland visitors. Stop by later in the year to experience Star Wars: Rise of the Resistance, a new ride slated to open this summer, and to take your time reservation-free. Best of luck on your intergalactic adventures!