By

Margaret Flores
May 21, 2019
The mere thought of getting acupuncture may sound scary to those who've never tried it; after all, how could pressing needles into skin make people feel better? It should hurt, right? Wrong.
A holistic healing technique, acupuncture is not the overtly painful procedure you might be imagining. In fact, acupuncture has been studied and practiced for more than 2,500 years and has been shown to alleviate everything from anxiety and depression to chronic pain and migraines—conditions that are becoming increasingly common, especially among younger generations. The healing powers of acupuncture help explain why many people swear by it, asserting it vastly improves their quality of life.
Acupuncture has actually grown in popularity in recent years, as more and more people start to prioritize their well-being. Greater numbers of Americans, and especially Californians, are focusing their efforts on enhancing their health and mental state by eating healthier foods, working out, and trying alternative medicinal practices—such as acupuncture, massage, and essential oils.
Acupuncture has been studied and practiced for more than 2,500 years and has been shown to alleviate everything from anxiety and depression to chronic pain and migraines.
At the same time, however, some people are skeptical of holistic therapies like acupuncture, while others are (understandably) hesitant to step out of their comfort zones and into an acupuncture office. So if you're unsure whether this prickly treatment is right for you, here are the answers to a few common questions about acupuncture.
What Exactly Is Acupuncture, Anyway?
Acupuncture is an ancient Chinese medicine–based approach to treating various conditions by triggering specific points on the skin with needles. (Keep in mind that acupuncture needles are about the size of a human hair.) Each needle is strategically placed at certain nerve-rich sites on the body, producing a miniscule injury that doesn't cause discomfort but simply provokes the body to respond to the prick. This response involves the stimulation of the immune system, which promotes circulation to the area, pain modulation, and healing—a theory that contemporary research mainly relies on.
The Chinese philosophy behind acupuncture is slightly more complex, as the ancient practice isn't traditionally based in science and medicine. Rather, the Chinese believed the human body was filled with an invisible life-giving force known as the qi; when the qi was flowing well, a person would experience good mental and physical health, but when the qi was blocked or deficient, a person would become ill.
These early adopters might have been onto something. Think about it: When you're feeling anxious or stressed, you're more likely to get sick; however, when you're relaxed and healthy, your body physically shows that, too. So more often than not, your mood, mental state, and overall well-being affect your physical health. Acupuncture is meant to help you achieve balance, or qi, and as a result, provide relief for various ailments.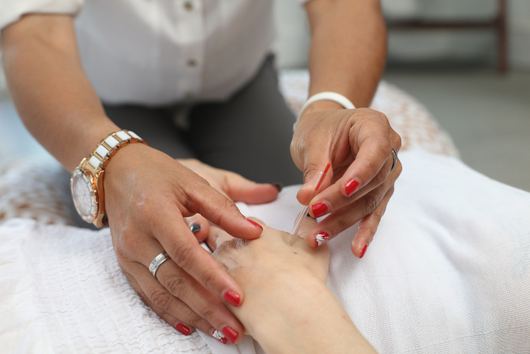 Do I Really Need Acupuncture?
You may be interested in acupuncture for a variety of reasons—whether it's to alleviate frequent headaches, morning sickness, or allergies—as there are numerous conditions and symptoms that acupuncture is believed to help with. Here are a few of them:
anxiety

depression

chronic pain, often in the neck, back, knees, and head

digestive issues, such as IBS

insomnia

menstrual cramps and PMS

migraines and headaches

hypertension

osteoarthritis

strokes
If you are experiencing some of these conditions and are interested in trying acupuncture, here's what to expect during a session: The appointment can last between 60 and 90 minutes, but most of this time will likely be spent discussing your symptoms and concerns with your acupuncturist—sans needles. The actual treatment portion may only take about 30 minutes, though you might not necessarily have needles in your skin for that long.
The cost of your acupuncture session can vary depending on where you receive the treatment and whether or not the practitioner accepts your insurance, but the average price for a single appointment hovers around $75.
Keep in mind that everyone responds to acupuncture differently. You may feel relaxed, tired, happy, or rejuvenated after your treatment. And in the following days, you might experience changes in your overall energy level and eating, sleeping, or bowel habits—or you may not see any improvements at all. It's also important to remember that it may take several treatments before noticing a positive change from acupuncture. In many cases, the longer you have a condition, the more time it will take to restore your body to function and balance, especially when taking a holistic approach and using Eastern medicine instead of pharmaceutical drugs to treat your symptoms.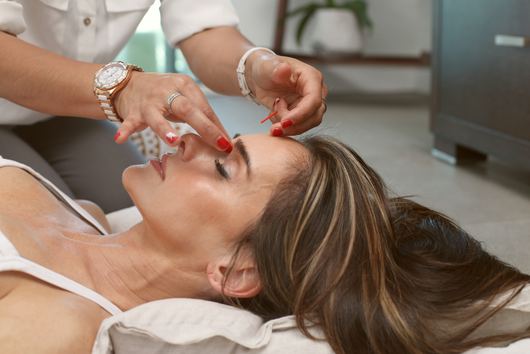 How Do I Choose an Acupuncturist?
As society has shifted toward a wellness-focused mindset, acupuncture has become an in-demand field, and there are now several acupuncture schools and hundreds of acupuncturists in California alone. It can seem daunting to pick someone, but if you have a friend or family member who has had a positive experience with an acupuncturist, ask him or her for a personal referral or introduction. You can also research acupuncturists in your area or ask your insurance company for recommendations.
And don't worry: In case it wasn't obvious, licensed acupuncturists are highly trained. They are required to pass the National Certification Commission for Acupuncture and Oriental Medicine (NCCAOM) exam or complete the NCCAOM program in the foundations of Eastern medicine, acupuncture, and biomedicine. And in California specifically, acupuncturists must meet specific standards and pass a state exam in order to obtain a license to practice here.
Regardless of whether or not you decide to make acupuncture a regular part of your wellness routine, consider stepping out of your comfort zone and trying a session for yourself. At the very least, you will likely feel happy and relaxed afterward. So what do you have to lose?