By

California.com
May 21, 2019
Home to everything from intimate nightclubs, to amphitheaters under the stars, to indie concert halls, California is packed with live music venues worth visiting. Whether renowned for their long list of previous performances, their elaborate architectural designs, or their intimate atmosphere that allows audiences to be up close and personal with the artists, these spots offer highly memorable shows—and legendary musicians are always on their lineups. No matter where you end up in California, catch a show at one (or all) of the state's undeniable entertainment venues.
San Diego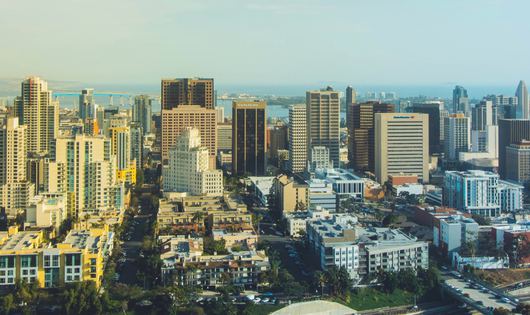 the casbah
The Casbah is situated near downtown and has an extensive history. Before moving to its new location and doubling its capacity in 1994, the venue hosted iconic bands such as Nirvana and The Smashing Pumpkins. While the locale has changed over time, its dedication to bringing in amazing talent has not; The Casbah has hosted various musical acts like Band of Horses, The Black Keys, MGMT, and Postal Service over the past few years and is sure to continue its intimate performances for decades to come.
Hollywood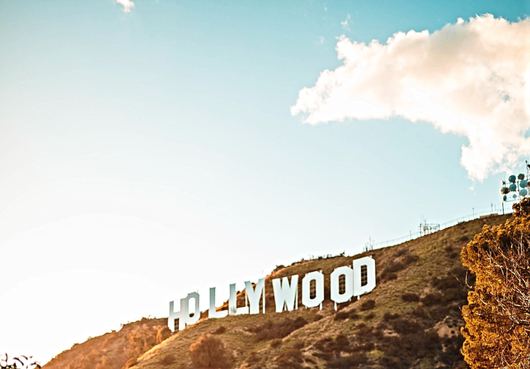 Hotel cafe
Between Hollywood and Sunset Boulevards, right along the infamous Cahuenga Boulevard, lies the Hotel Cafe. This unique venue offers two stages—allowing for double the musical performances—and specializes in underground, up-and-coming artists. Before becoming wildly popular, Sia, Katy Perry, Ed Sheeran, Mumford & Sons, and Lana Del Rey all performed at this venue. With a small audience capacity for each stage (about 200 for the main stage and only 85 for the second stage), this location provides an unusual level of exclusivity that should not be missed.
Troubadour
Located in West Hollywood, the Troubadour has established itself as an L.A. icon since its inception in 1957. Although the venue started out as a folk club, it quickly altered paths toward a folk-rock identity, hosting everyone from Joni Mitchell, to Elton John, to Neil Young, to Bob Dylan, to the Red Hot Chili Peppers—many of whom performed here early in their careers. With a 400-person capacity, the Troubadour accommodates a larger crowd without losing its cool.
Hollywood Bowl
The Hollywood Bowl opened in 1922 and has been a Southern California classic ever since—hosting everyone from The Beatles, to Billie Holiday, to Santana, to Leon Bridges under its shell of concentric-arches while an adoring audience listens under the stars. This open-air amphitheater is one of the most popular venues among residents and visitors alike, thanks to its long list of well-known performers and large audience capacity.
Hollywood forever cemetery
The Hollywood Forever Cemetery has become one of the go-to spots for summer movie series and unbelievable concert lineups in the Los Angeles area. Aside from being the landmark resting place for Hollywood elite, the location is also a hub for indie music, having recently featured The Weeknd, Belle and Sebastian, Bon Iver, Iron and Wine, and Hozier.
Santa Barbara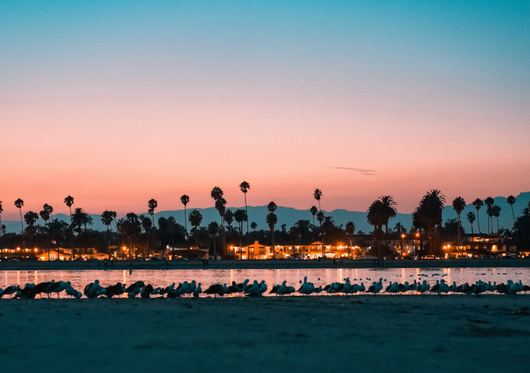 Santa Barbara Bowl
Built in 1936, the Santa Barbara Bowl provides one of the best outdoor concert experiences in the state. Often hosting indie musicians as well as a wide spectrum of reggae and rock fusion bands, the Santa Barbara Bowl has presented such prominent performers as Jack Johnson, The xx, Young the Giant, The 1975, and Rebelution. Lay back and enjoy the sounds of renowned artists as the summer air surrounds you for a taste of California vibes.
Oakland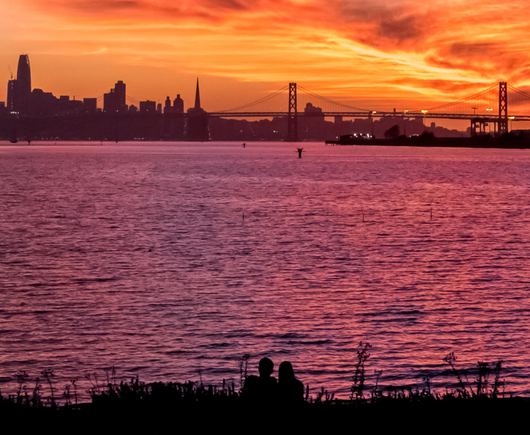 The Fox Theater
The Fox Theater was established in 1928 and originally acted as a movie house before its renovation in 2009. While the venue today accommodates nearly 3,000 concertgoers, the architectural details create an intimate effect and make the theater a must-see destination. The Fox features an eclectic mix of musicians, including a long list of well-known global artists such as the Pixies, Dirty Heads, M.I.A., Yeah Yeah Yeahs, Haim, Sylvan Esso, The Decemberists, City and Colour, Duran Duran, and The Neighbourhood—so it is a necessary stop for any music enthusiast.
San Francisco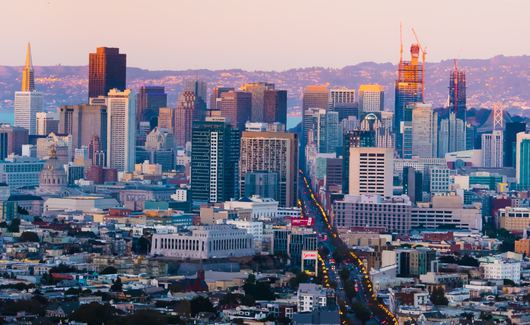 Shoreline Amphitheatre
Situated along the San Francisco Bay, the Shoreline Amphitheatre is a huge venue that can hold up to 22,000 guests. Along with hosting festivals and comedy shows, the location is known for its extensive lineups of country artists, though musicians from many other genres have also been known to make appearances. Highly acclaimed artists like Jason Aldean, Luke Bryan, Cage the Elephant, Santana, Florida Georgia Line, Rod Stewart, Halsey, and G-Eazy are just a few of the performers who have made their way through this massive venue.
The Fillmore
The Fillmore was built in 1912 and began as a very popular dance hall. In the 1950s, the venue began to book big-name acts, establishing itself as one of the city's best concert venues. Music icons such as Jimi Hendrix, The Grateful Dead, and The Who have made appearances at this locale, along with a multitude of other artists like The White Stripes, The Cure, and Bad Suns.
Great American Music Hall
San Francisco's oldest nightclub, the Great American Music Hall debuted in 1907 and has retained its luxurious nostalgia ever since. While bands like You Me At Six, Jessie J, Fall Out Boy, and Ingrid Michaelson have taken the stage for energetic live performances, the architectural details of the venue often steal the show. Complete with elaborate ceilings, marble columns, and stunning wraparound balconies, the Great American Music Hall provides a beautiful backdrop for any musical experience.