Consumers are continually understanding their role in creating the changes they hope to see in the world and treating their purchases like a ballot—casting their votes for brands they believe in by buying their products. As this movement gains steam, purchasing goods from ethically motivated companies can help make a difference in the world. From reducing the rate of deforestation, to paying workers fair wages, to avoiding the use of toxic chemicals and nonrenewable resources, mission-driven companies have a positive impact on both the environment growing the materials for garments and the people making the products.
Whether you are searching for the perfect running shoes, a comfortable pair of everyday sneakers, a professional loafer, or some stylish heels, these five California-based companies have everything you need to complete your capsule wardrobe's shoe collection.

1. Allbirds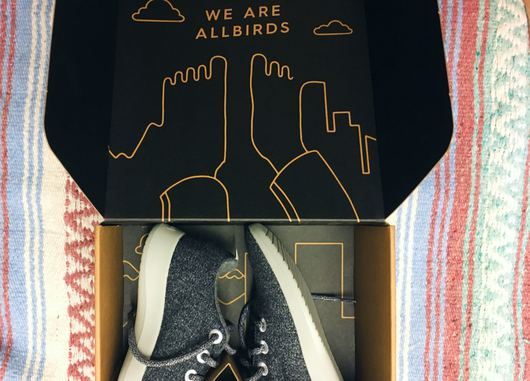 Best for: Outdoor adventure
Based in: San Francisco
Allbirds is the go-to brand for naturally made, environmentally responsible sneakers. As a certified B Corporation, Allbirds is committed to using natural materials and recycled packaging, creating simple and comfortable designs, reducing waste and pollution, and giving back. The revolutionary superfine merino wool, used in the company's Wool Runners and Wool Loungers, provides all the benefits of synthetic materials (like moisture wicking, breathable fabric, and temperature regulation) but takes less than half the energy to produce.
For those shopping for a material other than wool, try the Tree line of shoes. These kicks are made from eucalyptus tree fiber sourced from farms that minimize fertilizer and rely on rain rather than on irrigation systems. Not only does the tree fiber require 95 percent less water than traditional materials such as cotton, but it also cuts the carbon footprint in half. And since Allbirds has a Forest Stewardship Council (FSC) Certification, rest assured that the forest and the animals that rely on it are protected, too.
Allbirds even incorporates recycled bottles in the laces and sugarcane (which is so sustainable that its biomass actually powers the mill and fertilizes the subsequent year's crop) in the soles of its shoes.
2. The People's Movement
Best for: Everyday wear
Based in: San Francisco
The People's Movement aims to create conscious footwear and accessories that reduce the impact of single-use plastics. The company uses vegetable-fiber cotton canvases, wax-treated laces, water-based glues, upcycled plastics, nickel-free eyelets, and natural dyes—culminating in an eco-conscious product that it is easy to feel good about wearing.
Offering shoes with reasonable price points and clean, simple designs that are ideal for everyday wear, The People's Movement makes ethical living accessible.
3. Toms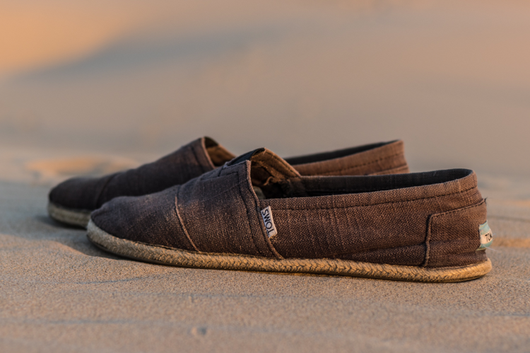 Best for: Everyday wear
Based in: Venice
As one of the best-known ethical shoe brands, Toms has been committed to the one-for-one model since its founding in 2006. This business model has led to the sale of over 80 million shoes and the donation of just as many pairs to children in need across 70 countries.
While the company started with only a simple slip-on shoe, it now creates various types of styles for men, women, and children—plus apparel, accessories, sunglasses, and bags—but each purchase still supports a person in need.
As a certified B Corporation, Toms has solidified its position as a change leader, helping to create a more conscious shopping experience that takes into account fair wage practices, environmental protection, and social responsibility throughout the supply chain.
4. Zuzii
Best for: Both upscale and casual occasions
Based in: Los Angeles
This footwear company is shaking up preconceived notions of the made-to-order movement. Zuzii goes above and beyond its commitment to ethically produced products by sourcing sustainable raw materials, using renewable energy whenever possible, avoiding toxic substances in manufacturing, and opting for vegetable-tanned leather.
Zuzii also reduces its environmental impact by making each item to order, so there is little to no waste and only what is needed is created. With a wide range of shoes—including clogs, sandals, and oxfords—and a line of accessories, Zuzii makes it possible to live ethically and fashionably.
5. Rothy's
Best for: Work and school
Based in: San Francisco
Rothy's is on a mission to use recycled and renewable materials in its shoes and packaging—and has already repurposed over 25 million water bottles in the process. The company recognizes plastic pollution as a monumental issue facing the planet; every minute, 1 million water bottles are sold across the globe, yet 91 percent of plastics are not recycled.
In addition to repurposing single-use plastics, Rothy's only incorporates non-toxic vegan adhesives, recycled foam, and carbon-free rubber soles in its shoes. The brand also opts for recycled and recyclable packing materials.
Rothy's shoes are both comfortable and stylish, and the versatile line of footwear for women and girls features bright colors and patterns that can highlight the individuality of each wearer—all while maintaining the characteristics of ethically made products. From a day at work to a dinner with friends, these classic and classy styles are perfect for every occasion.